Employees are one of the most important factors of every business. You may be a small business, start up or a large enterprise, but your employees are the ones who play the role of bridge between the customers and your company. Boosting the productivity of your employees can enhance the growth of your business.
Making simple changes in the working environment can help you to improve and boost employee productivity. These changes will indeed help your employees to work smarter and better.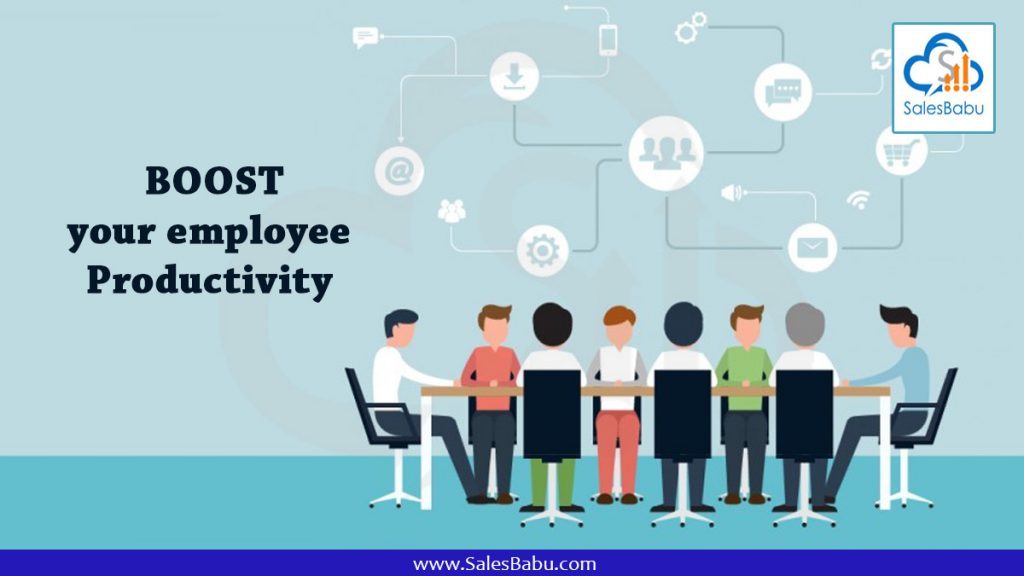 Here are some ideas – How to boost employee productivity.
1. Cut back on Interruptions
Don't interfere much in your subordinates work. Clearly give instruction to him/her once and then wait for the results. Some may feel frustrated when you keep checking on their work regularly, which may lead to a decrease in their interest level to work. Give them deadlines for work, if they don't complete it, then you need to talk with the employees.
2. Make them Comfortable
Making them comfortable does not mean that you provide a homely environment or you install high end air conditioners, interiors etc to your employees. A comfortable and good working environment makes your employees feel comfortable at work. Your employees spend around half a day at work and it becomes very important for them to have a good relation with their colleagues, managers and everyone one related to the department. See to that your employees inspire each other to work together and better.

3. Performance appraisals
Performance appraisals is also termed as performance review, performance evaluation or employee appraisal. Employees crave feedback on how well they have performed the work or how they can improve themselves. It also gives them an outlook over what is expected from them so that they can work accordingly. Thus, performance appraisal becomes a reason for motivation in management.

4. Equip them with the right set of tools
When you want your employees to increase work productivity in order to accomplish the organisational goals, it also becomes your responsibility to equip your employees with facilities which makes their work easier and smarter.
Technologies are playing a vital as well as trending role in today's world. In every level of management you can see advancements and upgradations. Likely, a CRM software can help your employees can manage their work smartly. SalesBabu Online CRM which is basically a cloud based CRM provides the best CRM Software with its added functionalities to enhance your management activities.

Benefits of using a CRM software to improve employee productivity
An online CRM System provides 360 degree customer data at a single click, on a single platform.
Cloud based CRM software provides accessibility from anywhere at anytime.
Implementation of an online CRM system eliminates paper work and manual errors to an extent.
Enhances the sales management that includes sales pipeline, sales team performance, sales tracking and sales forecasting etc.
Enhances marketing management that includes email campaigns, social media marketing etc with the help of marketing automation software.
With the help of an online CRM software your sales reps can increase up-sell and cross-sell rates.
Online CRM software provides automated reports and MIS which eliminates the time spent on the preparation of manual reports by the employees.
Your sales reps will find it easy to follow-up customers as following up customers, retaining them are one of the most challenging factors for the sales team.
Employees can always keep themselves updated with the help of mobile CRM app. Another added advantage is, employees can also keep their superiors/ managers updated with their work, with the help of the sales tracking system.
Choosing an online CRM software that suits your business requirements becomes important for your business. Choosing a cloud based CRM software can be beneficial for your business as cloud computing has its own benefits. SalesBabu CRM software is one of the most reputed cloud based CRM vendors. To know more SalesBabu CRM software, visit our website https://www.salesbabu.com/ . You can also request for a free demo and know more about the features and functionalities.

A recent survey shows that employees working from home are more productive than employees works in an office. In fact, nearly 75 percent of employees in the survey said unless and until they have some important work, they will not go to the office. More than 50% of employees prefer to work from home, nearly 8 percent prefers co-working area, coffee shop or other outside location. Clearly, the majority of employees prefer to work from home, as they are more productive there. But it's not practical for every small organisation to allow its employees to work from home.
Conclusion
The above mentioned factors may look simple and easy to be implemented, put practically these changes may take time to be followed by everyone. An organisation and its employees differ from one another, there may be employees who may get motivated with just a few morning motivation quotes and for some it may take a lot of effort to keep them motivated. Besides these 6 ways of motivating your employees, you need to build trust with your employees, be responsive to them every time and help them balance their work life and personal life.