CRM System Software is a Business Tool. The only thought that strikes your brain when you hear about the word "BUSINESS" is planning, gathering of information and finally executing them with the best managerial skills. Once you have given your 100%, you expect the result to be good as well. But the reason for your win or loss is all in the way you administer your works.

You might be thinking that CRM system is just used for improving your sales. You may be partial true. Yes, it is true that the sales team in your organisation makes the most use of the CRM application/mobile CRM. But there are several other functionalities in the CRM application which will help you to make your work much easier and quicker. You might be in the marketing department or the customer service department, you can surely make use of the CRM tools. Try to explore more than just leads, pipelines and sales. Let me help you out with it.

As you know that the CRM software/CRM App is a most trendy business tool which is used widely by small as well as large businesses. Don't see Cloud CRM Application as just a business tool but see it like a customer intelligence tool. End of all, what counts is – customer satisfaction! Your customer's satisfaction is directly connected to the sales, profit and brand image of your company. Now let's have a look at the benefits of using CRM application beyond just sales.

1. CRM SaaS
SaaS means Software as a Service. It is a software model which is licenced on subscription basis and is centrally hosted. It basically means that you can access and use cloud based CRM apps over the internet. Here you pay only for what you use and your reps can make use of the cloud based CRM apps through internet. Have you got your best CRM Software which is basically a cloud based CRM? If not, visit our website https://www.salesbabu.com/

Advantages of CRM SaaS
As mentioned above that CRM SaaS can be accessed through internet and is subscription based. So you need to pay as per your subscription and use accordingly.

The SaaS CRM can be accessed easily from anywhere i.e either from an internet connected desktop or your smartphone with CRM App. These services are reliable and are available by the cloud providers.

CRM SaaS offers security when any important data is lost or it can also be protected by inappropriate access.

Through CRM SaaS you can make your work easy as the information can be managed well. You need not have to spend money on any softwares and hardware devices or infrastructure setup. All that you are benefited is unlimited space and easy backup options.

---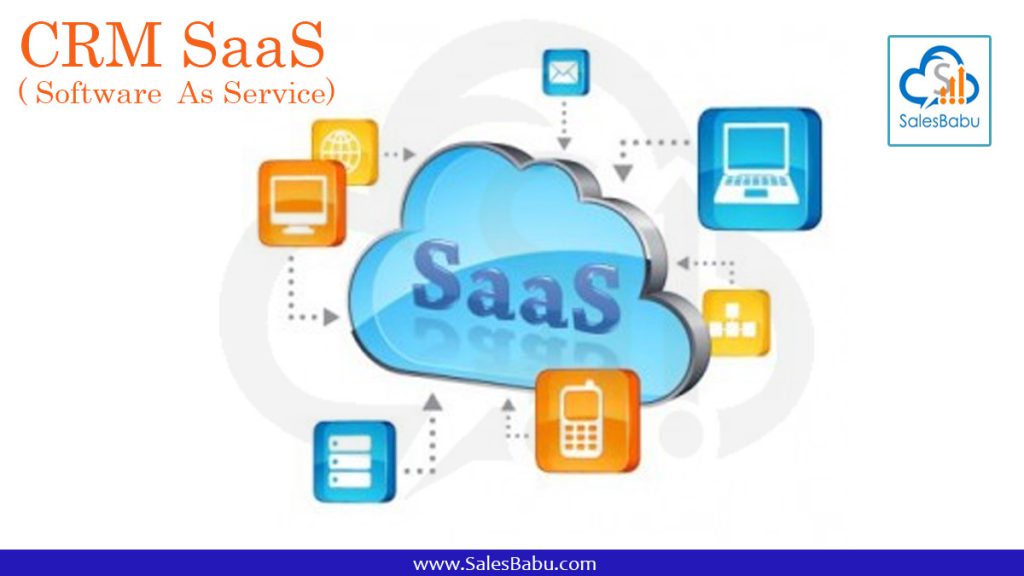 2. CRM as a managing tool
Online CRM software is an all-rounder. It not just gives you information about the numbers regarding leads and sales. But it also helps you to manage your other works beyond sales activities.
You can create follow ups through the Online task management tool, where you can keep a check on assign tasks, mark follows, logging complaints, and closing of complaints, customer remarks etc.
You can also set reminders to the follow up activities.
You can maintain remarks and notes on the scratch pad. At SalesBabu Online CRM System you can make separate notes with all the formatting features available in it. These notes will help you to keep your own reminder client talks.


3. CRM as a marketing tool
Marketing plans have gone under quite a few changes from past few years. New techs have changed the game of marketing. Every customer differs from the other. The ads or offers that you provide may not be matching every category of your customers. Though here, CRM tool can do its magic! The Marketing Automation Software focuses upon concentrating over the target groups by providing information about their personal interests and purchase patterns etc. And not just the existing customers it also helps in the creation of more and more leads ultimate for sales.

Not all products are meant for all consumers. Every specific product has a specific group of customers known as the target customers. Target marketing would revolve around positioning few techniques for a particular group of target market to attract the customers. Thus, CRM helps you to concentrate on the target customers which in turn increases the profit and revenue of the business.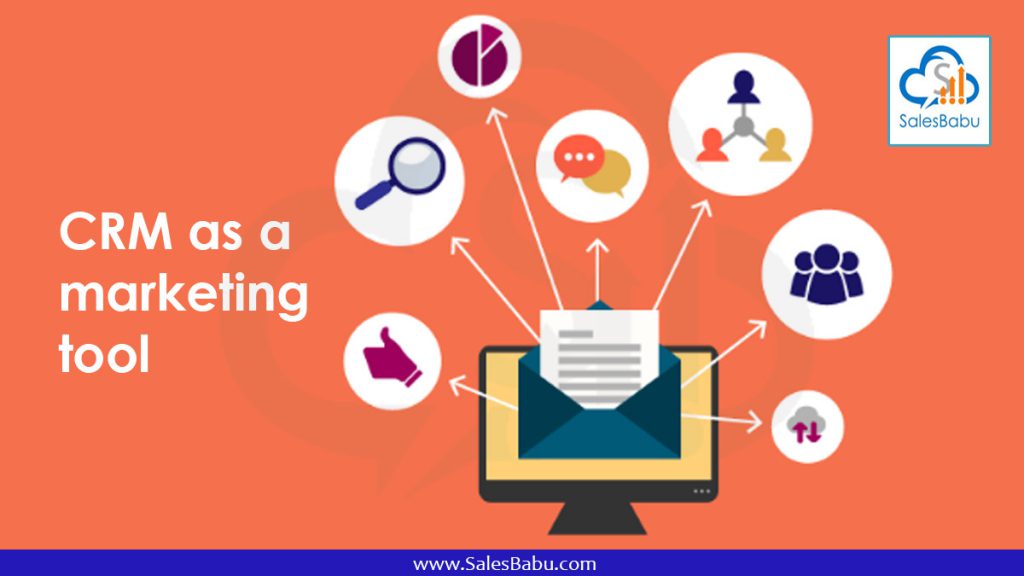 4. CRM as a collaboration tool
Collaborative CRM deals with synchronization and integration of the customer interaction and channels of communications like phone, email, fax, web etc. with the purpose of referencing the customers in a systematic way. The idea is not just to enhance the interactions but also to increase and improve customer retention and liberty.

CRM system is not just used by the sales department, your technical team as well marketing team can also make use of the CRM system in order to achieve organisational goals and also foster collaboration amongst different departments.

5. CRM as an accounting tool
CRM is also useful to the Accounts management. Using the Accounts Management Software you can track account related activities like scheduling of events, delegating and also share activity assignments with other departments or users.
You can take the benefit of 360 degree view functionality in the CRM software which helps you to get all the necessary information of your customers at a single platform.
It also shows how many times the customer had made up inquiries or ordered products or requested for services etc.
It will also help you to keep a track on the payments which will help you while maintains records as well as get you prepared while dealing the next time with your same customer.
6. CRM as a customer feedback tool
" If you build a great experience,
Customers tell eachother about that.
Word of mouth is very powerful".

– Jeff Bezos
CRM itself means Customer Relationship Management. And customer experience is the top most priority in any business to achieve success in the long run. Reaching the right customer at the right time is all that matters. And the CRM software will help you with it! As the CRM software helps you to stay in touch with your customers, it also helps your customers to give their valuable feedback. They might have had the best experience or the worst, but when you are connected with your customers you can listen to them. Your loyal customers will have specific expectations from you and when you tend to improve yourself through their feedbacks, they will remain loyal to you and it also creates a bond of trust between you and your customers.
SalesBabu Online CRM believes that "Never compromise on quality – Satisfy your Customers with our smart solutions". If you are looking for a cost effective way to assign, convert leads and consolidate then contact the best CRM software for a free CRM demo at https://www.salesbabu.com/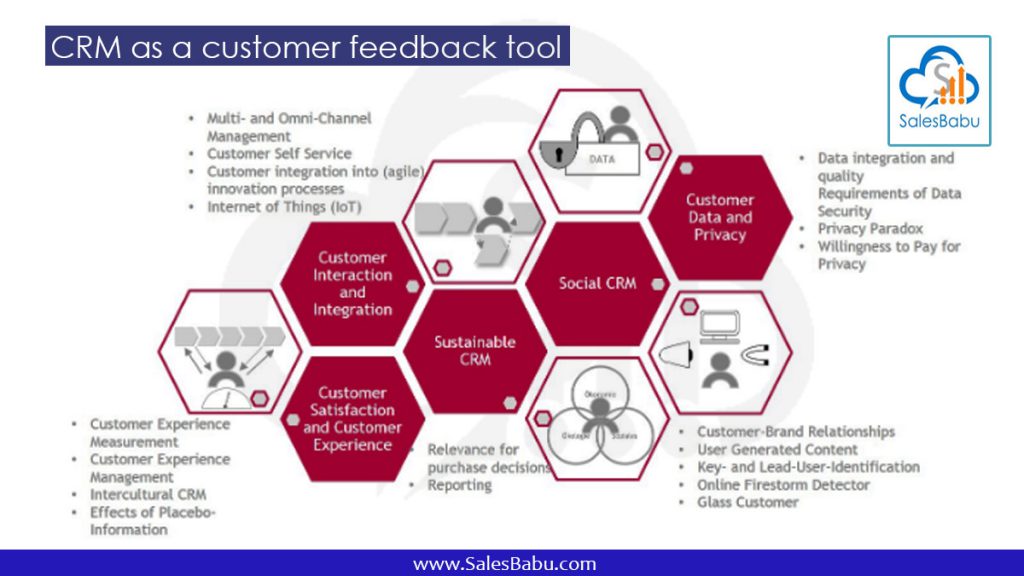 CRM for growing your business
The word "growth" in business refers to the success of your organisation in terms of customer satisfaction, profit or revenue and brand image. Once you make the right use of your best CRM software you can improve your business.

1. Find the right customers at the right time
Finding the right customers at the right time is one of the best way to improve your business. Both sales and marketing will have complete view of leads and prospects so they can convert leads to sales.
2. Boost sales efficiency
CRM system helps sales reps to manage their work like a pro. The Sales Force Automation finishes the sales activities in a single platform and helps to increase sales force performance as well as profitability by giving you everything you need to sell effectively. It is one such system that automatically tracks all the steps in the sales process. It is meant to encourage your sales reps to document and communicate their field activities.

3. Marketing efforts
Marketing is playing an essential role in the present scenario. The CRM application provides E-mail, SMS campaigns and PR initiatives in order to fascinate the target groups towards the product.

4. Enhance employee productivity
Online CRM that is basically a cloud CRM software not only makes your work easier but also provides your employees the facility to complete their assigned work much easily. When they are happy and satisfied with the management of the organisation, they will surely show interest to work more better and will also contribute in achieving the organisational goals.

5. Maintain good relationship with your customers
Your customers will help you sell your products as they can market your products much better than you can. Every customer wants to be recognised as an individual and CRM System will help you to make your customers feel valued. When your customers experience good service and response from you they will surely stay as a loyal customer to you.
6. Reduces the cost of sales
New customers are a key ingredient for the continued growth, but they are not easy or cheap to come by. The good news is that you can offset new customer acquisition costs through sales to your existing customer base. Gain greater visibility into the upsell, cross-sell, and renewal opportunities in your customer portfolio, and you will see an increase in repeatable sales thanks to the trust you have already earned.
7. Improve customer retention
Visibility across all your relationships will help your teams proactively address at-risk accounts and present satisfied customers with new opportunities at just the right moment. With transparency into your customer histories, active campaigns, or open cases, you will be able to provide more satisfying purchases and service experiences that keep them coming back for more. Invest your time carefully now, and strong customer relationships will pay dividends for years to come.
8. Offer the best customer service
Even the finest product is only as good as the service that comes with it — both before and after the sale. Do not hit up your leads with multiple marketing promotions that will annoy or scare them away. Drop the ball after a sale and you have wasted the time and effort that went into winning a valuable customer. When your whole team has immediate access to a customer's complete history, everyone can quickly provide personalized messages and solutions, with the right resources. Smoother interactions build trust and encourage repeat business.
Read our blog – How CRM Grow Your Business?



Don't you think CRM system will help you in every stage of your business activities? There are many companies who use CRM softwares, may it be a small business or a large business. Online CRM software has played an efficient role in the growth of their business. The Online CRM which is also known as the cloud CRM is indeed the best business management software. And if you are thinking of getting the best CRM software which is basically a cloud based CRM which comes with an added advantage of the Sales CRM app, which can be installed in your smartphone as well. For a free demo you can visit our website https://www.salesbabu.com/.