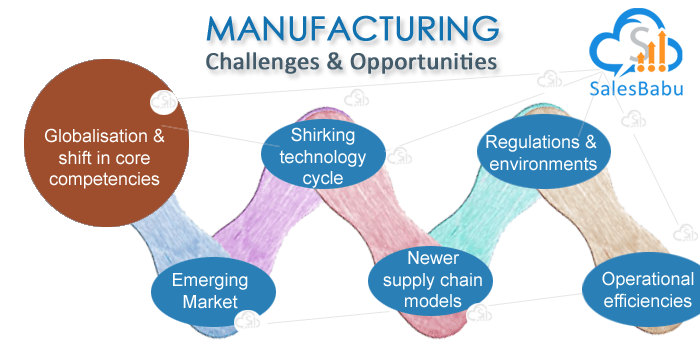 Streamline Sales, Purchase, Inventory, Production & Finance
Manufacturing has undergone a transformation in this century with advent of new technologies and core competencies moving on to new markets. There is unprecedented demand from emerging markets and collaborative supply models are beginning to evolve. At the same time, the environmental concerns also need to be addressed with ever increasing regulations. All industries in manufacturing need insights about regulations, technologies, competitors, demand& supply chains and customers to stay ahead of the curve and be competitive.
SalesBabu CRM for Manufacturing Industry provides actionable insights helping manufacturers simplify strategic decisions to explores, examines and analyses opportunities and challenges. Our experts help you on critical business and technology challenges faced by manufacturers across diverse industry segments. Our work cuts across all major segments in the manufacturing industry market – from engineering and equipment, component manufacturers, construction and machinery to process manufacturing in consumer packaged goods and food & beverages sectors.
SalesBabu clients' value us for our software interface simplicity and clarity in approach to crystallize facts and provide:-
Actionable Insights on screen; which lead you, roll out newer products and improve your existing production processes. The insights will drive your market strategy formulation and improve market reach. Industry coverage & trends helps you plan for the future and reduce business risks.
Market Intelligence information collected through customer interaction helps you to identify new opportunities for your existing product portfolio.
Competitor Intelligence information help you in competitive landscape mapping, detailed profiling of key competitors, competitor strategy assessment and SWOT analysis.
Customer Feedback and Tracking helps you in understanding the ever changing needs of the customer and their satisfaction levels.
Procurement services information helps you in gaining necessary insights for your procurement team and supports them in supplier market analysis, supplier profiling, pricing analysis, RFI support and bench-marking procurement best practices Regulatory and Compliance services information keeps you abreast of regulatory changes happening in the primary and secondary market.
Need Free Consultation to streamline processes for :-
Lead Management ?
Demand Management?
Production Planning?
Tracking Payments and Deliveries?
Customer Management?
Call us at 9910054563  Or Write at sales1@salebabu.in