Managing your leads and sales lifecycle in an organised and systematic manner is the most critical need of the hour for any business model. If you are facing problems to manage inquiries and sales activities, then a cloud based CRM software SalesBabu CRM will be the right choice to not only manage your overall business processes but also systematize your sales activities.
You can utilize leads in best possible way and can easily convert them into lucrative sales. SalesBabu's web based CRM software is the most trusted Sales management software solution in India, helps you to maintain the complete record of sales inquiries on one platform. You can schedule meetings and follow-ups and can get daily reminders. It monitors the complete sales cycle. It also helps all the sales people to follow the standardized processes which give the best output.


Some important features of Web Based CRM Software:
Managing your leads and individual information on each customer is one of the most important ways to convert more leads into sales. With SalesBabu CRM, customer information can be stored in a cloud based centralised repository, which will have complete information on every incoming lead and existing customers. These details can be used to track the interested customer further in an organised and systematic manner. The sales team can use various information stored related to clients like demographic background, interested products and more to create personalised campaigns which can be sent to respective customers for better sales deal discussions and closure.
Read More – Win more Customers with Lead Management Software
Once a lead is registered in the cloud based centralised repository, the sales management software aids sales team to filter interested clients and separate them from bogus leads and nurture them further.
Automated sales force software features help in creating quick quotation and opportunity entries and record them in the centralized database. These quotations can be created and stored at one location and can be accessed through different stakeholders to stay in sync with the customer requirements. Also, different versions of quotations can be stored in this database to help in understanding the customer requirement and how every opportunity is being handled within the team.
Features like predefined templates and auto notification help in sending quick quotation updates to customer and close deals faster.
Imagine a situation where we have to keep reminders for sales meetings and upcoming events through documents or mobile phones and other modes. Managing every upcoming events with manual ways is highly inefficient and prone to errors, even missing meetings with important clients. To handle this situation automated sales force software solution of SalesBabu CRM have inbuilt feature to set a reminder, event alerts, pop ups and more. Also, features like Dashboard page helps in having a quick view of all upcoming events on one screen, which is useful to track immediate alerts and forthcoming deals.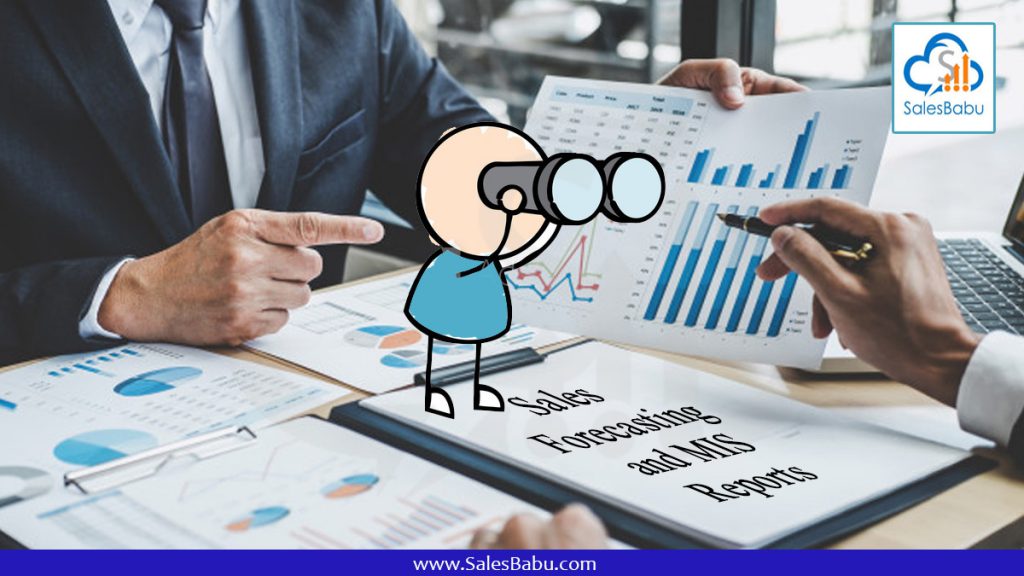 Demand and sales Forecasting is yet another important aspect of sales force management software. With this feature, sales managers and company heads and understand the different market trends and forecast the raw material and final products needed for the upcoming demand and supply chain.
With this sales forecasting companies can avoid unnecessary expenditure on overstock and out-of-stock situation and handle sales life cycle in a more organised manner.
MIS reports and analysis is helpful in creating in-built and custom report to understand the market demand for our products and more details which is required for both internal and external business processes. Many internal affairs need regular reports for the upkeep of the sales process, which is helpful in understanding the sales conversion rate and team's productivity.
Salesbabu sales force management software aids in creating these reports in just few mouse clicks and accelerate the whole process of lead conversion.
Read More – MIS: Now Get All Your Reports Just by a Single Click
With the sales team always on the move, managing their work can be quite challenging considering the amount of time spent at customer sites and travelling. In today's era of technology, mobile sales app is the best way to track and record work items of an agent who is always on the move.
SalesBabu Mobile Sales app, is a very useful feature for staying in touch with the client as well as recording individual work item while on the move. The sales agents can share their live location, send quick document, presentation, quotation pr sales orders to the customer while on the go.
Also, sales managers can assign work to indicial agents based on their proximity to customers and convert more leads to successful sales.
Read More – Mobile Apps to Transform CRM: Know How
Sales order management is another critical part of Sales force management software. With this feature different sales order can be created in a jiffy and sent to client with complete information on products details, payment modes, conversion rate for currencies, respective discounts and more.
Once the sales order is sent, the customer need not search for any information and should have a complete understanding on the discussed deal, which is better for both the company and the customer to have a transparent mode of business deals.
Spend useful time on important leads
You can easily identify the important leads and can track them accordingly which improves your business. Web based CRM software keeps track of sales activities like payment collections, meetings, e-mails, sales orders, quotations, invoices and Reports. You can also automate which marketing campaigns are providing best leads. It maximizes the lead conversions with proper lead management process. You will never miss any important lead. You can't convert leads on first call, it takes time and with regular follow-ups and e-mails you can convince easily and make more sales.
Customer Services
CRM software providing the best customer experience will help to retain and acquire customers. Following are some capabilities that will allow your sales reps and customer support to perform their best :
Provides you a 360-degree view of the customers which shows and everything about the customer starting from the first point of contact.
Automatically sends the customers acknowledgment of the inquiries and messages so that they won't feel ignored.
Automatically tracks all the communications from the lead acquisitions to the closed sales and history of the sales.
This has unique references numbers for each and every account, customer and help issues.
Customization
None of the two businesses are the same, so the CRM will serve all your business's unique needs. Some CRM solutions will let you choose which feature you want to include in your package and also some solutions will also allow you to customize some areas like the ability to add the contacts in the fields, create custom reports and choose the data which should be shown in the dashboard. Many of the CRM providers will offer many advanced options by using APIs. The API will allow you to integrate the software with other existing business solutions that your company uses to streamline all the processes.
Social Media
A CRM solution that has in-built social media monitoring features will save your time for the marketing team because they do not need to switch the platforms to perform some essential tasks of monitoring your company's social media.
CRM with the tools performs social media tasks like :
Checks all the social media channels such as Twitter, Facebook, Instagram, etc. to customize your social media strategy accordingly.
Get an insight into your customers
Manage all the day-to-day tasks of posting to all your social media accounts.
Get in tune with what people are saying about your brand and the product through social listening.
Gain insights into the numbers of social media actions that your brand or products get like the shares, comments, likes, and mentions.
Conclusion
SalesBabu CRM Software understands your business needs. Useless leads eat up a lot of time of the organization which results in sales loss. It solves all the worries and gives you accurate sales reports. Sales team can update customer interactions and other sales activities from anywhere. It is the best technique to improve business procedures. Spreadsheets can't give you much profit because technology has changed now. So it will not give you all the reports in one place. It also maintains backup on clouds, which gives complete data backup guaranty .