One of the prime concepts of digital marketing as well as sales is the sales funnel.
So, what is sales funnel?
The sales funnel is the process of a customer's journey from "lead" to "sale". The sales funnel stages will simply portray how leads pass through your sales process from start to close. Its a visual picture of the number game in the form of a funnel.
There are mainly three stages to the sales funnel, although the stages may vary depending upon the requirement of the business.
Sales funnel stages
1. Awareness
Awareness is the top level of the sales funnel. Here the buyer looks for solutions of his/her problems and discovers products or services to pursue opportunities.
2. Consideration
Consideration is the middle level of the sales funnel. Here the buyer evaluates other different products or services and engages with sellers in order to choose the best of all.
3. Decision
Decision is the bottom level of the sales funnel. Here the buyer decides the solution based on his/her needs and makes the final decision of buying a particular product or service.
Why you need to understand sales funnel?
Understanding the sales funnel can help you to find out the holes in the funnel. If you analyze the number of leads that has been entered in your sales funnel stages and the number of leads converted to customers, you may probably find that there is a large dip. Sometimes the prospects tend to quit the sides of your funnel when their needs don't match the services that you are willing to provide them. Moreover, it's almost impossible to retain every prospect who has entered your funnel.
It is important for your sales team to make efforts to retain the ones who are ready to buy your product or services. But, when the number of leads are given, that fill your funnel, sales teams will have a tough time converting those leads into customers as they cannot predict it. This results in un-qualified hot leads in the top of the funnel that either drop out due to slow response times, or remain stuck in the middle of the funnel, eventually becoming cold leads. For a business, it means missing out on an important opportunity though there are more ways you lose leads in this sales funnel stages.
Benefits of sales funnel
The sales funnel allows the sales reps to disregard the leads that are not worth keeping in the funnel for a longer period of time.
The sales funnel provides sales forecast insight for every month/half year or annually.
Guides the marketers to engage and nurture leads based on the stage of the lead.
Provides transparent insight of the entire process and empowers the sales and marketing team to be focused on their targets.
Why is it important to build a sales funnel?
It is important to build a sales funnel because it is an effective instrument for lead generation. Here are certain factors necessary to build a sales funnel –
Identification of prospects
Generation and engagement of leads
Sales volume prediction
Coordination between marketing and sales team
Increases conversion rate
How to build sales funnel?
1. Implement CRM Software
The CRM software helps you to make sales funnel management easy and efficient. An effective CRM software enables you to sort the qualifying leads. It also registers the enquires and conversations with details of the client. It helps to capture the maximum information of the customer's requirement. Thus, you can qualify leads, track activities at every sales stage, monitor and also follow up at the right time through automation.
Read our blog – How To Implement CRM Successfully


2. Use social media
Social media is another boon which can be used effectively at every stage of the sales funnel. In social media, the people who like, follow or share your social media feeds are your prospects. These customers check your product details on the website and may place the order as per their requirement. Thus, managing and active and interactive social media can result into a lead generating tool.
3. Create a landing page
A landing page is the major point of contact for your potential customers. The landing page can create your first impression on the customers. It should include necessary keywords for higher search engine visibility and also provide clear information of what products or services the customers will get from your business.
4. Write informative blogs
Blogging is not just to put some content on the platform but the main purpose is to provide information and knowledge to a vast group of people. These blogs helps to form a two way communication where the audience are able to respond. By providing your unique thoughts and ideas to the audience you can enhance your brand identity.
5. Cross-sell and up-sell
Cross-sell and up-sell is one of the major reasons behind gaining profits. Cross-sell or up-sell happens when the customers have reached the bottom level of the sales funnel and you could make use of the opportunity to cross-sell or up-sell.
A Guide to Building a Funnel
Get the attention of your customers – Your sales funnel will only start working when users enter it. Even the foremost amazing sales funnel won't fetch you results unless you will be able to attract your audience to enter it. Therefore the process starts with getting the proper content in front of your audience. Organic efforts like SEO optimization, blogs, SM posts, and paid marketing like Facebook ads and Google Adwords can help you grab their "attention".
Get started with nurturing campaigns – Now that your prospects have turned into leads, it's time to begin marketing to them. However, confirm to not flood them with content. Keep the frequency of your marketing content to merely what is required to remain on top of their minds, not break their minds. Educating them, convincing them, and making a proposal they can't refuse are all part of "lead nurturing". At the tip of this nurture period, you should have inspired your leads to convert and make a purchase.
Get to know your audience – Knowledge is power and the more you know about your audience, your sales funnel becomes much better. It is futile to market from a hilltop to everyone below. Rather, market to those users who are a good "fit" for your brand.
Sales funnel strategies
Let us take a closer look at the sales funnel strategies to optimize sales funnel management.
1. Eliminate unnecessary steps in sales funnel
Do not include unnecessary or extra steps in your sales funnel which makes a customer rethink the purchase decision. Keeping your sales funnel stages simple and short helps you to manage sales funnel efficiently.
2. Manage your sales funnel with a CRM System
Prospect customers do not act in the same way as qualified customers. You need to correctly define the sales stages in the CRM. Knowing which sales stages you require in your sales CRM pipeline is the initial step to move your customers through the sales funnel stages.
Benefits of using CRM system to manage sales funnel
Helps you to define sales process.
Identify leaks in sales funnel.
Streamline the conversion process.
Track activities at every stage
Monitor and follow-up prospects.
Reduces the time spent on each stage.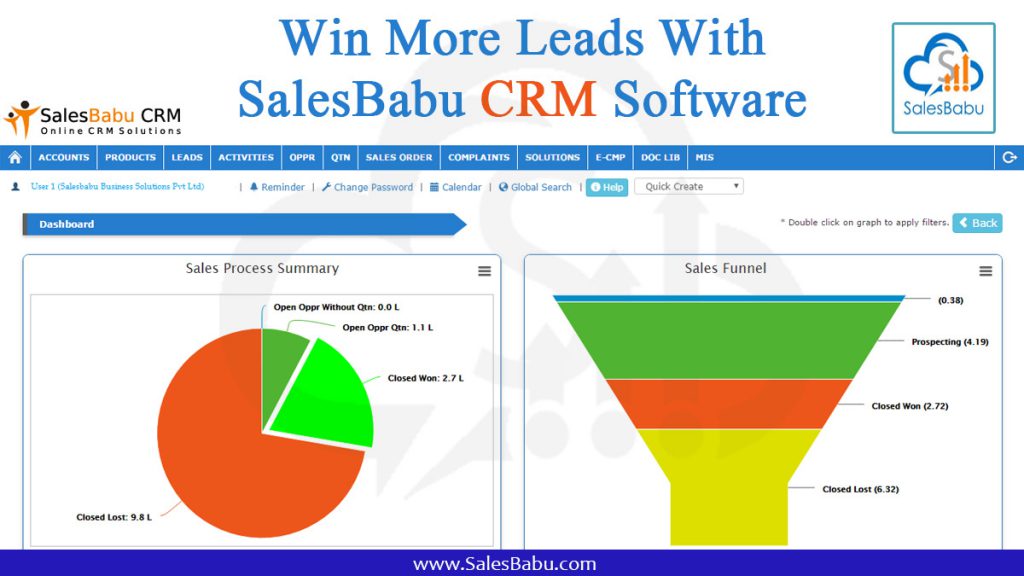 SalesBabu CRM Software is a full-fledged Online Cloud based CRM Software that handles every sales funnel stage and allows you to focus on the right leads at the right time. The SalesBabu CRM provides complete visibility into the sales funnel from lead generation to lead conversion. Want to know how to convert more leads to deals? Check out our blog – Win More Leads With SalesBabu CRM Software


3. Understand bottlenecks in your sales funnel
Understanding even the minor bottlenecks in the sales process becomes important in the business. These bottlenecks will give you an outlook on where you need to improve yourself or inculcate new strategies in order to work smoothly. These bottlenecks may include poor demo, lack of follow-up, inaccurate quoting etc that can derail the sales funnel from the track.
Simple mistakes that may ruin effective sales funnel management
You are not tracking enough data
Unable to balance lead generation and lead management
Including too many steps in the sales cycle
You are unable to overcome customer's inhibitions
Lack of automated features. But, if you are already using a CRM, and yet unable to make the utmost use of CRM to convert more leads to sales, then you are using it wrong. Want to know how? Refer this blog – Mistakes which ruin CRM and sales process.
Your sales and marketing department are not aligned.
Untrained employees.
Wrap up
A sales CRM like SalesBabu CRM, can help you manage your sales funnel smartly as every sales stage can be systemized and administered for a much more productive sales lifecycle.