"We don't have sales people.  We don't need CRM."
"Our sales reps are fine, they know their customers well and they use Outlook to manage their contacts."
"We really only sell to existing customers and we have a lot of repeat business."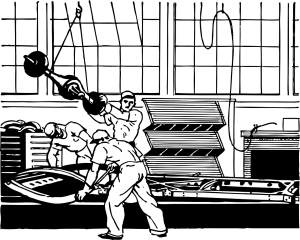 Manufacturing Industries gives above excuses for not having a CRM.
CRM is not just only for Sales persons or only for Big Industries and business. Sometimes people  think that CRM involves heavy amount of investment. This is actually not correct.
CRM for Manufacturing Industry allows you to streamline the day-to-day processes in a manufacturing set up. With this great tool you can earn the confidence vote of the customers
Sales Forecasting
Optimum utilization of Sales Resource
Empower workforce with skill training
Market visibility to fight competitors
Boost Sales and Services
Easier access to technology for real time information updates.
Streamline Sales and Marketing process to increase revenue opportunities
Objectives of Manufacturing CRM
Centralised DataBase
You can manage all your customers Database in one place. So it becomes easy to access the information regarding any customer at any time. Just by a single click all Information can be viewed.
Capture and track all customer information and interactions
Real-time data to make informed decisions
Identify Prospective Customers
Lead Follow-up Management
Online CRM facilitate seamlessly capturing inquiries coming from a variety of sources, including website lead forms, marketing automation systems, and lead providers.
Lead Capture
Flexible Lead Distribution
Continuous Activity Prioritization
Real-Time Dashboard and Reporting
Tracking payments, delivery & dispatch
CRM for manufacturing industry offer functionality to schedule and track partial payments against orders, installation, purchases etc. also it automatically calculate pendency aging.
Set partial payment reminders
Track follow-up conversations
Manage Dispatch Details
Manage delivery logs
Delivery and dispatch reports
Pending order reports
Customer Service Excellence
How much time sales staff spent to answer basic Questions from customers? Always give your customers confidence that they will get answers of their questions, quickly and reliable from your organisation.
The first thing comes into manufacturer mind post-sales implantation and delivery of project. Manufacturing CRM system manage all the information and keeping all the team in loop so that they can perform their job right and keep the customer happy.
Cost Reduction
CRM helps the manufacturing units to streamline the complete process flow in a very efficient manner, moreover it does not require any overhead support, it leads to reduction in extra cost & also helps in more revenue generation.
Less time in lead filtering
Optimize skilled workforce save high employee turnover.
Timely order processing save customer service time and effort to retain the business.
Real time inventory monitoring
Demand forecasting save extra production cost