Focus on your customers and they will help you stay ahead in the game of competitors!!
Focusing on your customer needs, trying to satisfy them and eventually trying to retain your loyal customers is what you plan and try to manage to the fullest. You might be having the best product or service in the whole market. But until and unless you don't put in efforts to know what your customers actually think, you cannot provide them the best customer service and support.
What is customer feedback?
Customer feedback is the personal experience shared by the customers/ clients about their satisfaction or dissatisfaction with the product or service they have received. The feedback can be positive or negative depending upon the customer's experience. Some of the opinions can be a resource to improve your business strategies in order to improve customer experience.
Why is customer feedback important?
Without customer feedback, a company will never know if the customers are getting the value of their product. Without knowing that they are getting the value or not, the product and the go-to-market team will not know that if they are nurturing loyal customers. According to Gartner, customers' salient experiences with the company will heavily influence their long-term switching behavior and reflect the true drivers of the royalty.
How to get quality customer feedback?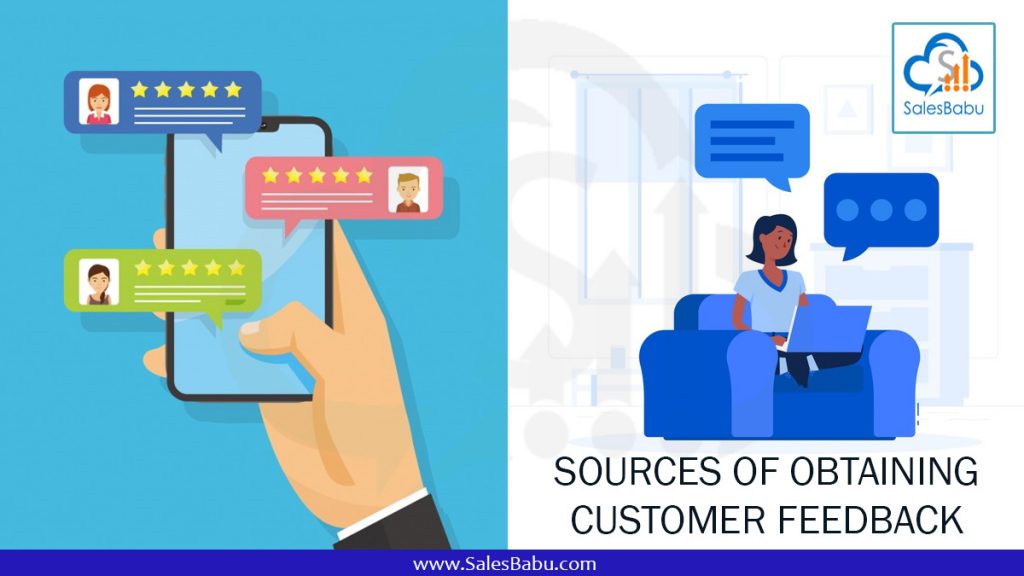 1. Provide live chat support
You can set up a live chat support and boost the website credibility as well as sales whenever your customers or clients need.
2. Send a follow-up email
Do you follow-up your clients or customers once the job is done? One of the simplest ways to engage your customers is to send an email follow-up when a job is complete. The best way to follow-up your customers with email campaigns are –
Let your customers know that the job is done.
Request for feedback (accept the feedback positively).
Respond as soon as possible.
Apologize if any negative experience and make sure you give an explanation on what might have gone wrong when necessary.
Promote your business.
Allow them to respond for further concerns.
3. Social media channels
Social media is the short term attention span media, where grabbing the attention of the audience is a challenging task. At present the primary focus is not just on sales, marketing, service and support, but with the emergence of social media businesses are able to create good relationship with the customers.
That being said, the Social CRM is the integration of social networks with Customer Relationship Management(CRM) to help focus on the customers. Social CRM links your customer data and information stored in the online CRM software with the customer's public profile on the social network that the customers maintain. Get the best CRM software at SalesBabu Cloud based CRM Solutions to enhance internal as well as external business interactions.
Social media sites are one of the best tools which are helping to "listen to your customers". Social media is a platform through which you can stay in touch with your customers even after sales. You can send newsletter via social media sites like facebook, linkedin, twitter and instagram etc.
Social media can also be one of the best marketing business strategy for your business. To know more, read our blog – Social Media – New Age Marketing


4. Face-to-face feedback
Face-to-face feedback from your customers about your product or service always has a personal touch to it which makes it comfortable for the customer as well as the brand rep to interact with each other.
Though online surveys have their own pros and cons, face-to-face conversations with your customers can be more effective. You can get a clear understanding of any existing issue, you can know what really drives your customer's buying behaviour, asking them the right questions, then probing and also clarifying details when necessary, can be an effective way of obtaining customer feedback.
How to improve the customer feedback strategy?
Make it easy – Collecting the feedback must be done on the terms of the customers, and not the companies. If the customer has to dig around in the product to find the "contact us" form, then it is not that easy for them to provide the feedback of the product and marketing team covet. Time-to-time surveys are also not enough. Effective programs will make the feedback mechanism as simple as possible, which is available to any customer at any time.
Make it timely – Emailing a survey to the user may be asking for more than they are willing to give, especially because reading the email will pull them out of the product. Instead of this, try to survey them in-app so that they receive the question while they are using your product. In-app surveys will yield more accurate feedback and typically have high response rates.
There are many more sources of obtaining customer feedback from your valuable customers.
Why is customer feedback in customer service and support important?
1. Customer feedback helps to improve products and services
When you have introduced your product or service to the market, it becomes important for you to know what your customers think about your product or service. When your customers purchase your product or service, they will have their own personal experience. And in the customer feedback they will let you know how the product or service is working for them, what are the flaws, what are the advantages etc. Moreover customers will change their opinions and interests based on the trends as well. Thus, you get a complete insight about your customer's feedback, which will help you to improve your products or services to be better and satisfy customer needs as well.
2. Customer feedback shows how much your customer values your product or service
There are multiple companies which provide the similar product or service in the market just like you do. But have you wondered why your customers tends to value just your products or services? The answer is simple, when your customers value your brand they will tell you about their experiences, expectations and requirements. And they will give you a chance to improve your product or service depending on their expectations, though they have hundreds of other options.
You must understand the customer psychology that, your customer will not bother you if they don't value you. But if they are coming forward to help you improve your product or service, you need to be thankful to them.
3. Customer feedback helps you to improve customer retention strategies
Customer retention plays a prime role in the business survival, in the long run. Customer retention strategies has various benefits like –
Low marketing cost
Improves business revenue
Increases sales
Improves upsell and cross-sell
Improves brand image
Customer feedback helps you to improve your products and retain your loyal customers as well. When you are able to fulfill your customer's expectations you can easily retain them by various strategies. When you put in efforts to improve your products or services and also retain them, they will not just prefer your brand but also get you two more new customers.
Read our blog – Retain your loyal customers
4. Customer feedback improves up-sell and cross-sell
Up-sell and cross-sell have their own benefits no matter which industry you belong to or what is the size of your business. Your customer's feedback can be beneficial for you to carry out up-sell and cross-sell of your products or services. If you are successful in convincing your customers by your suggestions you can master up-selling and cross-selling of your products and services.
5. Customer feedback helps you in further decision making
In a business, you cannot just make mere guesses all of a sudden. You need to analyze, strategize and know the after effects before taking a decision. Take your customer feedback as suggestions and try to implement the best of all.
6. Customer feedback can be a reliable source of information for other customers
At present the technology is able to make or break your brand within minutes. There are many customers who will tend to buy your product or service based on other customer's reviews on social media sites or trusted websites. These reviews will help you to gain new customers without much effort when are able to provide them the best customer service and support. Many companies at present have incorporated review system in their services and products.
Read our blog – Top 8 Tips To Make Your Customers Fall In Love With Your Business Brand
Conclusion
Your customers are the ones who are making use of your products and services so they know it better – on how you can improve your product or service for the better. Always understand the fact that, you are not the only product or service available in the market. If you do not focus on your customer's suggestions there are more chances that the customer tends to find another company that may do it even better than you.
Always be thankful for your customer's feedback and try to fulfill their needs and expectations as soon as possible. Once you are successful in gaining loyal customers they will market your products or services even better than you through the 'word-of-mouth'.
Lastly, learn how to collect customer feedback in customer service and support, strategies to retain customers, maintain good relationship with your existing customers and flourish your business as well. One of the best business strategies which comes with all the above mentioned factors is the implementation of a CRM software. The main and first objective of the CRM software is to increase customer acquisition at a lower cost, secondly follow up customers for their feedback and lastly retain customers by building a good relationship with them.




Are you using an online CRM software for your business? If not, request for a free demo at SalesBabu CRM Solutions. Or visit our website https://www.salesbabu.com/ to know more about the features and functionalities of the best Cloud based CRM Software.