Customer Relationship Management plays a crucial role in any organisations because success or failure of any company depends on the relations with the customers. An effective management of customers enables company to focus on all openings and streamline all sales activities in the organisation. It is possible with the help of CRM software. You can select a CRM software according to your need and the choice of applications. CMR software enables organisation to keep and track the record details of any service, marketing and sales team with the latest updates. It gives you a real-time access to details of all activities to ensure the best returns on your investment. CRM Software enables company to pick up all activities related to sales. Software for the Customer Relationship Management helps you to improve all marketing effort with its real-time trade intelligence and the online campaign supervision with a CRM software. It empowers you to reduce the cost and assist organisation to improve productivity with an organised work culture. Complete automation of entire process business is additional advantage of Customer Relation Management. It enhances the customer happiness and guarantee the fast marketing and sales activities. Software gives you useful applications that help you to ensure the better return on investment. Automation procedure of sales, customer services and marketing activities enables organisation to improve entire management process.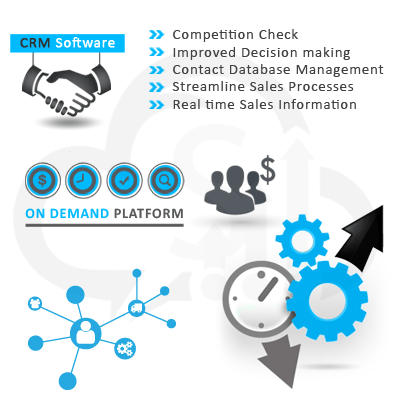 If you are looking for the best CRM you can rely on the software for Customer Relationship Management because it allows your organisation to improve customer relations even with any smart phone too. Incorporated data and all instant updates help company to improve the reporting system which enables the organisation to close all deal in very less time. CRM provides company a complete view of whole sales cycle, pipeline sales, trends of sales and opportunities. Customer Relationship Management Software enables your company to increase the efficiency of entires sales team. It assists the company in reducing cost of operations. Clutch and grasp all opportunities with a focussed and professional approach. Automation of tasks helps organisation to improve the workflow.
CRM Software helps you to capture maximum information about requirement of a customers. CRM software empowers company to manage the many contacts for single customer and keep entire record of past interaction with the customers. It assists sales managers of the organisation to assess and monitor real-time activities of all team members to forecast exact sale and enables them to plan as per the need of organisation. Software for CRM gives cloud-based applications, which allows organisation to follow all sales leads cost-effectively and managers can easily assign the leads to an efficient sales team member. CRM provides you a real-time analytics thus gives a real picture for implementation and planning.