How well we are able to win more customers or clients irrespective of size and sector, says a lot about the level of success and longevity you have in the market. Both small and big organisations face problems while managing leads. You might have heard or read about thousands of tips, tricks and strategies in order to win customers and manage follow up smartly.
Well, smart follow up of sales leads are an imperative aspect of improving sales in the business. It is a great way to sell more to existing customers and also get referrals of new customers.
Understand your leads
Hot leads
Hot leads are a type of qualified lead which meets all the required criteria which most of the time is set. Applying the BANT lead qualifying system can let you know if its a hot lead.
When the prospect is prepared a budget and is ready for disposal at anytime the project proposal is approved by the management.
When the prospect can make decisions or is the person in charge of making the purchase decision.
When your prospect actually needs your product or service.
The point period from the time you spoke with the prospect to the projected period of purchase of the new product or service.
Warm leads
In warm leads, usually the constraints are budget or authority which avoids the conversion of lead to a sale. If the warm leads are nurtured well, the prospect may call you back or reach you out.
Cold leads
Cold leads needs to be further nurtured through tools, efforts and skills.
How to manage follow-up sales leads?
Make sure you are being responsive to your leads.
Personalize your communication in such a way that your leads do not feel like you are pushing canned responses to them.
Use social media platforms, emails, SMS or phone calls, depending upon your lead's preferences. Every prospect does not have similar preferences. Some prospects may prefer calls and some may prefer texts. After your initial conversation make sure which will be the best way to contact them in the future time period.
Make a follow-up schedule depending upon the current priorities. The follow-up schedule includes a plan or a schedule which outlines when calls, emails or SMSs should be happening. The follow-up schedule should change frequently as time extends.
Knowing your customers needs and wants are one of the best forms of getting connected with your leads. Try to understand your client's requirements which may include various factors like comfort, family needs and personal desires etc.
When you are successful in understanding these factors you can provide the best service for your clients.
Provide valuable content to your prospects which contains information that is useful for the prospect. The content need not have to be sales focused but should relate to the services you are willing to provide which may fulfill the client's needs and wants.
Concentrate on the hottest leads at the right time. The hottest leads are the most qualified leads that your sales reps need to concentrate upon.
Align your sales and marketing department to convert leads into sales. The marketing reps should generate and nurture leads, and the sales reps should close leads.
After a lead comes in, thank them with a 'thank you' mail.
Always have a certain reason to contact your prospect. Do not just follow-up your prospect to check-in.
How to manage sales leads smartly?
There is always a difference between working hard and working smart in your business. Once you are successful in contacting your lead, the next step is to follow-up. Follow-up with leads is one of the basic ways of converting leads into sales. You must always remember that your clients are the reason for your business and following different types of follow-up will work differently for different customers or clients.
Back to the question, how can you manage sales leads smartly? Implementation of a CRM system can help you to manage sales leads smartly. Your sales reps are always loaded with various tasks like – administrative tasks, managing pipelines, following-up leads and maintaining sales reports etc. And enabling your sales reps with the right tools can benefit them to carry out their day-to-day tasks effectively. 
Some ways to manage the leads :
Distribute your leads quickly
Studies have shown that if you respond within 48 hours of leads contacting you, your sales closing rate will grow up dramatically. Consider your own experiences. What number of times have you ever tried to contact a company to request information and that they never go back to you? By responding quickly, you set your self other than your competitors.
Excite your sales staff about each prospect
The best salespeople target on detailed qualifying, so should the remainder of your staff. The more information you get about a prospect, the more excited your salespeople are about the lead. Whoever collects prospect information needs to obtain additional information from every prospect with each interaction, including such things as "what interested you about our products" and "why is it important to you." They must also attempt to may the organization so your salespeople are becoming involved with the decision-makers in each company.
People most frequently hear about your company and products and services through ads, referrals, online banner ads, or some other sort of advertising. You will like to track what caused these suspects to lift their hands so you will better detect what works and what doesn't. Additionally, it's important to capture the source of every intervening event so you will determine such things as what number of times you wish to touch a customer or what order of touches works best. If you do not capture the source, you have no way of working out what's working.
How CRM system can be useful for follow-up of sales leads?
CRM system allows you to automate your entire sales process.
The CRM software stores the entire essential data like – company size, interests and goals etc in a single platform.
The CRM system provides sales pipeline management that provides a visual display of the opportunities at different stages of the sales process. As the lead moves through the sales pipeline, it helps to keep track of every deal.
The custom profile fields feature in your CRM application gives you an insight about where you need to obligate your resources. When you get a clear picture about your target groups, regions etc you can get an overall outlook of your sales and also figure out where you can improve yourself or focus more.
Through the marketing automation software, leads can provide information about themselves which can be further used for the sales process.
The marketing automation software focuses on generating more number of leads and ultimately converting them into sales. It is dedicated to drive its efforts to make new customers through email, cold calls, PR initiatives etc.
The requisite data is presented in the form of graphical charts, MIS reports and metric analytics.
Every piece of information collected on the lead source are automatically added to the centralized repository. Once the collection of information like leads, background details, demographic information, purchase history and more are done, it is screened to filter out the interested leads and dump bogus clients to target them for better marketing results.
The task management software helps the sales reps to schedule follow-ups, meetings and calls. It also helps to create reminders, alerts, notifications and events etc.
Read our blog – 5 ways to close more deals with CRM software


Simple methods of follow-ups using a CRM software
Call follow-ups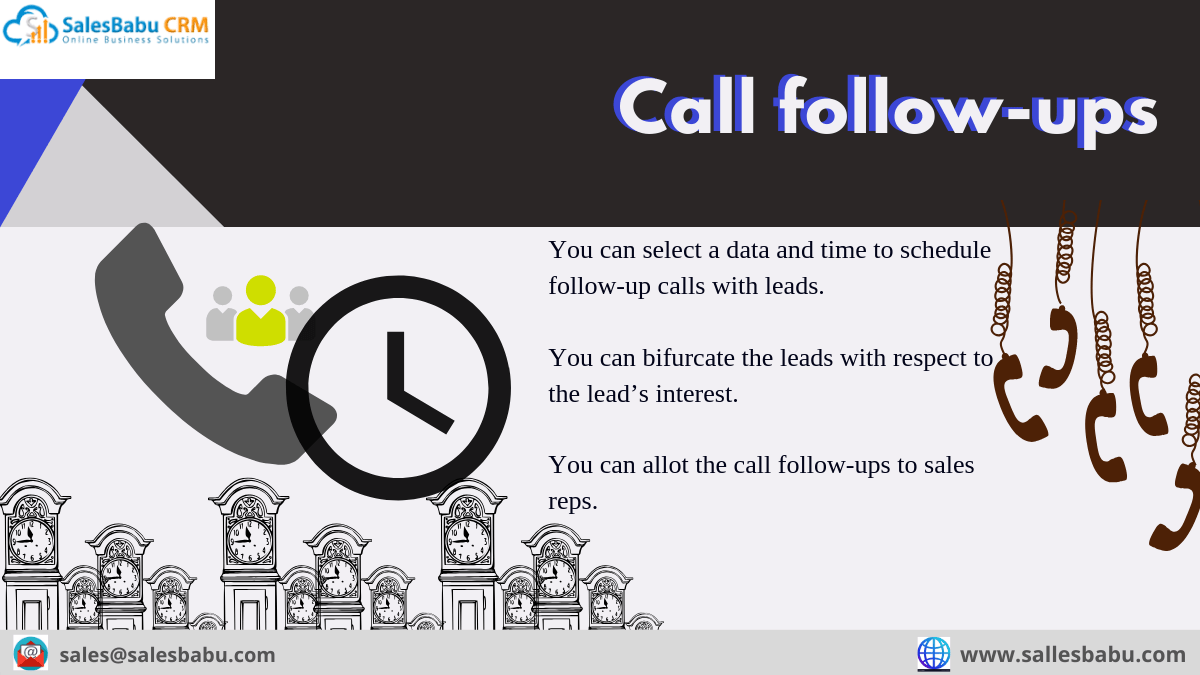 You can select a data and time to schedule follow-up calls with leads.
You can bifurcate the leads with respect to the lead's interest.
You can allot the call follow-ups to sales reps.
You can set automated reminders or alerts to never miss a follow-ups.
You can also keep a record of the calls made to the leads.
The call status can also be updated depending on reasons like – did not pick the call, switched off, busy, not interested, out of reach etc.
SMS follow-up
You can automate follow-up messages to leads for any particular reason.
You can select templates created by you.
You can send personalized SMSs according to your client's requirements and wants.
You can set automated reminders and alerts to follow-up leads by SMS.
You can have a record on the SMSs being sent to clients by your sales people.
You can send personalized emails to your clients depending on their requirements.
You can select a date and time to schedule emails for leads.
You can have a record of the emails sent by your sales reps.
You can set automated reminders and alerts to follow-up your clients.
You can bifurcate the email follow-ups depending upon their interests.
How often to follow up with prospects?
Following up your leads does not mean you keep annoying your leads or prospects with multiple phone calls, mails or SMS's everyday. This can make the prospect create an impression that you don't value the prospect's/lead's time. Following up your sales leads through cold calls, cold emails and SMS are the most common forms of follow-up techniques. And yes, we all want to basically hear a "yes, I am interested" replies from lead's end. But they may not be interested, or they may not even react to the follow-up.
So, how often should you follow-up your leads?
Every follow-up sequence differs from one industry to another. But here is a simple follow-up sequence which may work well for you with the help of the CRM software in the long run.
DAY 1 – First follow up
DAY 3 – Follow up
DAY 7 – Follow up
DAY 14 – Follow up
DAY 28 – Follow up
DAY 58 – Follow up
Next Once a Month
You may have put in all the efforts to follow-up your lead but you should also be aware of – when to step back. Send them emails or SMSs which depicts your hope to work together in the future time period.
Read our blog – Win more Customers with Lead Management Software



Make the best CRM choice
There are multiple CRM vendors in the market who provide various features and functionalities in their CRM system. And choosing the right CRM application for your business is surely a challenging task.
SalesBabu Cloud based CRM Software provides essential features like Sales force Automation, Market Automation, CRM analytics and 360 degree customer view etc which makes it a prominent choice to follow-up sales leads smartly and frequently. The sales manager can also have a track on the sales reps's activities with the help of SalesBabu CRM Software. Thus, the automated system helps to improve the overall lead conversion rate. To know more about SalesBabu CRM Software you can visit our website https://www.salesbabu.com/. To know the complete working of the CRM system, you can request for a free demo at SalesBabu CRM.

Read our blog – Win More Leads With SalesBabu CRM Software
Wrapping up
Besides the use of automated tools or any specific strategies to increase the conversion of leads into sales, you need to understand that that timing plays a significant role in lead management. If you take too long, you may lose the opportunity and if you push too hard, the lead may walk away.