Sales tracking and management can be a tricky job in the real world. With numerous products and endless list of clients, managing every individual request with utmost diligence is a tough job for a sales head. Many traditional businesses look forward to a single step solution for organising their sales process and create a systematic process of sales management in the form. The best solution to all these problems is to have Sales Management Software . Sales Management Software help sales heads to track sales activities, maintain sales discipline by automating the entire process, reduces their unnecessary efforts and saves a lot of their time by automating the mundane business processes.
Sales Management Software is a tool which creates an organized system of business sales cycle and standardize the process of demand sales cycle.


Let's discuss some of the functionalities of sales force automation software in detail.
Benefits of Sales Management Software:
Customers are the lifeline of any business organisation. Having a cloud based centralised system of data storage help in organising your customer data and their respective sales information at one place. You can easily manage customer's database and customers' demands with the help of web based CRM software. Centralized database streamlines contacts and help in properly tracking sales activities. You can view the entire history of customer interactions with this CRM software system.
With these sales force automation softwares, companies need not worry about missing any prospective leads information or having insufficient details on a client, as every detail is properly recorded and entered in a cloud based database with the utmost level of security and data protection features.
Read More – How CRM Helps Businesses Engage Customers – Better
Lead capturing and nurturing is one of the most important parts of any sales lifecycle. Web based CRM software provides numerous automated features to integrate with third party vendors like email services, social media and other service providers to track and capture lead information over the internet and record them for further nurturing.
With these lead management features, the sales team need not go around different documents to contact and reach out to different leads. With this centralised contact management, customers are contacted quickly and moved to the next stage of sales lifecycle with automated marketing campaigns.
Read More – Win more Customers with Lead Management Software
Efficient Sales Strategies
With the help of this sales management software, the sales team can automate the whole sales tracing process and focus more on lead capturing and nurturing strategies with improved productivity . Sales Managers can analyse old opportunities to understand the pain areas and help closing better deals or reopen old lost cases to nurture them further with better sales options. Also, with "Add Competitor" feature of Sales Management software, we can analyze our competitor's offers and make counter sales strategies to bag more deals for the organisation. Sales managers and business heads can also create strategies based on previous purchases of the prospective client and send them personalised sales and marketing campaigns by understanding their demographic background and shopping trends in the market. These features can be possible by using centralised database containing complete customer data collected over the internet on every client.
Read more – Three ways How Cloud CRM Software can take your Sales to next level
Automated activity management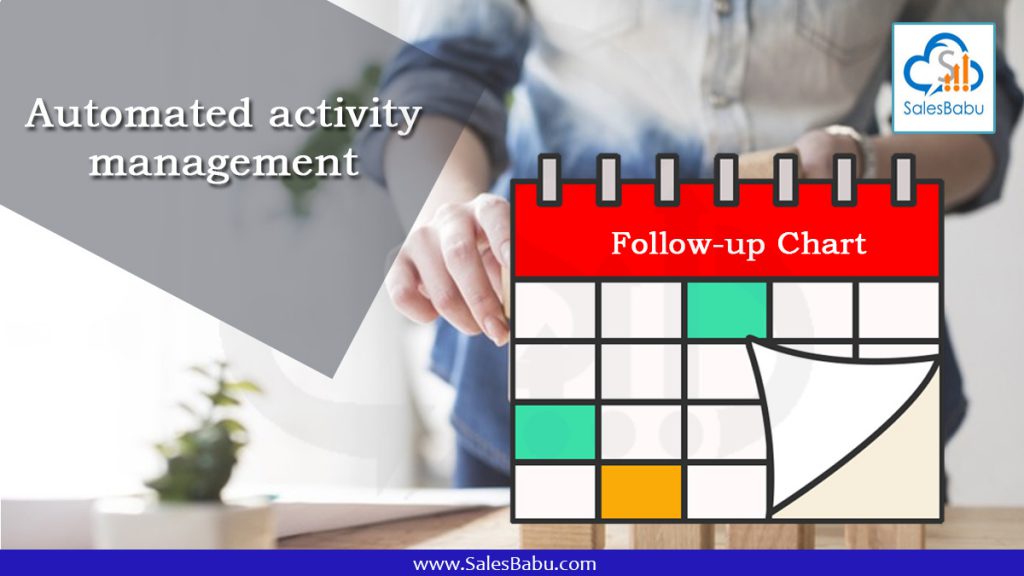 Follow-ups play an important role in sales. Without proper follow-ups you are increasing the chances of sales lost. Follow-up activities remind you every time whom you have to call, when to attend meetings, appointments and when to do payment collections. So you will not miss any single follow-up and can make every opportunity a close win.
Activities on each enquiry or ongoing sales deals are tracked using new action items on the sales agents, which can be tracked with proper notes and timelines from the centralised database. Sales Managers and team heads can keep a note of different states of activities and gaze different sales agents based on closure rate of these activities and success criteria on each incoming entry.
Data tracking and Analysis
It is quite challenging for big organisations to manage sales team and to track them individually. Web based CRM Solution helps sales team to identify their goals and sales managers can set individual sales targets for each member of the team. Also, with periodic reports on every employees sales targets achieved, managers can view who is achieving how much. A cloud based CRM software solution like SalesBabu CRM, is the best tool to manage sales team and their daily sales activities. It keeps you up-to-date about the lead status of each and every employee. We can also assign sales targets to the team according to their sales capabilities and track their performance on a regular basis.
MIS feature in the software also helps to record and understand the demand of the various products in the market and forecast the appropriate amount of stock required in the warehouse to avoid overstocking and out of stock situation in production companies.
Read More – MIS: Now Get All Your Reports Just by a Single Click
Sales force mobility features
A cloud based CRM software like SalesBabu CRM also provides features like Mobile sales apps, automated quotation and sales order creation, predefined template for auto notifications and more. These easy to use automated features help in providing efficient solutions to sales team to work from anywhere and anytime. As sales team, will always be on the go, sharing presentations, quotations and final sales orders to customers are really helpful in bagging great deals with the customers. Live location sharing is another great feature of this cloud based CRM software. This features enables sales agents to share their location and aid help and ticket updates using their proximity to customers and use their time efficiently by closing nearby tickets first and help in fast turnaround time for his clients.
Automate workflow
Sales management software will allow the sales team to concentrate more on the selling of the products instead of worrying about the repetitions. But important tasks are updating the database, scheduling the calendar events, creating reminders for follow-ups, scheduling the tasks which are necessary for the sales process, and creating assignments for the relevant team members.
Increase teamwork
Sales management software will be able to sort out all the work which will be done by the sales team and present that information in such a way that it will allow everyone to understand what is being done by the sales team. The easy access to all this information will reduce the need for lengthy meetings which allows everyone to get involved. This kind of information is very informative and inspirational to all the employees in the company nevertheless of their position.
Organize information
Sales management software will allow the sales team to be very much organized. From acting as a database for the information of the customers to scheduling and tracking of all the emails, good sales management software will act as a personal secretary to the sales team
Simplify the phone calls
Many sales management software has a powerful phone call system that allows the salesperson to concentrate more on the actual calls rather than worrying about micromanaging calls. Functions such as finding the phone numbers, logging the calls, remembering to call back the busy numbers, recording all the necessary details of the sales, all can be automatically done with the right software system.
Reduce Data entry tasks
The new sales management software will reduce the amount of data entry which is required by the sales team. The software will also identify the important information in the phone calls, emails and automatically enters all the data into the correct fields. Responses of the emails and phone calls will be automatically tracked by saving the sales team from consuming the time adjustments in the database.
Conclusion
A sales force automation software like SalesBabu CRM , is a boom to a company in the current era of technology and internet services. SalesBabu CRM is an integrated solution to every web based services required in today's world of sales advertising and marketing. This web based CRM software helps in organising the demand forecast and other inventory management solutions needed to have a balanced product demand supply chain within our organisation.