"A big business starts small".
Presently in India, there are many budding entrepreneurs popping up with small business ideas. They are showing atmost interest to do everything that it takes to make the business efficient. There are multiple small business ideas like – social media services, online stores, customization services, blogging, education services and advertising agencies etc which are improving the economy of the country.
If you are in a path where people like your business idea and prefer buying your products or services irrespective of the size of the business, you are surely on the right path. But if you want to reach the destination of ultimate success, you need to function more efficiently.
Being a small business you might be facing various little hurdles in your way, but don't step back, instead work towards implementing little changes that can help you work more efficiently. Let us discuss certain ways to make your small business more efficient-
Automate your business process
If you are under the myth that small businesses cannot make use of technologies to improve business, then you may be wrong! You might have a limited budget but using a cost effective strategy to manage your business activity is possible.
You might be aware of the saying, " Working hard and working smart sometimes can be two different things." Yes, it is very true when it comes to business also. You need to understand the importance between working smartly and working hardly depending on the task you are doing. One of the present business trends in the market with regard to automating your business is the Customer Relationship Management (CRM) Software. Implementation of a CRM system in your business has several benefits for your small business.
Features of the automated CRM system for your small business are –
Online ERP
Contact database management
Inquiry management
Streamline sales force management
Quotation management
Order management
Competition check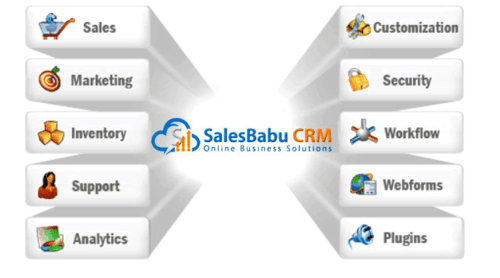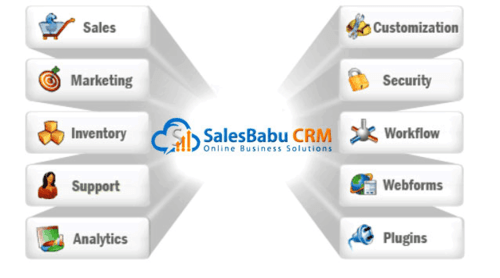 Advantages of using a CRM system for your small business are –
Boosts sales productivity
Increments customer retention
Enhances the sales strategy
Provides flexibility of cloud based CRM
Helps to keep your business organised
Cost effective business strategy
Eliminates paperwork as well as manual errors
Read our blog – Leveraging SalesBabu Cloud CRM Software in the Small Business
Focus on long term technology goals
Staying competitive in the techno world becomes very important. In every sector of the business, technology plays a very important role to work smartly. With the emergence of technology, organisations have lead towards business efficiency. Long term technology choices can help your small business in the long run.
Some of the long term technological tools used by small businesses are –
Social networking
VoiP Communication
Cloud computing
CRM in the cloud
Ever since the mobile apps have entered the market, it has created a milestone for itself. Every category of the market has several kinds of apps that is at your fingertips. And in the future time period the smartphones and apps are going to be a fundamental part of the business. Even now you can see many small businesses that you interact regularly are making use of the mobile apps and stepping a step forward towards enhancing the marketing strategy. You may be a small business, large enterprise or a business startup, your requirements will differ from one business firm to another.

Benefits of using mobile apps for your business are –
Keeps data and information in your fingertips
Aligns the various departments of your business
Promotes automation
Makes selling fun
Improves employee satisfaction as it automates their work activities, acts as a reporting system and saves their time and effort.
Improve customer services
A good company provides the best customer service to its customers which results in high customer satisfaction and ultimately creates an efficient brand image in the long run. The various benefits of improving customer service are –
Increases sales
Increases customer loyalty
Increases references
Improves customer retention
Improves word of mouth
Increases profitability
Keeps you ahead in the competition
A Customer Service Management Software automates your after sales activities as you to track PMS visits, AMCs pending, installations, pending warranties and lot more activities related to services. It streamlines the entire workflow and increases productivity of the organization.
Read our blog – What Is Customer Service | SalesBabu CRM

Provide customizations
We are in a world where 'everyone likes things their way'. Providing customized products and services are the most trendy strategies to survive in the present market. Though you might be a small business or a start-up but consumers prefer adapting to their own preferences and needs.

The benefits of providing customizations in your products or services are –
Improves customer loyalty and thus leads to higher customer retention.
Helps you create online stores.
Allows you to charge as per provide.
Keep your employees satisfied
When you want your employees to increase work productivity in order to accomplish the organisational goals, it also becomes your responsibility to equip your employees with facilities which makes their work easier and smarter.
Factors contributing to employee satisfaction
Respect your employees
Give recognition to team members
Provide incentives, increment, bonus etc
Help employees balance work life
Listen to your employees' suggestions as well
Be responsive
Create a motivating working environment
Get them the freedom to use business tools.
Read our blog – How to Improve Employee Productivity…… Sales Motivation Tips…
In every level of management you can see advancements and upgradations. Likely, a CRM software can help your employees to manage their work smartly. SalesBabu Online CRM which is basically a cloud based CRM provides the best CRM Software with its added functionalities to enhance your management activities.



Take customer feedback or suggestions
Your customers are the ones who are making use of your products and services so they know it better – on how you can improve your product or service for the better. Always understand the fact that, you are not the only product or service available in the market. If you do not focus on your customer's suggestions there are more chances that the customer tends to find another company that may do it even better than you.
The benefits of customer feedback for your small business are –
Customer feedback helps you to improve your product or service to be much better. 
It improves up-sell and cross-sell your products and services. 
It can be a reliable source of information for improving your business. 
It helps to make better future decisions.  
It helps you to make customer retention strategies. 
Implement Quality Management Systems
Most of the businesses are downsized during the slow market, and now that the market is coming, lots of small business owners will find themselves trying to stay up with growing demand while maintaining quality and profitability. To grow your business more accurately you will implement a high-quality management system. Companies with a structured quality management system are going to be better prepared to require these while simultaneously increasing customer satisfaction and profitability.
Outsource non-core activity
You may not have expertise in all told activities like human resource management, administration, accounting-related functions, payroll, and Employee Benefits Administration functions. Therefore outsourcing these activities is the best way to run the business more efficiently. As a little business, you will be able to partner with outsourcing firms so as to seek the simplest deal. When you outsource your non-competency or non-core activity functions to any other third-party organization that focuses on these particular areas, you experience increased efficiency and productivity in non-core business processes.
Track Productivity on a regular basis
There are many ways to stay track of productivity. A number of them are daily reporting, keep meetings to about per week and keep them short and to the purpose. By doing this you will be ready to manage and track everything in time and can deliver maximum business output.
Read our blog – The Importance of Customer Feedback in Customer service and support

Conclusion
Have you wondered why small businesses fail to survive or shut down? Is it that small businesses are unable to understand the needs and requirements of the customers? Or is it that the large businesses are creating too much competition for them? There may be several such reasons like this but the main problem lies in the inability to make the best use of available resources. The company which smartly combines technology and manpower, enables to take decision in adapting new improved methods to reduce the cost of business will definitely generate a win-win situation by decreasing the operational cost for their small businesses.
If you think business automation is your prime requirement, you can go with the implementation of a CRM software. Feel free to request for a free demo at SalesBabu CRM Solutions. Visit our website at https://www.salesbabu.com/.