Sales CRM Software gives a new element to your business with automation of all activities of your sales team and at the same time it streamlines complete sales process. Sales Management Software enables you to record and monitor each activity of your sales team member. Manage all data related to a lead, close rate with the reason of the abandonment with Sales CRM software. It helps your sales members to work with a focused approach and achieve the set sales target. Sales CRM Software empowers you to manage customers with all possible criteria and need. It instantly records sales data, details of products with the region and it never let you to miss a single opportunity.
Sales CRM Software enables you to reduce reporting time and helps company to forecast correctly. Recognise and priorities top opportunities instantaneously and get all micronized information of sales process. Sales CRM Software enables company to monitor all deals intimately, advance the sales performance and help you to forecast with accuracy. It empowers company to track all activities and tasks assigned to sales team members and analyse productivity of all team members. Manage leads effectively, fast conversion of leads into customer and record the data of entire sales process from lead the generation to its conversion into sales with the Sales CRM Software.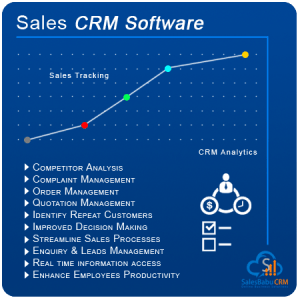 Sales Management Software enables you to keep the record of appointments, sales opportunities, details of account and key sales analytics. It also records the complete profile of a lead/Client, contact details and detailed communication during the sales. Software enables you to assign tasks, events and you can instruct a sales team staff to join you for a lead call or set a reminder for company's manager to share vital sales data. Sales CRM Software provides a platform to efficiently work with responsibility. It empowers you to manage the complete record of all feedback and reminders.
You can automate entire sales and marketing activities with automation of the Sales Management Software. Process details enrich sales team members of the organisation to improve activities which ensure high performance, effective sale and increased profit. CRM System tracks sales process at every level. It enables you to record all offers and information in the best way and categorizes all details, ensures fast order processing, management of complaint with its database. CRM empowers you to monitor fresh queries, capture interaction and convey information about the product.