Sales Force Automation techniques enable organizations to automate their complete sales process. This helps companies to take accurate sales reports and enable to do accurate sales forecast on Sales Funnel. Traditional methods of working on excel sheets and papers create complexity in any business process and this can be effect of daily work productivity of an organization. But now whole process has been changed and Customer Relationship Management Software's can maintain and execute all sales processes and synchronize the entire hectic task by couple of click. CRM enable companies to monitor the progress of the sales people, their day to day productivity and performed task on a single screen. This can transforms the working style of the Sales Person and enable them to achieve a new level of success. CRM enable organization to do Categorization & Segregation of those potential customers who is important because of their continuous relation and track record with the organization. CRM help out the Sales Managers and CEO's to take better business decisions on their Sales Business Process and can enhance & boost the Sales Tier.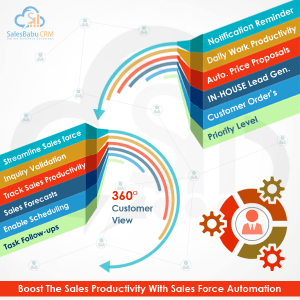 Work Challenges to Enhance Sales Productivity 
How to handle Leads?
How to Validatepotential inquiries?
How to do IN-HOUSE Lead Generation?
How to measure sales person Daily Work Productivity?
How to define daily Work Task?
Is it possible to keep track all the Sales Activities?
Is it possible to enhance Sales Personproductivity?
How to make Automatic Price Proposals?
How to manageCustomer Order's automatically?
Is it possible to get Notification Reminderagainst the upcoming task?
How to manage all contact and their Priority Level?
How CRM help YOU to Boost Sales Productivity?
Streamline your Sales Force 
CRM enable companies to reduce cost of sales process and its operation cost, and can streamline entire Pre &post sales business. CRM help sales staff to manage inquiries, customer database, makes automated quotation and mange Customer Sales orders.
Lead validation is a crucial part of every business, CRM enable companies to nurture your potential lead from large Inquiry Pool. We all aware, it is an ongoing process to check interest level of your customer, whether he is genuine inquiry or not which not an easy task. This helps you to filter out bogus leads and enable to do more effective follow up's with interested client to enhance your sales funnel.
Track Sales Person productivity
CRM enable Companies to track their sales and sales person productivity. This help you out with the current status of sales process and accordingly you can forecast the Sales funnel.CRM enables you to check each salesperson daily work, whether he has done or still his defined task is pending, so that managers can guide the salesperson or can advise the subordinate accordingly.