What is a sales order?
The Sales Order sometimes abbreviated as SO, is a document generated by the seller upon receiving a purchase order from a buyer specifying the details about the service or product along with quantity, price, buyer details like the mode of payment, billing address, shipping address, and terms and conditions (T&C). Businesses use SO as a confirmation document that is sent to the customers before delivery of products or services.
Businesses follow the below steps to create Sales Order –
The seller sends a sales quote to the customer.
If SO is accepted, then the customer sends the seller a purchase order.
The seller creates a SO based on the purchase order from the customer.
The customer may request a SO to view the specific details of the products, price, terms and delivery dates, billing/shipping address.
After the products are shipped by the seller, they create an invoice from the sales order (SO).
Why is Sales Order Important?
If you are a vendor, sales orders are critical for keeping track of all your inventories. It will allow you and your business to stay on top of what you have in stock, what you have on backorder, and what you may need to purchase from your distributors. Concurring to the terms of a purchase order usually makes a deal legally binding. If you have questions about a purchase order you have pending, seek legal counsel before signing. Maintaining detailed records of all your sales orders will help ensure that you can convey those agreements.
Sales orders are also central for reducing the risk of material misstatement in your company's financial reporting. Material misstatement is any kind of inaccuracy in a financial statement that might importantly impact the financial decisions of anyone depending on that information of the statement. Material misstatements in reporting inventory balances will have some very real consequences.
For example, misstating ending inventory might blow up or reduce the profits of your company, and as you can assume, neither of those end results will look good if you are being audited. That is the reason why it's completely crucial to maintain precise records of your sales orders to catch any potential material misstatement during an internal audit.
Difference between a SO (sales order) and a (PO) purchase order
The below-mentioned points are substantial so far as the difference between sales order and purchase order is concerned:

When the Sales Order is accepted by the buyer, it approves the sale. On the other hand, when Purchase Order is accepted, it becomes a binding contract between a buyer and a seller.
With the help of Sales Order the buyer can know the date, time, and mode of delivery of goods and services and payment; while the help of PO, the buyer can place an order for goods and services.
The supplier issues the Sales Order to the buyer, whereas Purchase Order is prepared by the buyer and is sent to the supplier of goods and services.


Read more – How to Increase your Sales Order
Comparison Chart
| | | |
| --- | --- | --- |
| BASIS FOR COMPARISON | SALES ORDER (SO) | PURCHASE ORDER (PO) |
| Meaning | Sales order is a document used for confirmation of sale. | Purchase order is a document used for ordering products or services. |
| Details | SO is issued by the supplier to its buyer before delivery. | PO is prepared by the buyer and is sent to the supplier. |
| Effect Of Acceptance | It approves the sale, if accepted by the buyer | Creates a formal contract between the buyer and supplier |
The value of a Sales Order
Sales orders are crucial to order and inventory management systems. Whenever a customer sends you a purchase order or places an order on your e-commerce(online) store, your business becomes accountable to fulfill the order.
A sales order provides you information on your inventory status. It shows whether the products are in stock, and if not how many are on backorder. With this information, it allows your purchase department to make educated forecasts and purchase from your distributors.
Make an entry of a sales order into your system as soon as possible. Do not make mistake by using the purchase order as a sales order as this will result in chaos in the future not only with your purchasing department but also in accounting.
To verify related details and the authenticity of the sale the billing department refers to the sales orders and then generates invoices. Businesses have automated the process of creation of invoices by converting sale orders to invoices. Mistakes in quantity and pricing in the sales order will lead to miscalculations in accounting.
Financial auditors often inquire about sales order documents, when reviewing a company's financial statements. Working capital loans are also provided based on the confirmed sales order value of a business. Check here, features of Online Sales Order Management software.


Read more – 6 Quick Tips to Improve Lead Database Quality
Benefits of Sales Order Automation
#Reduce the work time
One of the most time-consuming activities faced by sales teams is paperwork. Sales order automation system imports or converts purchase orders sent by customers and create sales orders in your ERP software. This eliminates the re-entering of data from the purchase orders, thus reducing time and effort considerably. A one-time data entered in the system can be used by multiple departments like the sales team, warehousing, procurement, invoicing, accounting and customer service.
#Boost customer service
Sales reps in your company can have the vital information of your customers at their fingertips as opposed to sifting through a ton of paperwork. Addressing customer's query can be swift and efficient. With sales order automation errors and inconsistencies related to customer orders billing are reduced, leading to happier customers.
#Scale up and down smoothly
With sales order automation you can easily scale without worrying about capacity or capability. Therefore, when the orders start pouring in you will be able to quickly process them, without the need to increase your customer staff immediately.
Read more – Streamline your Business Operations with an ERP Software
#Process data from anywhere
Online applications allow you to access information and process data from any location, anytime. If needed, your sales reps can access information when they are on their sales calls, they will be independent of internal sales reps for data. Customers will be happy with the efficiency and speed of your sales reps.
An Inventory manager can have a look at the Sales Order once it is created, to know what needs to be shipped/delivered and when. How Sales Orders work, kindly refer to the image below to understand.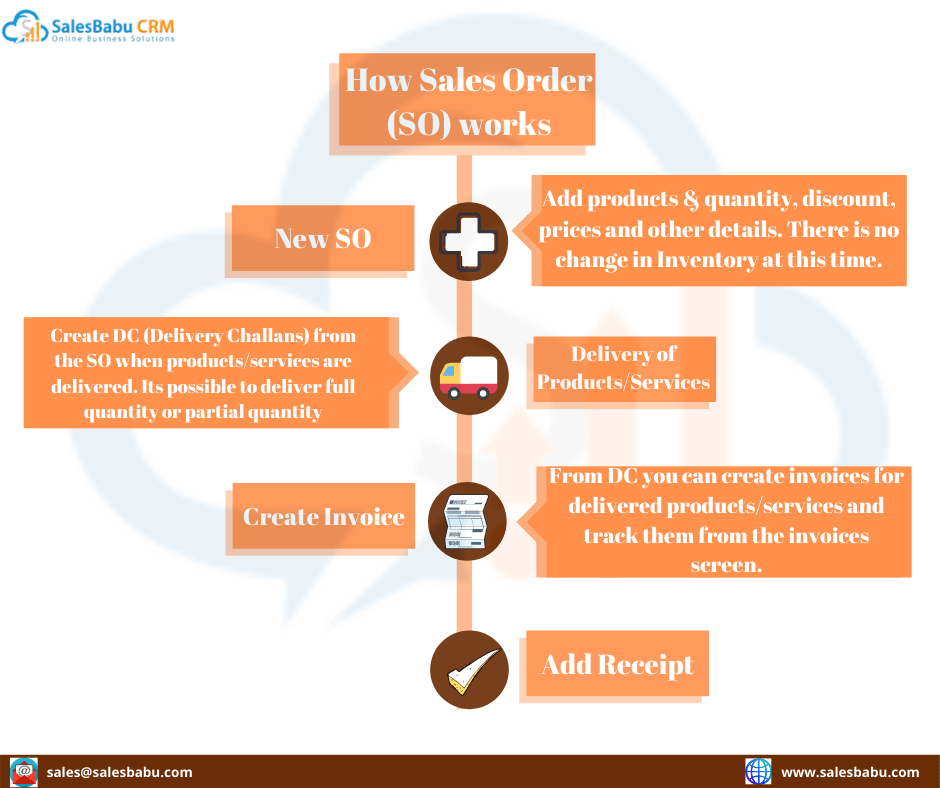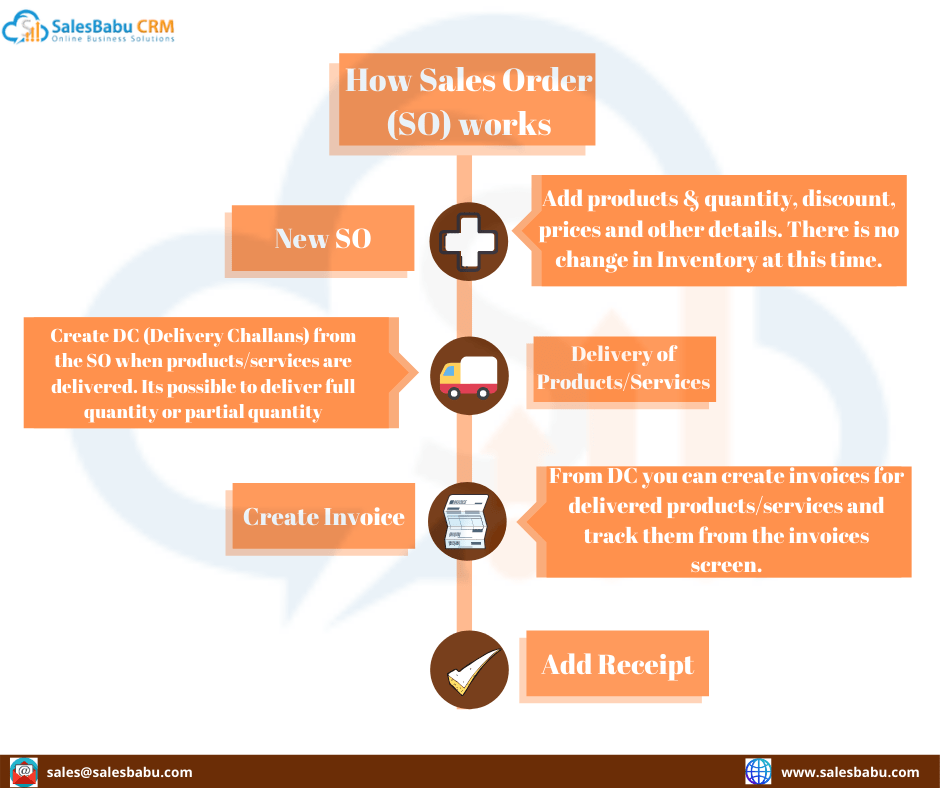 Sample of Sales Order Template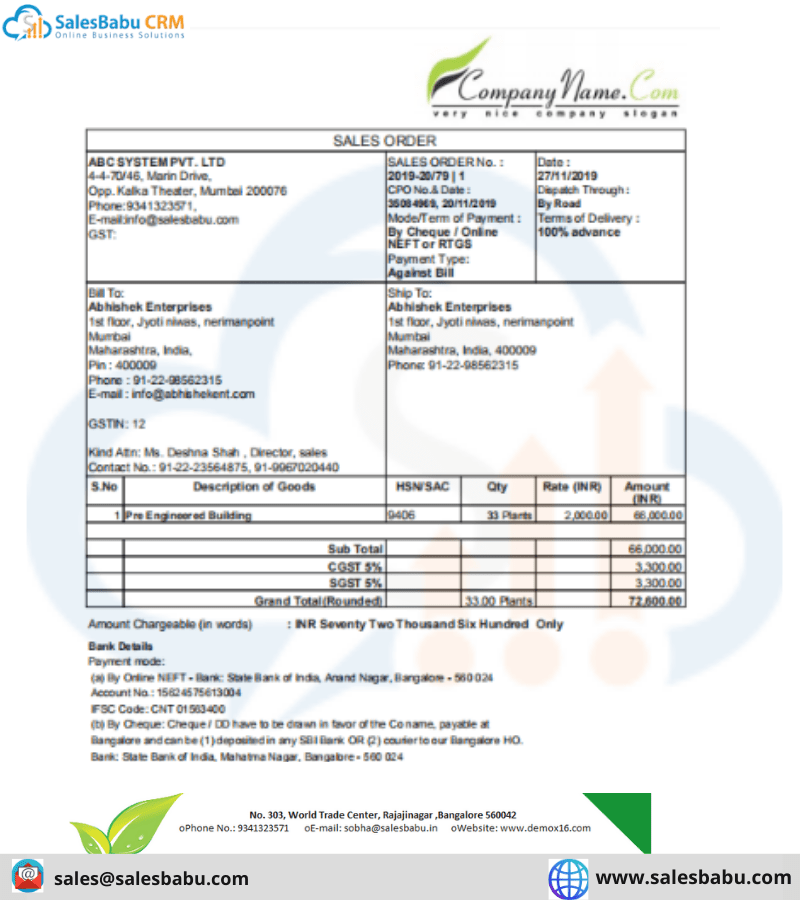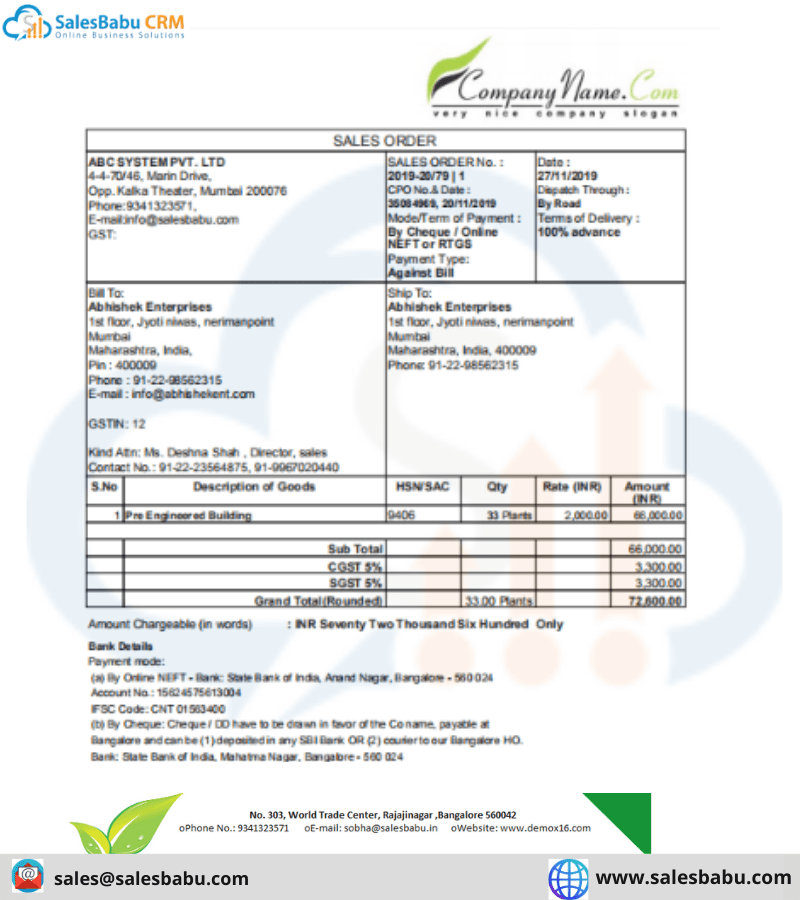 Working with Sales Orders
The Sales Order is an approval document sent to the buyers before delivering the products or services. Sales Order can be created once the quotation/quote is accepted by your prospective customer and the Purchase Order is sent by the buyer to the seller for further processing. Once the PO is received, the buyers may request SOs to know the specific date of delivery of the products or services. Further, the inventory/production department checks the list of Sales Orders to know what needs to be shipped out and when. When the order is shipped and delivered to the buyer, an invoice is generated from the sales order for billing purposes. Generally, SO (sales order) contains the #SO number, date, line items (products/services) including the quantities and prices based on the PO, Shipping address, Billing address, and the Terms & Conditions.
Outcome
The sales order automation system helps to establish workflow and minimizes processing time, starting from point of sale to verification to inventory management to delivery and long-term customer retention. Almost about 50%, it reduces order processing times which means that the number of orders can be processed in the same timeframe.
The perfect cloud-based sales order processing software can take your business places. If you want these benefits, contact SalesBabu Online Business Solutions today.