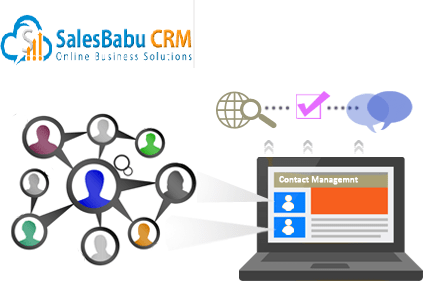 SalesBabu Contact Manager Software enables users to easily store and find contact information, such as names, addresses and telephone numbers. Get a complete view of your customers, including activity history, key contacts, customer communications, and internal account discussions.
Single Page Management: Save time and close more deals with single-page contact management. View everything you need to know about a contact on a single page that includes contact info, communication history, and lead scores. The interface enables you to do a 360 degree profiling of a prospect. Contact Management Software helps you to maintain your contacts in a centralized address book, and have a comprehensive view of related tasks, notes, interactions and emails.
Multiple contacts per enquiry: Every opportunity takes a little while for turning into lead and lead into deal. On different stages executive may be talking to different people to ensure the business, all the contacts for on enquiry is important. SalesBabu Contact Management Software enable you to save multiple contacts for each enquiry at every stage, this way you can ensure the right contact availability at the time of closing the deal.
Events and Tasks Management: Contact Management Software enables you to easily import contacts directly from a .CSV file or from another CRM. With Contact Management software, you can quickly add tasks and events such as phone calls, submission deadlines and meetings. Sync them with your calendars for reference and reminders.
Contact Management is an essential part of Customer Relationship Management Software which is designed to Manage and Maintain daily transaction record with the Customers.
SalesBabu Online CRM Solution records and monitors each activity of a sales team. Manages all details related to leads, measures abandonment and close rate. Guides your sales team to adopt a focused approach to achieve sales target. Can register date wise sales, region, sales details of products to never miss an opportunity.