CRM Goes Mobile – SalesBabu CRM on the Go
The sales landscape today is changing dramatically. Customer demands, complexity of products, social interactions and competitive pressures are all driving the demand to reinvent the way we sell to and service customers, or else face Corporate Darwinism.
Sales reps have to be smart and extraordinarily organized in this fast challenging environment. There's a requirement of a mobile sales force tracking app that helps to ease the sales operation; or that first meeting with a client might not go anywhere if you don't remember to follow up on right time. And if you forget a primary name or conversation, forget about closing the deal.
Imagine a day in the life of a sales rep in the field — schedules demos/meetings, replies to pending emails, makes few follow-up calls, enters meeting notes in real time to keep the sales team in sync — all from the laptop/mobile even while on the move.
We know it's not so easy, and that's why we bring you SalesBabu field sales mobile app to help field sales rep stay on top of their sales activities. The mobile sales app not only gives a 360° view of customers, but also has smart options to boost sales productivity and meet goals.
If your sales reps aren't mobile, they're static
Today's sales professionals need to be both mobile and connected at all times. That's where the SalesBabu mobile CRM (Sales Representative App) comes into play. Sales professionals need a fully mobile sales app to keep them in-touch and connected with their entire sales process while they are in the field. If anything changes, anywhere in the sales pipeline, your sales team need to have access to that information. SalesBabu Sales tracking app gives your sales team all the features and tools that they need to take their sales office with them wherever they go. And the good news is; your mobile sales app solution comes at a hugely affordable price.

Read our Blog – Online CRM And Customer Experience



SalesBabu CRM – Packed With Mobile CRM App Features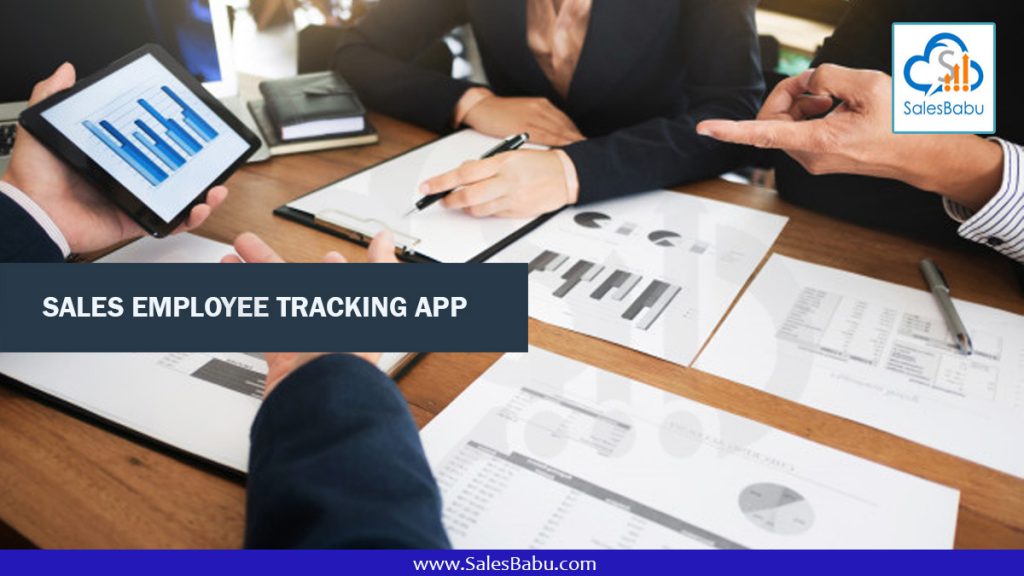 A sales CRM app needs to come with all the time-saving tools sales people need to keep the sales pipeline flowing smoothly.
Agendas – Manage all aspects of your agenda.
Check to see what's on, where, and when.
Edit the activity as the situation changes.
Change the activity owner.
View any associated files attached with the activity.
Read or Add personalized comments associated with the activity.
Check all of the activity's related contacts.
And finally, discard an activity that is no longer needed.
Leads – Your leads are the backbone of your sales process; so they need to be managed with utmost care. This you do easily with SalesBabu CRM mobile app.
SalesBabu sales management app gives you access to your full leads list.
It lets you search your entire leads list.
Add new leads and change the status of those leads.
Email or call your leads directly from the CRM mobile app.
Check your lead's location on the map.
Review all communication history and attached files.
Change the owner of the lead.
Create new tasks.
Convert your leads while on the road.
Read our Blog – Keep Track Of Your Sales Growth Rate With Online CRM Software
Companies and People – Being away from your desk is no obstacle to managing the people and companies who populate your CRM system. The SalesBabu mobile sales app helps you manage your contacts intelligently and gives you all the options you need.
Review your entire contacts list.
Add a new person/company.
Search for persons/companies
Edit or change your customer's status.
Email or call the contact directly from your Sales Tracking App.
Change the owner of the account.
Check their entire communication history.
View all attached files and documents.
See all related deals or contacts.
Create new related deals as you need them.
Deals – Deals are always to hand with SalesBabu mobile CRM App.
Search your deals list.
Add new deals.
Change their status.
Change the deal owner.
Review communication history.
See all attached files.
Inspect related contacts or companies.
Edit or remove deals.
Top challenges faced by sales executives
Margins are eroding as sales reps have less time and knowledge to do a comprehensive job of consultative selling
Sell cycles are lengthening as unnecessary delays are introduced into the sales process resulting in sales force having to spend more time tracking down others to help them complete tasks such as needs analysis, configuration, and proposal sign-off
Competitive loss & no-decision rates are increasing due to ineffectiveness at presenting the full value of offerings and injecting a sense of urgency into the decision process
Customer loyalty is declining as we fail to have the time required to build true business partnerships with our clients
To eliminate the above mentioned sales challenges and juggling of critical information, a mobile sales app is required that can help your sales team become more organized and, most importantly, more productive. SalesBabu CRM Software built an innovative mobile sales app that would help sales reps in eliminating the use of paper based systems, keep track of their leads, customers and results using mobile & tab devices in a hassle-free way.
Some of the other major challenges that are faced by sales reps are:
Getting response from customers
Nowadays, most of the sales reps will tell that the most common they face is getting a response from the prospects. In spite of having all the devices on our hands and also the communication technology which is available in our fingerprints, people today are less responsive than ever before. This may be due to the increase in the channels or simply communication overload.
Incorporating Social media into the sales process
The major challenge for the sales reps today is about understanding how to use the social media tools in the selling process. It comes down to understanding where your sales leads are and connecting with them on their preferred channels.
Connecting via phone
In recent days our mobile phone has become an integral part of our daily lives but it is becoming more difficult for the sales people to reach the people through the phone. With so many means of communication, but people often use email or text instead of a phone call for having a conversation. Busy schedules of the people also make it difficult to reach them. Salespeople can also consider other means of communicating which do not require two people to be available at the same time.
Enterprise Benefits from a Sales Tracking App
The Sales Representative App (Sales Tracking CRM) eliminated the need of burdensome work of preparing spreadsheets from paper based call sheets at the end of every day
All data were tracked and stored on one central location ensuring rapid access to customer information, follow-up reminders, notes and sales reports via Mobile Sales App
The sales management app eliminated the need of purchasing costly software or stand-alone equipment
Sales Employee Tracking App offered all functionalities required in a sales CRM system at a fraction of the cost of the alternatives
Sales Team management app is a great tool for small to large sales team size
Read our Blog – Keep Track of Sales Activities on A Single Click
Take your entire sales office while you are on the move
SalesBabu's mobile sales App means never being stuck for the information you need, even when you are out on the move. Whether you want to take notes or arrange meetings, call customers directly from the mobile sales app, or update your customer's details as they change, our Field Sales Mobile App gives you all that power using your mobile phone and tablets.


How can I build a mobile sales app for my sales team for better sales management?
With the technological evolution, SalesBabu Business Solutions creates solutions that are developed to eliminate the sales challenges. New business paradigms, innovative processes, next generation sales mobile applications are all proving to have a significant impact on increasing the effectiveness of managing sales process.
With our mobile sales CRM app solution, companies are dramatically improving their ability to ramp up new sales reps, support channel partners, communicate more effectively, and eliminate order delays and errors. As a result, they are finding they can more effectively use CRM – mobile sales app innovations to improve customer loyalty and thereby boost revenues.
SalesBabu Business Solutions implements an effective mobile sales tracking CRM app development strategy. We help organizations ranging from small, medium to large enterprises with our mobile apps that are customer centric and beneficial for their business. To know more about our mobile CRM app fill in the contact-us form.
The SalesBabu mobile sales app is truly a power packed tool that comes with a number of such sales boosting features, to help you make more sales on the go. If you are looking for a CRM and still haven't checked out SalesBabu CRM, it's time you really really should. Request for Free CRM Software DEMO.