Online CRM software is now advocated as the best CRM software to practice as of today's context. Online CRM software is Customer Relationship Management software that is designed and developed to make synchronization between the customer requirements and the vendor's follow ups for fulfilling those needs.
The business and marketing panorama has experienced a lot of changes since last 2 decades. In prior days, there was no concept of making relationship with the clients. The client-vendor relationship was just confined to delivering required material to the customer, helping him to do a proper inventory management. Such system was practiced because there were limited vendors and much more customers. Now the market is full of vendors and there is cut throat competition gruelling in the market. Each and every seller wanted to develop a strategy for business expansion and proliferation. Thus Online CRM software came into existence. Sellers found it better to retain their old customers and making good relationships with existing clients. Thus there was felt the need of maintaining contacts of the customers ,maintaining proper set of all the inquiries ,and so on . Then our information technology sector embellished us with CRM solutions.
CRM Solutions are just like a data mining tool which contains the complete repository of the inquiries, customer and product database.


Online CRM Software is the aftermath of the latest technical advancement. Some of the basic features of a web based CRM software are as follows:-
Online CRM software is more advantageous as they keep the complete database in a server.
This server is located in cloud or say network. This saves your computer system memory and avoids any chance of system crash.
It also implies no software requirement at customer's end.
Seen as the best CRM software, SalesBabu CRM solutions reduces any kind of Hardware or software implementation on the customer side.
Also Online CRM software can be updated anywhere and anytime .Thus, this has become the premier choice of majority of sales people.
Let's understand how these online features are helpful in regular business workflow:-
Benefits of web based CRM software for businesses:-
Web based CRM softwares like SalesBabu CRM have implemented features where third party vendors can integrate with sales management software to collect leads over social media and other modes of communication. All information collected for these leads are collected and stored in a cloud based database which can be accessed from anywhere and anytime by different stakeholders.
This sales management software enables the sales team to understand and track every client's information in an organised manner to fetch most out of our marketing strategies and improve revenue generation for the firm.
Read More – 360 Degree Customer View Online CRM Solutions: SalesBabu
Infrastructure independence
In today's era of technology and networking, companies don't want to get restricted to location and server rooms. With cloud based CRM software, every detail collected and recorded for the business purpose is stored in the cloud which can be fetched at anytime by different users. Web based software can be installed on different laptops and smart gadgets without any requirements of big servers and other infrastructures.
These facilities makes companies to be flexible in work life balance by allowing the team to work from any location and support customers from different offices and worksites.
Mobile Sales apps Features
Mobile Sales apps is another very beneficial tool of a cloud based CRM software like SalesBabu CRM. With this feature, users can support customers and update their work through their mobile phones and other smart gadgets. In the era of apps and simple applications, SalesBabu CRM provides various flexibility to sales and marketing team to share their live location, quotation, client campaigns and presentation through their smartphones and provide round the clock support to clients.
Also, with these features, the sales heads and manager can track sales team work activities using these smart apps and use live location to assign work to agents based on nearest proximity to the clients. This aids in early closure of client tickets and enable them convert more leads to long lasting customers with an efficient and quick support system.
Read More – Top reasons why mobile CRM apps are good for your business.
Documentation and activity management
Activity management helps in tracking every incoming enquiry and customer complaint which needs to be handled using organised followup system. SalesBabu CRM provides automated sales management features to create various followup events, reminders, alerts and more for the upcoming meeting, client interaction and others. With these automated features, sales managers can track every agents productivity and sales closure rate using these followup and dashboard features which provide all information on a single screen to simplify tracking of work item within the team.
Also, notes section in every work items like enquiry, lead, quotations or sales orders enables agents to update the current status of the item and help to keep every stakeholder on the same page on the current state of the entry. This helps in an organised system of data and event tracing of various items in the system.
Read More – Three ways How Cloud CRM Software can take your Sales to next level
Metrics and Analysis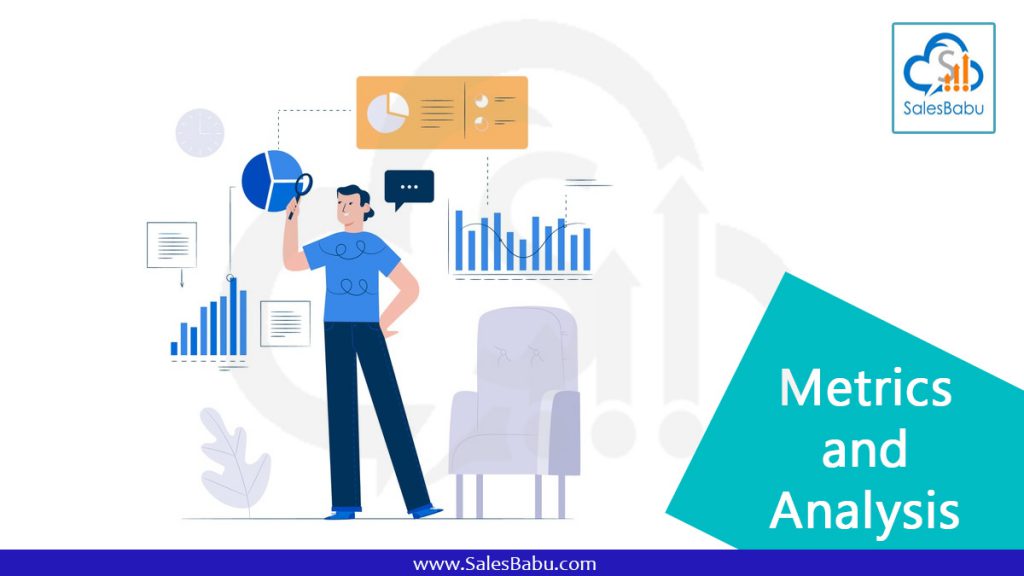 Many organisations use manual ways to report and analyze their data, which takes a considerable amount of time for sales and marketing heads to generate and use them on a daily basis. Web based CRM software automates the whole sales management process by providing many inbuilt and custom reports which can generate numerous reports for internal and external purpose with just a few clicks.
These automated reports are very helpful to understand demand supply trends of various products in the organisation at the same time are useful to gaze internal performance of different agents within the organisation and help to use this data to improve the overall productivity of the organisation.
Read More – MIS: Now Get All Your Reports Just by a Single Click
After sales services
Another very important features of a web based sales management process are the after sales support system for client support and customer care features. Many customers wish to have, not only a good product but also a customer support system which enables them to have enquiries which can be resolved for product complaints and other client enquiries.
Read More – Maintaining Good Customer Relations With SalesBabu After Sales Service CRM Software
Conclusion
Salesbabu CRM is an integrated tool which helps in overall business management and sales growth tracking for different sales stages. This software also provides various automated features to enable internal and external reporting and productivity recording.