Sales cycle is the course of time between the initial contact being made with a customer, the identification of services or goods to be procured, the acceptance of the intended purchase, and the transaction that completes the sale.
In simple words, the sales cycle is a series of predictable phases required to sell a product or a service. Sales cycle can vary greatly among organizations, products and services. However, identifying the key steps and stages of sales improves sales efficiency, helps sales reps sell more, and speed up the process of on-boarding new sales hires.
No matter what you're selling, every sale follows roughly the same pattern. It's a rare sale that doesn't include each of these steps in one form or another. Often salespeople don't think of certain stages as being different events – for example, qualifying often happens as part of the cold call, the sales presentation or both, but each of these stages is in fact, necessary to advance the sales process.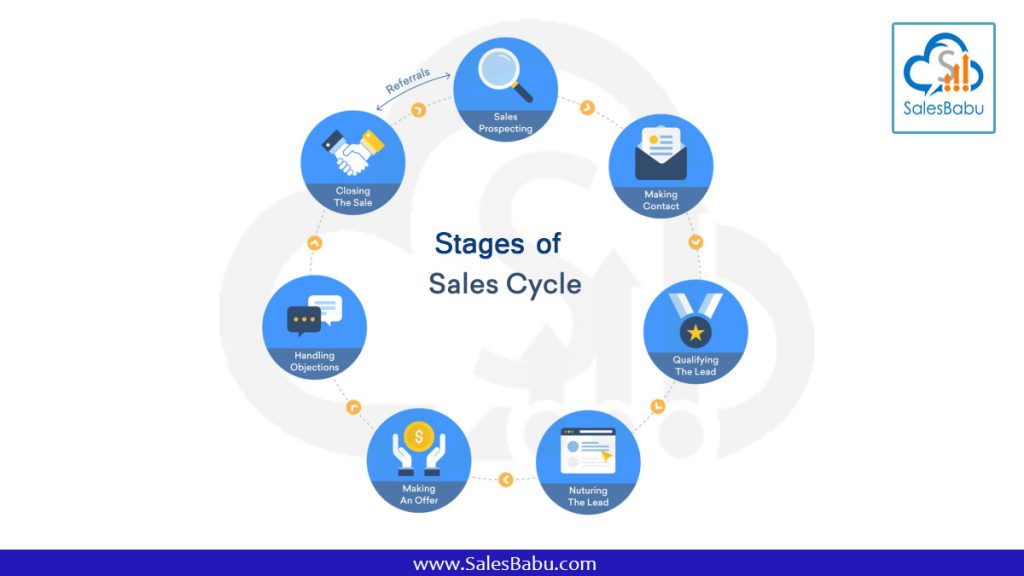 1. Prospect for Leads
Prospecting refers to the process of finding new potential customers. Your company might take care of the first part of this process by giving you lead lists to work with, or you might be responsible for finding leads yourself. In the prospective stage you need to keep a check on how you are different from others in the market. Prospecting your customers can lead to lead generation.
Read our blog – Are You Identifying Your Potential Lead Source
2. Set an Appointment
It's time to use those leads you collected in stage one. Many salespeople prefer to cold call, send email, use social media or even mail out sales letters, according to their preferences. You may use any method to set appointments and get connected. In this stage you do not seem like you are giving your full sales pitch but you try to connect with your potential customers in the hope of a formal contact.
3. Qualify the Prospect
The idea is to confirm that your prospect is both able and potentially willing to buy your product. The qualification of the prospect has sub stages of qualification like – authority to make a purchase, need for the product or service, budget etc.
3. Make Your Presentation
The presentation is the core of every sales cycle, and it's probably where you'll invest the most preparation time. Keep in mind that you're not just selling your product. You are also selling yourself as a person to trust. Your mannerisms, body language, confidence in your voice(if its an online demo) and appearance can also influence your sale.
4. Address the Prospect's Objections
Here's where you get to deal with your prospect's concerns. Objections can actually be a positive sign, as it means that your prospect is at least considering buying or he wouldn't be bothering to work out the potential problems. Though their objections may be about various factors like price, terms or previous conversation etc, be patient to listen to them and try to overcome the objections.
5. Close the Sale
Once you've made your presentation and answered your prospect's questions and objections, it's time for the sale. Now there can be a stage of negotiation. But if a sale isn't closed that doesn't mean it's the end of sale, forever.
Read our blog – 5 ways to close more deals with CRM software
6. Generate referrals
Right after the cycle for sales, you can go along with generating referrals. You can ask your customers to refer any of their friends, family members or colleagues who can be benefited with the product or service. Or you can also ask referrals once your business relationship grows also.
Reasons you need a sales cycle:
The sales cycle is important in the modern world of sales and customer contact. Here are a few reasons for the need for the sales cycle:
It increases transparency – As far as sales are concerned, a transparent process is a good process because it provides the ability for the sales team to stay on top of their sales with proper clarity and allows the team to take certain cases and hand off the customers.
It helps to avoid the missing follow ups – The primary reason that many sales teams face is missing numbers of leads and follow-ups. The sales cycle will help to avoid all these problems and never misses an opportunity to follow up with the customers.
A sales cycle reduces the risk of repeatability – It is very much necessary to reduce the risk of repetition in sales. If you want to avoid the complications in the sales process making with the new customer without any interruption, the sales cycle will help to overcome all these problems.
It maintains consistency – The sales cycle will help you to achieve the sales goals and make sure that each potential sale receives the essential treatment for becoming a happy loyal customer.
It helps with prioritization –  Priorities come first when you are talking about the sales and its process. When it comes to the sales cycle it makes it very much easy to prioritize the accounts and get action when and where they are needed.


Importance of Sales stages for the business
Provides overall outlook of the sales process and helps them walk through the path.
Helps you to prioritize leads based on their interest and need.
Provides clarity and visibility of performance
Increases the efficiency of your sales reps
Creates inter-departmental communication
Helps for long-term results
Maintains forecasting accuracy
Provides predictability of sales and revenue.
Better customer experience
Increases follow-ups
Improve sales cycle for your business
1. Automation
The best online sales CRM will let you automate the sales management that includes –
Adding customer contacts
Auto assignment of issues
Auto notification for leads and follow-up activities
Lead nurturing
Quotation creation
Reports and MIS
And many more…
Read our blog – 5 Amazing automation features of CRMs you need to be using
2. Sales tracking
The sales tracking system is indeed a boon for the business as it ensures the smooth functioning of the sales process. The best sales CRM software like SalesBabu CRM software provides sales forecasting features and functionalities like –
Internally calculates lead source, number of total leads, number of leads closed etc.
Helps decision makers, managers and supervisors to review sales trends which may work for the betterment of their business.
MIS generates various reports and charts for the sales and marketing teams to work together efficiently.
3. Task management
Without a good task management system, it may lead to a mismanaged sales process. It may end up missing out most of the prospective clients or customers. The functionalities of a task management system are –
Creation of follow-up activities
Reminder alert
Availability of pending activity
Maintenance of notes and remarks
"Save some clicks" option
4. Contact details
Sales pipeline stages starts with a good lead generation rate. With an online CRM software, we can easily store all our contact and lead details in an integrated database. These details can be accessed anywhere and anytime by our sales team to connect and follow-up with our prospective leads and clients.
Read our blog – Manage your Sales Cycle with Online CRM software



Conclusion
With the best online sales CRM close more deals, accelerate productivity, make insight decisions and nurture more leads effectively. If you are still not using the best CRM software which is basically a cloud based CRM, then request for a free demo. You can also visit our website https://www.salesbabu.com/ to know more.


Ultimately, the Best CRM Software will bring in the chain of benefits!!