Improving your sales process can be a tricky task for most of the businesses. According to a study by Censuswide and Geckoboard shows that metric-driven companies are more than twice as likely to hit their business goals.
Starting your sales process by identifying the key drivers is the key to a successful increase in your sales.  The three major KPIs (key performance indicators) to look into for a business are volume, conversion rate and conversion time for your sales.  These KPIs help in knowing your business insight but segmenting the data through a trusted online CRM software will help you to understand the pain points and area which needs to be optimized.
Challenges while improving the sales
Streamlining the sales process has a more cost-effective and less risky opportunity to pave the way for the top-line growth of the organization. There are some challenges that can emerge while optimizing the sales process.
Scattered data: When a salesperson struggles to identify the selling content among the available solution, this problem arises.
Confusion among teams:  This problem arises when the systems in an organization are not connected and which will lead them to an unorganized flow of content.
Unsynced info: This problem comes when the sales reps get the information faster than they can process it.
Inefficiency: This is a problem when the sales reps are unable to execute the sale process within the expected time.
Cloud Based CRM software not only helps in optimising and strategizing your sales process but also help in organising your business model. Many mismanaged and traditional business model find a CRM software adoption very useful in managing their daily work items and strategizing their sales process to improving their overall business revenue. Let's discuss further the advantages of migrating to a CRM software which can help us improve our business revenue.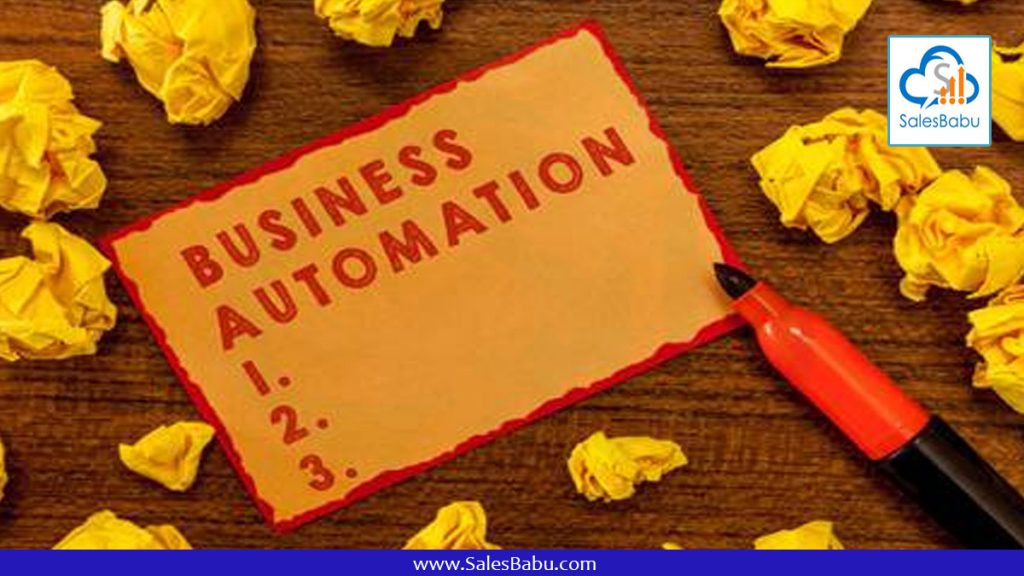 When business processes are automated, your team save time and can concentrate on more important tasks. Most of the sales teams consider reducing the length of the sales cycle to be one of the most important criteria for increasing the business sales. A good online CRM software like SalesBabu CRM provides a lot of automation facilities starting from automated contact management to Sales mobile apps.
The process of automated trackers in cloud based CRM software, helps to track various leads over the internet via different modes of communication and social media. Once a prospective customer is visiting our website or blogs, checking online reviews for any of our products, these automated trackers will note these lead's contact details and add them to our centralized database for further lead tracking. Along with contact details, these online CRM software trackers will understand the shopping trends, background details, personal and regional preferences for these leads and add these details to the database entry.
The centralized online database is accessible to every stakeholder in the team. Once the sales and marketing team is aware of the complete details of these prospective leads, they can prepare more customer centric campaigns and presentations. With a streamlined sales process of understanding the customer before coming up with a proposal helps in converting more leads into prospective clients.
Also, automated notifications and email services for updating leads with company's product details and other policies help in constantly monitoring the leads and keeping them aware of your product and company's processes. Online CRM softwares also provide various facilities for creating follow-up activities and reminders for the sales team at every stage of the sales process, be it lead generation, orders or delivery.
Logging complains, assigning tasks for the sales and marketing representatives, follow-up and closing complaint with customer remarks are made easy with these automated task management softwares.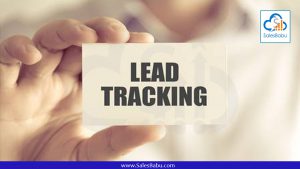 Evaluating leads as they come in will help accelerate your sales process. Lead tracking is a process which will not only understand the lead requirement as they are reported to the sales team but also understand how quickly we can close the lead sales.
Lead conversion rate plays a very vital role in improving your sales process and increases your overall business revenue. Lead tracking system will capture every lead detail is an online cloud based repository, which helps the company's data to get organised and convert those leads into sales.
Once the lead source and his interested product details are clearly mentioned in the centralised database, the lead assignment can be initiated for the sales reps and complete details about their customer interactions, follow-up meeting details, future lead tracking activities and more can be documented clearly using the lead management tool. If sales reps have a complete picture of the client information and past services, he can deal with the customer in a more productive manner and close better sales deals with minimum conversion time.
Gleanster Research shows that only 25% of leads are legitimate and should advance to sales.
After segmenting your leads into the ones with a serious interest in your products, you can create more productive processes to channelise and produce better, faster or more lead sales. If we systematically review all of our lead data to understand the most successful customer deals we can close better and faster sales clients. We can segment different sales leads to understand the better ones in the lot. Some of the criterias based on which the leads can be nurtured are as follows:-
1. Audience
Audiences or the leads are the people you are targeting to receive tailored sales and marketing messages. This can be segmented based on industry, job title or parameters of a certain marketing campaign. Once we track these audience based data in the CRM database, we can understand the most positive lead details and track them to convert them into successful sales.
2. Communication channel
Media channel is where our leads exists. Most of our prospective clients spend their time on social media networks or hang out in community forums. Also, major marketing campaigning can be done through email communication media. CRM integrate with various email and SMS vendors to track leads interests and nurture their relationship further. Various customer data collected through social media and other channels is incredibly valuable as it shows you where your organization is seeing success and where marketing needs to invest their efforts to fill the gaps in sales process.
3. Promising leads
A promising lead is the one who has been visiting our landing page or website and requesting a demo, signing up for a free trial, applying, or downloading an ebook or report. When sales reach out to that lead they can be rest assured that this lead will be interested in our products and need a quick nurturing for converting them into sales. These leads are the best in the lot for a combination of revenue and lead conversion.
Having a systematic and organised lead nurturing system can be the most critical part in sales conversion and revenue generation process.
Components of lead nurturing
Lead scoring –  For a successful lead scoring strategy, sales and marketing must move together to point out where a specific lead is within the brand's buying model. This is a common backbone for the lead nurturing system because it identifies when and how to address the buyer with the right time and relevant communication.
Content marketing –  If the lead scoring is the backbone of successful marketing and sales, content marketing is the muscle of sales and marketing. This is a process of making valuable and relevant content. This content includes your emails, your website, your social media channels including video, podcasts and more.
Multichannel distribution –  To implement a successful lead nurturing campaign, all the channels must be interconnected in order that you will be able to maintain contact with the leads across the boards.
Web – The web experience should be dynamically personalized to strengthen and extend the dialogue started within the email. Your website is an excellent place to capture the new mail address.
Social –  Running a social campaign is great, but making every campaign social is best.
Retargeting –  Retargeting may be a large part of the marketing budget.
Reports and metrics in a business model plays a very important role in lead conversion and strategizing our sales models.
With various statistics related to customer background or their interested products, the sales team can create customer centric campaigns to close faster sales cycles. Also, various metrics on social media and tweets will help to understand pain areas of an existing customer, along with any specific queries which are coming from various channels can be tracked and proactively handled to avoid losing any prospective and old customers.
Along with the external reports, online CRM softwares help in categorizing internal affairs of the company to track the sales and marketing team productivity and normalize the work loads of various team members. Sales managers and company heads can make various futuristic policies based on the reports generated by cloud based CRM software on various customer issues and social media queries.
Numerous metrics for happy customers can be created using CRM softwares to understand our company's strong areas and work towards further enhancements of these features for continued support and increase word of mouth marketing through testimonies of various loyal customers.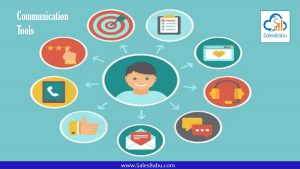 Almost 89% of customers get frustrated repeating themselves to multiple representatives.
With numerous customer conversations every day , there's no possible way to remember every single one which is why tracking sales and customer care conversations in the CRM is crucial. CRM softwares helps to record and document every detail of customer interaction in a centralised database, which can be accessed anywhere through various communication channels and sales mobile apps.
Sales and marketing reps can access this database and take a look back in their records and re-brief themselves or other team members on conversations so that every contact they have with the customer is used productively to take the deal forward.
Logging conversations also make transitions and lead handovers within the organization much easier. If someone needs to take over a deal, as in the case of someone leaving the company or other handover cases, whoever takes over that deal will have all the details and know exactly how far along that deal is. With a complete view in hand, sales and marketing handovers can be seamless and the new reps can takeover the work immediately without any delays in lead conversion on any repetitive follow ups with the customers.
According to reports, 95% of customers choose solution providers that offer relevant content at every stage of the buying process.
If we provide appropriate support to customer at every stage of the sales life cycle, it's likely that he will have a clear view of our products and have proactive answers to every query regarding our products. As the above report suggests, tracking leads at every step will definitely increase the overall lead conversion rate.
Conclusion
As we understand that an effective lead conversion and productive marketing strategies are the stepping stones towards increasing the overall revenue for our business, a trusted online CRM software like SalesBabu CRM not only helps in automating lead management process but also gives a 360 degree support for every sales life cycle stages.