Customer relationships are very essential for the long run of the business. Customer are one of those key factors which help the organisation to accomplish our vision. For the growth of the organisation you need to work effectively and efficiently. You might be wondering how CRM software may help you improve your sales target and help your business flourish.

The sales plays an important role for the success of the business. Sales is one such aspect which plays the role of a bridge between the potential customer's need and the product or services which the organisation is offering to fulfill the needs and wants of the customer. Trust and loyalty are the two reasons why the customer would stick on to your products and services. And when a positive feedback gets passed from one person to another about your organisation, it creates an immense growth in your business through the increased brand recognition and sales.
The CRM is designed to consolidate the data of customers in one location like contact information of the customers, history with each customer, and details of the customer relationship. This software is rarely accessed by the marketing teams but the benefits of this extend the marketing strategy.
CRM is a necessary tool for businesses with a long-scale cycle. Long-scales will have extensive communication with the customer before a purchase is made. Because the communication in this is direct and requires the salesperson to be on top of everything to close the order, track the customer and interaction with the customer throughout is crucial.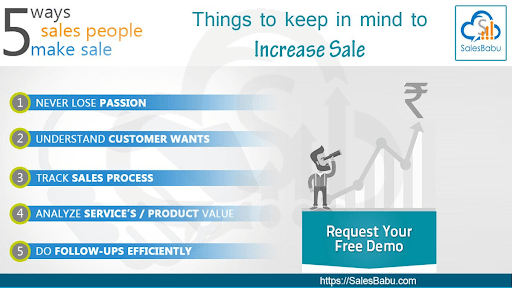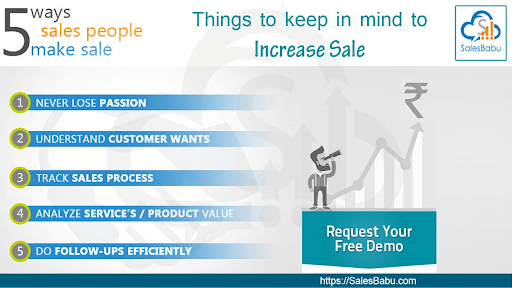 Sales Force Automation
The Sales Force Automation is a business strategy which is used to drive efficiency in your sales processes. By the use of sales force automation CRM software you can automate and streamline a few business tasks like Account management, Contact Management, Opportunity Management, Sales Pipeline Management, Sales Forecasting Analysis, Sales Activity Management and Sales Team Performance Evaluation.

Salesforce management system which is also referred as Salesforce Automation System are the information systems used in the Customer Relationship Management (CRM). It helps to manage the sales and the sales force management functions of the organisation. A Sales Force Automation (SFA) which is a part of the CRM system of the company automatically records the stages of the sales process.

The focus of Sales Force Automation is to increase the efficiency of the sales process. Your sales person will have the convenience as well as the facility to store important notes, contacts or any data at a place that is available easily for future reference. Sales Babu CRM Business Solutions will help you improve your sales force by the best CRM Software which is basically a cloud based CRM application. You can visit our website https://www.salesbabu.com/.

It is obvious that your business can compromise on sales but you can surely find ways to improve your sales management. Sales representatives are always loaded with administrative tasks, managing pipelines, following up sales and generating sales reports etc. Enable your sales representatives with the right sales tool that is, the CRM software and also provide good sales trainings. It is not just beneficial to the sales reps but you can also get a clear picture of what your sales reps are doing, how are going with their daily activities and how much are they contributing for the success of your organisation. Thus, the CRM leads to the monitoring of your Sales team's Productivity.
Components of Sales force automation :
Activity tracking and alerts :  This allows the sales team to keep the track where they are with the certain customers and ensures that they are taking the next step correctly to build sales. 
Automate the sales process :  By automating the sales process, businesses can keep moving without doing anything. The other benefit of automation is  by creating a plan that maps out which steps follow the previous one.
Manage the sales pipeline : Pipeline can be set up so the team members can be alerted whenever the customer moves to the next step, making the process simple and ensuring that everyone knows about the next step.
Focus on the right leads : The foremost effective way to increase the sales and productivity is to target the proper  leads. If a business knows what makes a good lead, it can set up a sales force automation automatically which analyzes the lead  and decides how qualified it's supported the metrics like number of employees,revenue or industry .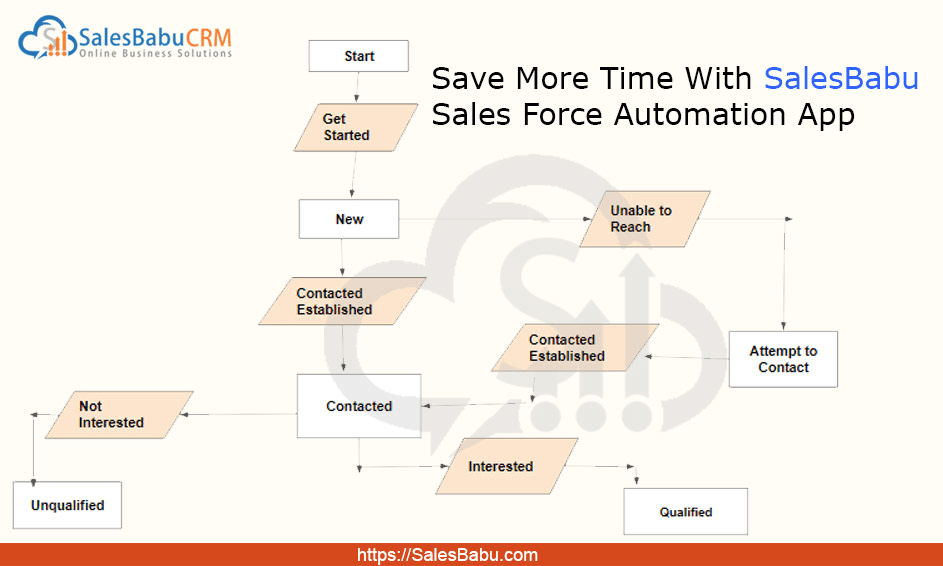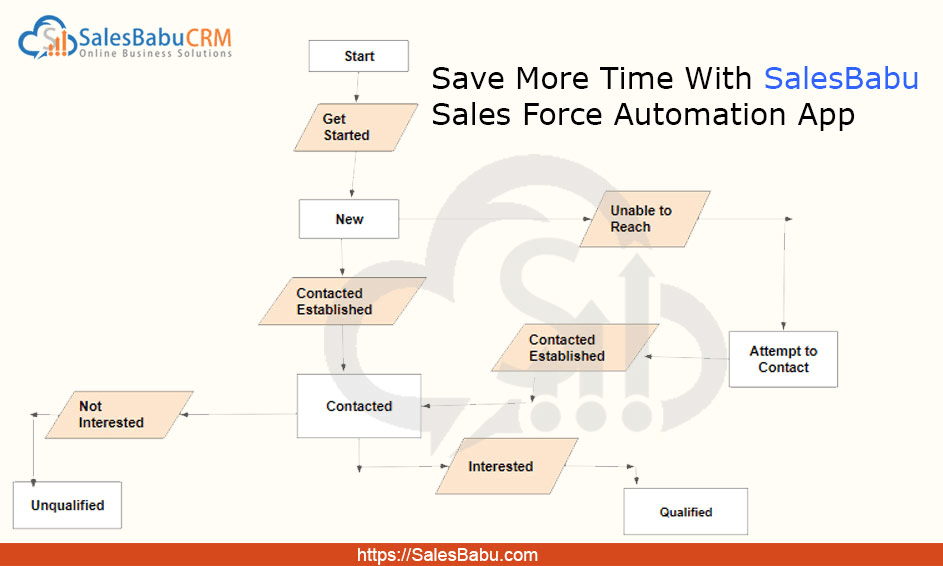 Sales Tracking CRM
The sales efficiency can be improved by using Sales CRM App. It helps you maintain effective sales forecasting and capabilities that automate, streamline, synchronize all the sales activities like new sales opportunities, comprehensive view of the customer interactions, follow up reminders, record history, contact information as well and much more.

The sales equilibrium gets disturbed without an efficient lead tracking. Sales tracking software helps to manage all leads with each and every information. It is difficult to maintain a good relationship with your customer until and unless you know about the actual requirement of the customer. Thus, the Sales Tracking Software will help you follow up your customer and will help you maintain good relationship with your existing customer. Thus, it gives the complete information about the inside and out of the product or service.

At SalesBabu Online CRM, our sales tracking software is a combination of mobile CRM and cloud based online sales CRM software. The mobile sales tracking app is helpful to manage data as well as operations in and around the entire field operation.

Sales Babu CRM: Sales Force Automation CRM app makes you save more time with the automation.
Makes selling fun with Sales Babu Sales rep tracking app.
Access and update the CRM while working remotely much easier and efficient for the sales team through the mobile app.
Territory management for easy customer segmentation: Sales Babu Sales Team Management App.
Calendars are easily integrated into mobile sales app to allow users to easily schedule meetings, coordinate events, and keep track of important dates.
Create reminders, tasks, calls, events, or other alerts with one click. Set up and access activity notifications right from your Sales Tracking App.
Documents can be accessed and uploaded from any device, any place or time, keeping the client process efficient and smooth. This allows field employees to access easily to critical information via a handheld mobile or tablet device. The needs of a client can be written down and sent as a proposal through the field sales app, giving them a personalized experience.
A sales CRM app can also indicate what area sales are lacking in, creating an opportunity for training to boost areas of low productivity.
Having a complete transaction management system (CRM Mobile App) can allow for client engagement and more efficient customer service.


Sales forecasting
Looking to the future to help make decisions is always going to be an imprecise science, but there are ways to forecast sales with some degree of probability. Spreadsheets can meet many basic needs. But if your company is serious about sales forecasting, you need a demand planning solution (sales forecasting software) that can provide strategic value, increase your visibility into the supply chain management process, and drive your growth. Sales forecasts are not just for the benefit of the business plan reader, but are a means to help managers make informed decisions.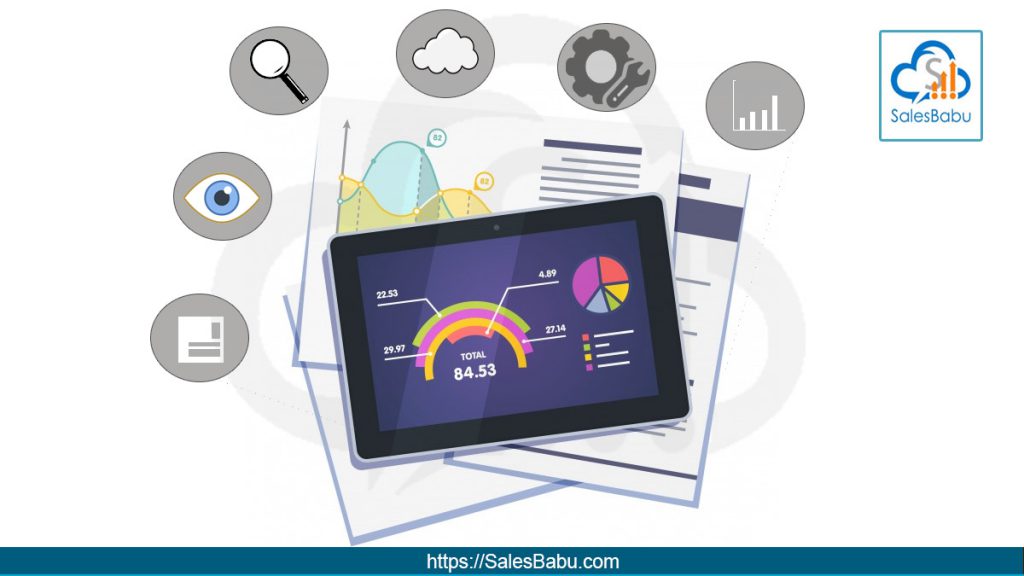 Sales forecasting software facilitates uniform information capturing and data retrieval pertaining to help decision makers to review sales trends for developing strategic and tactical plans for business. The sales forecast is a prediction of a business's unit and monetary sales for some future period of time, up to several years or more. These forecasts are generally based primarily on recent sales trends, competitive developments, and economic trends in the industry, region, and/or nation in which the organization conducts business.
There are two types of Sales forecasting :
Short-term forecasting : Short-term forecasting  can be defined when the sales covers the period of 3 months , 6 months or a year. The period of this forecasting is dependent on the nature of the business. If the demand is  fluctuating  from one month to another, forecasting can be done only for a short period.
Long-term forecasting : The forecasting which covers 5,10 or even 20 years is long term forecasting. This also depends on the nature of business. Many industries like ship-building, petroleum refinery, paper making industry, need a long term forecasting as the investment cost of equipment is high.
At Sales Babu Online CRM, our sales forecasting software provides dashboards which gives a graphical formulation of the input and expected outputs. It also has this 'SPEEDOMETER' and 'PROBABILITY' which predicts the effective sales realization automatically. And last but not the least, it comes with multiple user access to access the forecast model simultaneously.


CRM for small business
You might be having questions regarding the benefit of using CRM system for small business. In the initial days of your business you might have not required a system to manage a CRM system or a CRM tool to manage the information. But once your business grows you will require a system to organize and manage all your customer data in a centralized platform.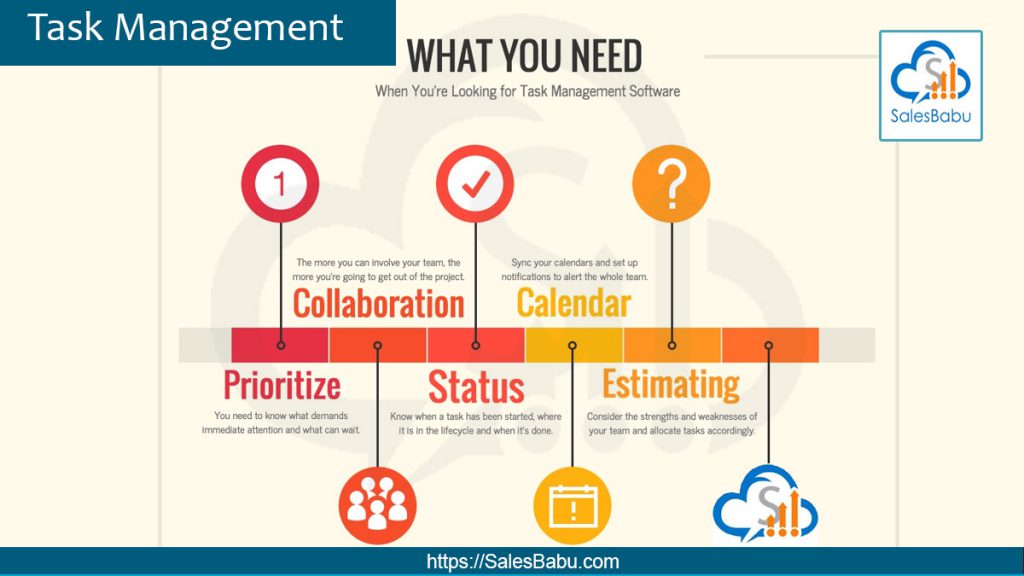 Though you are a small business, one of your main vision is ultimately customer satisfaction and maintenance of a good relationship among your customers. Once your business objectives are set and your business challenges are listed, get your CRM system according to your requirement. CRM comes with an user friendly interface which makes your work much easier and faster. You can save a lot of time instead of spending time on manual records. And it's not just about time but you can also get a cost effective software to enhance your business. You can use the best CRM which is basically a cloud based CRM application for small businesses as well. If you have not yet got one, then feel free to request for a free demo on our website https://www.salesbabu.com/. You will surely not regret the use of CRM software for your business.
SalesBabu Online CRM Solution records and monitor each activity of a sales team. Manages all details related to leads, measures abandonment and close rate. Guides sales team to adopt a focused approach to achieve sales target. SalesBabu CRM enables you to categorize customers with all possible criteria. Can register date wise sales, region, sales details of products to never miss an opportunity.
SalesBabu Online CRM Solutions is totally a cloud based CRM software. It can be accessed from anywhere and anytime. It is cost effective as no IT infrastructure is required to run the software application. If you are yet to get the best CRM Software which is basically a cloud based CRM application, then visit our website https://www.salesbabu.com/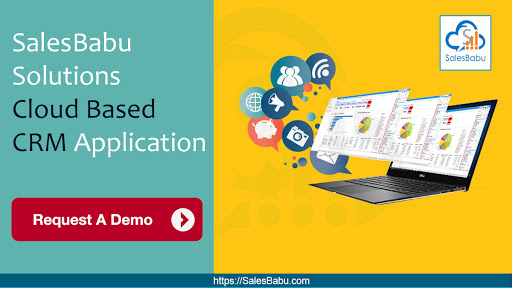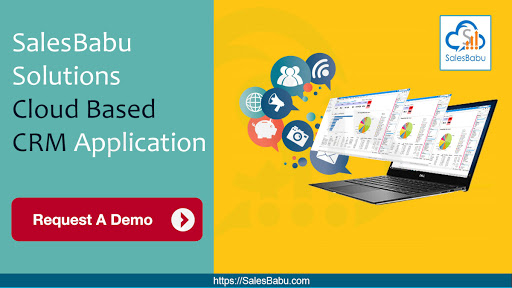 The best CRM software will help you improve your sales by making things more easier and faster for your sales team as well as you. The present competitive world demands for much of a smart work rather than hard work! To get the best CRM software which is basically a cloud based CRM application, request for a free demo at https://www.salesbabu.com.