Sales and Marketing strategies are the most sought after features for any business organisation. Companies are spending huge chunk of money to strategies their policies as per the requirement of current market trends. Implementing a CRM software for your business is one of the most efficient ways to organise your overall business strategies and improve revenue for the firm.
One of the most trusted CRM software of India is SalesBabu CRM which can systematize and standardise the sales and marketing strategy of the organisation and improve overall client relationship for the firm.
SalesBabu CRM India is becoming much more popular today. You can manage the process in an organized way. Now you can measure the time period of the leads. It captures customer details and tracks the sales status of the leads and prospects. Automation of entire sales process from lead generation, qualification, Follow-up, Quotation, sales order till deal closure. You can motivate your sales team by providing them good sales incentives according to their sales performance. Get the summary of sales leads and other sales activities at a single location.


Let's understand a few more benefits of SalesBabu CRM to organise sales lifecycle for any business model.
Benefits of SalesBabu Sales Software:
Gives 360 Degree view of the business activities
Understanding your business deals is the first step to organise it. Having a clear picture on your organisational details like – list of products manufactured, vendors, retailers and end customer details, contact details of all your clients, information on every prospective leads and more. Every information on different business activities are collected in a cloud based centralized repository which can be different stakeholder at all the time from different locations.
Tracks Lead cycle
Lead Management is another important part of sales management. SalesBabu CRM sales management software can integrate with different third party vendors and social media to collect lead information over various modes of communication and record their information in a centralized repository. With these lead management features, sales and marketing team can further filter and nurture the collected information on prospective clients and convert them into successful sales for the firm.
Once we have a filtered list of interested clients, the sales and marketing team can understand their demographic background, personal preference and other information collected over the internet through various automatic trackers. Once the sales and marketing team have complete knowledge on the leads, they can send personalised quotations, presentation and other campaigns details to further nurture them and close the sales deals.
SalesBabu CRM also aids in understanding the sales lifecycle of the various products and create demand forecasting strategies for various items in the organisation. With these automated demand forecasting features, the sales and marketing team head can understand the demand trends and circulate the company's investment accordingly.
Reminders of payment collections
Automated activity management feature in the software helps in handling any upcoming events, meetings, follow ups and more in an organised manner. With this feature, the sales and marketing team can create automated reminders, alerts and pop ups which help in tracking routine activities of the team and minimise the risk of missing client events and meetings from the sales and marketing team.
MIS feature of SalesBabu sales management software helps in understanding the demand and supply life cycle of various products, sales performance of various team members and more by creating detailed reports and statistics of various aspects of the sales team. With this MIS features, sales and marketing team can create various inbuilt and custom reports to understand the market trends and formulate their strategies for maximum revenue from these detailed reports.
Read More – MIS: Now Get All Your Reports Just by a Single Click
Increases sales productivity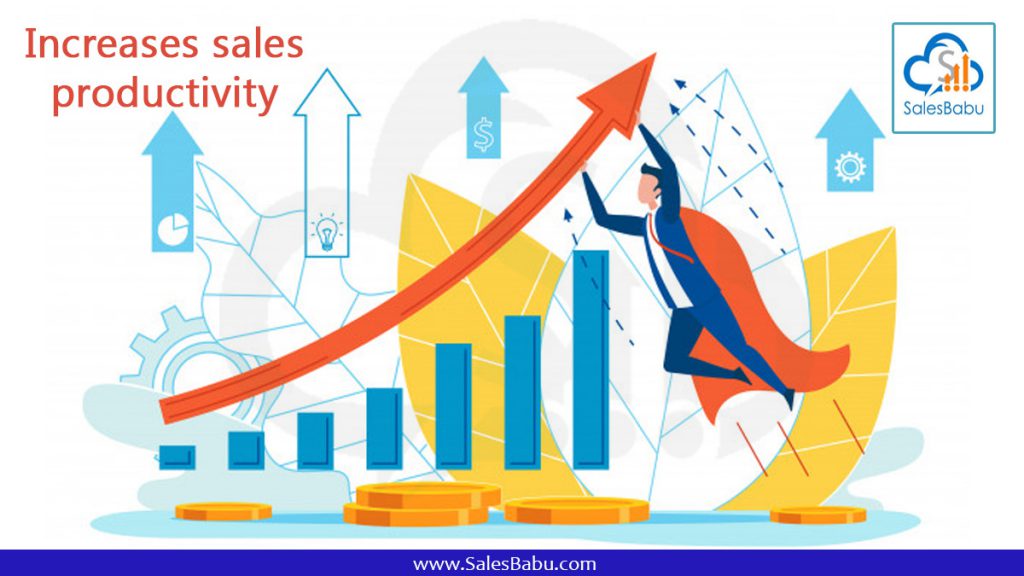 Manual ways of report generation, workflow tracking , sales and quotation generation and more can eat up most of the constructive time of the sales and marketing team. With SalesBabu CRM automated sales force management software, every manual effort can be automated and strategies for maximum productivity and minimum wastage and rework.
Automated sales force management software features enables sales and marketing team to organise and standardise the sales process for improved sales closure rate in the team.
Features like Mobile sales apps also increases the overall productivity of the sales and marketing team by improving on-the-move sales activities in the team. With this Mobile sales app, sales agents can share their work status, presentation, quotation and other important sales document while on the go through their mobile and smart gadgets and make sure none of the sales activities are restricted to desk jobs. Live location sharing feature in Mobile sales app, help the sales and marketing team to share their current location while on the move, which help team leads to strategies the work assignment based on their current location.
Read More – Top reasons why mobile CRM apps are good for your business.
Documentation and followup on each activity are very important to understand the regular sales lifecycle within the team. With SalesBabu opportunity and activity management features, every ticket and enquiry from the clients are tracked with events and notes which helps in tracking every update on work items and regularize overall working strategy in the team.
Read More – Three ways How Cloud CRM Software can take your Sales to next level
Knowledge about customers and prospects
You can sell in a better way if you know about your prospects and customer's needs. SalesBabu CRM gives you a 360 degree view of the customers. It improves customer satisfaction and loyalty. It's easy to turn quotations into sales orders then into the invoice. Every customer gets complete attention and satisfaction with the help of this software. SalesBabu CRM India manages Sales Opportunities with ease.
Read More – Customer centric CRM, the way to go


Conclusion
CRM Solution is an important tool for modern business organisations. You can give priority to the positive prospects. It improves your win rates and performance. Stores information of all your accounts and contacts. It also reduces the admin tasks. Sales Managers can log in from anywhere and can get the visibility to sales team's activities. Sales people don't need to carry product catalogues or other sales documents when they visit customer places. CRM Solution is cloud based software, so you just need to enter username and password and view each and every customer detail from anywhere.