Business is all about the customer: what the customer wants and what they get. Generally, every customer wants a product or service that solves their problem, worth their money, and is delivered with amazing customer service. – Fabrizio Moreira
As correctly mentioned, a customer is the key to a successful business. If your business model needs to succeed in today's world of economic market, we need to make our company customer centric and work towards achieving the goal of making thing revolve around fulfilment of customer requirements and improving customer care services.

What does it mean to be customer-centric?
Customer-centricity is an enterprise-wide way of business management that puts customers and the customer experience first and foremost in everything they do. Its focus is on developing strong and positive relationships with customers in the sales management process.
Traditionally, organizations use to have a product-centric and sales-centric approach where the business and revenue needs use to come first. In this conventional approach, customers were taken into consideration as a major aspect of revenue generation, but they weren't central to decision-making.
In today's economic system of cloud based business environment, many companies are moving towards a major mindset shift for making customers as the key to their business model.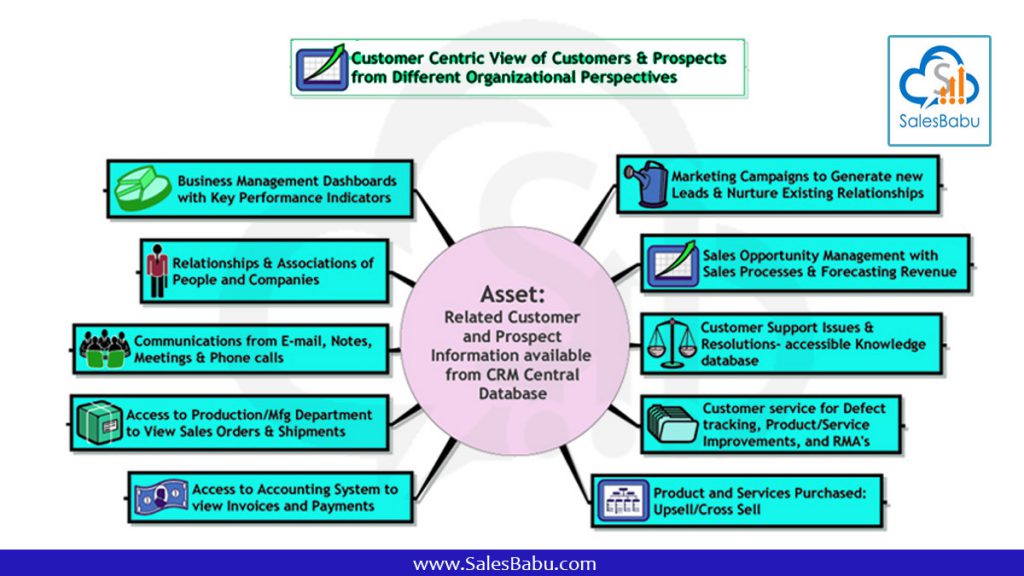 Why does customer-centricity matter?
The traditional mindset of business management had some significant drawbacks. First, it made companies to focus on what they want to sell — not what the customer wants to buy — customers were made to feel like their needs doesn't matter. And once a customer begins to feel that a company is not sufficing its requirements, the customer attrition rate used to go high and companies had to spend more on customer acquisition rather than focussing on customer retention methods.
With a customer-centric approach, you compete for retaining your loyal and long term customers, hence maintaining your good brand name in the market which in turn returns you with a healthy set of new customer inflow. While customer retention costs are still involved, this mindset is 6 to 7 time more cost effective than to acquire new ones. In fact, by selecting an old customer, the company's profitability is 14 times more than the profitability of selling to new customers.
Along the way, you'll also build your company's reputation and create brand advocates — all of which helps support acquisition efforts.
How do online CRM support services relate to customer-centricity?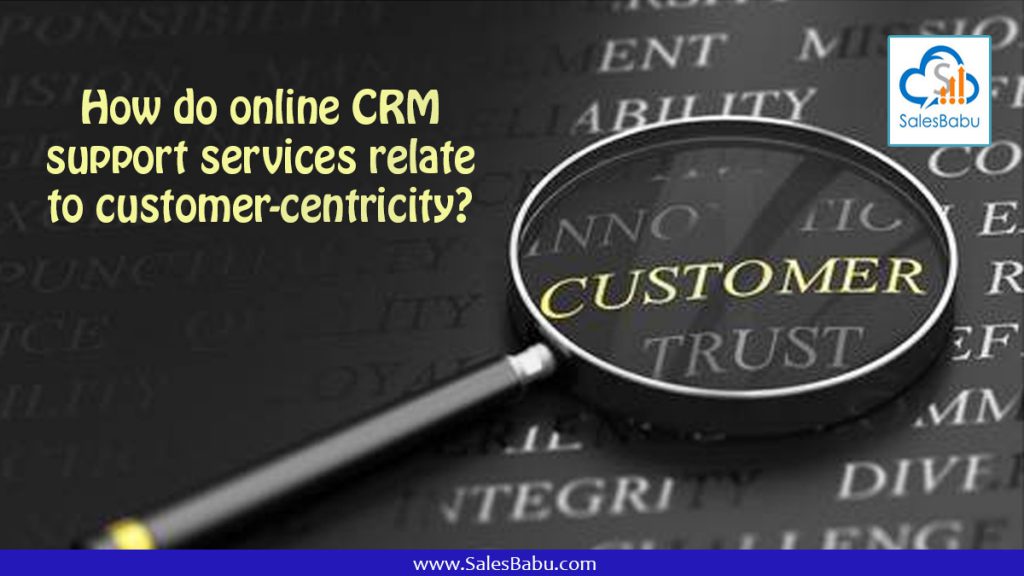 Customer relationship management (CRM) is often mistakenly considered to be only lead and revenue management software but its a broad-reaching tactical arm of customer-centricity — in reality it can be considered the nuts and bolts practices, processes and technologies that will make your company's customer-centric strategy a big success in your revenue generation.
CRM programs are powerful tool for companies to enhanced profitability as well as to develop a long-term business advantage. However, most businesses are unable to exact the full benefit of their CRM programs, because they are too focused on marketing plans. Realizing the credibility of a CRM software requires a framework that keeps customer centricity as the core around which the entire program is formulated. Doing this would enable identification of business management gaps in the company and finding proactive solutions to enhance customer relationship for the firm.
Designing a Customer-centric Program
Transforming a business into a customer centric one is not an overnight job. We should understand that customer-centricity is a journey that can be implemented by some of the following steps
Creating a 360 degree view of the consumer's requirements.
Understanding the current and desired state of consumer's engagement program.
Crafting a migration path for the implementing customer centricity.
Creating a marketing program outline to facilitate these mitigation programs.
Analyzing consumer response and formulating process changes in accordance to it.
An understanding of these process change that influence consumer needs is a key input in creating a successful customer-centric program. Different sectors of the economic market need a different approach to developing a customer-centric CRM model. Irrespective of whether you are a department store, a supermarket, a specialty retailer, e-tailer or a convenience store, your process management should be such that customer centricity should be the main deciding factor for all your business needs.
Advantages of Customer centric CRM
CRM softwares already provide many customer relationship management facilities along with before and after sales support. In most of the cases, people believe that CRM and customer centricity is the same thing, but in reality, CRM is a bigger bucket of many more functionality apart from being customer support software.
Over the years, a CRM has started giving more focus to marketing activities—using intelligence from the database and setting targets to optimize it. This product and sales centric approach over time has eventually created many gaps in the CRM centricity inclination.
With customer-centric CRM softwares, companies are trying to convert the whole organizational behaviour towards customers, not just the touch points. With this emphasis strategy, the whole business model is organized and optimized around the needs of the customer and providing better customer centric business management.
Customer centric CRM
There are many customer centric functionalities which are already being followed by cloud CRM like helpdesk services, customer care process and more. Lets understand some more ways which can help us to make more customer centric CRM processes.
Many CRM firms follow different ways to collect lead details via social media, web chats, blog information and more, but the real question is whether we really understand our customer behaviour in this process?
Lead Management over time has been restricted to recognizing leads and converting them into sales, whereas just following this process blindly has lost the very purpose of understanding the real customer requirements. While collecting the lead information, we should try to collect complete details of a contact like interested product details, background, regional and personal preferences and software inclinations. With these added advantages, every detail on the customer can be understood before reaching out to them. With a complete view on the client, we can provide more personalised experience to them based on their interest and preferences.
We should keep our employees involved in every process of centricity by making them aware of the fact that lead management is not just about lead conversion, but its understanding of a customer and fulfilling their requirements with our products.
Once we have our lead, we should understand the fact that regular interactions with the customers will allow us to know their preferences regarding our company policies, our working strategies and more. With smartphone and gadgets, we have numerous mode of communications to stay connected with our customer via email, webchats, social media etc. We should have quick reminders and alerts for all our follow up meeting with the customer and we should make sure we consider customer's availability and preferences for communication mode.
Also, we should provide self help functionalities to the customer, to reach out to us or checkout product details through our websites and blogs. We should have readily available links for customer on our website to schedule a meeting with our sales team or call our customer care for any assistance.
Furthermore, we as CRM support system should send regular emails updates to a new and current customer about our latest product details and marketing promotions to keep them interested in our services.
Feedback and customer trends
We should have automated trackers to understand the market trend and customer shifts by continuously monitoring social media reviews, tweets and blogs. We should always keep an eye of any pressing issue which might be affecting many customers or any specific product feature which is being required by many customers of similar business model. By understand their trends and requirement at a higher level, we can make more customer oriented policies for our future business with customers.
Our software should have open doors for feedbacks from customers and prospective clients and we should proactively handle their issues and resolve it at earliest to earn their trust in our working culture.
Quotation generation and sales order processing are few main sectors which can enrich our relationship with customers. While creating customer oriented quotations we consider appropriate discounts, promotional offer and payment strategy on per customer basis and create more personalised offers understanding the customer requirements and business restrictions. Providing these facilities will only increase the trust of your customers and make them do continuous business with your company.
Also, after sales support of Inventory and ERP process management will also give a good platform to serve customer with proper shipment and on time product delivery. Also a great team of customer care will help to understand client issues and pain area in a better way to create more customer centric solutions for your business model.
Conclusion
A combination of a trusted CRM for your organization and a customer-centric mindset can be a major asset in reaching your company goals related to customer loyalty, retention and profitability.