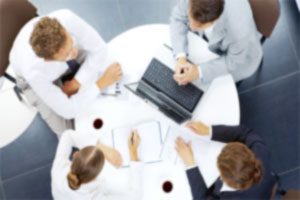 In spite of the indispensable requirement of both sales and marketing driving an organization with the same force, there has been always a constant coarseness in between the two divisions. Marketing people are dissatisfied the way sales people handle their leads while sales people always complain of being offered non-serious inquiries to them. It's a well proven fact that imbalance between the two parties highly depreciates an organization's chances of generating higher revenue.
Why Discrepancies Are Seen Between These Two
These differences in thoughts are the result of competing agendas and limited transparency in the process. The process is not completely visible as to what type of output is sent by the marketing department to the sales team. Sales and marketing keep following their own principals and rules and agendas, ignoring the other one. Ironically, in spite of being crucial elements of the same agenda, the alignment of these two streams get difficult.
Why Synchronization Is A Must-Do Here
The current market panorama depicts a great effect of globalization and customer centric approach. Products are within easy reach because of advancement in internet technologies, and it's easier for consumer, to check for various varieties of product range, product comparisons, whether product specification matching their needs or not, etc. With a complete change in customer's buying methods, change in the sales and marketing process gets mandatory. Earlier the sales people were the main point of contact and source of product education to the customers. Now, customers are intelligent enough to extract the product details and reviews directly from the company's website, which is the main marketing conduit for any organization. With this change, the need of synchronization between the two departments gets as important as ever before.
How To Balance The Two
It needs a well-defined strategy to integrate the two channels of revenue generation as a single platform. It is utmost important to make realize both teams need to work collaterally to increase the revenue and profitability. Here are some steps that you must follow to drive an integrated sales and marketing approach within your organization:
Keep a complete visibility upon the data.
Sales team is dependent upon management tool such as CRM. Make it possible that both teams could share data directly with each other. This will also avoid duplication of data on any of the two parts.
Identify latest marketing trends and tactics to implement.
Develop a unanimous funnel for both sales and marketing. Often there is seen a disparity between the funnel of the two teams which should be nullified or minimized.
Develop criteria of lead qualification and follow it at all departments symmetrically.