CRM Mobile Apps- the first thing that comes to our mind after reading these words are on the go functionality for customer relationship management.
In today's' world, mobile apps for CRM are most sorted out things in the market. The main reason for mobile CRM app being so popular is because people have more mobiles and smart gadgets than Personal Computers. It's estimated that there are nearly 150 million PCs whereas smartphone mobile devices had crossed 300 million. The PC market in India is approximately around 4.35 million units with a steep declining rate of 12–16 percent Y.O.Y. whereas the mobile market is growing at a much faster rate.
What is Mobile CRM functionality?
As the name suggests, Mobile CRM describes an app that enables remote employees to interact with prospects and customers on their smartphone, tablets and other internet based devices. Mobile CRMs serve the dual purpose of providing on the go facilities to access enterprise data, while also logging key sales activities in the company's system of record, thereby uncover opportunities to grow your business customer management.
Mobile apps importance for CRM employees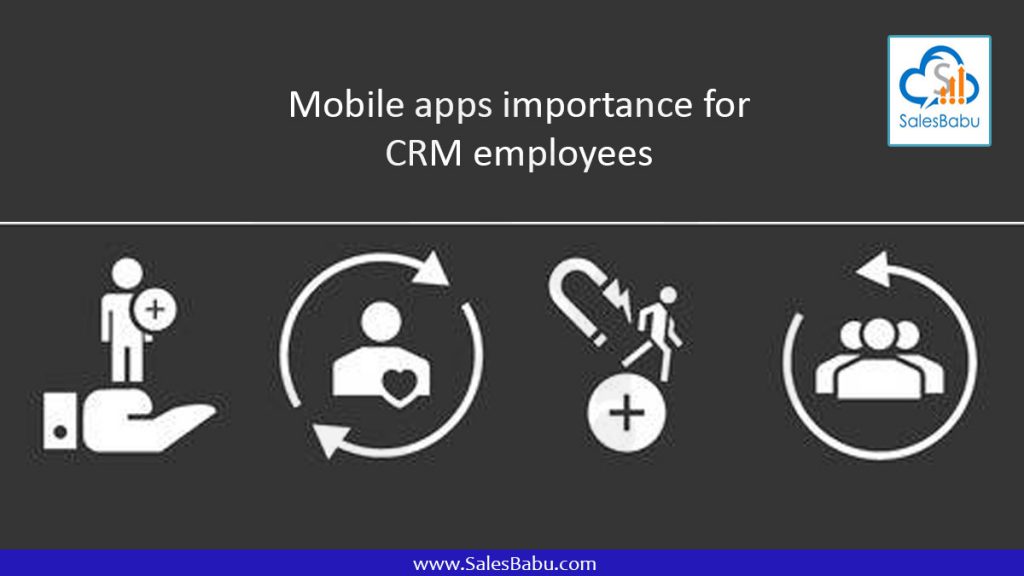 One of the most needed Mobile apps for CRM employees will be for the sales and marketing team. With numerous challenges of finding potential leads and converting them, sales mobile apps in CRM software delivers an integrated dashboard interface for managing every sales activity. Sales Mobile Apps in trusted CRM softwares like SalesBabuCRM, provides numerous facilities to improve their overall lead conversion rate and increase business revenue. Starting with business automation on the mobile apps, to setting up a calendar and follow up events, along with the customer management system, Sales Mobile apps is a one stop solution for every sales team requirement.
Also, various analytic data in mobile CRM enables regular review of employee performance to provide better follow-up, planning and collaboration in order to boost overall business performance and client relations.
Mobile CRM apps importance for customers
Mobile CRM app creates a flexible environment for every business management process along with efficient customer care services. With mobile CRM app functionalities for employees, customers can be reassured that their issues will be resolved and responded to by agent at any time of the day. Also, service agents are always aware of the complete information about the customer issue at any given time, which makes customer interaction and issue resolution more quick and effective.
Benefits of mobile CRM Apps
Automation is the key to a successful sales and management process. If you want your team to be more effective, we need to provide the most advanced automation system to facilitate them for showcasing their full potential.
Nobody likes to do manual data entry for each and every process in the company. Mobile CRM apps reduces or eliminates data entry work by automating the process through mobile CRM functionalities of customer data and service management.
Starting with contact management of adding contact details in a centralised database using automated trackers to schedule follow up and recorded communication details, everything is automatically logged into a centralised cloud based database. With these mobile apps, every sales and marketing executive can add, delete or edit these details on the go to maintain the customer data and enhance the sales process for the firm.
Automation of using email and SMS templates, along with auto notification services and auto assignment of work items etc are some of the very helpful tools of mobile CRM apps. These mobile Apps provides most of the CRM functionalities on fingertips using a few clicks which further reduces the overall status reporting and data entry job for CRM employees.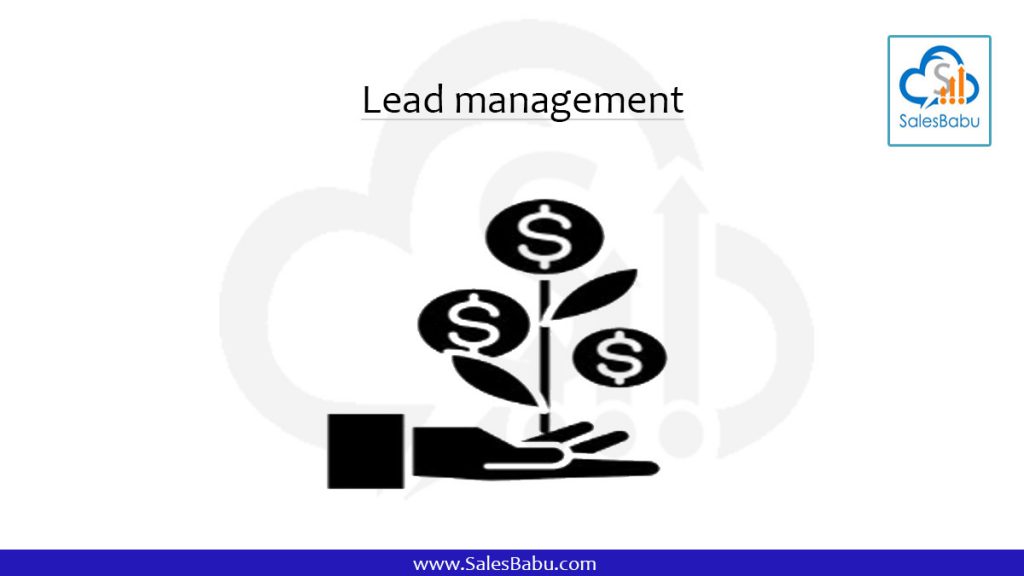 Mobile apps lead management process, documents every interaction a lead has with our company reps, right from the point of entry, phone calls and emails that they send and receive, and every other process of finally converting them into a prospective customer. Lead management on the go is very important for today's world of quick and better business options at every nook and corner of the economic market.
Time is everything when we talk about a successful lead conversion for the company. Once we have a trusted mobile app along with a good background CRM software, we can achieve better results for our lead conversions.
With these Mobile apps, CRM users can always keep the lead information updated with regular updates and interactions with the customer through multiple communication channels of emails, webchats, social media and more. Using these mobile apps, sales reps promptly respond to any query of a new lead and send them product details and live demo to reduce the overall lead tracking time.
With prompt and complete details about a prospective lead, the sales team can be always a step ahead of our competitors in providing valuable insights of customer interested products and make more personalised and productive sales campaigns and sales deals.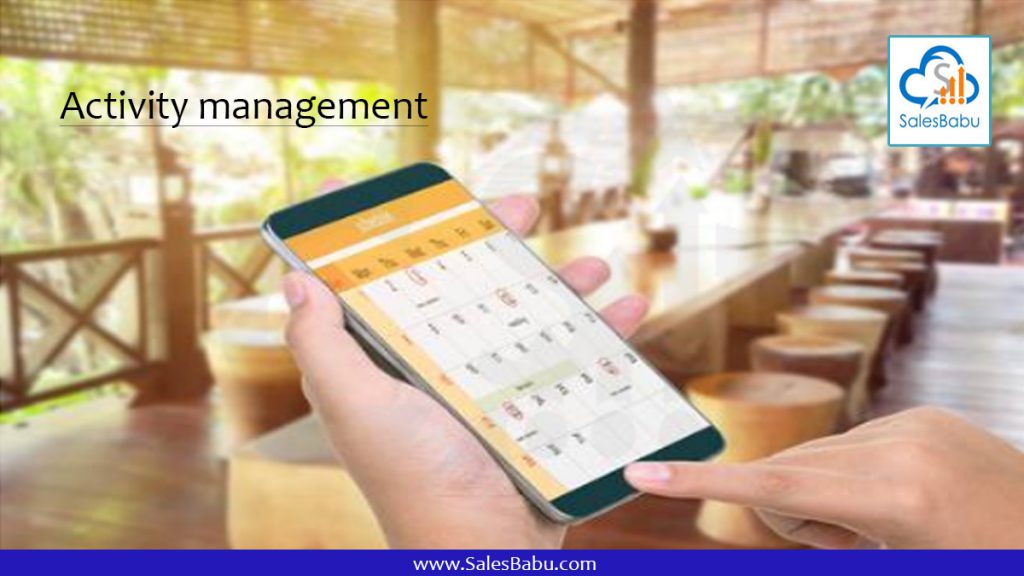 Most of the mobile CRM apps in the market have a quick dashboard and easy notification system. This removes any extra clutter and allows the team to be more focused on important activities currently in hand and track it efficiently. With these automated activity tracking measures, service agents never miss an appointment by implementing task to-do lists, files, calendars, and comments from any device and at anytime of the day.
Mobile Apps allow users to set reminders to notify them for on any upcoming event by pop up events and alerts. These activity tracking apps help sales agents to follow up all their pending activities so that they can plan their work efficiently. Automated record generation on a lead activities help to document every discount and promotional offers provided to the customer and how did the customer reacted to it.
Activity management plays a very important in lead nurturing process where the sales team can regularly follow-up with clients on their requirements with easy trail activities in the apps to understand and track each and every requirement of the customer.
With mobile apps, agents can navigate through various social media and web chats to support customers on different communication channels and give round the clock support on customer's preferred mode of communication.There are no location and data restrictions for the sales agents with mobile apps in their hand, complete customer data is available in the cloud environment and can be accessed through secure login environment to provide efficient customer services.
Many Leads are lost due to delay in quotation replies from the sales team or proper quotation management. These mobile apps quotation system ensures that each quotation is quickly drawn up in accordance with company's predefined rules which increases your chances of success and remove the option of human error in the process of quotation generation. We can create automated quotations with these apps to send it to the customer along with added taxes & deducted discounts on total pricing & as well as on individual product level. Also, multiple currencies can be included as well to create these "one click quotations" to reduce reworks and repetitive quotation creation.
With these quotation management systems, the sales team can quickly convert interested customer quotations to sales order and proceed further with sales. These on the go facilities in the mobile apps, also help the sales team to add items from pre-existing quotations which may be categorized and retrieved easily with fast and quick interactive software interfaces.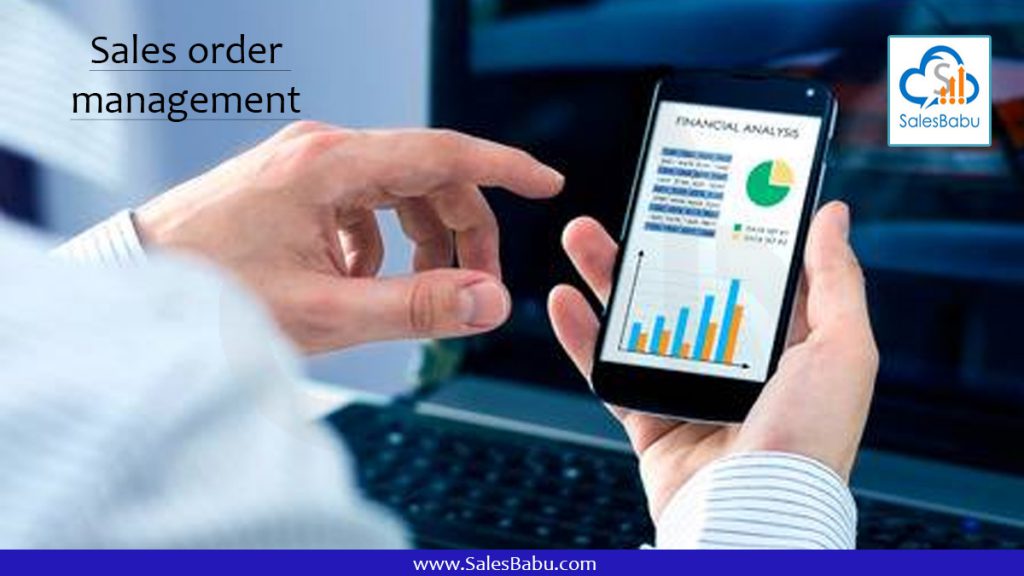 Once we receive the order confirmation from the customer, we need to quickly proceed further with the sales order management to keep our customer engaged and committed to our deal. With a sluggish sales order management, we only end up losing the customer with delay in sales order confirmation response and repetitive follow up sessions.
Sales mobile Apps in trusted CRM softwares like SalesBabuCRM helps to organize our sales process by creating on the go sales team services by organizing and mobilizing the team's efforts. Every member of the sales and marketing team stay in constant communication by having an interconnected linked team network where they can receive constant updates, regardless of their location. These team efforts help to get quicker approvals, personalised sales order confirmation for the customer, template based quotation details, documentation for further sales proceedings and more.
Live location sharing functionalities in the sales mobile apps, help in distributing workload in the sales and marketing team more efficiently and planning their everyday work based on their location and proximity to a prospective client.
Also, through these mobile sales apps, comprehensive dashboards and reports with actionable data can be generated with few finger clicks to help the sales managers and higher management in solving business problems in real time.
These sales and marketing apps, not only help in resolving sales order restrictions on the go but also help to make more proficient and futuristic plans for the better customer services on the move and close more sales deal.
Conclusion
In today's world of increasing numbers of mobile phones and gadgets, it will be impossible to think of a CRM with a decent Mobile CRM App for a successful business model. Staying connected to your team and customers is the key to a productive lead management and sales process.