A small business might not be having a fat budget for marketing, but they also need to spread their product awareness to increase their sales. Recently, a few major trends have remarkably transformed the way companies engage their customers throughout the sales cycle.
Some of the major trends which can take your business to a new height of success are :-
Internet technology and web services.
Mobility of Services.
Automated features of Data tracking and Analysis
Targeted Marketing and Sales features.


How can an efficient CRM tool help in organising your marketing strategy?
Customer Relationship Management Software has emerged as a powerful and effective business tool that automates all the processes involved in sales cycle starting from sales enquiry generation till getting the order, order processing/fulfilment, post-sale complain management and after sales service and support. Especially the on-Demand CRM makes it easy to access and update data from any corner of the world and at any instance of time.
Sales management software like SalesBabu CRM, has become an increasing trend in implementing every latest trend in the market to improve overall marketing and sales strategy for the business and increase the revenue generation for the firm.
Let's understand how SalesBabu CRM uses these features to improve the overall marketing strategies for various sectors of the economic market.
SalesBabu CRM and Latest Trends In The Market
Internet technology and Web Services.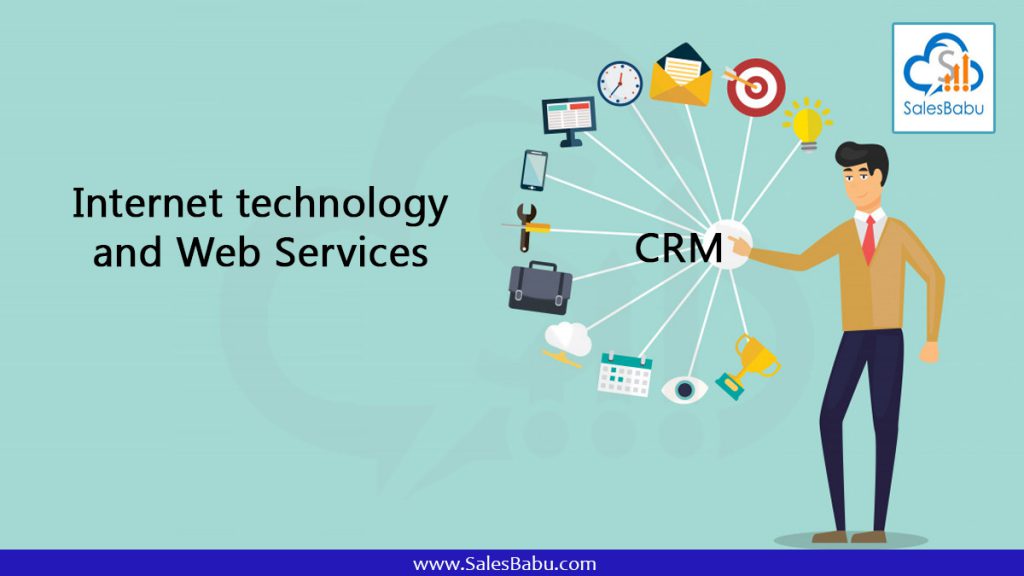 Internet services have helped us in an easier way of interacting, collaborating and sharing information across team members across different office locations. Internet has helped organization & customers collaborate effectively which results in better customer satisfaction and better customer feedback.
SalesBabu sales management software uses the latest technology to provide various cloud based features which can be used to collect and record every information related to customers and products in an integrated database.
SalesBabu CRM provides features which aids companies to integrate with other third party vendors, social media and other web services to collect and record lead information, company reviews, user complaints and more, over the internet and use them for better lead management in the organisation.
Also, the sales and marketing team can use these collected information to understand demographic background, shopping trends and other details on the clients to create more personalised campaigns and help in better sales closure for the organisation.
Read More – Customer centric CRM, the way to go
Today the number of people accessing the internet via their mobile devices is on a rapid rise and with this, it becomes a key requisite to make your web presence mobile friendly. This will help all mobile users to get connected to your business model easily via their device and thus your business reach will increase exponentially.
Mobile sales app in SalesBabu CRM enables users to stay connected to the customers at all time and location. Sales and customer service agents can share their live location, quotations, sales orders, update customer tickets and more on their mobile phones and smart gadgets to enable round the clock services to the clients.
Mobile services are also very critical to track the performance of the sales and marketing team within the organisation to understand the sales conversion rate of each employee and improve their productivity in the team.
Read More – Top reasons why mobile CRM apps are good for your business.

Salesbabu CRM automated sales force software support offers a great analysis tool for proper predictions and forecasting practices regarding futuristic estimation. It's important to analyse all available data thoroughly so that various sales parameters can be properly measured and judged.
Sales and marketing teams need to understand the market trends, demand of various products and sales performance over a period of time and make sure we have a stable set of data tracking measures. With MIS feature in SalesBabu CRM, sales heads and managers can create various inbuilt and custom reports to understand the regular business details and use them to improve business strategies for better performance and revenue generation for the firm.
Also, with these automated data tracking and analysis methods, FMCG businesses can understand the stock requirement in the warehouses and understand the refill quantity on a regular basis to understand the demand trends in the organisation. These facilities help in avoiding unnecessary expenditures on Out of stock or over stock situation and strategies sales and marketing trends in a more productive manner.
Read More – MIS: Now Get All Your Reports Just by a Single Click
Targeted Marketing and Sales features to Strengthen Social Presence
Social networks like LinkedIn, Facebook, twitter has helped to share likes, feedback, and comments among the social groups. Social media sites are providing a dynamic platform to promote brands. These are proving to be strong trend setters giving important insights into buying and selling trends.
The amalgamation of these new trends with technologies and tools like has changed the way how organizations sell and manage their full sales process.
SalesBabu automated sales force software features integrates with these social media websites to create standardized and well targeted marketing strategies. These strategies help in creating a better visibility for products and services for an organisation and create better revenue for the firm.
Also, with these automated social media services, companies can use the platform to provide efficient customer care and enquiry management features for the organisations. SalesBabu automated trackers will keep an eye over the different modes of communication to collect customer reviews, comments, enquiries and product interests. These collected details are then added to a centralised cloud based database, which forms the integrated base for further lead tracking, enquiry management and customer service support system. With SalesBabu CRM complaint management system , every ticket is tracked and resolved at the earliest with organised system of follow up and customer rating system which helps to improve the overall client service processes and enable businesses to have a good impression over the social media and other modes of advertisements.
A good review or early customer enquiry resolution goes on bagging a lot of new customers and prospective leads on social media and acts as a great source of advertisement for companies and help in better business profitability by using the latest technology for business management and organization.
Read More – Three ways How Cloud CRM Software can take your Sales to next level
Conclusion
CRM tools like SalesBabu CRM brings customer focused & productivity enhancing approach has changed selling and managing sales to the science of analysis & centralized decision making with management visibility of end to end sales cycle helping organization in better & effective decision making.