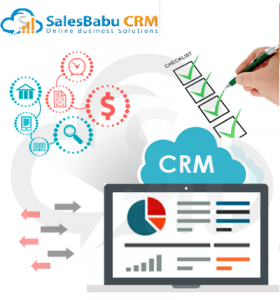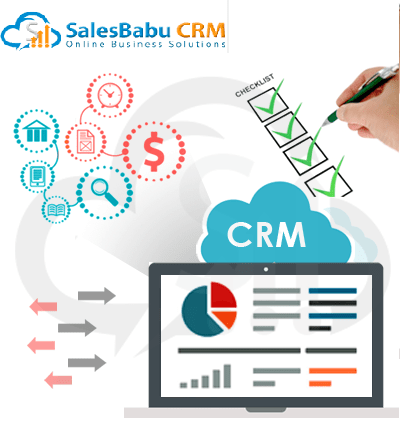 All SME's are well known about the Customer Relationship Software functionality and its advantages in their vertical business processes. Sales process is a crucial tier of your business and companies wants to keep a vigil eye on their Sales team and their efforts. As we know there are bunches of CRM in worldwide market, but major thing is that, how to select a CRM for your Business.  Let's have a look on SalesBabu CRM and its work functionality.
SalesBabu CRM Work flow & Working Style
SalesBabu CRM – An Online CRM Software which runs on Internet (Web Based)
SalesBabu is first Indian originated CRM application which built on the SaaS platform and become a bone of Indian work nature. SalesBabu Customer Relationship Management application is based on SaaS Model which operates on web browser.
Now a day's Web based CRM is Success Key for any kind of business because of its Cost and implementation, in comparison of traditional installation based CRM. This helps companies to manage and retrieve data from anywhere at any time, enables you with smart database security concepts, and reduce the dependency upon the system. This helps you to manage all the customer product transaction and interactions within a single platform and allow you to build a better relation with customers and enable you to synchronize all internal tiers like; sales, marketing and support processes.
Standard Modules and Function in SalesBabu CRM
Admin Masters
Dash Board
Lead Management
Account Management
Product Masters
Contact Handling
Follow UP & Activity Master
Opportunity Management
Quotation handling & Amendment Management
Sales funnel Forecast Master
Sales representative Tracking Meter
Pending Orders & Task Scheduling
Sales Order analysis Master
Order Processing & Order Handling Management
Document Collection Management
Who Should Use SalesBabu CRM?
See the question is very simple, but it does depend on each entrepreneur working approach, otherwise in Border sense Everyone can use the SalesBabu CRM.
SalesBabu CRM helps you to manage all the core business where you need to put some extra efforts and business tricks. SalesBabu covers all the aspects of customer relationships tree, from marketing to service. Organizations who want to manage their relationships with customer in a magical & holistic way can come in and use SalesBabu without any late and save money to avoid software development or hardware infrastructure.