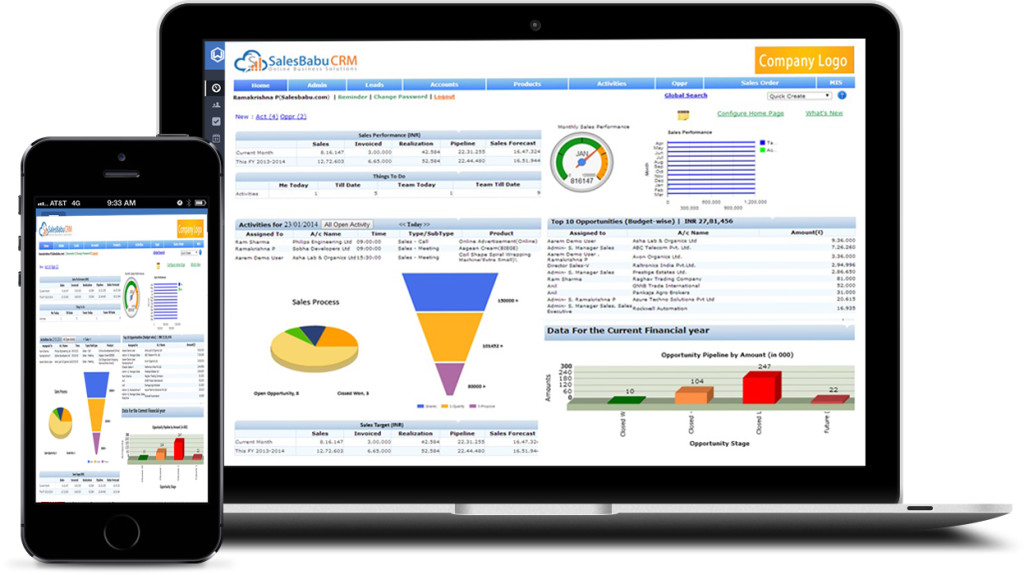 All SME's are well known about the Customer Relationship Software functionality and its advantages in their vertical business processes. Sales process is a crucial tier of your business and companies wants to keep a vigil eye on their Sales team and their efforts. As we know there are bunches of CRM in worldwide market, but major thing is that, how to select a CRM for your Business.  Let's have a look on SalesBabu CRM and its work functionality.
SalesBabu CRM Work flow & Working Style
SalesBabu CRM – An Online CRM Software which runs on Internet (Web Based)
SalesBabu is first Indian originated CRM application which built on the SaaS platform and become a bone of Indian work nature. SalesBabu Customer Relationship Management application is based on SaaS Model which operates on web browser.
Now a day's Web based CRM is Success Key for any kind of business because of its Cost and implementation, in comparison of traditional installation based CRM. This helps companies to manage and retrieve data from anywhere at any time, enables you with smart database security concepts, and reduce the dependency upon the system. This helps you to manage all the customer product transaction and interactions within a single platform and allow you to build a better relation with customers and enable you to synchronize all internal tiers like; sales, marketing and support processes.
Advantages of On-Demand SalesBabu CRM
SalesBabu CRM solutions are easy to install, because of its SaaS platform and take less time in comparison of premise hosted CRM solutions.
Minimum Hardware Investment
SalesBabu CRM On-Demand Software requires minimum hardware investment. The only & mandate requirement to use SalesBabu CRM is internet availability.
SalesBabu CRM gets easily adapted to the organization process nature and its requirement. It gets fit in all the industry verticals very smoothly.
SalesBabu CRM is based on Cloud terminology, thus there is no requirement to maintain any kind of server or any data storage at client end.
No Need to Install Software
SalesBabu CRM is cloud based application; hence there is no need to install any kind of software at client machine, which helps companies to reduce their IT Cost to maintain IT infrastructure.
No AMC & IT Manpower Requirement
SalesBabu CRM enables companies to avoid AMC and reduce Manpower Cost to handle the In house IT infrastructure.