Building an efficient and smart-working sales team is indeed no less than a challenge. It is important for the sales team to focus on the right strategies to develop the sales team effectively. That being said, the sales manager is the leader of the team of sales reps and has the responsibility to drive the team into the way of success, get all work done and also improve the efficiency of the sales reps. He/she being the manager has to possess the potential and vision to lead them towards the right path.
Sales Team Management and Development
1) Effective Hiring
You should recruit people who are highly motivated to become successful in their life. When organizations select the right people and train them well, they not only give better results but also stay with the organization for a longer time. Hiring the right people will definitely increase your company's profits and are a direct reflection of your business.
2) Motivate
Do sales meetings with your team and help them to improve where their efforts are lacking. Sales team is the main resource of each company. Give opportunity to each team member to grow. Communicate with your team about business goals and encourage them with rewards. As they can't perform well when they are not confident about doing tasks.
Your employees will look forward at you as you set an example for all your employees. When the leader sets an example of motivator, positive thinker and smart worker your employees will follow you and thus it also creates great motivation at workplace.
Read our blog – Sales Force Motivation Tips
3) Training
Training helps your team to perform well. Without product knowledge your sales people can't do sales. Training plays an important role in the development of the team. When your team is confident about the product knowledge they can understand the customer needs much better. Teach them how to handle customers and solve their issues. Tough customers are a part of this process. If you want to be in the business you need to deal with your tough customers.
4) Provide Them Useful Tools
Removing repetitive manual tasks provide your team useful tool. SalesBabu CRM Software is cloud based application which helps organizations to track sales force activities and streamlines the sales process. In a click they can access their daily tasks and maintain customer details. With the help of this software they can easily make a list of potential clients.
Read our blog – Managing Sales Team Using An Online CRM
5) Goals
Sales people are revenue generators; they only need correct guidance and sales tools. Set challenging but achievable goals for them. Team building helps you to reach goals. Track the progress of goals. Goals give clarity about everyone's responsibilities and roles.
Now the question is, how can you manage your sales team?
Every sales manager puts in efforts and tries to implement several tricks and tips in order to manage his/her sales team efficiently. The present market buzz is all about the use of – CRM system. The CRM system provides automated features which helps in the smooth functioning of the sales activities.
Read more to know more about sales team management tools….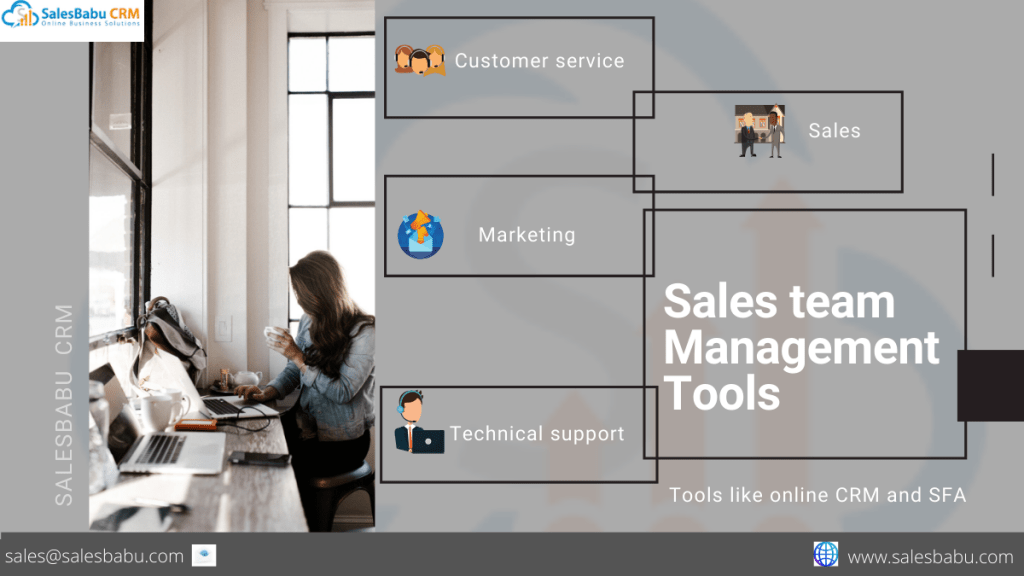 Sales team management tools
Tools like online CRM and SFA are helpful to manage the sales team as well as streamline the sales process. Customer Relationship Management (CRM) is used to maintain a good relationship with the customers and a Sales Force Automation (SFA) is an automated process that mechanizes and incorporates distinguishing elements of business processes right from the customer contact administration, representative execution assessment to handling of sales estimates.
To begin with, develop a sales strategy that everyone is aware of. Make it clear to all with regard to the primary sales objectives of the organization. The Sales Management application lets the sales reps to view sales pipeline, product wise sales, leads status, sales forecast, real time visibility, sales activities and sales funnel. Sales Management application helps the CEO's to track sales activities, maintain sales discipline by automating the entire process, reduces their unnecessary efforts and saves most of their energy and time.
Read our blog – Sales Force Automation Software | Cloud Based CRM Software
Sales management app
The sales management app is a mobile based solution that can be installed on smartphones in order to manage Field Sales force. By selecting the right sales management app you can automate your business process with regard to recent technology and needs.
With the help of Sales management app your sales reps can maintain real time client engagement and an efficient client service. The sales team management tools handles customer segmentation in the business. Your sales reps need not have to spend extra time or waste time on repetitive tasks as the sales management app automates repetitive tasks which reduces the time spent on data entry.
Sales Tracking System
The sales tracking system helps the sales reps to record or document the interactions a lead has had with your business right from the initial phone calls, emails, sales funnel until they become your ultimate customer.
Salesforce Tracking app comes with certain benefits and advantages. They are –
The sales tracking application provides detailed insights of sales funnel.
The sales tracking application helps in analysation of pain points.
The sales salesforce tracking app understands which product or service, locations and which sales rep is bringing in maximum profit or revenue for the company.
The sales tracking system monitor the performance of the sales team and their day-to-day activities.
The sales tracking application provides a visual idea of sales cycle etc.
The sales salesforce tracking app helps you to manage products and their specifications.
Sales reporting system
The daily sales report software system helps the business to manage and report the key metrics relating to sales trends, marketing campaigns, team performance, MIS and reports etc. The CRM has in-built daily sales report software which is designed to automate qualify the valuable data as it is received. The sales reporting system helps to accomplish the daily work report of the sales reps and keep the supervisors or managers updated.
You sales rep can run daily sales reports to know where their deals are at, what customers need service right now, how many leads have they processed this week, and many more. By keeping updated CRM information sales people won't need to fill out manual reports any longer at the end of the day/week.


Lead tracker app
A lead tracker app is a system that automates the tracking of all generated leads from the initial point to the final conversation. The lead tracker app can empower the sales enablement to distribute and assign sales leads to teams, track leads and improve conversions for the acquired leads. First of all, the lead tracker app automates streamlining all the acquired leads into an omnichannel dashboard. Afterwards, the lead management tools give you the option to systematically track the acquired leads, distribute sales leads, track conversions and assign a dollar value to every converted sales lead. The lead tracker app also accelerates handing-over of qualified leads to your sales team.
Daily Activity planner
The daily activity planner allows the sales reps to plan the sales activities based on their priorities. The daily sales tracking app lets you to set up, access and activate tracking daily activity notifications, create reminders, tasks, calls, alerts and events with a single click. The daily activity planner indeed makes it possible for the sales reps to manage their day-to-day sales tasks effectively, improve workforce performance and report to their managers on time.
Read our blog – Keep Track of Sales Activities on A Single Click
Some Sales Team Management Strategies are :
1.Streamline the Sales Process
Though the sales processes will not always be one-size-fits for all, you would need to have a general sales process in the place which provides your team with the tools and information it needs to reach its goals. One of the best ways to develop a productive sales process for your team is to create playbooks. Playbooks will take the foremost of the processes of your best salespeople and it will share all those tactics together with your underperforming sales reps. This will result in a much efficient, productive, and consistent sales process across your whole team.
2.Use Technology
There is constant improvement in the technology, many parts of the sales process are becoming automated nowadays, thus quicker and very much easier for your salespeople to complete. One of such good examples is cloud-based CRM.
A good CRM will make the collaboration very much easier, as well as it will ease the difficulty of keeping the track of phone calls and clients. Further, tools such as tablets and headsets will allow your salespeople to fluently multi-task, also allowing the client meetings and calls to be well-documented without taking any of your salespeople's focus away from your clients. The key to bringing the technology into your sales team's efforts is to ensure that it will work seamlessly with the tools and also the systems that your team has already set in place.


Conclusion
Most of the organization strives for a system that could streamline their entire process, reduce their efforts and save time. The solution to all these sales managing problems is to have a Sales Management CRM Software. Sales team Management tools helps the CEO's to track sales activities, maintain sales discipline by automating the entire process ,reduces their unnecessary efforts and saves most of their energy and time. Get the best Online CRM system which not only makes your work easier but also helps you to manage your sales team smartly with very less manual errors. Are you still thinking about which is the best CRM software which is basically a cloud based CRM software? Then don't waste time and feel free to request a free Demo at SalesBabu CRM. You can visit our website https://www.salesbabu.com/ to know more.