What is Sales Cycle?
Sales cycle is the course of time between the initial contact being made with a customer, the identification of services or goods to be procured, the acceptance of the intended purchase, and the transaction that completes the sale.
The sales plays an important role for the success of the business. Sales is one such aspect which plays the role of a bridge between the potential customer's needs and the product or services which the organisation is offering, to fulfill the needs and wants of the customer. Trust and loyalty are the two most important reasons why the customer would stick on to your products and services.
Stages Of Sales Process
Prospect
Connect the prospects
Qualify the prospect
Make the presentation
Overcome the prospect's objectives
Close
Generate referrals
To know more about Sales Process, click here.
So, What is Sales Force Automation (SFA)?
Sales Force Automation Software basically is another name for Customer Relationship Management Software. Its prime motto is to streamline interaction of organization executives with their customers.
The primitive form of Sales Force Automation Software was just for maintaining contacts. But the rapid advancement of technology and rigorous endeavors from the technocrats has made it capable of overpowering the entire sales stage. Online CRM for small business has enhanced the working scenarios at small companies to a great extent. Online CRM Software has sorted out most of the problems faced by the entrepreneurs handling small to big organizations, including new start-ups. The easy & cost effective CRM's usability, portability and anywhere operable flexibility have proved its worth over the previously launched hosted application.


Features of SalesBabu Sales Force Automation Software
Streamline sales force
Sales productivity
Sales pipeline forecast
Target vs. Achievement analysis
Manage contacts
Real time information
Benefits Of Online Sales Force Automation Software Over On Premise Hosted Software
NO Software required
Premise hosted need to be installed to a computer. Thus it gets system specific. You can't avail the software once you change the software. Online CRM Software can be used anywhere and at anytime, you can access the software any time you require.
No Capital Investment
Online CRM Softwares are cost effective. Whereas premise hosted software are much costlier than that. Here, you pay as you use, and can start with a very low investment with only few users.
No IT Infrastructure Cost
There is a lot of extra IT infrastructure needed to successfully run premise hosted application. Whereas online application provide all kinds of functional service on a remote access basis.
More Secure IT Environment
The entire data load in case of premise hosted is upon your system. So, any time, there are chances of data crash and hardware failure. While in case of cloud computing, entire data load is upon the server. So your system is always safe from the impending dangers.
Benefits and best practices of Sales Automation:
Better Sales Accuracy –  There is nothing worse than a sales agent fortuitously estimating the price inaccurately on the product line or services such as while being in the call or sending sales email to the lead. When the lead goes back and does research about these prices and finds out that it's wrong, there are chances that they might jump to buy it from your competitor company instead. The best sales automation tools and other prospect tools will reduce human errors, produce the prices accurately, fulfills the needs of all the customers, and some of the other information in real-time. 
Analyzing Sales calls – When the sales executive is on a call with some customer, on one hand, they will be on call, and on the other hand, they will be taking down the points of the customers. Instead of this sales reps will prefer to use the computer to take down the points of the customers. With the help of the sales automation software, they can provide transcripts of each call that they have with the leads, the software can analyze this information as well in real-time. The software will also help the sales team to know where they went wrong and where they can do better.
Faster proposals – Proposals are the very much necessary part of the sales, this is not one thing that the sales team can skip. The sales team can input all the information into a template and then the software will draw up a mock proposal.
With SalesBabu Sales CRM Software grow your accounts, find new customers and close deals faster – from anywhere, anytime.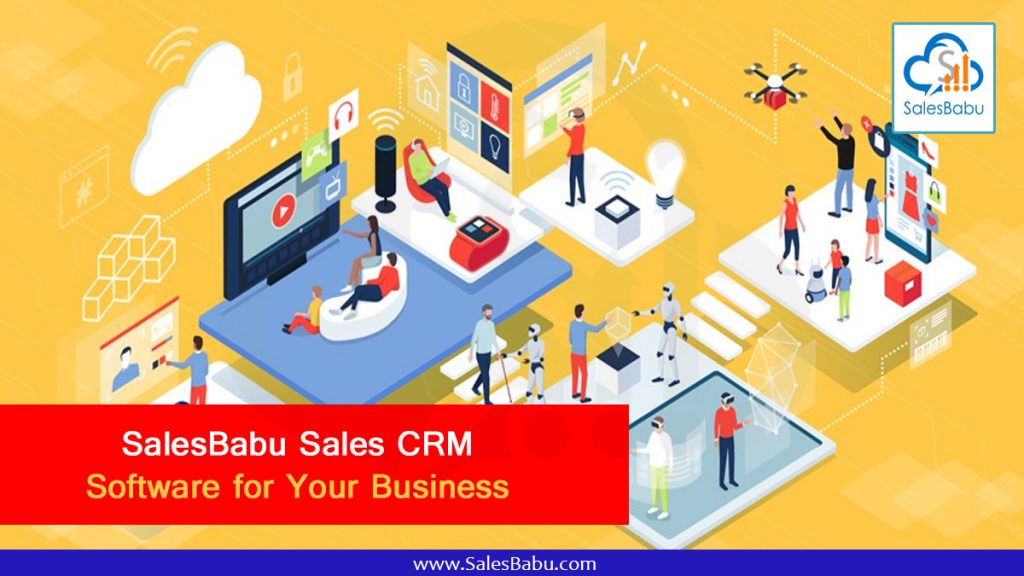 Close more deals
No matter the size of your company, all sales reps share one common goal — the desire to be a top performer. SalesBabu Sales force Automation Software can help with that. Track all your customer information and interactions in one place, anywhere. Best practices and in-line intelligence help move deals along faster.
Read our blog – 5 ways to close more deals with CRM software
Accelerate productivity
Every day and every deal. Here are exclusive sales features to help you focus on what matters most: working with customers to close deals. Anywhere, No matter if you're a representative in the field, an inside sales representative, or you just prefer to work inside your email inbox, do more, from anywhere. Even better, automate complex business processes to drive even more productivity.
Read our blog – Boost Your Sales Productivity With Sales CRM App
Make insightful decisions
From insight to action, there's nothing more satisfying than turning data into actionable insight that everyone can access from anywhere. With SalesBabu Sales Force Automation Software, information is in one place so it's easier to priorities and make quick decisions based on the most up-to-date information. And do it all from any device — a laptop, a phone, tablet. Dashboards offer a real-time picture of your business at a glance. Dig deeper with detailed reports that anyone can create. And access your reports and dashboards from anywhere.
Sales forecasting
Fast, easy, accurate. Get a real-time view into your team's forecasts. Use in-line editing, override visibility, multi currency support, and more to stay on top of your business.
Nurture more leads
Build your own "lead machine" to improve conversion rates and grow your revenue. Nurture leads until they're sales-ready, then route them to the right reps at the right time. Track the effectiveness of marketing campaigns, making every lead a quality lead. Get the right sales data at the right time. Connect with key decision-makers faster. Easily plan territories. Increase sales and marketing productivity with the latest, most accurate data.
Read our blog – Are You Identifying Your Potential Lead Source



Read our blog – Streamlining & Increasing Sales through SalesBabu CRM
Conclusion
Most of the organization strives for a system that could streamline their entire process, reduce their efforts and save time. The solution to all these sales managing problems is to have a Sales Management CRM Software. Online Sales Management CRM Software helps the CEO's to track sales activities, maintain sales discipline by automating the entire process ,reduces their unnecessary efforts and saves most of their energy and time. Get the best Online CRM system which not only makes your work easier but also helps you to manage your sales team smartly with very less manual errors.Are you still thinking about which is the best CRM software which is basically a cloud based CRM software? Then don't waste time and feel free to request a free Demo at SalesBabu CRM. You can visit our website https://www.salesbabu.com/ to know more.