Nothing is more important and critical to the success of a business rather than their customers. Maintaining satisfied, loyal customers has proven essential to the success of business. This is an even more critical element in the small business sectors as they battle with their larger counterparts to succeed in the competitive market. For this reason, making good use of a Customer Relationship Management (CRM) software solution like SalesBabu CRM Solutions becomes vital for small businesses.
Online CRM software for businesses
The winning combination also helps strengthen sales for a company. SalesBabu CRM Software helps 'Build Your Business', brings discipline and accountability among all levels leading to better customer satisfaction and increased sales revenue. SalesBabu CRM System offers a chance to tweak needed areas, remove bottlenecks and makes it possible to simplify the maintenance and use of systems within the business. Instead, businesses can pay closer attention to the matters of their business to further their growth and success.
When small businesses utilize the information provided by an online CRM software and combine it with dedication and hard work, they are able to optimize on productivity and increase sales. The centralized view of the full process helps in decision making. Data visibility of sales and customer information makes it possible to optimize sales opportunities for the small business. By giving users a one stop location for all needed information including, sales and marketing information about customers SalesBabu CRM makes it easier to make better, more informed business decisions. SalesBabu Online CRM Solution records and monitors each activity of a sales team. Manages all details related to leads, measures abandonment and close rate. It registers date wise sales, region, sales details of products to never miss an opportunity. Ultimately, it guides your sales team to adopt a focused approach to achieve sales target.

How SalesBabu CRM Solution is beneficial? 
Maintenance of customer's database
Sales Order tracking
Quotation generation in a click
Sales activity reminders
Visibility to Budget wise opportunities
Set sales targets for sales team
Real time sales reports
Read our blog – 5 Amazing automation features of CRMs you need to be using
Why use CRM software for your business? 
Explicit customer history
Analyzation of data
No manual recording or errors
Cost reduction in every level of business process
Knowledge of customer needs, wants and preferences
Saves time and energy
Helps to acquire new customers
Helps to retain existing customers
Flourishes brand image
Allows to obtain customer feedback
Satisfies human resources
Enhances customer relationship
Aligns various departments of your company
Improves sales, marketing and customer service activities
Increases work productivity
Read our blog – Why CRM Software?


How CRM Software helps your organisational activities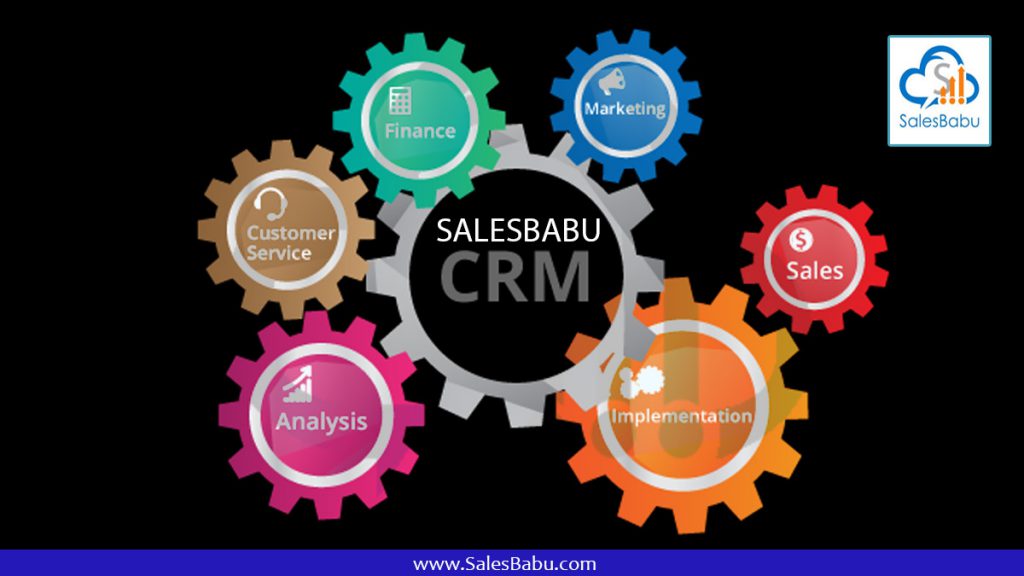 SalesBabu Online Sales CRM Software automates complete sales and marketing activities in a single system & leads to high sales force performance and profitability by giving you everything you need to sell effective.
Sales CRM Application effectively contributes in sales tracking system. It preserves the structured information and offer an efficient information retrieval from  registering the leads, filtering to opportunity conversion, accurate product mapping and categorization, order processing and tracking complaints, all are done, right inside a centralized database.
Converting leads into deal is first and foremost task for any business. SalesBabu Sales CRM Software offers easy access to new enquiries and flawless lead tracking system to get more conversion from sales leads managed in the sales CRM application. 
A real time Dashboard with future insight for a businessman is indispensable. As the Online Sales CRM software helps him to gain an insight to sales predictability within no time. Thus enable him to arrange resources and plan budget accordingly for his business.
Enhance your marketing efforts with more relevant information. Sales CRM application ensures that you'll always have the information you need, in context, to understand your customers, create innovative marketing programs, and measure their effectiveness. The software is more focused to give dedicated services to the existing clientele or following up with new enquiries in order to convert them.
In business time is money. MIS & analytics can be considered as a very good data mining tools. Information as MIS & Dashboards graphs make the data available in more concise for sales force automation.
There are many CRM vendors out in the market who provide multiple features. You might be a small business, large enterprise or even business start-up, firstly you need to make a list of your business requirements and then look forward for choosing the best CRM software. SalesBabu Cloud CRM Software provides various features and functionalities that may suit your requirements. You can request for a free demo at SalesBabu CRM Solutions to know more about its cloud based automation system. You can also check out our website https://www.salesbabu.com/.