Sales Manager plays an important role in any organization.
Driving sales, coaching & motivating sales team to achieve sales targets are few key role of a Sales Manager. To perform what is expected from him, he should have the necessary skills When you have great Sales Manager and sales team then your organization can perform well and gain profits.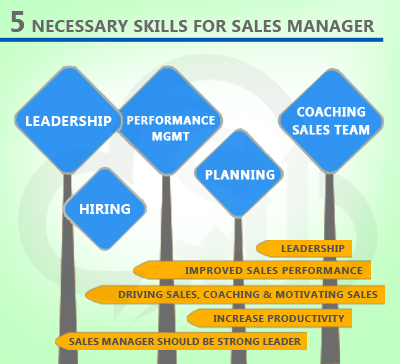 Leadership
Sales Manager should be strong leaders. Leaders have a clear vision about their work and goals. They should have the ability to inspire team. Leadership strategies always improve the performance of the team.
Planning
The biggest failure for any organization is when managers are not able to plan tasks and sales strategies. Planning is important to see clear view of goals. They can provide right task to the right employees according to their capabilities.
Hiring
It is challenging for Sales Managers to hire the best and right sales representatives. It is important to identify and select top sales talent for improved sales performance. Identify people who have a flexible approach and prepared to work in any situation efficiently.
Coaching Sales Team
Coaching is the top activity which helps you to drive sales. Coaching helps each sales person to improve their performance and to reach goals. Desired results can be only produced by proper mentoring and coaching.
Performance Management
Sales Performance management is quite difficult task. Sales Manager should check the performance issues and correct the problem. If you are not able to track performance it means you are wasting your resource and time. It will be easy for you to evaluate the performance of each employee during appraisal. Management Software makes your work easier to do these tasks. One can evaluate the progress of the complete organization.