How Sales People Can Sell More?
Business Sales Management is not an easy job. Successful sales agents focus on maintaining relationships and closing efficient and long lasting sales. Selling is not only about closing prospective deals, but it is also about building a relationship with the client. Timely and accurate information is the key to success in sales and marketing field . Sales people should manage their time efficiently and make sure clients understand the value of doing business with our organisation.
Improving sales for a growing business can be achieved through various changes in our routine work items, especially in the way which workload is shared and optimised in the firm. In the current era of technology and automated services, implementing a good automated sales management software is the need of the hour for every aspiring business model to improve sales and overall revenue generation for the business.


Below are some of the steps to follow for making more sales for the organisation.
1) Never Lose Passion
Passion is the great thing which helps you to achieve your goals. When you are passionate you are always charged with energy. When your energy is low, it directly affects your productivity. It is important in your work because it makes your work more enjoyable and keeps you motivated. If we love what we do, we will do it in a better way.
First steps towards successful sales is to listen and understand what your customer wants. We should always listen to the customer and build long term relationships with them.
Take regular customer feedback about your company and products. To grow your business you need to understand your customer needs first. Be prepared to answer different questions. Information gives you an overview about your customers. Customers look for the best solutions and services. Provide them better services and create quality experiences with your customers.
Automated sales management tools aids sales agents to organise and record every detail to an ongoing sales deal. Starting with customer contact details to personalised preference of the customer, to the details of the interested products and services. All information collected on various clients are recorded in a centralized cloud based database which can track every interaction and business deal with various clients and record their requirements for better sales closure and effective interactions between the parties.
Apart from centralised database of client information, SalesBabu Sales force automation software provides features like inventory management, customer care services and ERP facilities. With these facilities, customers can be given end-to-end product and services support or their purchases. As service providers, SalesBabu sales force management software understand the need of a great support system which can understand the after sales requirement for clients and support them as a whole to provide complete satisfaction level from an organisation.
Read More – What is CRM – Customer Relationship Management?
3) Track Sales Process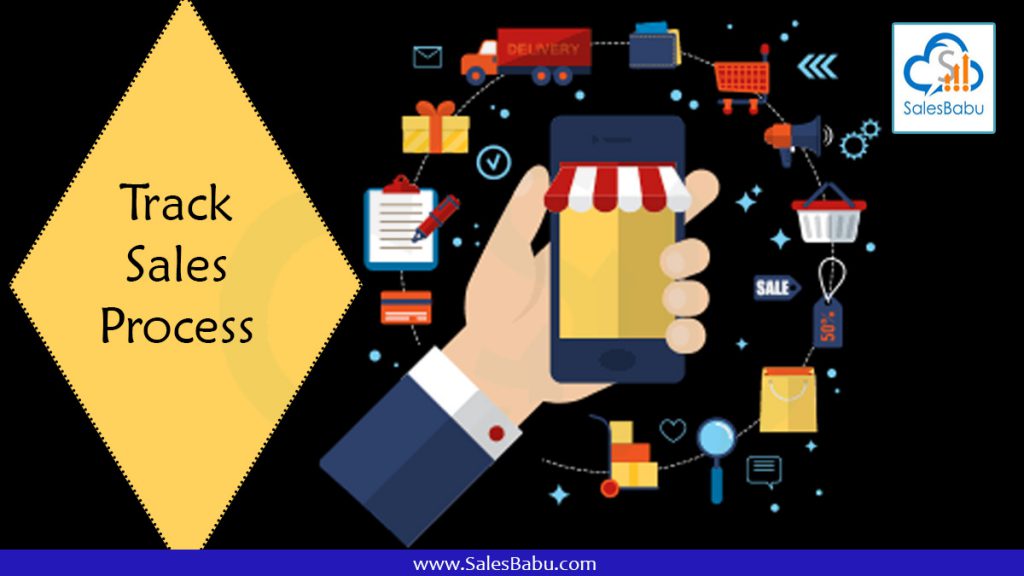 For many organizations managing and running day-to-day operations is challenging for them. It is difficult to track all the opportunities. You should have Automated sales management software to track and manage all the sales details. With the help of this software, the sales agents will start spending their time more on selling than doing menial manual jobs. One can track and analyse pipeline, create quotations, send sales order to customer with just a few mouse clicks. Every interaction done with leads are tracked and recorded in the integrated database along with each amendment to the quotation made during the sales deals. With these facilities, every sales agent can maintain to be on the same page related to the status of the client interaction status and sales deal progress.
Also, features like Mobile sales apps enable managers to easily get sales reports in a click from anywhere. These mobile sales app can be installed on smartphone and gadgets which helps agents to provide round the clock support to clients and update their daily jobs while away from their workplace and stay connected to every prospective lead and convert better deals.
Sales agents and managers can view their sales targets and daily sales activities using various MIS reports in the sales force automation software which gives a single window view for all upcoming activities, follow up and reminders for regular sales job for the agents.
Sales heads can also use these MIS reports and Analysis tool to create detailed statistics on the performance of each sales agents and create performance charts on each salesperson to track their work on a regular basis.
Read More – Mobile Apps to Transform CRM: Know How
4) Demonstrate your service/product value
When you are convincing your customer to make a purchase for your product, show your customer how your product will make your life better. Show the value of your product and services to them. These facilities can only be possible if we first, understand the customer requirement clearly and second, have a detailed personalised presentation for the clients which can convince them on their requirement and feel satisfied with the service provided by our organisation.
With a centralised database, maintaining every information of the products, respective vendors and other information, sales agents can create a detailed report on the advantages of various products and how would those be beneficial for customer's business.
Read More – Grow your Business Faster with SalesBabu Contact Management Software
Follow-up is an important part of any organization. Do follow-ups with your prospects because they are so busy with their work and forget easily. One can also manage follow-ups on this sales force automation software, so you will never forget to call the customer. Sales agents and marketing team can create various reminders, follow ups, poups, alerts and other reminders for themselves so that they never miss an upcoming meeting.
SalesBabu sales force automation software also provides various challans and receipts to track inventory sent and received at customer location to follow up on the supply and demand chain for every client and make sure on time delivery was maintained for the client to improvise better customer relationship on a long run.
Read More – Transform your business with CRM software.
Tips to improve the sales process :
Stay organized 
As a sales manager if you are disorganized, then your whole team will be disorganized. The organization is something that can be taught, but you need to put efforts to learn it. Whether you are a salesperson or manager, just once think about how depressed your sales will be if your sales track to follow is not organized. The organization is predominant in any facet of the business, but sales are very important for the growth and feasibility of a company. Without the sales, your company will sink. So stay organized all the time.
Design your pipeline
From setting up the appointments for following up with the customers to in-person meetings and still more, your sales pipeline is constantly moving. If the sales strategy is the skeleton of your team, then the sales pipeline is the nervous system of your team, with a wide array of activities that are happening at the different points in the pipeline. When you design a strong pipeline for your sales team to work, the success of your team will increase according to it. Do not cut on the efforts in the aspect of your sales process, hence the well-designed pipeline will save most of your time and will also increase the productivity of the team.
Conclusion
SalesBabu Sales Management software is one of the most trusted and must have application for any growing businesses, which can not only organise the overall business processes but also make sure improve sales performance for the organisation.