Leads are the contacts that match the profile of target customers. The best way to increase sales leads is through lead tracking.
Lead tracking is a process of documenting and classifying prospective customers based on the individual actions and sales reps touches. Lead tracking is an essential aspect of sales process. It provides information about the customer's interest with regard to specific products and services. Lead tracking helps your business to find the best lead source analysis in order to enhance your brand image and increase the revenue of your business firm. 
There is huge competition in every industry and every business firm works to increase sales and enhance customer loyalty. The business firm that focuses on alignment of sales and marketing in order to work more productively are the companies which are able to outshine in the market and push their competition into the background. And so does lead tracking help both the departments to work seamlessly in order to find more potential sales leads and close more sales. Cloud CRM software provides the online lead management software or commonly known as the lead tracking software that helps with online lead generation and lead source analysis. 
How does lead tracking help the sales reps? 
There are various benefits of lead tracking for your sales team. Let us have a look at them-
The lead management software helps you to track lead sources that helps the sales team to know more about the customers who inquired about their products or services.
The lead tracking also helps the sales manager to assign leads to different sales reps without any confusion. It lets the sales rep to do justice to the sales leads without much burden or pressure.
The lead tracker is one such automated software that also helps you to filter the sales leads according to priorities and interests.
The lead management software also helps with future follow ups and sales pipeline.
It also lets your sales team to evaluate lead database according to the degree of interest and helps for future closures.
The lead management software allows to create the funnel of overall sales leads on a single platform.
The lead tracking software assists with the qualification of the interested leads that makes work easier for your sales team to concentrate and put more efforts to close fruitful sales leads.
Lastly, the lead management software helps your sales reps to work efficiently by closing potential sales leads as they possess all the data required to customize the approach towards the prospects. It eliminates the wastage of time on sales leads which may not end up closing.
Read our blog – 10 Reasons why Salespeople need CRM Software

How does lead tracking help marketing reps?  
The various benefits of lead tracking software for marketing reps are – 
The lead tracking software helps the marketing reps to get information about sales lead sources and the strategies to reach out the sales leads.
The online lead management software also helps the marketing reps to manage their campaigns for online lead generation.

Lead Sources and effects
SEO : SEO is Search Engine Optimization. It is a process that lets you to get traffic from natural search results on the search engines. The major search engines such as Google, Yahoo and Bing are the primary search results where web pages and other contents are listed and ranked based on what the search engine considers is more relevant to the users. 
Social media : Social media is one of the most trendings and easy form of generating  sales leads by marketing and advertising to larger set of consumers. It is also one of the most versatile and cost effective strategies of marketing. There are various reasons why social media marketing can be a best option to lead generation. Some of them are – 

Most of the consumers are a frequent social media users. 
 The chances of following a brand through social media is higher which inturn increases the brand image.
The various forms of social media networks helps you to reach most of your target customers.
It also creates a channel for conversation with the customers through which you can be responsive and active. 
There are en number of people who trust reviews and ratings on social media so it also helps you with more chances of online lead generation. 
Email campaigns : Email marketing campaigns are the email sent from a business concern to large numbers of customers or prospects. It is one of the basic online lead generation strategies which helps you to get more leads and sales. It is also a cost effective method of marketing through internet marketing.
Online advertisements : Online advertisements are one of the most effective forms of advertising at the present world because pictures speak more than words. It also helps you to create a larger fan base and trend in the market. These online advertisements allows you to fulfill long term and short term goals as well. 
Referrals : Referrals are the reason behind getting higher potential sales leads and increase sales. Recommendations are way better than cold calls. The efforts put in by the sales reps gets to be fruitful in most of the cases. These referrals are also eliminates extra cost.
Read our blog- 5 ways to close more deals with CRM software
Benefits of lead management software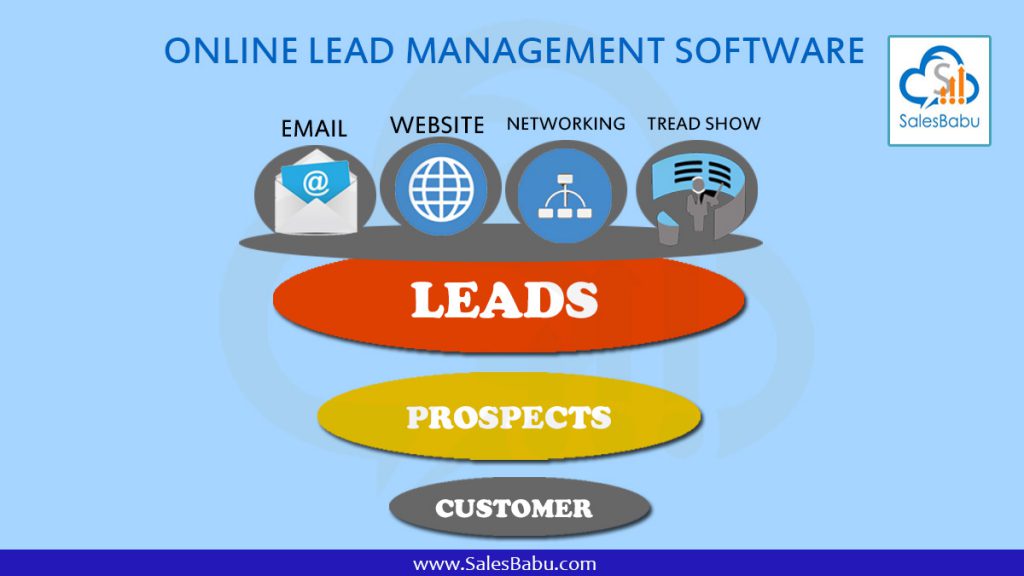 Management of sales process is easy : The automated system ensures there are no leaks in the sales process. Thus, the lead tracker helps you track the right prospects at the right time. 
Effective lead management : The lead management software has efficient tools that helps to filter the quality leads. The lead tracker also comes with the added advantage of predicting the closure of a particular lead.
Prioritizing : The lead tracker tracker helps in tracking the activities of the prospects. Thus, you can prioritize your leads based on the interests and needs. 
Eliminates more time consumption : As the lead tracker is an automated software, you are benefited with the facility of programming the automation. It also helps you to concentrate more on potential leads that in turn reduces the time spent of a lead which may not become a sale. Thus, the online lead management software is a boon for the sales and marketing team which helps them to be productive everyday and ensure efficiency in their work. 
Measures ROI : The lead tracker allows you to calculate ROI of your marketing efforts. The data obtained from the marketing campaigns are available in the CRM which gives immediate insight onto the customer behaviour. Thus, you will be able to record the cost per lead, cost per opportunity, cost per sales and return on investment. 
Read our blog – Why You Should Invest In CRM Software

Lead management  app with SalesBabu CRM solutions 
The lead database in SalesBabu CRM solutions is an online storehouse where overall lead generations are stored.
The lead management app provides a cost effective way to assign leads and convert those leads to sales.
We at SalesBabu provide tools, tips and suggest a system for following up the prospects.
The lead tracking system also stores details of mails exchanged, quotations generated and also keeps a check on remarks or notes.
The SalesBabu MIS, pulls the custom sales leads performance reports which gives an overall 360 degree view of the sales leads.
It also helps you to compare between assigned leads vs. lead performance vs. prospect type etc. thus, it helps you to evaluate and visualise the lead management performance.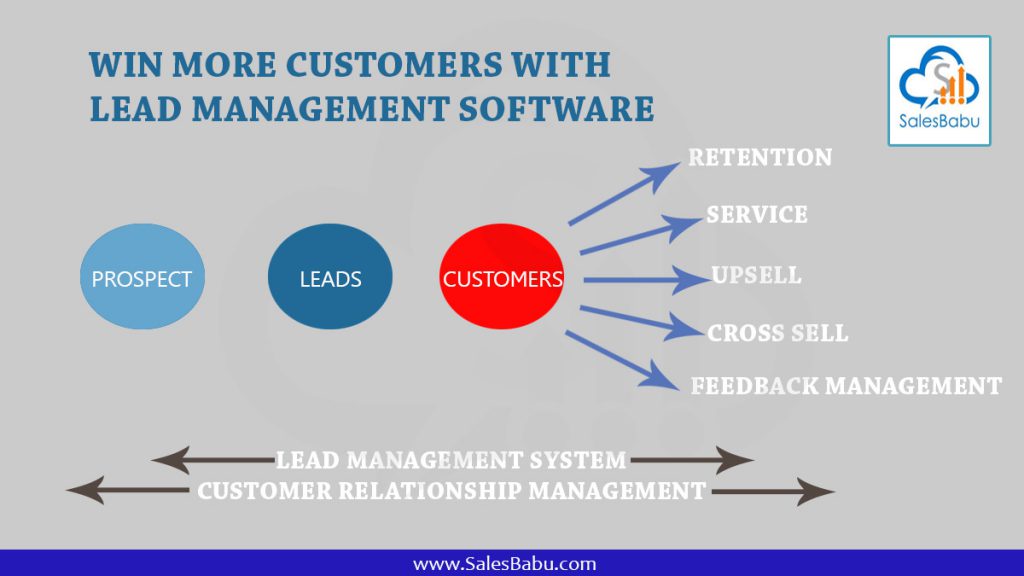 SalesBabu Cloud based CRM software has an effective online lead management app that comes with various features. SalesBabu lead tracker provides the best sales lead management software in order to grow your business. Moreover with the help of cloud integrated lead tracker, it is easier to access. If you want your sales and marketing departments to be aligned and also be productive, make use of the online lead management app. The deployment of online lead management software in the cloud will continue to gain traction because they offer scalability.
Read our blog – 3 Reasons why CRM and Cloud computing is critical for your business growth?
Sales leads are an essential aspect of every business organisation. And identifying the potential sales leads through lead source are the best lead generation strategy in the business firm. No matter if you are a small business, large enterprise or a business start up, you can make the utmost use of the lead tracker system available in CRM. 
CRM comes with various other functionalities that helps the business to work efficiently and also helps to achieve organisational goals with smartwork. You can use the best CRM which is basically a cloud based CRM application to work smartly. If you have not yet got one, then feel free to request for a free demo on our website https://www.salesbabu.com/. You will surely not regret the use of Cloud based CRM software for your business.