"Good customer service costs less than bad customer service."
Customer service meaning
Customer Service is the service you provide to your customers before, during and after sales. Customer Service is considered to be one of the major factors in the business because it ensures the customer's satisfaction and also encourages the customer to buy more.
What is good customer service?
A good customer service is about retaining your loyal customers and ensuring customer satisfaction. A good customer service should just not be a department in the organisation, but should be the whole organisation. 
Good customer service means meeting the expectations of the customers which will involve everything starting from interacting with the customers over messaging channels because they expect the convenience of investing in your knowledge base because they expect to find the answers on their own. Meeting the customer's expectations pays off: 75% of the customers are willing to spend more with the companies who provide them a good customer experience. Customer expectations have been rising for years, so meeting their needs is not that easy task.
What are the rules of customer service?
Listen to your customers when they speak because they may stop telling when you are ready to listen. 
Answer their calls, mails and messages because an unreplied message can be annoying or termed as ignored. 
Be thankful and also helpful when necessary. 
Deal with complaints because these complaints are a reason behind improvement. 
Neither make false promises nor give fake solutions. 
Implement a Service CRM software to manage your customer service automation with automated features. Through the use of these customer service automation features, your customers will observe the effort you are putting in.   
Be open to customer feedback. 
The golden rule of Customer Service:
Most of the customer service objectives are tied to a metric. But the golden rule of customer service comes down to the human elements of the customer services. Customers need speed and convenience, but they also are seeking empathy and commitment for the issue that they are facing.
If a customer call lasts longer than it should because an agent will be having a friendly conversation or also might go above and beyond for that customer, that's a great service – even if the resolving time was high. If the prospect reaches out to the support to get more information about your product and the agent is understanding, efficient, and very helpful that prospect will remember the experience as a positive one – even if they do not become a paying customer.
Benefits of Customer Service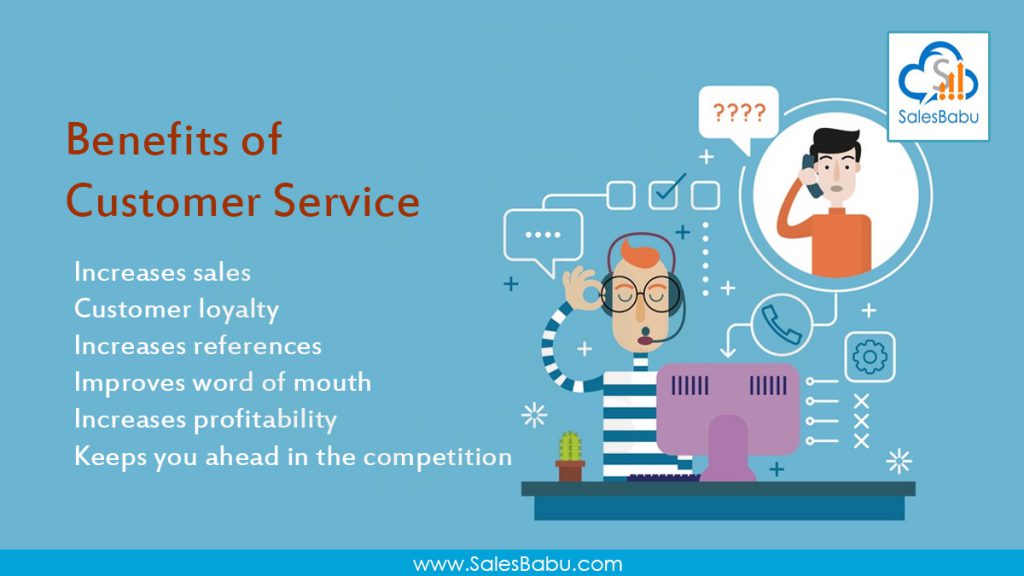 A good company provides the best customer service to its customers which results in high customer satisfaction. A good company becomes great mainly because of good customer service. Good customer service not just helps in enhancing the customer satisfaction but it also improves customer retention and growth of the organisation. The benefits of providing a good customer service is –
Increases sales
Sales are the prime factor that helps in the growth of the business. And a good customer service team can help your company to increase sales by their interaction with the customer.
Customer loyalty
Customer loyalty is also very necessary from the customer's side. All are aware about the dominance of social media in the present scenario. If you treat them well they may get you two more customers and may also share their experience with ten more. But if they had a bad experience, the whole world may get the information within seconds.
Increases references
When you provide good customer service to your customers they tend to share their experience with friends, relatives or relatives. Thus, these references generate money through sales. References are a form of positive leads because the chances of references becoming a sale is high.
Improves word of mouth
Word of mouth marketing is a form of marketing strategy where the customer shares information or say the experience about a product with one another. This form of marketing is more powerful and effective than any other marketing strategies like advertising, social media postings etc. When you provide a good product as well as a good customer service, the customers tend to share their experiences with others like friends/ relatives and neighbours.
Organisations spend too much for advertising and marketing of the products. But have you thought about the effectiveness of word of mouth marketing? Word of mouth marketing is the best form of marketing that your customers do for you (without any personal intention) even better than you can ever market your product . It is one of the cheapest forms of obtaining customers and improving sales of the organisation.
Increases profitability
Increasing customer service improves the profitability of the business because it reduces the cost in the business, reviews your awards or rewards, improves brand image etc.
Keeps you ahead in the competition
You need to keep yourselves ahead in the competition because a good customer service in the business can help you stay ahead of the competition due to improvement in customer service.
Meeting customer expectations even after you sold your service is really necessary to make long term business planning and for creating your brand. Always try to reach customers expectations. Improve your customer service if you want to improve relations with the customers. Now-a-days there is lot of competition and it is not easy to win the heart of the customers easily. Proactive approach is needed to give effective services to the customers.
Types of Customer Services
Email support
Social media support
Live chat support
Telecommunication support
Interactive voice responses
FAQ's
Demo videos
On-site customer service
Annual Maintenance Contract (AMC)
Live answering services
Why Customer Service Software is required for the efficient running of the Business?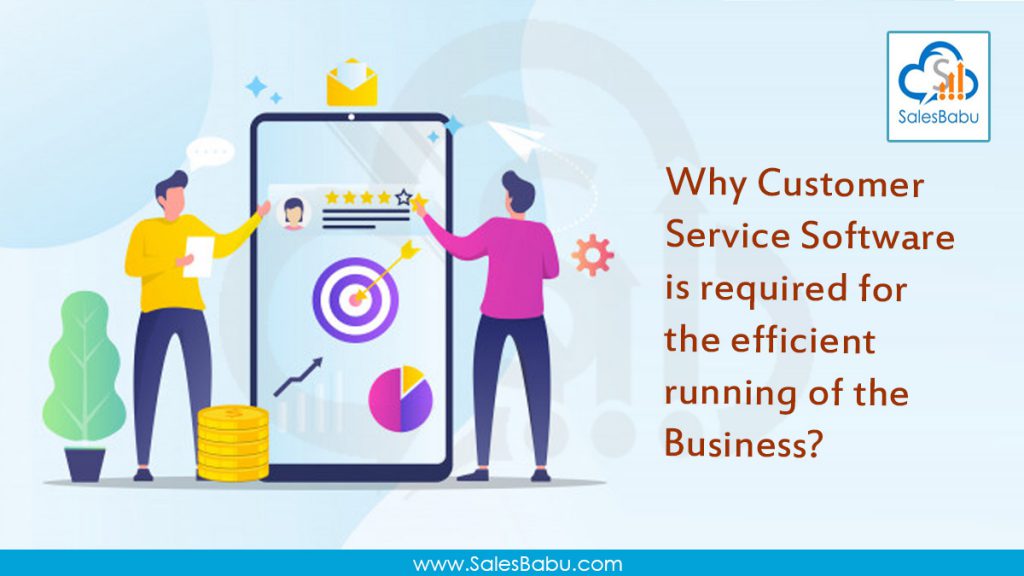 Sometimes we tend to become so preoccupied into obtaining new customers that we tend to forget to take care of our existing customers. Thus, having a good customer service becomes important for both customer retention as well as increasing the sales of the organisation. Customer retention and increase in sales is related to improving brand image, customer satisfaction, increasing revenue and also helps you maintain good relationship with your customers.
Don't you think you need a customer service automation system to monitor and manage the after sales services? Customer service is surely not an easy task and implementing a better technology will surely benefit your workflow.
A Customer Service management software provides the proper information capture and the detailed course of action that follows until a complaint is resolved. The job card can be provided to keep the customer feedback column too. These features not only improve the productivity of the SERVICE staff but also ensure good quality customer care and thus builds a good relationship with customers. It helps the managers to assign the task amongst service engineers or technicians.
The customer service management software helps you to track PMS visits, AMCs pending, installations, pending warranties and lot more activities related to services. It streamlines the entire workflow and increases productivity of the organization. Service employees can easily update their tasks from anywhere because it is cloud based application. Many companies are now using the customers service management software to track and manage their work effortlessly. In a click you can assign tasks to your executives. It improves the level of customer retention and satisfaction. Achieve maximum profits with SalesBabu Customer Service Management Software.
Service management software centralizes information and provides real time updates. One can access job sites, customer history and PMS visits. It allows you to organize all the customer details like service history and payment details. It removes your paperwork process and streamlines your service process. Service departments have become more smarter now and tracking their service operations with service management software is easy. It simplifies the work order tracking and the software helps you to reduce overhead, scheduling time
Overview of the benefits of Service Management Software
Track details of Warranties / AMC opt by customer
Increase revenue by AMC and Warranty renewals
Enhanced customer satisfaction
Conclusion
You can not just improve your customer service activities overnight. You need to put in efforts in order to satisfy your customers, maintain good relationships and retain them for a longer period of time. A customer service management software and customer service goes hand-in-hand as it is an automated system which comes with various benefits that helps your organisation to provide a good customer service. Use the best customer service management software – SalesBabu Cloud based CRM Software. Visit our website https://www.salesbabu.com/ to know more. Don't waste time and request for a free demo now at SalesBabu CRM Solutions!!