Ever since the mobile apps have entered the market, it has created a milestone for itself. Every category of the market has several kinds of apps that is at your fingertips. And in the future time period the smartphones and apps are going to be a fundamental part of the business. Even now you can see many small businesses that you interact regularly are making use of the mobile apps and stepping a step forward towards enhancing the marketing strategy. You can make use of the mobile sales app from anywhere at anytime. The only requirement is a good internet connection.
What is Mobile CRM?
Mobile CRM is a CRM tool designed for mobile devices – smartphones and tablets. By connecting through mobile CRM application, you allow your sales rep's access to customer data through a mobile CRM app or through an online browser with Cloud CRM app. A key benefit of using best mobile CRM app is to allow your sales-force to access real time data while out in the fields meeting prospects and customers.
It enables sales, marketing, customer service teams to work together and more importantly, it improves employee efficiency.
Read our blog – Why Is Mobile CRM Important For Your Business?
Why mobile CRM is good for your business?
1. Keep your business data in your fingertips
No matter if you are a small or large business, you will have huge data according to the size of your business. And maintaining the data becomes easy with the CRM software. You can centralize all your customer data in a single platform that is available at your fingertips. You need not have to worry about the storage of the data as the cloud based CRM provides you with unlimited space. Ultimately, 360 degree view provides all the necessary data and information of your prospects, existing customers or clients in a single platform which is accessible easily by different departments of your company. And with the help of the CRM mobile App you can access the data from any corner of the world with internet access.
Read our blog – The What, Why And How Of 360 Degree Customer View

2. Automate your workflow
Automation lets your employees to showcase their fullest potential. You can hardly see any business handling manual data entry system in the present. Even the corner cafe in your area makes use of automated technologies to manage data. By the help of the sales app you can eliminate data entry work as it comes with mobile sales app functionalities of customer data and service management. With the help of sales automation, you can –
maintain all your contact details
schedule follow ups
make use of the email and SMS templates
indicate data regarding areas lacking in sales or creation of opportunity to boost areas of low productivity and many more facilities.
3. Work together as a team
The business organisation may be segregated into various departments like – sales, marketing and customer service. But every department needs to put in efforts for the success of the business. With the help of the CRM system, your employees can work together as a team.
The mobile CRM allows your employees to share relevant information at a lightning speed. No telephone calls or lengthy emails to share information.
There's absolutely no need for any manual filling of the Executives Daily Call Report. It's just a click of a button.
Pop-up alerts reminding the executives on their activities, reduces their time tremendously.
With each and every data available to all the users, the time spent in preparing reports is reduced.
The CRM On Demand concept makes it an effective business strategy. The CRM system is available online, so data entered in one location is instantly available online to the rest of the organization making online CRM information immediately available not only down the street, but across the globe. With this Service, each and every user in the branch offices, irrespective of their locations, are well connected with their head office anytime with just a Web Browser.
Read our blog – CRM Software an On Demand Platform


4. Keep track of Sales activities in a single click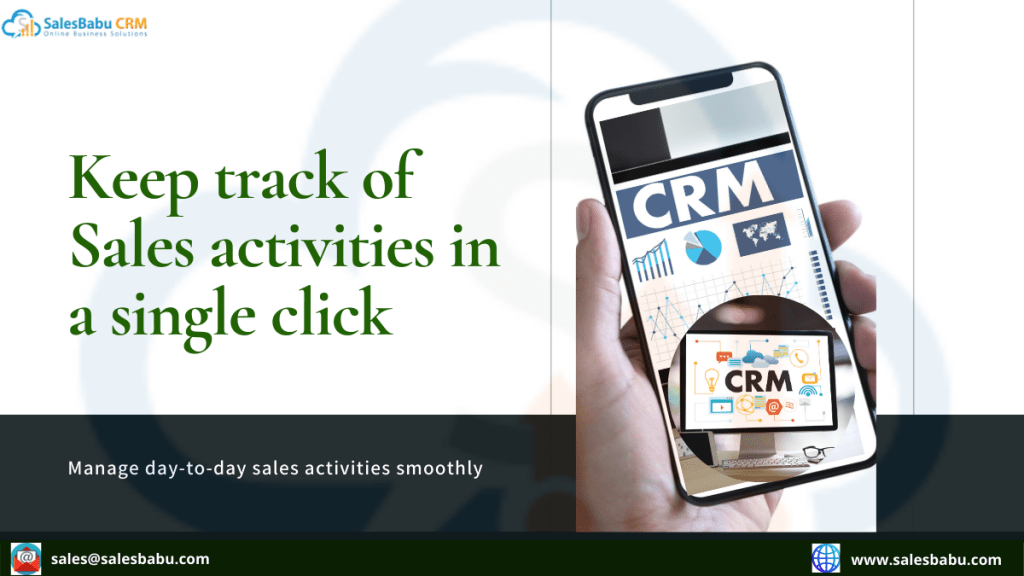 The sales tracking app makes it easy to manage day-to-day sales activities smoothly. The CRM mobile app streamlines salesforce management and increases the revenue of the business as it provides various features like –
Visibility of sales process – sales pipeline, product wise sales, leads status, sales forecasts, real time visibility to customer records, sales activities, sales funnel pending payments against schedule and many more.
Easy and quick features like – Dashboards, Things to do, Team today, birthday and anniversary wishes etc
Track the activities of sales reps
Automated analytical insights
Read our blog – Keep Track of Sales Activities on A Single Click
5. Field service management
A Field Service Management software system (field engineer management software) is typically used by businesses that handle installation, services, and repairs of working equipment. The field service management software allows you to coordinate field service reps, provide real time visibility of information, ensures right utilization of on-field resources. The field service app comes with features like –
Complaint Management
AMC Management
Warranty Management
Spare parts Consumption Management
Service Quotation Management
Installation Management
Read our blog – Field Service Management Software
What to expect from a Mobile CRM App?
The growing trend of implementing an online CRM in any organization is juggling highly in the market. It has been often described as a charismatic magical stick that will automatically multiplies your sales to 10x, will triplicate your revenue generation, and will bring unforeseen client elevation. The things seem too good to ears but too far from reality. But undoubtedly, CRM system is a technical asset which can serve best when used best.
Here are certain expectations for a cloud based Mobile CRM –
User-friendly interface
Automated workflow – Sales Automation, Market Automation, CRM Analytics, Inventory Management etc.
Customizations
Import contacts, calls, messages records
Automatic logging
Task management
Sales tracking app which tracks sales reps, route planning and map filters etc
Automated reports and MIS
Other easy to use features like dashboards, reminders, alerts, calendars etc.
Online and offline access
Field service app
SalesBabu Mobile CRM app: An effortless CRM mobile app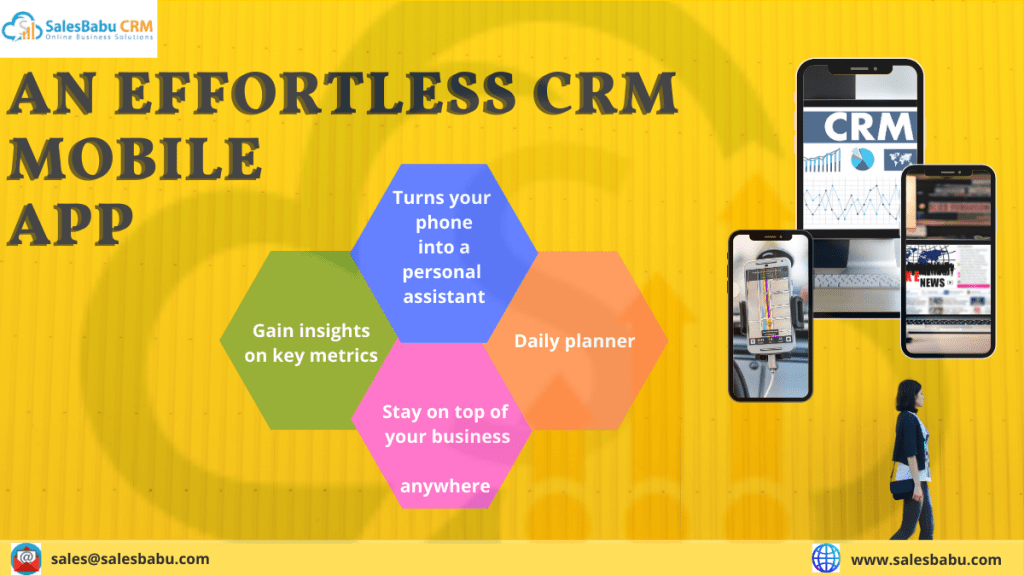 The CRM mobile app offers simple and user friendly interface which is accessible from anywhere at anytime. It offers effective and secure tools with amazing features that help you to manage your business activities and customer relations in order to retain your existing customers. And luckily it's not an expensive deal. The mobile sales app comes with affordable prices and the facilities it provides is worth the investment.
Contact us for free CRM mobile app demo, click here. You can use the best CRM which is basically a cloud based CRM application for small businesses as well. If you have not yet got one, visit our website https://www.salesbabu.com/ for further details.