A CRM software helps to bind many different works related to customer relationships into one platform. There are many duties a salesperson needs to do in order to make his business a success, CRM will help the different teams such as the market team, sales team, and customer support to come together in order to perform their duties even better.
CRM has many advantages that can help the people who are planning to start up a new small business. CRM software behaves like a tool that can convert a small scale business into a successful large scale business. CRM will help the company to manage customer relations and their needs. CRM will help store and save the customer data in a single unit. It will bring together many teams so that the work can be carried out in a better way. CRM is very advantageous for a small-scale business.
Some of the advantages are:-
Customer records in a single unit: The customer records might be scattered everywhere in every team, it will be hard for one to gather all the information from everywhere, there might be chances that some piece of information can be missing which will damage the business deals, but CRM will help overcome this problem and bind all the customer data in a single unit.
Customer service can be improved: The satisfaction of the customer is very important when it comes to business, in order to satisfy the customer and his needs in terms of business, CRM will be an added advantage to it. When the customer is happy with the deal it is understood that the small-scale business is a step closer to success.
Complete performance analysis: For a small-scale business it is important for the analysis of the performance in order to understand where exactly the performance stands. CRM helps not only the small scale business but any business to mark, analyze and understand where exactly the business stands and gives an opportunity to work on those improvements.
Read our blog – Online CRM for Small Business
Online Sales CRM Software
The online sales CRM software helps many business people to make successful deals with the customers by understanding their needs and requirements. The online sales CRM software helps the employees to access the data and the information from anywhere on any device. The online sales CRM software has improved the business in many ways such as recording the information of the customers and managing the sales pipeline and so on.
These minor changes in the business deals will bring tremendous changes in the management and success of the company. The single unit which is formed in CRM helps manage the data very easily compared to when one does not use the CRM. That is why CRM is very useful for a small-scale business to grow into a successful large-scale business.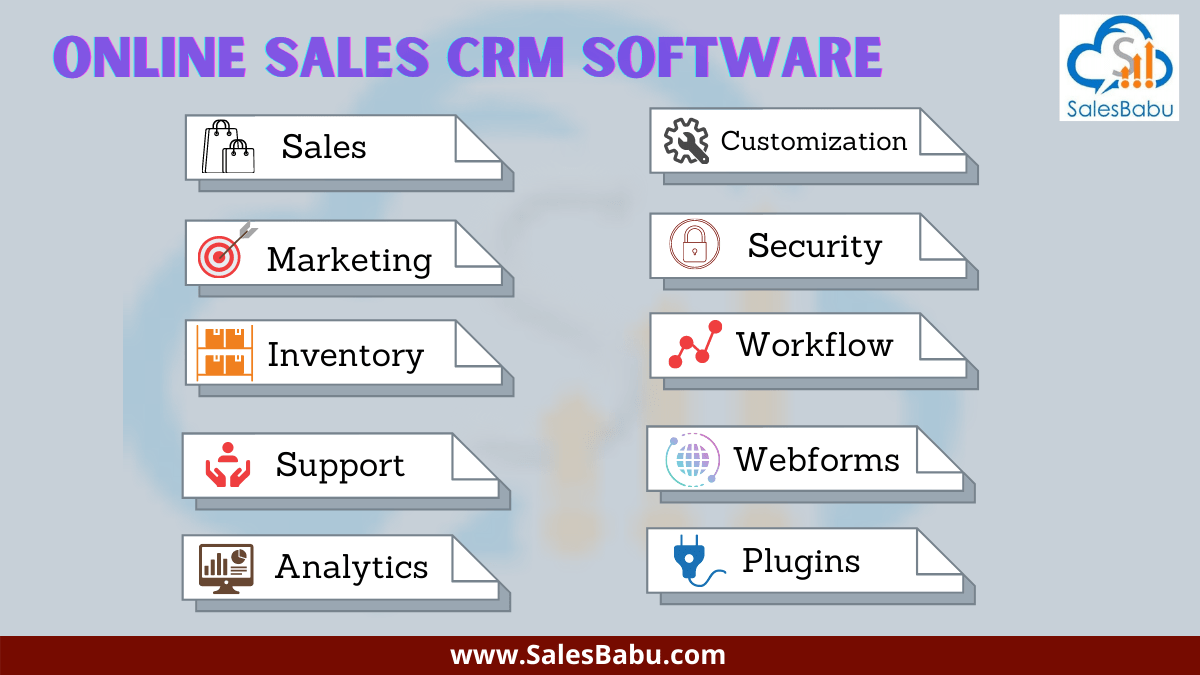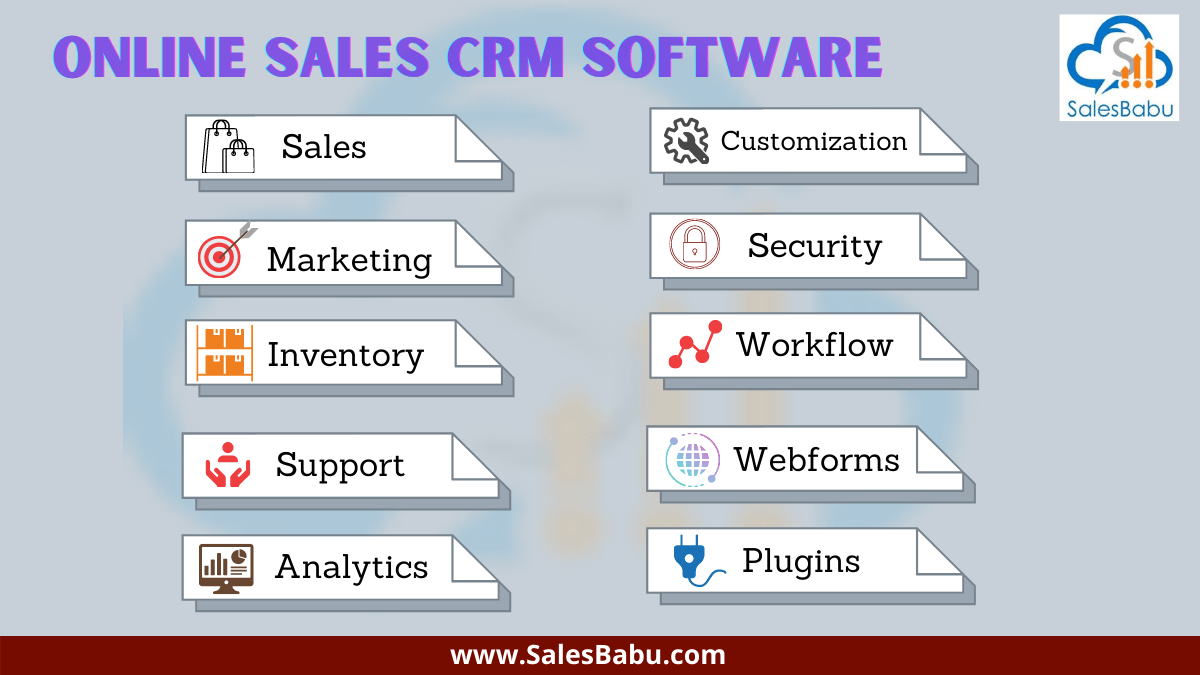 These are a few advantages of the online sales CRM software for the small business:-
Sales: Making good use of CRM will help the small-scale business to achieve many things for a successful business. CRM will help understand the demands of the customer and analyze their needs and provide proper products to them which in turn will increase sales and improve the business.
Security: A small business must be able to understand that providing ample amounts of security to the data and information of the customer becomes very important for the business to stand strong for a long time. They must be able to analyze that using CRM will provide such high security to protect the information as CRM uses three authentications and strong passwords to secure the data. Hence, using CRM will provide high security.
Support: The people who start a small business must realize that not only making deals successful is important but also should be able to provide support regarding the product 24/7. They have to understand that using online sales CRM software provides 24/7 support to the customers as it is easily accessible at any time making it flexible for the employees as well as the customers, this leads to a successful business.
Insight : The Excel spreadsheet feature is not considered to be efficient enough for information management and complicated analysis. Rather CRM softwares provides you actionable insights to form data-driven decisions. Although all the customer-associated information is available in CRM, it supports salespeople to trace the requirements of customers and also foresee their issues. Hence, it increases your chance to deliver happiness to the customers.

An extraordinary customer satisfaction also promotes the revenue creation from customer referrals. Those companies that utilize CRM software strongly have upgraded sales. Furthermore, CRMs notifies salespeople exactly when they should interact with a customer. Subscription renewal, service enhancement, product replacement, or offering latest deals or coupons.
Monitoring : Implications of CRM software are not only needful for the sales and marketing department but the financial team members can also gain advantage from it. It is attainable to generate precise reports with just a few clicks with a CRM system that also integrates bookkeeping as well which means an accounting team no longer requires to maintain track of every single cent entering and parting the business. Moreover, continual jobs like invoicing and payment collectables can be automated leading your team to target more important jobs.
Segmentation : Customer segmentation is one of the crucial components of victorious marketing techniques, and a CRM system can support you to gain better segmentation. A CRM platform can be utilized to classify your customers into groups depending on their age, location, gender, or further characteristics. Along with further expanded detailings about your customers, you can proceed them through the sales funnel more effortlessly.
Cloud-Based CRM Software
The small business has to put in more effort compared to the larger ones as they have to set a mark and gain the trust of the customers for them to purchase their deals. Hence the small business must be able to research more on the required data and then further proceed in making deals. They have to look up certain software that will help in increasing the deals and lead to a successful business, when one looks upon it then CRM comes into the picture. That's when the cloud-based CRM software can be helpful at such times. The cloud-based CRM software will help the small business to analyze the needs of the customers, record their information and help them to work on the recent deals made by the customers so that they can have a successful business deal.
These are a few advantages of the cloud-based CRM software:
Easy Installation
Can be accessed anywhere on any device
Secure
Flexible
Affordable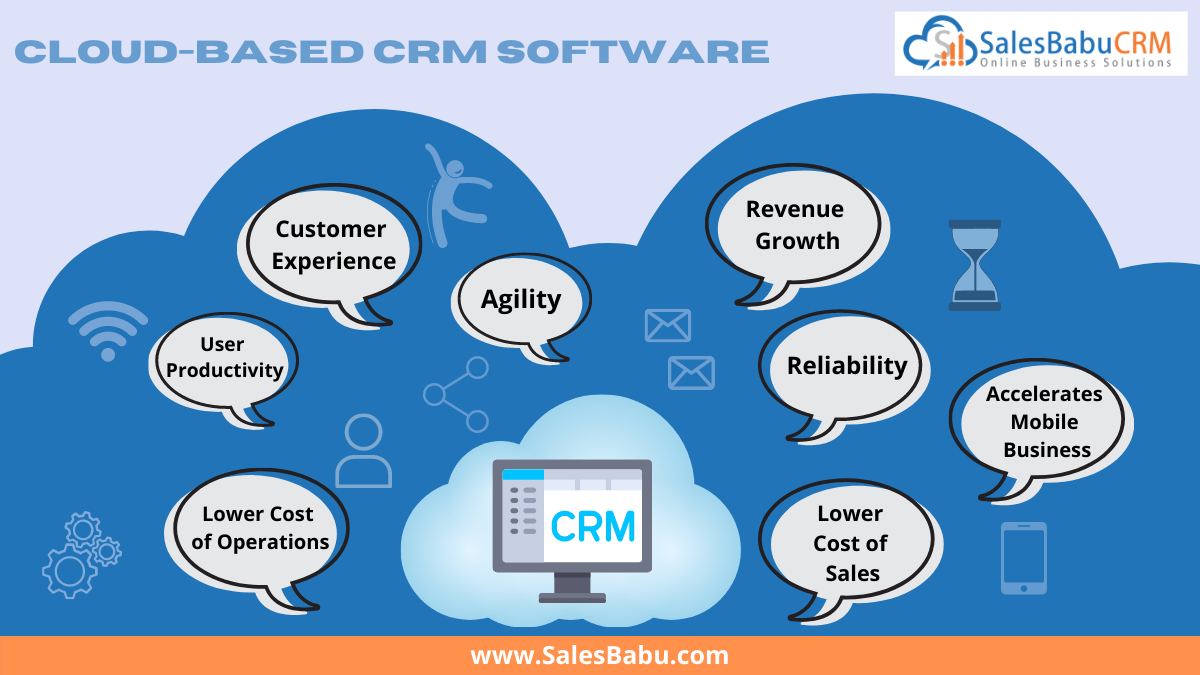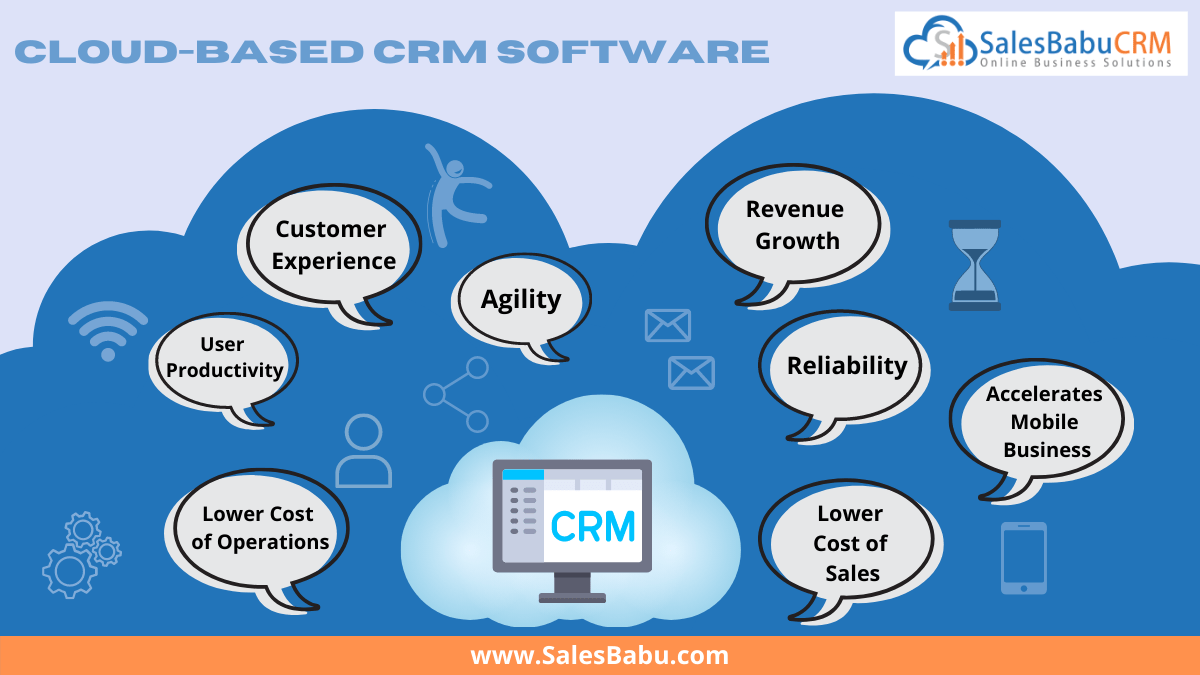 Read our blog – Every Small Business Needs A Cloud CRM


Web-Based CRM Software
The web-based CRM software does not require any kind of software or hardware platforms hence making it easier to install and maintain. The web-based CRM software is not downloaded on any device such as the personal computer and the laptop instead it is hosted on various servers that are usually maintained by third parties. The cost is also less compared to the others, hence the web-based CRM software is a perfect choice for the small business as it is very cost-effective. Saving up money can be an important task for small businesses as they still have to set a mark and maintain the cost expenditures. Hence the web-based CRM software can be quite helpful for small businesses.
Some importance of web-based CRM for small business:
Cost-Effective: The payment for the web-based CRM software is monthly based or rental for a year which will be very helpful for small businesses.
Customer Management: The web-based CRM will help the small businesses to maintain a good relationship between the customer and the prospects which in turn helps the business to be successful.
Sales Team: The web-based CRM will help the small businesses to maintain a good number of sales as it provides many options which are different to approach the customers and make successful deals with them.
Read our blog –RM Trends That Small Businesses Can Use to Improve Their Customer Relationship Approach


Sales CRM Application
There are many sales CRM applications that can be supportive to small businesses. Small businesses must be able to identify these applications and understand how helpful the CRM software can be to their business.
Some of such sales CRM applications are discussed in this section:-
Lower sales cost
Reliability
Automated Reports
Agility
Improvement in the Revenue System
Sales CRM App
There are many CRM apps that can be helpful to small businesses as well as large businesses. One must be wise enough while choosing the app for the business purpose. The sales CRM app will help the business team, marketing team, sales team, and the other teams to make their work slightly easier than when they do not use the sales CRM app. The sales CRM apps make the life of the employees much more flexible and easier as they can be accessed from mobile phones at any time. Hence, the sales CRM app is useful for the development of small businesses into successful large businesses.
Read our blog – How CRM Software Helps Small and Medium Sized Business?
Conclusion
Small businesses have to put in a lot of effort so that the company can see success and develop into a large business. For small businesses, CRM software can be very helpful as discussed. There are various ways in which CRM will help small businesses for instance it will reduce the cost, it will provide more security, it will give a strong relationship between the customer and the team, and so on. Hence, CRM software is very helpful in many ways to small businesses.