If you are under the myth that small businesses cannot make use of technologies to improve business, then you may be wrong! You might have a limited budget but using a cost effective strategy to manage your business activity is possible. Nothing is more important and critical to the success of a business than their satisfied, loyal customers. Are you wondering how can SMBs work smartly with technology?
Read our blog – How SMBs Can Think Big on CRM
Thanks to the Customer Relationship Management Software!
It not only helps to maintain good relationship with your customers but also provides automated features and functionalities to enhance sales, marketing as well as customer service etc. One of the trusted cloud based CRM solutions, SalesBabu cloud based CRM software provides multiple features which is vital for small business. With the help of SalesBabu cloud based CRM software you can compete with the larger counterparts to succeed. You might be a small business, startup or a large enterprise you can still make use of the online CRM software to work smartly and stay ahead in the race with competitors.
Read our blog- Why Every Business, No Matter the Size, Should Use CRM Software


Here are the advantages of leveraging SalesBabu CRM Software in small business:
Customer contacts
A good online CRM for small business will keep a track of all your customer data by using a centralised database in a cloud environment.
Various advanced CRMs for SMEs like SalesBabu CRM uses duplicate checking intelligence, which is helpful in eliminating duplicate contact records and maintaining good health of your database by removing any unwanted entries.
With a centralised database for contact details, sales team can approach clients with their complete information and give better customer experience.
Read our blog – Grow your Business Faster with SalesBabu Contact Management Software
Live location trackers in SalesBabuCRM software helps to track every sales and Service agent while on the field to keep a track of their productivity and keep them connected all the time for any change in plans and customer updates.
It helps to create an environment that supports information sharing and collaboration.
The mobile CRM can be accessed from anywhere at anytime.
Centralized database
The centralized view of the full process helps in decision making.
Data visibility of sales and customer information makes it possible to optimize sales opportunities for the small business.
By giving users a one stop location for all needed information including, sales and marketing information about customers SalesBabu CRM makes it easier for the users.
Automation
CRM systems for small business like SalesBabu CRM, report generation is just a click away. Many inbuilt reports are provided by the cloud based CRM software which helps in creating transcripts and statistics for the company on a daily basis.
Users can create charts, lists, and graphs and all the information is real time. 
Users can easily track company progress, view sales pipeline report, create customer delivery metrics, complaint reports etc.
Online CRM software also helps in alignment of sales and marketing department for smooth working of the activities. 
SalesBabu CRM provides emails and SMS campaigns to carry out marketing procedure. 
You can easily organize and categorize leads, contacts, and customers to create a various mailing list to make each email campaign more relevant to your audience. 
Cloud based CRM software for small business keep a track of all contact details along with individual payment history and delivery status etc in an integrated database which is located in a cloud environment.
SalesBabu CRM provides automated reminders and alerts for wishes, due payments, follow-ups and  prioritizing of VIP accounts. 
Reason why your small business needs CRM :
It helps you to understand your customers – The best of serving the customers is to understand them exactly about their needs, preferences, pain points, and their wants. With CRM software, you can be able to automatically get all the information regarding the customers and analyze the data of them to gain insight which will help you to make good customer-centric business decisions. Small businesses with the best CRM software are very useful for companies selling complex products and companies with longer sales cycles. The constant collection of data will allow the companies to perfectly interact with each and every customer. The data collected from the months of customer behavior can be analyzed and recorded which lets you understand the customer in a better way and the decisions that will guide the customers throughout the entire journey. All this information can be used to improve the marketing of the small business.
It maximizes resources – All the small business owners are very familiar with the challenge of having multiple roles. Most of the mid-sized organizations also struggle to make more with limited resources. Marketing automation and robust CRM will allow any size of the companies to do more with fewer resources as the technology will do the heavy lifting. Hence, the businesses that are operating on the skeleton crew can also deliver a high level of services and remain competitive with any size of the organization. With today's technology, most of the sales and marketing tasks that used to be done by hand can be done in a very personalized manner. CRM software will take the majority of the administrative tasks, following up of the contacts, keeping of records, etc.
It improves the workflow – Your sales and marketing process always has the opportunity to improve, it doesn't matter how small your business is. The reality of most businesses is that they have tons of manual processes in work like spreadsheets, sticky notes which will reduce productivity. Small businesses with CRM software will remove all the bottlenecks and make the work easy to create workflows of your team which can stick to on a daily basis.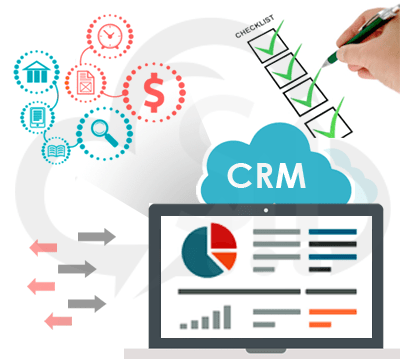 Read our blog – 5 Amazing automation features of CRMs you need to be using
If your small scale business is lagging behind or failing to grow due to mismanaged and unsystematic processes, then it's time for you to leverage the advantages of the most trusted CRM system for small businesses. Best CRMs for startups provide various customised functionalities which will suit in the budgeted investment cost of a new venture and also provide a sure shot formula of creating a well organised organisation for unbeaten customer and product services.


This winning combination also helps strengthen sales for a company. "SalesBabu CRMhelps Build Your Business", brings discipline and accountability among all levels leading to better customer satisfaction and increased sales revenue. SalesBabu CRM offers a chance to tweak needed areas, remove bottlenecks and makes it possible to simplify the maintenance and use of systems within the business. Are you still thinking about which is the best CRM software which is basically a cloud based CRM software? Then don't waste time and feel free to request a free Demo at SalesBabu CRM. You can visit our website https://www.salesbabu.com/ to know more.