An Education is an investment with the greatest returns!!
Schools, colleges and other educational centres require an automated system to manage. No matter what is the size of your educational institution, you will have loads of information and data about your students, alumni, faculty, etc. And you cannot manage all this data with just spreadsheets. A CRM software will help you to manage data and also makes your work easy.
The education industry is one of the fastest growing industries at present. And it becomes essential to manage the work efficiently. At present there are many educational institutions making use of the education CRM Software to gain an edge in the competitive sector. Due to heavy competition in the educational sectors, even they have started making use of the CRM software in order to build a good relationship with their students. And mainly educational institutions are also one such sectors, where people come up to you mainly on the basis of trust. This trust further leads to creating a desired brand image.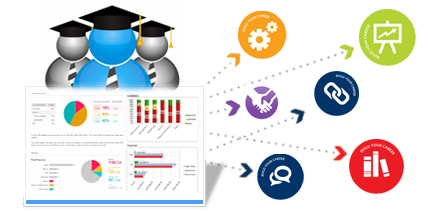 Implementing a CRM software is surely going to come with added advantages for the growth of the institution. Let us discuss about the basic advantages of using CRM for education industry:
It provides the overall information relating to the courses available, facilities, fees structure etc in a single platform.
The education CRM software helps you to track leads from various sources.
It helps you to manage the enquires on a single platform.
It provides complete database of the students which includes details like – name, address, contact number, guardians details, academic information and many more.
It helps the institution to manage the complete admission process with ease and minimum time consumption.
It helps to follow up the enquiries, keep a record of every interaction at the time of counselling.
With the help of CRM for educational institution is able to store the fee payment date, amount, due date etc. They are also benefited with a reminder which automatically reminds you of the same.
Reminders can be set for other activities like birthdays, special occasions etc as well.
The education CRM Software provides automated reports related to the overall activities of the system. The reports can be – number of enquiries generated, number of admissions and payment of fees etc.
It also helps you with the verification process, which is required for future reference.
Read our blog – 8 Reasons to choose cloud based CRM for your business


Now that we are aware of the benefits of using a CRM software, let us also know how to evaluate an education CRM software. Here are few questions with answers which will help you with the evaluation of an Education CRM software that will suit your institution.
Does the Cloud CRM have an user- friendly interface?
The best Education CRM software comes with an user-friendly interface which makes work easier and fun on the System.
Does CRM for educational institution help you to achieve all your goals and objectives?
Cloud CRM does not come with "One Size Fits All". Every institution needs different features depending upon the requirements. Thus, you must see to that after the implementation of a cloud CRM you are able to achieve your goals and objectives with smart work.
How does the education CRM software help you to handle student enquiries?
The lead tracking software helps the reps to manage student enquiries easily. It also allows you to follow up the leads, with the help of automated reminders. Thus, the lead tracking software helps you to manage student enquiries efficiently.

How to handle lead source?
The education CRM helps you to manage leads from various sources. It also lets the reps handle the leads according to interest and enquiries.
Read our blog – Are You Identifying Your Potential Lead Source
Can the vendor provide customizations in the CRM?
The cloud CRM for educational institution requires customizations or personalizations in student personas, marketing automation like mails, SMS and make notes etc. Thus, these personalizations in the cloud CRM can be very beneficial and attractive as well.
Can the cloud CRM help you to be updated in the technical world?
Cloud CRM is one such leading business strategy which keeps you updated and upgraded in the technical world. The education CRM software has become the present trend which focuses on smart work rather than hard work.
Can the sales reps work efficiently with utmost work productivity?
Yes, your sales reps can work effectively with atmost work productivity with the help of education CRM. The benefits provided for the sales reps are –
Overall data and information is available on a single platform.
Tracking leads can be easily managed without much effort.
The sales reps can bifurcate the leads based on prospect's interest and enquiries.
The automated reminders help them as a prior informer of the tasks or activities.
Your sales reps need not have to spend hours together preparing reports. The Cloud CRM itself provides automated reports based on the activities carried out.
Etc etc…..
Is implementation of a CRM for educational institution a cost effective method?
Cloud CRM is a cost effective system which ensures atmost benefits from its features and functionalities. It also helps you to reduce the operational cost and helps you to work efficiently with the help of technology. You will not regret investing on a cloud CRM software.

Does CRM for educational institution ensure data privacy?
When you store your information and data in a cloud CRM software, it will remain private and it can also be protected by inappropriate access. By keeping your cloud CRM software upgraded from time to time, you can avoid the system getting hacked by susceptible hackers. Your data and information is all safe, secure and private in the cloud CRM System.
Read our blog – Can your crm help you comply with data privacy regulations
Does the education CRM provide automated reminders about tasks?
Yes, the CRM software provides automated reminders regarding the tasks and activities like –
Birthdays, anniversary or any special occasions
Fee schedule
Fee payment due date
Lead enquiry
Prioritized Follow ups
Etc etc
Does education CRM software make your work easy and fast?
The CRM software helps you to complete your work easily and quickly. The automated features are an added advantage to your institution through which you can make your work simpler. It not just saves time but also eliminates the chances of errors or mistakes.
How to improve for the better?
The CRM software lets you store every data and also provides a report of the overall performance according to the activities performed. Through this you can also get a future reference report that depicts the ROI and revenue. Incase of bottlenecks or mistakes the management can take right decisions development for the organisation.
These questions and answers might have given you an idea regarding the evaluation of a CRM for educational institution.


Basic tips while choosing the Best CRM for educational institution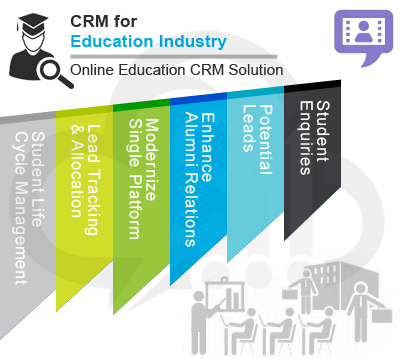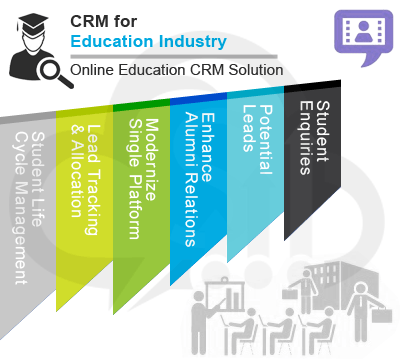 There are plenty of the CRM software providers who come up with various kinds of features and functionalities, cost and personalizations. And making the right choice is one of the most difficult tasks. Here are a few tips which you need to follow while choosing a CRM software for your educational institution
Always remember that cloud CRM software does not come with "One Size Fits All". As any other sector even educational sectors are different from one another. They have their own requirements and needs. Thus, you must choose a CRM software which is able to fit into your organisation.
Make a list of your future goals, objectives, mission and vision. And see to that the CRM system becomes a platform that helps you to achieve them after implementation.
Make a good research about every CRM software available with those features which suits your organisation.
Request for demo to know more about the workings of the features and functionalities. If you are thinking of implementing the best cloud based CRM to be implemented in your business. Then don't waste time and feel free to request for a demo at SalesBabu CRM. You can visit our website https://www.salesbabu.com/ to know more.
Work with the right vendor before you make the decision. Read reviews, ask concerned individuals, take trial, communicate with customer service etc.
Prioritize your user explorance by giving the right training to your faculty who will be making use of the Software on a daily basis.
Read our blog – How to select a CRM system?
Today, Cloud CRM software has come widely in practice by many educational sectors. Having witnessed the change, education sectors are targeting to build stronger relationships with students. The CRM system enables secure access of essential information of students and empowers them to manage and control their information. The Cloud CRM software will boost up the marketing and campaigns that attracts the targeted segment as well as help in raising funds. If you wish to know more about the right CRM software, visit our website https://www.salesbabu.com/ and request for a free demo.