It's the responsibility of the business to treat it's loyal customers right, no matter it is a large or small business. Studies and surveys have proved that losing a loyal customer can be a great loss for the business and finding a new one instead can be indeed an expensive work. Thus, when you put on efforts to retain your loyal customers they will value your efforts. And always remember that, your loyal customers can market your product and services much better than you can ever do. They will tell their friends, family and relatives about their excellent/ good/ bad or even worst experience. This is where a cloud CRM could play its card and keep connected with your customers in order to know their needs and wants.

There are sales reps who think using Online CRM software is indeed a burden and not a benefit. They complain on excessive data entry work which kills their time. So, what can be the solution to it? Choose a Sales Automation which automatically updates the customer information. The other can be difficult user interface. Provide them with a Cloud based Application which has an easy interface that makes their work easy and quick. It can also be complications in reports. End of the week or month when you need to submit reports you and your manager will look up for simple and clear reports. But, if the reports are complicated though you have provided all the required information, that can make your sales reps hate the cloud based CRM application.

Before we jump into the reasons on why to choose Cloud Based CRM application, let us know the basics.

What is cloud computing?
Cloud computing is an on demand availability of the computer system resources which offers IT as a service. You get the complete hosting facility from a dedicated cloud vendor without any bugs in working to store all your database. The cloud vendor saves all your data and protects it from any of the virus attacks.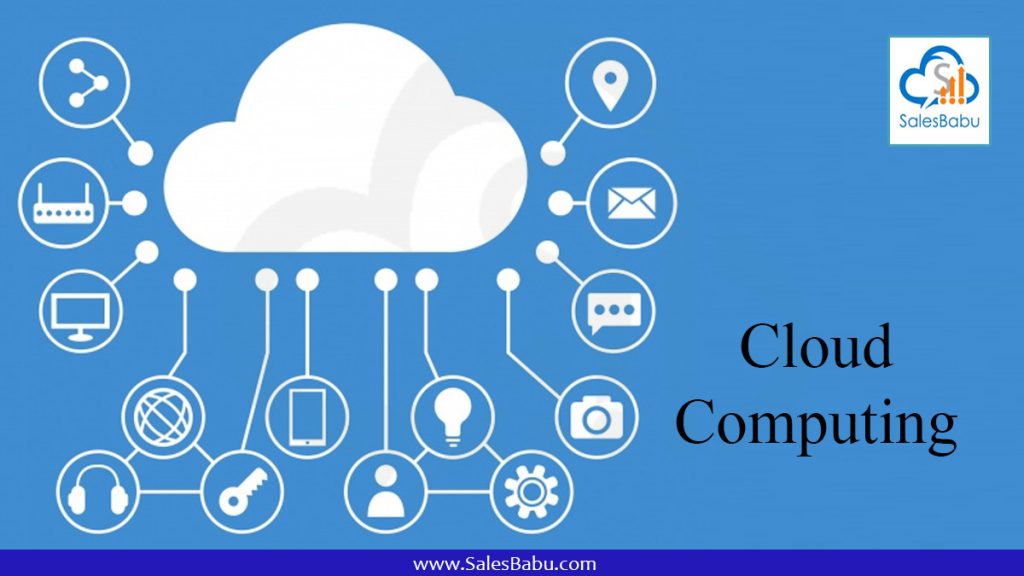 Read our blog- Cloud computing and CRM software


CRM SaaS
Software as a Service (SaaS) Customer Relationship Management (CRM) i.e the CRM SaaS is the web based application that is provided through cloud. It was made on the demand of the customers with several customisations depending on their business. It has applications like emails, automatic updates and ERP etc.

The main necessities of a CRM SaaS are-
1. Easy to use
Your sales reps are the ones who will put in information and keep you updated. Thus, it becomes important to see top that your sales reps as well as the managers are finding it easy to use without any hardships.

2. Cost effective
You need not have to invest lakhs and lakhs of rupees on hardware in cloud computing. You just have to pay as and when you operate, and also based on your subscription plans.

3. Customizations
Making customisations according to the needs and wants of the specific organisation becomes important as cloud CRM is not "one size fits all". You will require various customisations because you may not use every tool in the cloud based software.

4. Deal management
Creating, editing or searching the contacts and deals becomes easy as it is available on a single platform. You can get the 360 degree view of the data stored in the online CRM software.

4. CRM app
The world of mobile apps is in your palm and a sales team equipped with the right skills can take their productivity from average to exceptional. CRM app helps sales reps to be light and flexible, effective and efficient in their daily tasks assigned. The CRM app has the following benefits through which your work becomes more easy and quick as well-

5. Business automation
A complete transaction management system i.e the CRM app allows client engagement and customer service. The employees can streamline transaction through the use of tasks assignments and deadline tracking as well. Thus, it is a smart way by which the data can be collected without any paperwork through the online CRM software.

6. Have an on-the-go team
Organize and Mobilize efforts and stay in consistent communication by having an interconnected linked team network where they can receive constant updates, regardless of their location. A sales employee tracking app can create the perfect system tailored to the needs of your sales teams, so they can access the most updated and relevant information all in one place.

8. Analytical insights
The CRM app provides reports which can be reviewed for better follow-ups, collaboration and planning to enhance employee productivity as well as client relations. It can also indicate data regarding areas lacking in sales or creation of opportunity and boost areas of low productivity.

9. People engagement
The CRM app can maintain database of leads, employees and clients. It creates a good foundation in order to make a trustworthy relationship with the clients.

10. Documents management
The documents can be accessed as well as uploaded from any device, at anyplace and anytime. The needs of the clients can be written and sent as proposal which in turn gives them a personalized experience.

11. Branding
Employees can customize the proposal of the company to the needs of a client, expanding the name of the brand and their capabilities. Thus, the CRM app provides you with the ability to track how clients see your brand and adjust according to the majority of general comments that the sales team inputs.

12. Calendars and events
Calendars are easily integrated into CRM app to allow users to easily schedule meetings, coordinate events, and keep track of important dates. Enabling alerts or notifications will separate your team from other companies struggling to keep up.

13. Activities to remember
Create reminders, tasks, calls, events, or other alerts with one click. Set up and access activity notifications right from your CRM app. If you are a SalesBabu CRM user, grab this now and grow your sales. And, if you are not, this is a reason to consider switching to SalesBabu CRM Mobile Sales App.

Here are just a few advantages mentioned of the CRM SaaS that includes reliability and security as well as the cloud based CRM software is a cloud based subscription which makes your business be ahead of your competitors in the game.

Read our blog – What is Cloud Based CRM?

Here are 8 reasons on why to choose Cloud Based CRM application for your business.

1. Easy accessibility
The cloud based CRM application has easy accessibility which makes it a key to successful customer relationship management. The cloud providers are reliable when it comes to providing of service. The only thing that is necessary is the internet connection. And most of the applications are also available offline.

2. Centralized database
May it be small or large business but gathering the information and data is a difficult task as each and every information from the documents in different departments must be verified. And this task can be time consuming and tiring as well when the information is not available at a single stretch. Whereas, with the help of a cloud based CRM software you can get all the required information at a single platform. Thus, due to the centralization of the database, it will also promote the sharing of data to different departments in the organisation without much effort as it is an online CRM software.
3. Data backup
Every business organisation has lot of data depending upon the size of the organisation. But if the firm is using an online CRM software it need not have to worry about the storage of the business data. The cloud CRM will take care of your data and you just have to backup the data when required.

4. Enhances employee productivity
Usage of the cloud based CRM software is proved to enhance the employee productivity at the present scenario. Your employees can share documents, set priorities for the employees, assign tasks and also update information. Thus, it makes the work of your employees easy and they can work together as as cohesive team. They need not have to waste much time on preparation of reports. The cloud based CRM software itself provides the reports, graphics and visuals on the dashboards which helps them to keep a track on the on-goings. Moreover the employees are your most valuable assets and looking after the comforts and performance of the employees also becomes your responsibility. When you keep your employees equipped with such tools there will be enhancement in the employee productivity.

5. Security and reliability
You might have heard about various cyber attacks and issues in the local systems. Whereas the cloud based CRM application provides high security and it is also reliable. Just see to that you are working with a well-known CRM provider. The data can also be protected by the inappropriate access or if the data is lost.
6. Improves customer retention
You can not just improve sales but the Cloud based CRM software can be used in every department of your organisation. The main and first objective of the CRM software is to retain customers and secondly it is to maintain good relationship with the customers and lastly increase the customer acquisition at a lower cost. The online CRM software and Customer retention goes hand in hand as you can know your target customers, get centralized data, use ideal marketing efforts, recognize the VI customers etc.

7. Builds brand image
By using the Cloud based CRM application you can build a positive brand image in the market. Every other customer of yours like s to be treated right and recognized by your business. As you know CRM helps you to maintain the trust and concern between the business and the customers it will in turn build the name and fame of the business. And the actual fact is, when your brand image increases your sales will also automatically increase.
8. Cost effective
The cloud based CRM application is a cost effective way of working efficiently and effectively in your business. You need not have to invest lakhs of rupees on the CRM software. You will just have to pay as and when you operate, based on your subscription plans for the online CRM software.


The cloud based CRM software is indeed a boon to the business when it comes to enhancement in the smooth working of the business activities. See to that you choose the best CRM software which fits in your needs and wants. You might be a FMCG or a educational institution, you can surely use the Cloud based CRM software with the available customizations from the vendor.

We at SalesBabu have built our own Software applications from the scratch. We have successfully created what has come to be one of the most powerful and dynamic remote hosted CRM, ERP, MedSFA, payroll and Service management solutions. If you are looking for a cloud based CRM software, then contact SalesBabu CRM software which is basically a cloud based CRM software and request for a free demo at https://www.salesbabu.com/