In today's world of advanced hacking mechanisms, its widely accepted that most data theft starts from within an organisation. By holding the data off-site or in a dedicated cloud environment, our customers can minimise the risk of internal data theft and know that their data is completely protected.
What are Cloud service providers?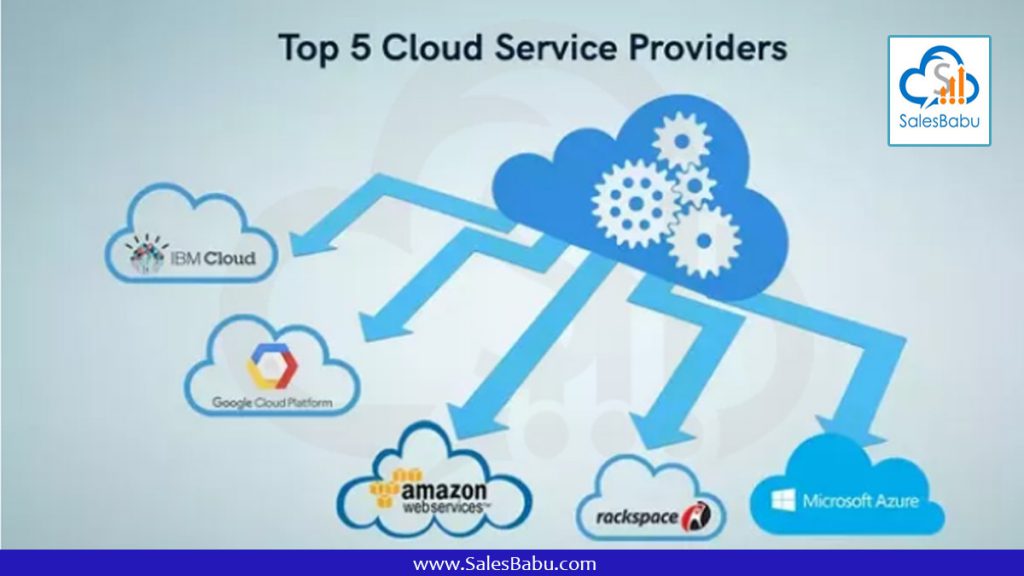 Cloud service providers (CSP) are firms that offer network services, infrastructure, or business applications in the cloud. These cloud services are hosted in a data center that can be accessed by CRM softwares companies or individuals using network connectivity. There are many cloud service providers in the market like – like Amazon Web Services, Google Cloud Platform, IBM cloud and many more which secure the infrastructure that runs their cloud services or provide direct security of the cloud.
Once we use a trusted CRM software for our Customer Relationship management, protecting our CRM data is a joint responsibility between your company and your cloud provider. Its a "shared responsibility" model for securing data in the cloud and meeting compliance requirements for information protection.
These Cloud service providers invest heavily in security technologies. They have the bandwidth to closely monitor your system data 24*7, send prompt alerts when issues occur, and intervene to rectify network problems before your customer data is impacted.
Customer data security along with process compliance, data access, performance and resiliency are their top priorities.They are fully capable of assessing and notifying any security risks, preventing attacks and making sure your CRM software performs as it should.
CRM Data Security:
CRM softwares contains valuable and sensitive customer information. With the cloud based security environment, this raises a lot of red flags when it comes to security:
Preventing phishing and malware attacks
Authenticating authorized users
Managing user-sharing policies
Encrypting data
Monitoring transaction logs
Apart from customer data security, it's also important to consider other issues when it comes to your CRM data:
Process compliance—is your service vendor approach to security violating any government regulations and placing your business at risk of incurring heavy fines?
Data access—which users will be able to tap into the information they need to do their jobs?
CRM Performance—will the security measure allows your CRM application and data-retrieval process always perform optimally?
Data backup – Is your CRM customer data backed up sufficiently, how quickly can you restore in the event of a disaster and how secure is your backup data?
Data Transfer—if you want to move your CRM data to a new platform or scale it up to another cloud provider, what's will be the process, and how quickly can the transfer be done?
Many CRM platform providers offer multiple options to address each of these issues and provide effective data security, compliance and resiliency functionalities.
Ways of Cloud Data Protection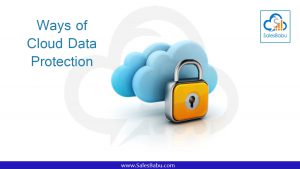 Protecting CRM data is very important if it lives in the cloud since businesses lose an amount of control by handing data to a cloud service provider. Once we enjoy the flexibility of data accessibility to the customer with a cloud environment, it makes our data more accessible for hackers. Let's understand some of the ways to protect our data in the cloud environment.
1. Encrypted Transmissions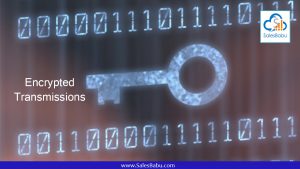 All communication between the servers and client in the cloud service environment, along with all interaction between the web servers and the database servers are encrypted so that data travelling over the public domain cannot be intercepted and misused. As a customer data owner, we should be using network encryption solutions of either virtual or hardware-based to ensure proper encryption as per our security requirement.
In cases of highly confidential data, a hybrid deployment model is used to allows data owners to have complete control over their data and encryption access. A secured key management system allows to generate keys to access our encrypted data to increase one more level of data security. A hybrid environment provides a combination of both generation and administration of the keys used to encrypt data along with encrypted data transfer to completely restrict any unauthorised access to customer data.
Many key management tools are used to generate and secure encryption key mechanism. By using these on-premises key management system we can securely generate, store and manage our cryptographic keys, and ensure that in case of any data breach, the encryption keys will not be exposed and the data will remain secure with proper key ownership strategies.

2. Data Storage and Failover
Various cloud service providers provide different types of data storage deployment as private, public, or multi-cloud which can be chosen according to our business and security needs.
A hybrid cloud deployment model is the best option for companies storing very sensitive or confidential data in the cloud. Hybrid deployments uses cloud services to store data and on-premises hardware appliances to enhance security.
The hybrid model follows the model of shared responsibility to ensure that data owners have complete control over their data security and whereabouts. Along with these storage options, each data center should have robust disaster protection, fire suppression, access controls, redundant power supplies, and more. These data centers should abide by the government policies of data security and failover mechanism like Cloud Security Alliance (CSA), Cloud Computing Matrix (CCM) , ISO certifications and more.
Along with proper storage mechanism and encryption model, a very important factor for data protection is – automatic failover. The replication time lag between the production and failover data centres should be less than seconds so that no data is lost in the process. These failover mechanisms should be efficient enough to create a seamless redundancy system to have maximum uptime for CRM and other data storage applications.

3. Confidentiality & Data Access
Role based access and data confidentiality measures like login protocols, password resets, employee access, and physical acquisition to cloud servers are also very important to secure data over the cloud environment. In many cases, when the customers are sharing important information with our service agents it is our responsibility to keep is secure and confidential. With public and private cloud based service providers, we can have secure data lines to have interactions with the customer over phone and email services to protect our data using firewalls and VPN methods. No.of login attempts and session timeouts are also used to restrict unauthorised access of customer data through unhealthy ways of using employees laptops and access details.
Also, every service agents will have restricted access to customer data based on their jobs and roles in the customer support system. Along with role based access , various criterias are defined to grant permission to access customer data or sync a customer data to an outside gadget or device.
Every employee is also made aware of the confidentiality policies of the data access and cloud encryption restrictions and any policy breach is considered to be a grave misconduct and cause for instant dismissal.
These measures not only create a secure environment for data transfer and accessibility but also formulating proactive measures and expectations for any misconduct and security breach.

4. Communication Protection
All communication on user's web pages, telephone calls needs be encrypted, so that data transmitted over the public network cannot be intercepted and read.
Also, in the event that a communication device like computers, telephone etc are lost or stolen, it will quickly become useless, as access from an untrusted network requires a pre-issued security token that only authorized users can access. These, and many other features, ensure that your CRM data is only accessible by legitimate employees who have proper access for it.

5. Data Backup
Customer data is the foundation of any CRM software, any natural calamity or a software bug can cause years of data collection to erase immediately or lose every piece of customer data in an unsecured public cloud domain. Backing up cloud data is essential in many ways to secure our data and reduce our data loss cases. Each data center is mirrored with another global datacenter, providing a real-time backup of all customer and other CRM information stored on the servers.
Regular backups of the data are taken and stored to rebuild a customer's data as at any day in the past if the need arises. All the backup data are stored in a compressed and encrypted format. Regular auditing of these secured backup data is triggered to maintain and secure these compressed files. These measures of backing up data not only helps in a long run of unpredictable circumstances but also help service agents to retrieve customer data which can be deleted by mistake or by any manual errors.
Conclusion
It's important to remember that a minor security issue or breach at one cloud-based service provider, whether it's a CRM vendor or otherwise, is not a complete representation of an insecure cloud environment. It's a shared responsibility for our company to maintain the encryption and in the house premises well restricted with security measures and also create a positive environment for the employees to avoid any malfunctions and security breaches. We should act together with cloud service providers to showcase that data security is our top priority for every vendor and we will make sure we keep our customer data secure and healthy.