"The government's Small Business Administration reports that small businesses represent 99% of all employers in the U.S. and are responsible for generating well over half of the new jobs created."

– Ellen Tauscher
As the study shows Small and medium scale business constitutes almost 99% of the working class. Considering the wonders we can do with a small scale firm, it's important that we understand what it takes and how do we articulate the necessary steps of starting a business and being successful in it.
Usually, startups have an impression that being a small scale organisation, it might not take many tools for managing your business. But let's think again, can we manage our client only with spreadsheets and manual documents? Do we want to repeat each step of our work every time we get a lead and manage their whereabouts using a notepad? Can we use manual ways of tracking leads and managing after sales support? There are many softwares which can do individual work for managing our business requirements but CRM softwares provide an all-in-one solution for all your business management requirements.
There are many options in markets which can help us with our startups, but the first step would be the understanding what kind of small scale business you have and how a CRM software can help you in managing your regular task, without burning a hole in your pocket.
What is a Small Scale Business?
Wikipedia says that "Small businesses are privately owned corporations, partnerships, or sole proprietorships that have fewer employees and/or less annual revenue than a regular-sized business or corporation."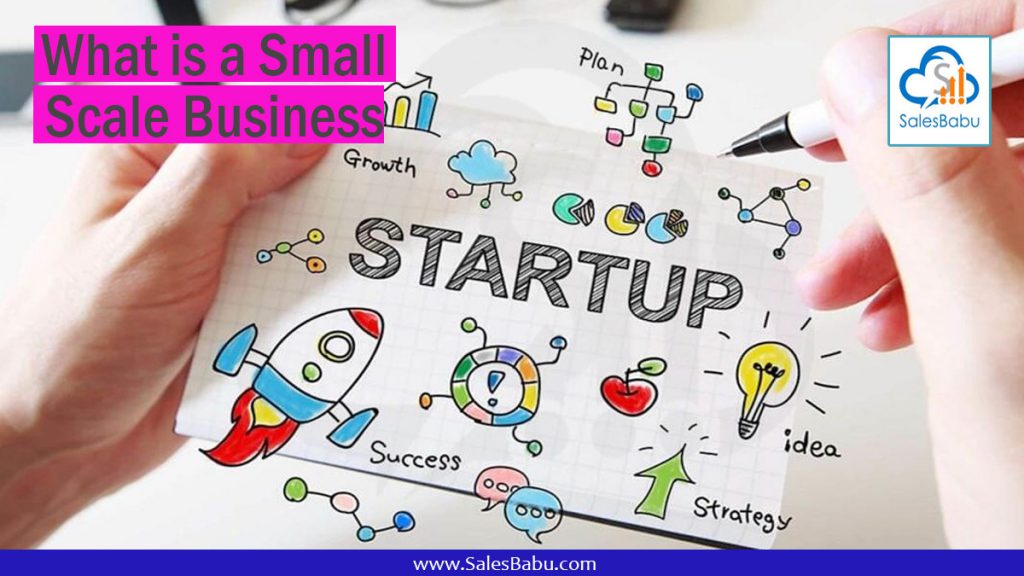 In other words, if your business is its initial stages with fewer employees, then you fall under this category. A small business can further be segmented into different categories based on their future goals.
Type 1: Companies that serve a purpose or do a particular set of work and have no plans for expansion.
Type 2: Businesses that are looking for expansion and have to cater to a large audience.
Nature of Small Scale business:
Labour intensive – All the small scale businesses mostly are labour intensive. Many of the small scale businesses rely on labour for their functioning. These small businesses involve physical work rather than intellectual work. The lack of machines makes the employee manage their operations manually.
Indigeneous technology – Small scale business has been community-focused, due to this the labours thrive upon the native method of operations. Many businesses are in the rural sector who still use outdated technology. This might bring the uniqueness in the products but hinders the growth of the business.
Community based – Small scale businesses are started with the motive of satisfying the local community. So these businesses target few areas and hence are community-based.
The type of CRM you choose will depend on the type of business you have and the no. of customer you need to serve.


What is a CRM software?
As the name suggests, a CRM (Customer Relationship Management ) software is a tool to organise your regular work, which in turn enhance your customer relationship and overall business revenue.
CRM software for small businesses is a highly effective and customizable application which can fit in any type of business model of varied sizes to enhance its routine work and improve productivity.
A good CRM software like SalesBabuCRM, provides one stop solutions for all your business needs starting from contact management to after sales support and efficient customer service. SalesBabuCRM covers a wide range of business model starting from small scale firms to large businesses, providing personalised support for specific requirements and other scalability features.
Usually, small scale industries feel that managing a bunch of employees and few incoming customers can be easy to handle with excel sheet. Let's imagine a scenario where your company gets 10 leads a day and you need to keep a track of how the lead interacts with your business, what are the sources they come from, which pages they have visited on your website, which products are they interested in, who have contacted them from your team, what emails have been sent/received from these leads and the status of the leads and more.
If one lead also has ten activities to be manually entered in those excel sheets, it's almost 100 entries in a day. Assume the amount of manual work involved and not to forget the manual error which will be included in these reworks and repetitive works.
Doing these manual jobs on day-one of your business will not be so stressful and monotonous, but data entry on a daily basis are prone to have errors and needs a lot of reworks. This is when an online CRM for small businesses comes into the picture. It automates all your daily job to organise your business efficiently and improve your employee productivity rate.
Let's understand the symptoms of a small scale firm which shows a clear need for CRM software.
When you manage your leads through excel sheets and you mixup leads data or some of your important lead information seems to be missing.
Improper lead tracking system caused you losing a very important customer business.
Your leads are being leaked and your competitors are winning over your proposal due to lack of lead information and mismanaged lead priority.
Your sales team end up spending more time in data entry, leaving less time for customer interaction and productive work.
Improper team management and issue handling among team members.
Customer support team struggling to collect data for customer interaction at real time and provide poor customer support.
It helps to understand the customers. The best way to serve the customers is to understand the customer's needs, pain points and preferences. But with CRM, you can automatically get the information about the customers at the granular level. It helps to analyze the data to gain insight and to make customers centric decisions. You can use the information to improve the marketing of small business.
It boosts sales and nurtures sales. The primary benefit of CRM in small business is to boost revenue and streamline sales. The CRM helps to capture more leads and track them throughout the entire sales process. It tells you which sales lead has driven the most sales so you can allocate more time and money. The most benefit of CRM in small business is it delivers the key insights so that you can make smarter decisions.
It maximizes the resources. Even the mid-sized organization struggles to make the most out of limited resources. Robust CRM allows us to do more with less because the technology does the heavy lifting. CRM does the majority of tasks like keeping records, administration, follow-up of the contacts.
These and more can be some of the symptoms of a drowning business model with tons of holes in its pocket.
Let's understand how can a CRM for Small business like SalesBabuCRM help in resolving these issues.
Inbuilt features:
As discussed, CRM has an extensive range of inbuilt functionalities which can be used by small scale businesses. Starting with Lead Management, SMB CRM software provides automated trackers to locate leads from different sources and add them to a centralized database. Every minute to important details about a lead is documented clearly to a cloud based CRM database which can be accessed at runtime by different stakeholders.
Along with these contact details, every task created for customer interaction is added to this database, which helps to manage our task in lead tracking. With proper lead generation and tracking methodologies, online CRM for small businesses provide facilities to create quick quotations and sales orders with required discounts and promotional offers helping to close better deals.
Also after sales support for inventory and ERP management gives an additional help in tracking of your product delivery and overall customer support services.
Read More – Win more Customers with Lead Management Software
Affordable:
Best CRM for Small business like SalesBabuCRM are not only available at a reasonable price but has all the essential features which are needed for a startup. Any small scale businesses would generally not have a very big budget, but simple CRM for a small business like SalesBabuCRM is worth every penny invested on it.
Read More – 8 Ways CRM Software Can Help Reduce Costs for Your Business
Quick Implementation:
In a small organization generally, one employee will be handling multiple roles and work items. Startups and small businesses cannot have complex softwares which can take a lot of time to integrate. Also, CRM software for small business should have a user interface which is easily understandable for a person who is not much into technology. This way, businesses can save time by self learning, eliminating the need for lengthy training and hands-on sessions.
Read More – Leveraging SalesBabu CRM Software in Small Business
The more you engage with customers the clearer things become and the easier it is to determine what you should be doing." —John Russell, former vice president of Harley-Davidson
Customer support and serviceability play an important role in making a mark for a new business venture. Startups and Small scale businesses can only make it big if they can handle new strength of incoming client along with retaining their existing customer.
Detailed documentation on customer's whereabouts, personal preferences, interested products and other details, help to create personalised sales campaigns and build better business reputations with our clients. Also, with Mobile sales apps in CRM softwares , the sales team can provide better sales management for their daytoday task and follow up activities.


Easily scalable:
"Spend time upfront to invest in systems and processes to make long-term growth sustainable."

-Jeff Platt
Best CRM for startups are the ones which are easily scalable and provide complete reliability options. Small Scale business cannot afford to spend extra on scalability and security of their data. A software solution which can be secure and completely reliable to trust with our customer data would be the obvious choice for a new venture. With few hundreds to thousands of leads, as and when the business grows, a good CRM software should be able to handle the increased inflow of leads.
Read More – Emerging Cyber Security Threats In Small Business
Detailed Insight:
A cloud based CRM small business should be adaptive to the changing model of a growing business. With every change in customer's choices to market revolution on new technology, should be effectively handled with a CRM software. Startups and small scale ventures usually keep changing their business model as per customer's requirement, but a clear insight of their customer's current and futuristic needs is very important for an organizational growth. The best CRM for small business provides various inbuilt metrics and statistics which help to gaze the issues in the current model and make more enhanced plans for better customer service.
Read More – Boost your business by streamlining your sales process with cloud CRM
Conclusion
As the saying goes, there's no 'right' or 'wrong' software for your business – it's the software which either fits in or doesn't.
Most of the small scale business start on a positive note with CRM implementation but endup in a CRM failure due to lack of usage of its vast range of functionalities.
CRM is a great tool to start your business management provided your business heads and sales team use it in a positive and consistent manner.