If you are not first, then you are last!!
Business competition is healthy as it forces you to bring out the best in you as a brand. The present market is filled with competitors from small businesses to large enterprises. And the whole idea is about 'staying ahead of your competitors'. Understanding the present market as well as your competitors can help you to step forward towards success.
What is business competition?
Business competition is the process where companies or individuals compete with other companies or individuals of the same industry.
How to identify competitors?
The common factors to identify competitors in the present competition driven market are –
Quality of the product or service
The quality and features of the product or service plays a vital role in the sustainability of the brand in the market.
Price of the product or service
The price of the product or service is another important factor that plays a role in the efficient distribution of resources in the market. And also, the price is the first thing that a consumer notices about the product or service.
Brand awareness of the product or service
In the present digital world, the products or services that maintains higher brand awareness are likely to generate more sales.
Customer Experience
Good customer experience is more than just surviving in the competitive market. It allows you to flourish in the competitive market and yield more success.
Read our blog – How CRM Boost Your Customer Service & Overall Customer Experience
Use of technologies
The use of technology in business helps to create less costly and consumer friendly environment for the consumers. The most trending technologies used in the present market are – Digital Marketing, Cloud computing, Machine learning and Artificial intelligence etc.
Closing of sales
More the closing of sales, more is the competition. When your company's sales force is able to close more deals, it increases the sustainability of the product or service in the business.
How to handle competition in the market?
Know your customers' needs, preferences and requirements
Be clear about what you provide
Understand the competition in the evolving market
Spotlight why you are different from the rest
Keep coming up with new innovations
Target new markets
Retain your loyal customers
Work as a team
What is competitor analysis?
A competitive analysis is a process of identifying and evaluating competitor's strategies to determine the strengths and weaknesses.
The competitor analysis gives valuable insights about how your company is performing against industry competitors. The analysis also helps you to identify the opportunities and trends that helps you to improve your business revenue. Thus, based on your competitor's analysis you can build strategies to stay ahead of your competitors.
Benefits of analyzing competition in the market
Improvement in product and service
Enhancement in customer experience and service
Learn how to acquire competitive customers
Learn from mistakes and stay ahead
Tips on how to research your competitors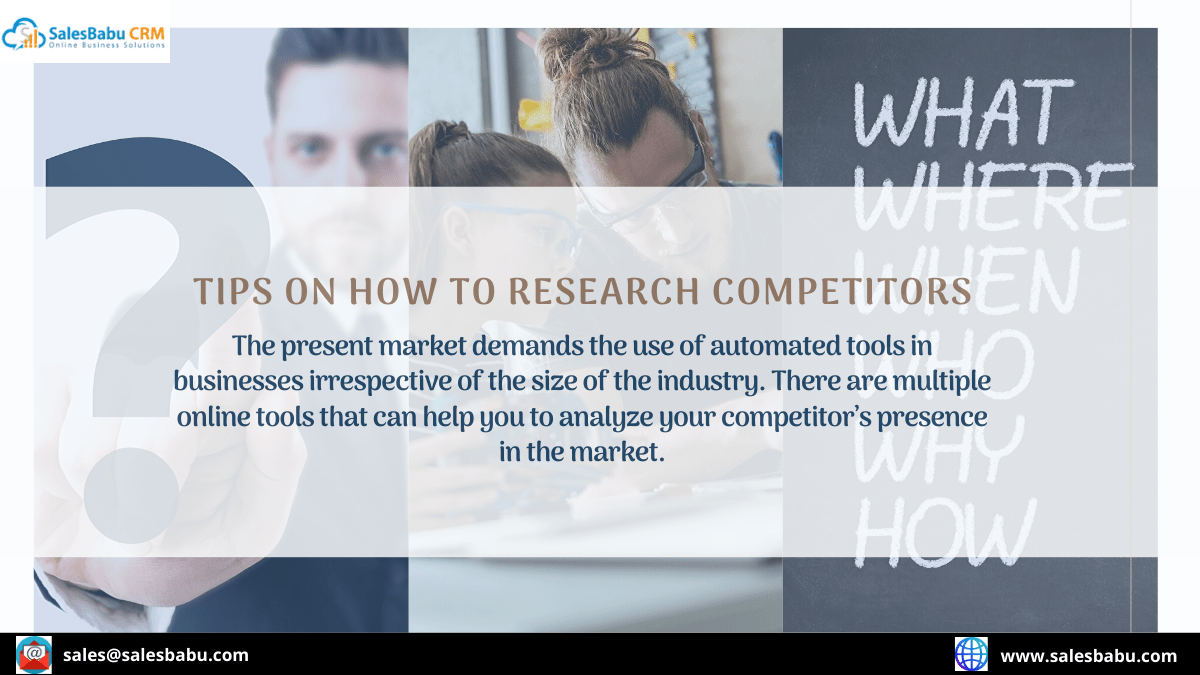 1. Make use of online tools
The present market demands the use of automated tools in businesses irrespective of the size of the industry. There are multiple online tools that can help you to analyze your competitor's presence in the market. These online tools helps you to collect information about your competitors and also help you to plan your business activities accordingly.
The various online tools that will help you understand your competitors are –
Google alerts – to monitor mentions

Monitor social mentions of the companies
Monitor keyword mentions
Manage competitor's backlinks
Google Keyword planner – Competitive research and keyword research tools

Monitor social activities of the competitors
Monitor keywords used in blogging and SEO to increase online traffic
Manage lead management success of the company
Social media trends tools

Track the trending social media trends of your industry
Track social trends of the competitors
Read our blog – Latest Marketing Trends 2019
Tools for web ranking

Obtain traffic insights of your website as well as competitor's website in graphical representation of data.
Receive suggestions of competitors
Tools for content marketing

Track competitor's content marketing strategies and get instant updates on upload of new content.
2. Monitor your competitor's social media
Social networks are one of the fastest growing industries all over the world. There are various social media platforms available on the internet which helps you to carry out your social media presence. Facebook, Twitter, Instagram, Pintreset and Whatsapp are the most commonly used social media platforms to promote their products and services.
With the help of the social media sites, your company can analyze every promotional step your competitors are taking up, what strategies they are using to create the online buzz, what customers are expecting from your competitors and their marketing efforts to survive in the market etc are certain factors that your company needs to focus on during the research.
3. Take customer feedback
Customer feedback is the personal experience shared by the customers/ clients about their satisfaction or dissatisfaction with the product or service they have received. The feedback can be positive or negative depending upon the customer's experience. Customer feedback can be collected from various mediums.
How to collect customer feedback?
Provide live chat support
Send follow-up email
Social media sites
Face-to-face interview
Phone calls
Suggestion boards
Popup customer survey on your website
Read our blog – The Importance of Customer Feedback in Customer service and support
4. CRM analytics
With automated day-to-day tasks, CRM Analytics comes with an in-built analytics and forecasting feature. These analytics presents data in the form of graphical graphs, metric analytics and MIS reports. The benefits of analytics and forecasting features are –
Identify bottlenecks
Understand the functioning of the supply chain activities
Make future predictions and plan for future production
Anticipate customer demand


5. Competitor tracking software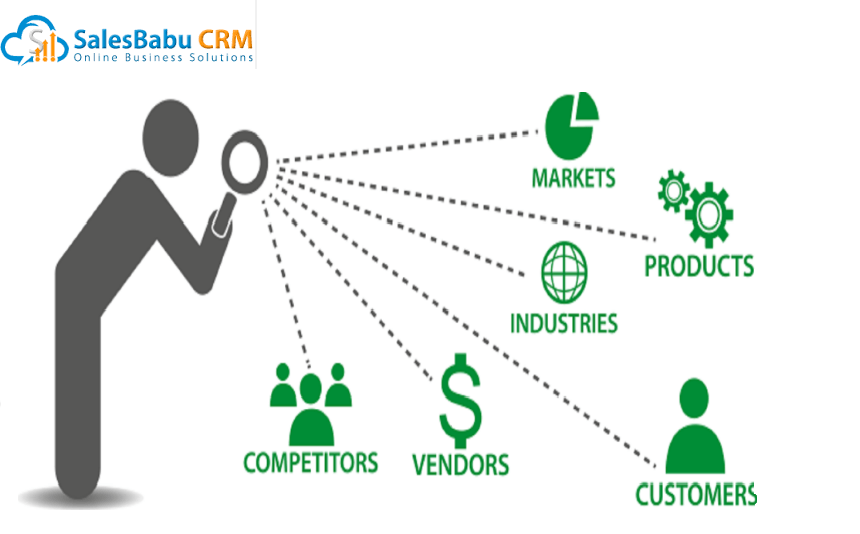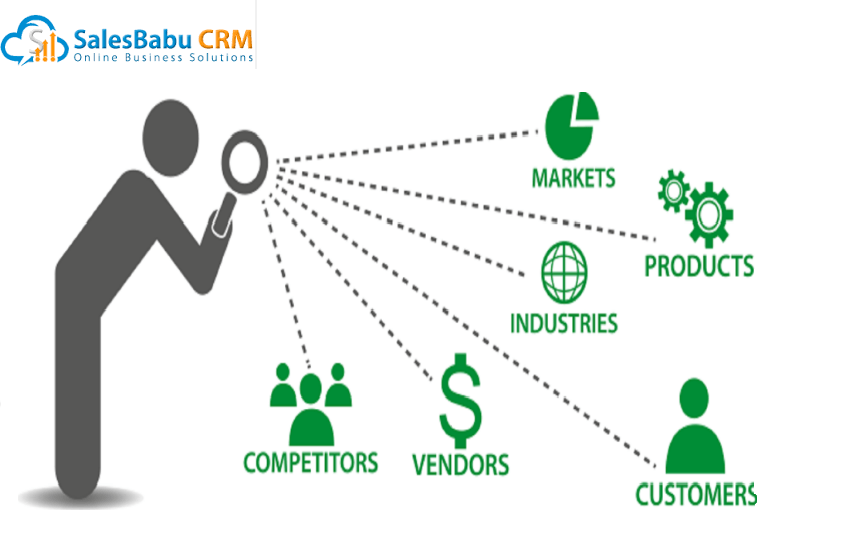 The competitor tracking software offers capturing of essential data from the lead management software till the sales closures pertaining to your customers. During the entire sales process there is a tracking competitor column which allows you to capture all the important details of your competitors. At present, competitor tracking is been given a prime importance in organizations so that they can keep an eye on their competitor and proceed accordingly.
SalesBabu Opportunity Management Software helps in tracking competitors and make strategies accordingly. The Opportunity Management Software allows you to enter and store information with regard to a particular product or customer. SalesBabu CRM helps you to make positive pipeline of business, provides sales forecast, degree of interest of the customers and helps to make further strategies for closures of leads accordingly. To implement SalesBabu CRM software in order to automate your entire business process, request for a free demo at SalesBabu CRM. You can also visit our website https://www.salesbabu.com/ for more details.


6. Attend industry conferences
Industry conferences provide vast ideas and strategies that might work for your business. They are indeed an excellent opportunity for you to interact with new vendors and suppliers. 
7. Keep an eye on their new hires
Track your competitors hiring activity on the job boards and social media websites such as LinkedIn.Frequently, a new kind of position opening up — a full stack developer or regional coordinator in a new market, for instance, can telegraph a big play that's in the works.
The frequency that your competitors are searching for new officers can even be an indication of their rate of growth. Use caution to not make too many presumptions, though; it also can signal high turnover or competitive hiring, especially for entry-level positions. A better indicator for growth would be job openings for managers and supervisors, especially after they appear on new turf.
8. Check with local organizations
Not all competitor research happens online. Getting committed to your community puts you face to face with real people who offer valuable insight into the competitive landscape. Public records can document all past and present lawsuits, liens, and some other legal actions against a competitor. Local organizations just like the chamber of commerce, Better Business Bureau, or regional building owners and managers associations usually track local businesses to stay their members up to date on problematic organizations.
In addition, some community registries will list companies that provide security services within the area, which can be a source for expanding your research into unfamiliar markets.
Wrap up
Whether you wish to accept it for no, "do not neglect your competitors". You might be providing the best quality, quantity and trendy product or service for your customers or clients but if you tend to ignore your competitors, you may miss out on valuable insights.
Researching your competitors can result to be a secret weapon or a painful weakness!!