CRM Quotation Software– What is a Sales Quotation?
A sales quotation is a document that a seller provides to a buyer to offer goods or services at a stated price, under specified conditions.
Are you struggling to make Sales Quotations for your customers. Looking for a ready-to-use, automatic quotations/proforma invoice (PI) template? Create a quote in less than a minute with SalesBabu Online Business Quotation Maker. Take Free Demo Today.
Other terminology for quotations are quotes, sales quotes or sales quotations and are used to let a potential buyer know how much goods or services will cost before they commit to the purchase.
Quotations are usually not a legal binding unless they are part of an official contract. However, sales quotes is generally accepted that a customer has agreed and committed to a sale, and a specific price if they accept a sales quotes.


The Right Time To Send A Quotation In Business
Sales Quotations or Proposals are generally sent at the request of a customer who is interested and wants to know more about certain services or goods before they commit a purchase.
It's always important that you send a sales quotation as soon as you're able to. Customers often check with multiple vendors and request quotes from several businesses, so sending a sales quotation quickly will help you to be at the top and get ahead of your competitors.
8 Simple steps to create a Quotation for your business :
1.Select a Template
The creation of a winning quotation is a learning process. It will help to use a quality quotation format so that you will be able to create professional-looking, a thorough and detailed quotation which your clients will love.
2.Add Client Information
Make sure that you include who the quote is for, including all the information like:
Business name
Address
Phone number
Fax number
Email address
Contact name and the title
And the main thing does not forget to include your contact information. That said if you are using company letterhead, you might do not need to include it.
3.Enter Quote Number
Accounting software will automatically generate a quotation number for you, adding increments of one for each new quote. You must be able to edit the quotation number when you like. If you are using a template in Word, you can start with "1" and go on.
4.Include a Date of issue
This is the date when you send the quotation to the client. This is very much important because quotes are usually limited-time offers. You will want to add "Valid for 30 days", or you can also increase or decrease the timeline.
5.Enter Products or Services
Add all the products or services that you are quoting as line items. Also, include a description of all the items with product numbers, total price per unit, unit price, and quantities. You can also divide the services and products according to the different stages of the project.
6.Add Terms and conditions
Here is where you account for all the possible variations in the project. For instance, you can note the project timeline for landscaping the backyard depending on having nice weather.
Small businesses will also explain how much the additional work costs. Explain under what conditions the additional work might be required, hence the quote is supposed to be at a fixed price.
7.Include Notes
This section is for if you want to add any other details. The note is the right place to detail timelines and expected completion dates. You can also summarise the scope of the project.
8.Add optional details
Here are some elements that you can consider adding to your quote:
Purchase order number from the client
Discount
Business number
Sales tax number Signature section
On the other hand, you should give yourself enough time to accurately work out your costs and calculate your profit margin. As mentioned earlier, quotes are not legally binding; you should do your best to send error-free sales quotations or avoid offering a price that you can't actually commit to.
Read more – Quotation Management: Now Easier Than Ever Before
How to write or draft a sales quotation
There are a few different ways to write/draft a sales quotation. You could use either of the ways to write a quotation like – an online software, a quotation template for Word, a quotation template for or Excel, or even hand-written business quotations.
There are several aspects to consider when you decide how to write a quotation. Essentially, think about how best to communicate with your customers. As stated, it's always important that your quotation reaches your customers promptly, so many businesses choose to create quotations with software as this lets you write quotes quickly and send to the clients directly via email, text, or even Facebook or Whatsapp.
Secondly, the most important think about which method looks the best professional. As you're not required to use a specific sales quotation format, template or layout, sending an unprofessional, incompetent quotation can give the wrong impression about your quality of your work and business.
What to include in a sales quotation template
Finally, you have decided to write a quotation, it's important to have a pure professional sales quotes template that you can fill in whenever you need to send a quotation.
Similar to invoice templates, which have many legal regulations and restrictions, there are a few set rules to cover in the quotation. However, using a quotation template that includes the following information gives potential customers get a better idea of what they are committing to:
Your company details: a quotation template should include the complete contact details of your business, including your business name, address, email id, contact number, and (if applicable) GST registration number or business registration number.
A Validity date: every sales quotation you send should indicate how long the quotation will remain to be valid. This lets your customers to be aware; how long they have to accept or decline the quote.
The price: your sales quotation template should include the total amount that is due for order from the customer, as well as the price of individual services or products. You may also require to consider breaking down the final price by including the cost of materials, labor, and GST charge if applicable.
Your customer's details: their name, contact number, email address, Shipping address, billing address, etc.
Terms & Conditions (T&C): your quotation should include the terms and conditions; for awareness of the customer
Read more – Online Quotation Management Software

Sample of Sales Quotation Template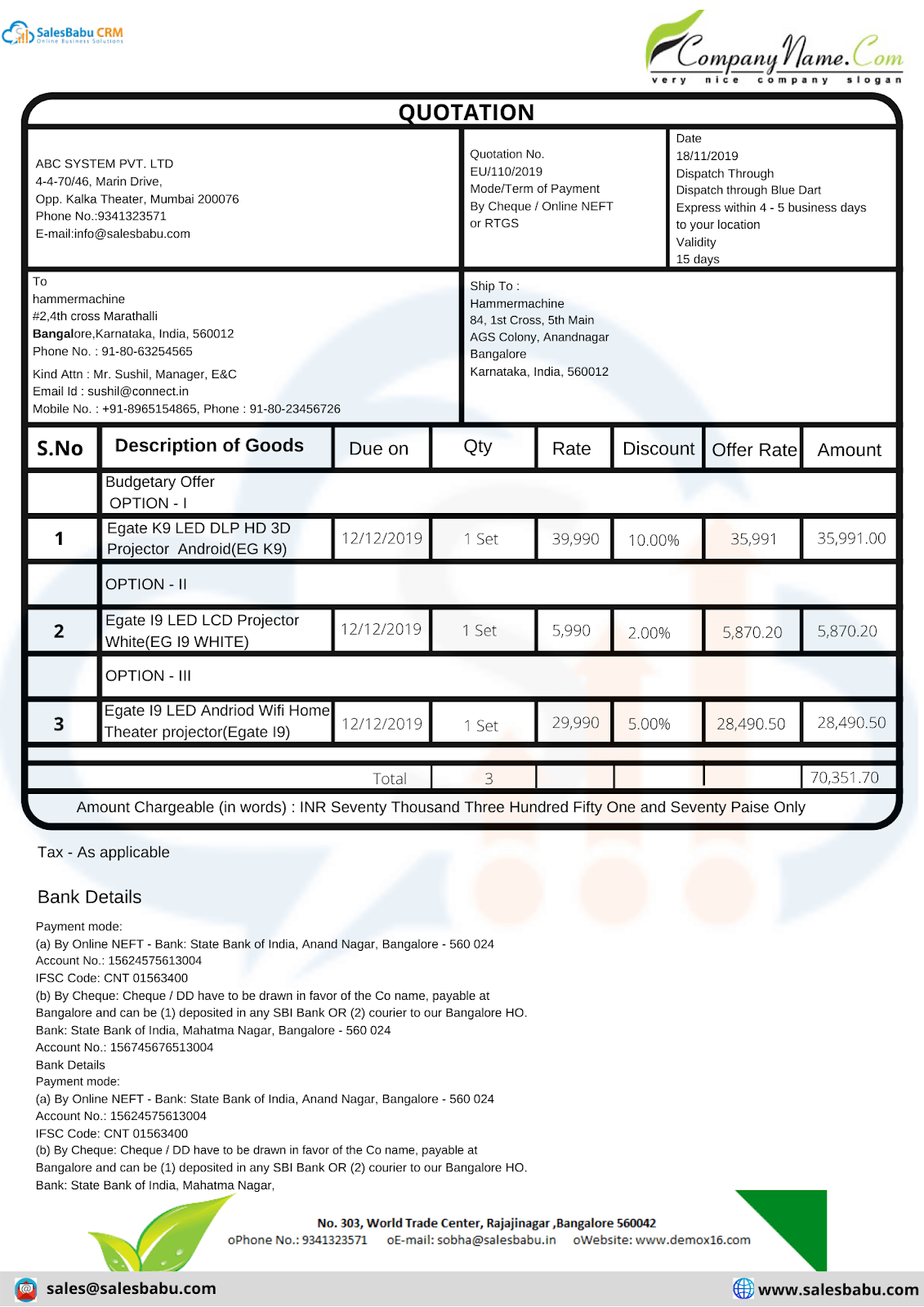 SEND YOUR FIRST BUSINESS QUOTE
How to format your Sales Quotes
To determine how a sales quotation should be formatted there are no legal regulations. However, it is advisable to follow a good idea – some basic formatting guidelines when sending quotes in business, and most businesses have quotation formats that are similar to their invoice formats.
Your quotation template should have the word 'Quotation' or 'Quote' or 'Budgetary Quotation' clearly visible at the top of the document so that your customers can easily distinguish the quotation from other documents. Generally, it is also common to have the quotation number, date, mode/terms of payment and customer contact address and contact details at the top of the quotation template, followed by the products details and total price. Your terms and conditions are usually at the bottom of your quotation.
Your quotations should be attractive, simple and easy to read, with a good layout and font. In case if you'd like to personalize or customize your sales quotation layout, you could add your company logo or choose colors that reflect your brand value.
Even though, you are sending sales quotations via email, be aware and ensure that how your quotes will look when they're printed. A few customers prefer to keep physical records and they always take the printout apart from the email. Your quotation format should fit within the A4 paper sheet, and if necessary attach separate files. It's always easy and comfortable to do this using an online quotation.
Quotation vs. Proforma Invoice (PI)
Before the final details of a sale are confirmed a proforma invoice that is treated to be a non-official document (invoice) is sent to a customer . Proforma Invoices are generally used at the same point in the sales process as a sales quotation. However, quotations and proforma invoices present slightly different purposes.
A quotation would normally be sent if there is a customer inquiry, or if they require to know more about a service or product. Finally, a proforma invoice is sent to a customer if they have finalized to purchase, but cannot be sent a final copy of the invoice because the final details of the sale are not certain.
Quotation vs. Estimate
Similar to quotations, an estimates shared with the customers who enquire about a product or service. However, a sales quotation needs clear paraments (man power, time, raw materials, etc.) and relatively stable costs. This means that some businesses cannot give quotations because it simply isn't possible to give a fixed price.
Instead of releasing a sales quotes, these businesses would prefer to issue an estimate, which is a non-binding approximation of what a work is likely to cost.
Quotations in SalesBabu CRM Quotation Module
Send personalized and professional sales quotations with Online Quotation Software in SalesBabu CRM Quotation Module. With our online business quotation templates, creating and sending sales quotes is quick and easy. From drop-down option pull your customer's details, add your products and prices, then click the send button. Additionally, you can send quotes anywhere, anytime with the Android app.