Is sales tracking necessary for every business? You might be a small business or a large enterprise, but managing your field operations becomes an essential factor for your business. The organisation needs to gain the ability to track, manage and accelerate the potential lead processing for maximum conversion. Thanks to the sales tracking app, that makes online sales tracking simpler and smoother.
What is Sales Tracking?
Sales Tracking is a process of recording or say documenting the interactions in between the lead and your business. Every minute detail right from the point of emails, cold calls to ultimate customer or sale. Thus, it gives you a complete overview of the lead's conversation, pain points, position in sales funnel etc. 
Some Steps of Sales Tracking Process
Step 1: Identify your target audience
As it is normal with most of the sales and marketing processes that you always need to begin with knowing what your customers are. This step will help you to plan out to residue of all your processes with much clarity. Know who will be the influencers, decision-makers, and buyers for what you sell.
Step 2: Identify your sources
The next step is that you should know the platforms that this audience would be present in, both online as well as offline. Figure out which of the social media platforms they would like to prefer most, which are the keywords they search for, and also the websites they search more frequently. If you have an app, you might try in-app advertisements as well. Now you can make a complete list of all the possible points of the entry.
Step 3: Set stages that each lead would fail into
In this step, define the different lead stages which your lead might possibly fall into. This will be something such as prospect, cold lead, hot lead, warm lead, and customer. This stage will vary across your businesses and industries. You could then recognize at a glance which stage in the sales funnel a lead is at a given time.
Stage 4: Define various ways your lead can engage with you
You should identify the ways in which you aim to nurture your leads. This will be thorough email marketing, webinars, e-books, drip marketing, and still more. List out all the points of the communication which you have with your businesses. This can be through social media, web forms, over the phone, and emails. This step will ensure that you will keep a track of what nurturing activities are helping a lead to get converted.
What is Sales Tracking App?
The sales tracking app is an application which helps you to carry out online sales tracking activities from anywhere and at anytime as it is accessible with the help of smartphones, tablets etc.
Ever since the mobile apps have entered the market, it has created a milestone for itself. Every category of the market has several kinds of apps that is at your fingertips. And in the future time period the smartphones and apps are going to be a fundamental part of the business. Even now you can see many small businesses that you interact regularly are making use of the mobile apps and stepping a step forward towards enhancing the marketing strategy. You can make use of the mobile sales app from anywhere at anytime. The only requirement is a good internet connection.
SalesBabu Online Sales Tracking Software
SalesBabu Cloud Based CRM Software provides online Sales Tracking app which helps you to plan, manage and get real time insights of field sales and marketing activities. Your sales reps can record or document the interactions a lead has had with your business right from the initial phone calls, emails, sales funnel until they become your ultimate customer.


Benefits of SalesBabu Online Sales Tracking App
The benefits of using SalesBabu Online Sales Tracking App in your business are –
1. Work smarter with Business Automation!
The sales tracking app makes the complex business process easier as you can work smarter with technology enabled automation. It can streamline your business activities, achieve digital transformation and also improve employee satisfaction. Your reps need not spend time on extra paperwork, instead they can fill in customer details once and keep it safe in the cloud, for the long run. It also eliminates repetitive task or manual errors.
Read our blog – 5 Amazing automation features of CRMs you need to be using
2. Have an on-the-go team!
The sales force tracking app lets you to organize and mobilize efforts as it is a perfect system tailored to cater the needs of your sales teams. It provides the benefit of staying connected to each other in the sales team as you can receive instant updates with the help of the sales force tracking app. Thus, the field sales reps find it more beneficial as the on-field workforce are alloted with jobs based on priority, skill, availability etc. It also keeps an organised collaboration with other team members with information sharing, invoicing, feedback and exchange information with the back office fosters.
The sales force tracking app benefits you with a reporting application which provides a detailed reporting that can be reviewed frequently in order to deliver a better follow-up, planning and collaboration, what area sales are lacking in, areas of low productivity and many more. Thus, the salesman tracking software makes work much organised for the sales rep as well as the manager because sales reps can inform their manager and the manager can track their sales rep's sales activities.
4. Be organised at work!
The salesman tracking software helps you to organise your tasks based on the priorities. Your sales reps can create reminders, tasks, calls, events and alerts. They can set up and access activity notifications from the sales force tracking app. This to-do list might a small task but can be a great way to manage your day-to-day workflow.
5. Be up to date with every documentation!
With the help of sales force tracking app documents, files can be accessed, uploaded and downloaded from your smartphone, tablet, etc. Even if you are not present at the workplace, you can access to critical information via the sales tracking app. Thus, it makes client process efficient and smooth.
More about SalesBabu Sales Tracking App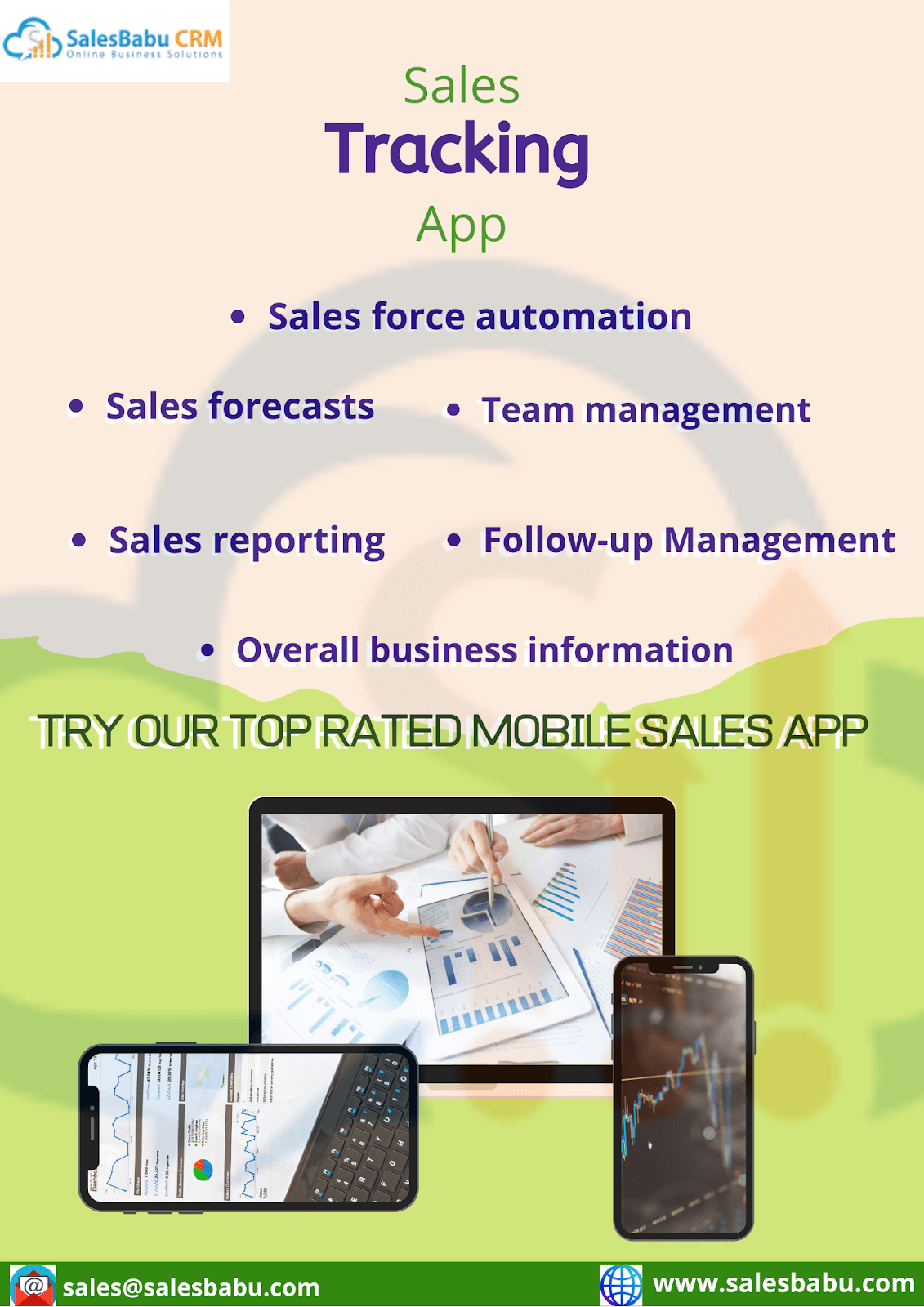 Sales forecasts
The sales forecast helps you to forecast your revenue, assign targets for your sales team, deals in the pipeline, quotas achieved during the last fiscal year, identification of bottlenecks, team performance and sales process etc.
SalesBabu Sales forecasting app (sales force tracking app) has helped our customers to effectively manage leads flowing through the sales pipeline and increase their sales eventually.
Team management
SalesBabu Team Management app handles customer segmentation with regard to territories, allocation of resources, identification of regions making more profit, excess sales forecasts and customer service activities etc.
Sales force automation
Sales Force Automation Software comes with a prime motto of streamlining the interaction of organization's executives with their customers. The sales force automation app helps to track sales activities, maintain sales discipline by automating the entire process , reduces their unnecessary efforts and saves most of their energy and time.
Read our blog – Sales Force Automation Software | Cloud Based CRM Software
Sales reporting
You can only manage what you can measure. With our Sales Reporting App, manage the way your business is run with intelligent reporting that breaks down key metrics relating to your sales trends, marketing campaigns, team performance, and more. Choose from our MIS standard reports, or create a report from scratch in minutes.
The sales tracking system helps you to maintain good relationship with your customers and also follow-up leads/ customers at the right time. As the online sales tracking app is accessible from anywhere at anytime, your sales reps can gain good impression from the leads/customers.
Overall business information
As the sales tracking app is cloud based, all the business information is stored under a single platform. Thus, the sales reps can access the required information even if they are not present at workplace.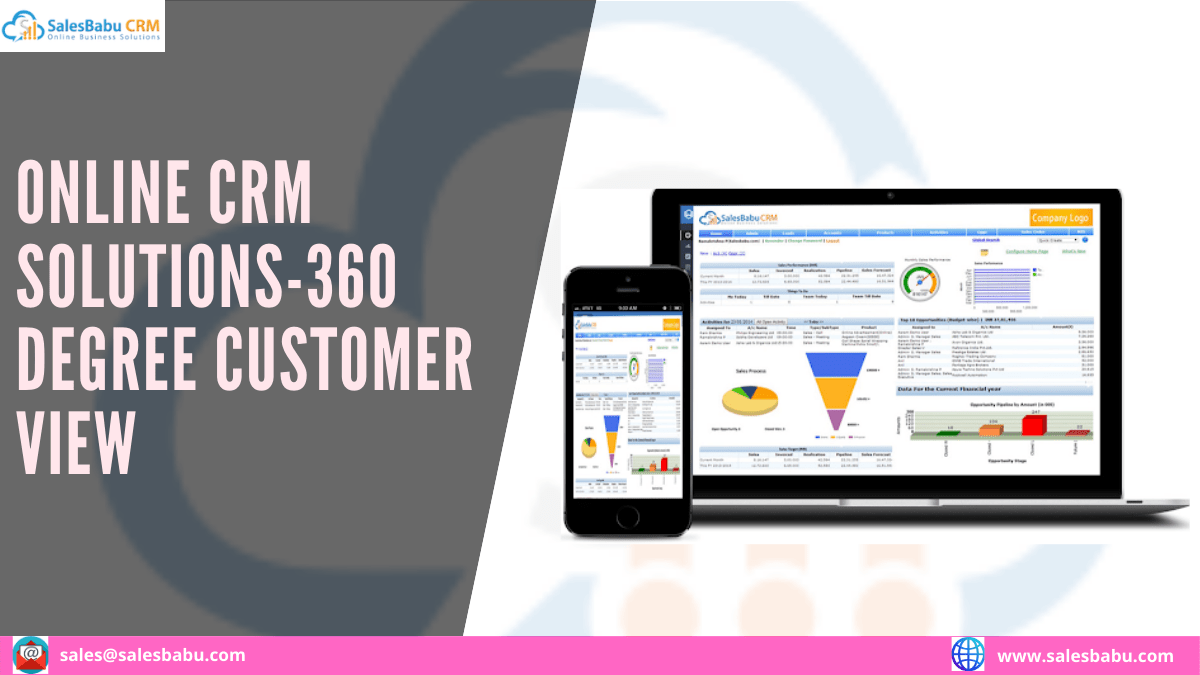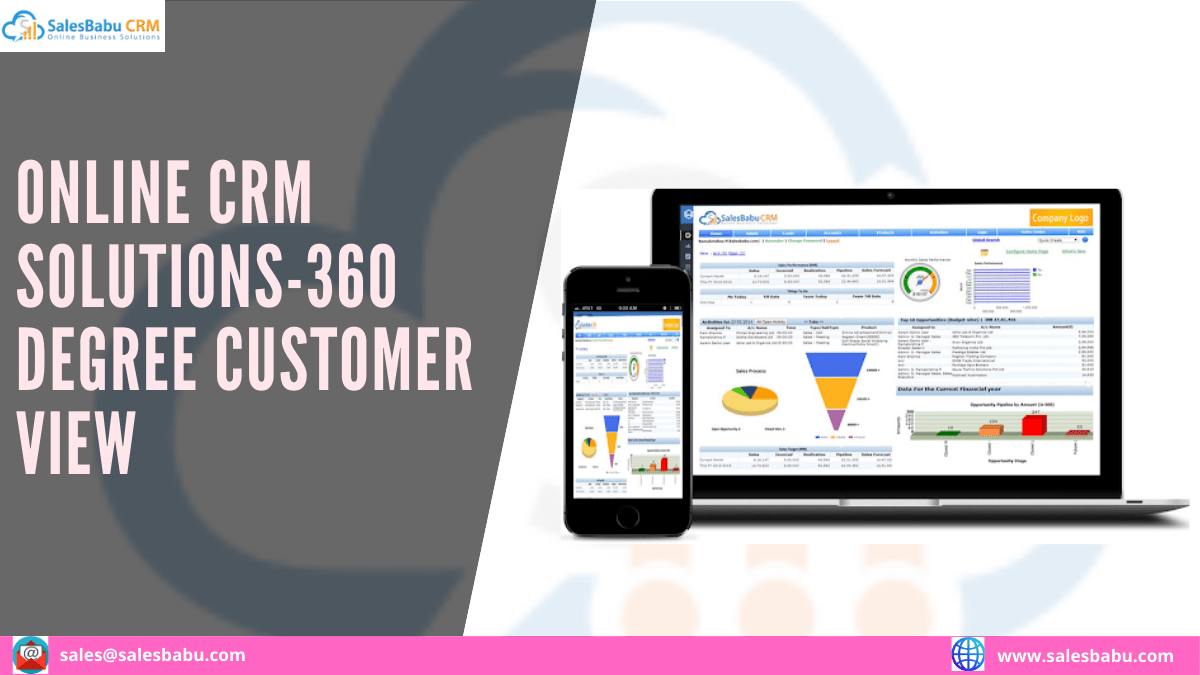 Read our blog – 360 Degree Customer View Online CRM Solutions: SalesBabu
Other benefits of SalesBabu Sales Tracking app
SalesBabu sales tracking app or sales executive tracking app allows you to have a view of the customer interactions and transactions like – debts, bills, payments etc. It provides automated reports which enables effective sales analysis. It also eliminates manual work or manual errors as the process is automated.



Conclusion
Sales reps deal with en number of challenges each day as they are the ones who face the vast crowd of customers with multiple expectations and necessities. Most importantly, managing a sales team is also not less than a challenge. Thus, the sales force tracking app makes it easy to manage day-to-day sales activities smoothly. The CRM mobile app or sales executive tracking app streamlines salesforce management and increases the revenue of the business as well.
The agenda of implementing an online CRM software is to ensure that your sales team work smartly with less burden and stress. The cloud based CRM software has various features and functionalities like Sales Force Automation, Lead Tracking, Sales Tracking and Sales forecasting. These automated features helps them to manage their tasks according to their priorities. The implementation of a CRM software will surely be the best business strategy that can make magic for your company. It is true that you cannot see wonders happening overnight after the implementation of a CRM software, but it is surely going to enhance your business process in the long run.
If you have not yet got your CRM Software, then don't waste time and feel free to request a free Demo at SalesBabu CRM. You can visit our website https://www.salesbabu.com/ to know more.