Any type of change in organisation either in tools or process is a challenging decision. If the change requires financial investments then it becomes more difficult for business to implementation those changes and make sure that the overall turnover of the organisation stays afloat with better revenue generation for the firm.
There can be many factors which can cause a required change in your existing work model, and to address those issues early in the business work model is very important. Let's understand some of the indicators which are the warning signs for the company to change its working models and shift to automated sales management CRM software.
Web based CRM software makes a huge impact on an organisation. It affect sales, marketing, service workflow, and more. If your business is indicating the following trends, it's time for you to switch to a cloud based CRM Software:
1. Decrease Efficiency or Productivity
Sometimes manual processes like excel sheet and paperwork are laborious and approval takes a lot of time. There are smarter ways to do things. By implementing cloud based CRM software you can automate the whole sales management process. Just by entering it once in the system you can use the data for various purposes. By implementing a web based CRM software, you can improve the efficiency and productivity of your organisation as a whole.
Sales Management software like SalesBabu CRM enables users to create contact details, quotations, sales orders and other documents with just a few mouse clicks and regenerate details of customers for each of these details, avoiding repetitive and menial work on a regular basis.
Read More – 4 Ways to Boost Employee Productivity
2. Miss-communication between departments
While doing manual jobs, sometimes the file lost between departments, or the document sent from one department does not reach to other departments. In this process, sometimes the information of important clients may get delayed and the business can suffer a huge loss due to delay in the process. A web based CRM software bridges the gap between departments and brings transparency into business.
With SalesBabu sales automation software, every detail required in the business is recorded digitally into a cloud based centralized database. With this database, every information entered can be accessed by different stakeholders across the company at the same time. Any changes or update done to these entries are visible to every user and updates related to clients can be done in an organised and standardised method.
Read More – Grow your Business Faster with SalesBabu Contact Management Software
Manual ways of handling clients data and sales deals may sometimes lead to losing important clients information due to mishandling and error prone administrative processes. Cloud based CRM software provides centralised database to everyone for accessing any information regarding customer. This gives full details to sales persons related to their clients and they can create personalised campaigns and prescriptions to close deals with prospective leads.
4. Poor Data analysis
Sometimes you don't know the back history of clients and its behaviour. Cloud based CRM software gives you complete track of all the sales activity of the clients with the history. So salesperson can approach the client in a better way. Information like demographic background, personal preferences, Shopping trends and more are very important to analysis the client's interest in our products and services.
SalesBabu Sales automation software provides MIS features to the users which enables the sales agents to create various reports and statistics to analyze the clients shopping behaviour and other details to understand the lead and create more specific campaigns for better sales deals. MIS features also help to organise internal performance tracking of the team by creating regular reports for employees based on sales closure and work productivity.
Read More – MIS: Now Get All Your Reports Just by a Single Click
You are not aware of the problems faced by customers. Customers with open complaints are with low satisfaction rates. With the help of an automated sales management software, you can take a targeted approach towards customer experience management. SalesBabu sales force management software, have customer management features which help in recording every incoming enquiry and complaints from the customers and manage them in an organised and standardised manner.
SalesBabu sales management software also provides features like Mobile sales app which enables sales agents to stay connected with clients on the move and provide support for enquiry resolution and customer services for better customer centric solutions for the business.
Read More – Understand What Customers wants
6. Missed Sales Opportunity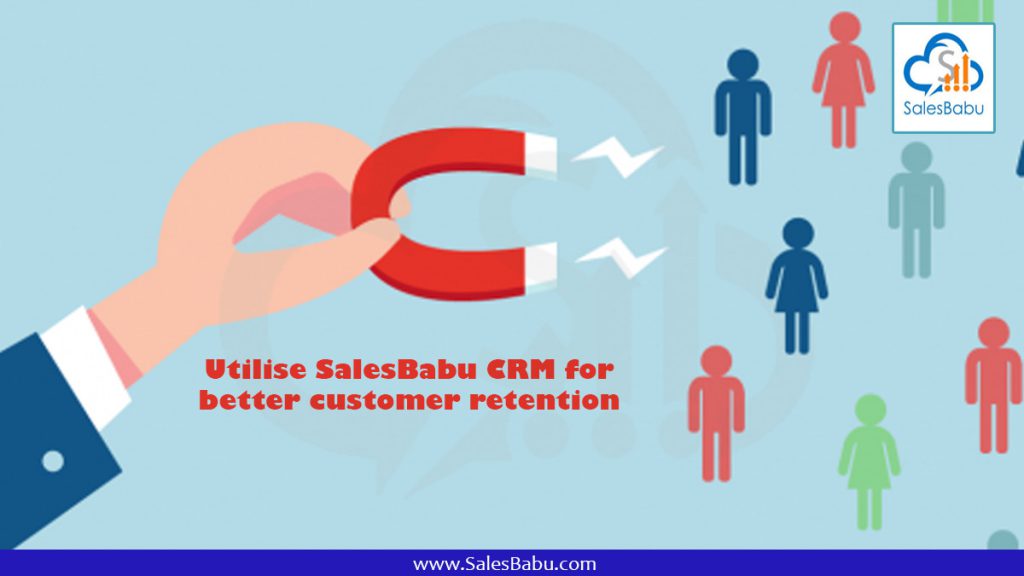 Missed sales are always not a lost sales, in many cases clients return back to the business if tracked continuously. With manual ways, there are many chances of losing clients forever if the clients details are not kept in an organised manner. By implementing an automated sales automation software, you can keep track of each and every lost customers in a systematic manner. Reasons like why the customer is lost, what is the reason behind the client dissatisfaction with our products and more. Not only this you can keep track of all the communication held with that client and make sure we can revert back to his offer and make a successful deal with a returning client.
7. Rapid Business Growth
Scalability is another limitation for many growing businesses. As the business grows, internal processes should be able to handle growing business model and create an organised system to handle incoming client requirements. Sales force management software can benefit every small business, especially when they are ready to grow. Salesbabu sales management CRM software grows with the no. of users as per your company growth.
SalesBabu sales management software being a cloud based application, do not have restriction over the number of clients or users which can be allowed to access the software. It acts as the right tool to scaleup your business on the correct growing path and handle it in a standardised manner.
Read More – Maximize your Organizational Output
Apart from this some other reason which indicate that your company needs CRM software are:
#Your Sale reps are spending too much time on monotonous tasks
Sales reps spend 65% of their time on monotonous, administrative tasks and only 35% of their time for selling the products and services. This is a waste that hurts their bottom line and also yours. Choosing the right CRM will help your organization to automate many of these tasks, therefore increasing productivity and also output. It also puts the essential data of the customers in the system instantly which will also reach others in the team, this will help to make the transitions like change in the sales reps or the redistribute of territories seamlessly.
#Breakdown of collaboration between the departments
Sometimes the departments get much preoccupied with the day-to-day work by which sometimes they will start to lose track of what other departments are doing and also how they impact each other. While the potential customers are interacting with your company, they might feel bounced and misinformed because no one will be sure about how to handle the needs of customers.
CRM allows everyone in the organization to have a look at the lifecycle of each customer and exactly know how to address their needs. This type of visibility is often accomplished through the features of CRM such as sharing of files, dashboards, etc.
Conclusion
As you weigh the pros and cons of adopting CRM software, it's important to consider the potential dangers of manual sales and marketing workflows. Working with a CRM puts you in a position to streamline interactions between departments, improve and customize your clients' experience, and realize an increase in productivity and revenue.