A Customer Relationship Management system and Marketing Automation are different. Did you think they both were same? If yes, that's OK. Many of us do. The CRM and Marketing Automation may look similar but have two different purposes of usage. They are interrelated to each other in the entire business process with certain differences among each other.
Let us have a detailed look at the differences between CRM and Marketing Automation
1. What is the purpose of Marketing Automation and CRM
Marketing Automation
A marketing automation system is a software platform and technology designed for marketing reps to efficiently carry out marketing activities through various sources like email, websites, social media etc.
The use of marketing automation system streamlines the sales and marketing by replacing high-touch, manual, repetitive manual processes with automated marketing tools. It helps marketers to plan, coordinate and manage their marketing campaigns. The marketing automation software focuses on creation of more customers eligible for sales. Want to know how to Identify your potential lead source?
Customer Relationship Management
Customer Relationship Management is an approach in order to manage the company's interaction with the current customer. It is one such management process in which the companies can maintain a good relationship and stay connected to the customers. In turn it also improves the profitability of the company.
CRM records and maintain all the essential details of your business process. One can easily map and monitor the sales activities. It provides up-to-date and easy access to any information. It helps businesses to close deals faster as it helps to develop better communication between all the departments and also ensures higher customer retention
2. Basic goal of Marketing Automation and CRM
Marketing automation is used to pull inquiries to the right channel.
And a CRM Software helps to transform those inquiries into business corporation.
3. Features of Marketing Automation and CRM
Marketing Automation focuses on online marketing strategies whereas the CRM software or Sales Force Automation focuses on sales oriented process.
| Marketing Automation | Customer Relationship Management |
| --- | --- |
| Lead generation | 1.Contact management |
| Lead nurturing | 2. Lead management |
| SMS campaigns | 3. Customer service management |
| Email campaigns | 4. Task management |
| Segmentation | 5. Sales forecasting |
| Landing page | 6. Reporting |
| Social media marketing | |
| Analytics | |
| Multi-media marketing | |
Check out our blog – 5 Amazing automation features of CRMs you need to be using


4. Benefits of Marketing Automation and CRM system
Marketing automation
Eliminates repetitive tasks
Enhances marketing productivity
Increases flexibility
Shortens sales cycle
Maximizes customer relation
Obtain new customers
CRM Software
Maintain long-term customer relationship
Centralized database
Real time data availability
Entrusted sales management
Dependable reporting
Task / activity management
Monitor employees
Read our blog – Benefits of using a CRM for your business
5. Signs your business needs a Marketing Automation system and CRM System
Marketing Automation
If your customer list is increasing gradually and you are unable to maintain manual records.
If you need to feed more leads in order to increase your company's sales.
If you want to reach out to your customers through marketing tools like – blogging, social media marketing, follow-ups and email campaigns etc.
If you are unable to increase cross-sell and up-sell of products or services for your business.
CRM System
If you wish to store and manage business data on a single platform.
If you are unable to track your customers and create good customer relationship with your customers.
If you are unable to reach your unhappy customers and wish to provide better customer experience.
If you are unable to track entire customer data and analyze the data such as purchase history, interests and preferences, complaints etc with real time data accessibility.
If you are spending too much time on data entry, report making or maintaining manual notes etc.
If you are unable to keep track of the sales funnel pipeline and easily convert leads to deals.
6. How to choose a Marketing Automation and CRM Software?
Marketing Automation
Pick a marketing automation platform that integrate with your CRM database. Two-way data synchronization can make the difference between a powerful business tool and an expensive toy.
During your purchase decision, focus on features that make each product unique, like build-in-social media tools, A/B testing or progressive profile, email and SMS campaigns.
Consult independent sources to get unbiased advice and opinions.
See to that the system comes with customization to change or develop template as per your requirements.
A Marketing Automation should be a cost effective solution loaded with essential marketing tools.
Must have the ability to track, measure and access insights.
Able to align marketing with sales.
CRM Software
Make a list of your business requirements and make sure you don't go for a "one-size-fits-all" system as the requirements of every business differs from the other.
Involve your relevant departments in the evaluation process.
Do not judge a CRM software with its face value. Check out its features and test it out! Request for a free demo and their CRM expert will take you through the usage of the software.
Prioritize user explorance and choose a system with a user-friendly interface.
Finally, set reasonable goals after the implementation of a CRM System.
Make sure you are working with the right vendor and provides a cost effective cloud based solution. Why Switch to Cloud Based CRM?
7. Role of Marketing Automation and CRM in buyer's journey
Marketing Automation
The Marketing Automation Software helps you to create awareness about your products and services to the buyers with the help of its marketing tools.
Whereas, the Customer Relationship Management Software helps you to set up for the purchase of the products or services by the buyers.
Want to understand the working of the sales pipeline with regard to the usage of marketing automation and CRM software? Here are the stages of the sales pipeline that is managed by the marketing automation and CRM software.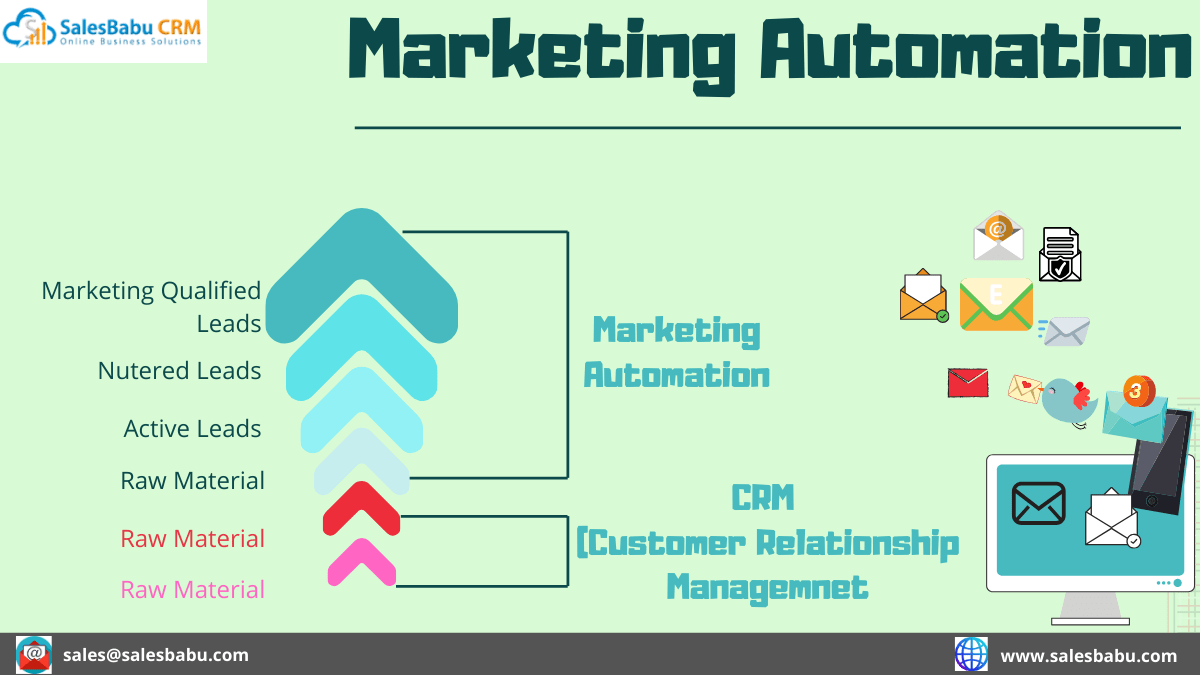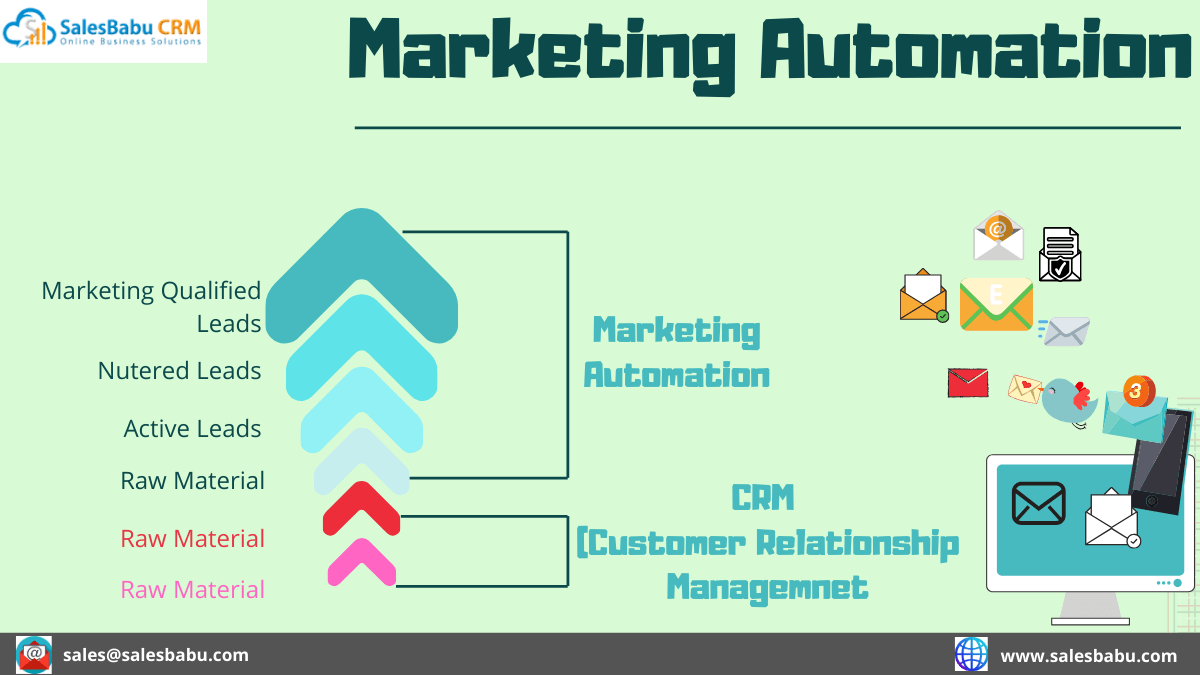 8. Which is the best Market Automation and CRM System
Check out SalesBabu Marketing Automation Software that is loaded with features and functionalities to automate marketing activities.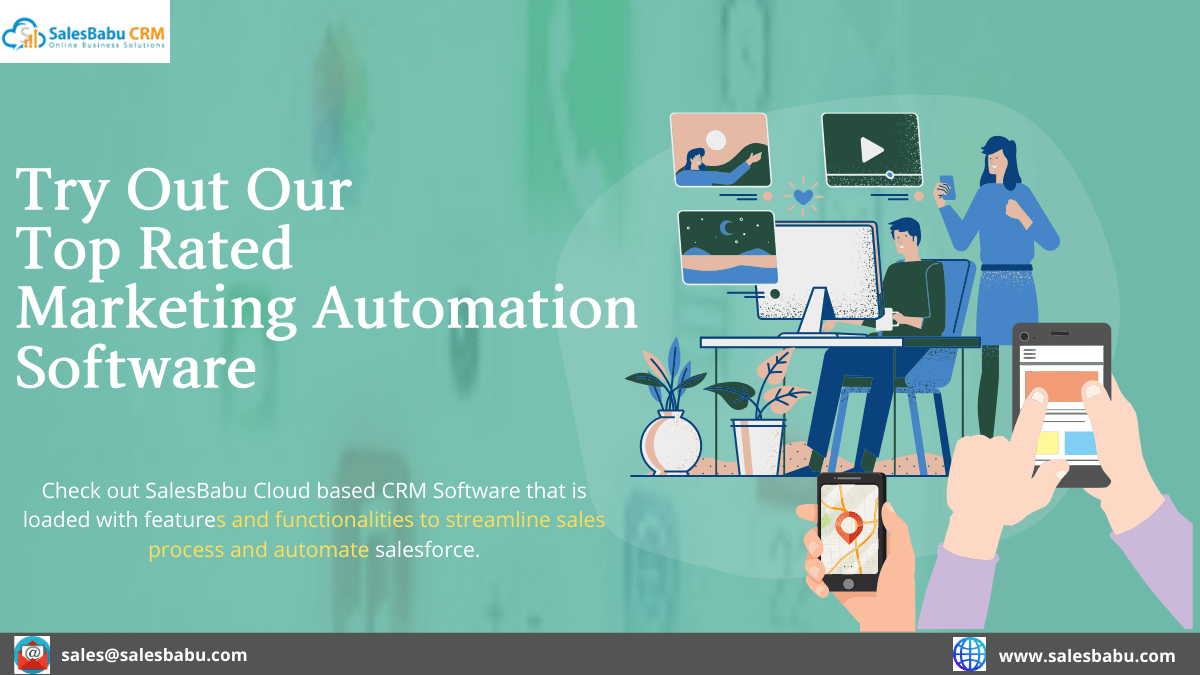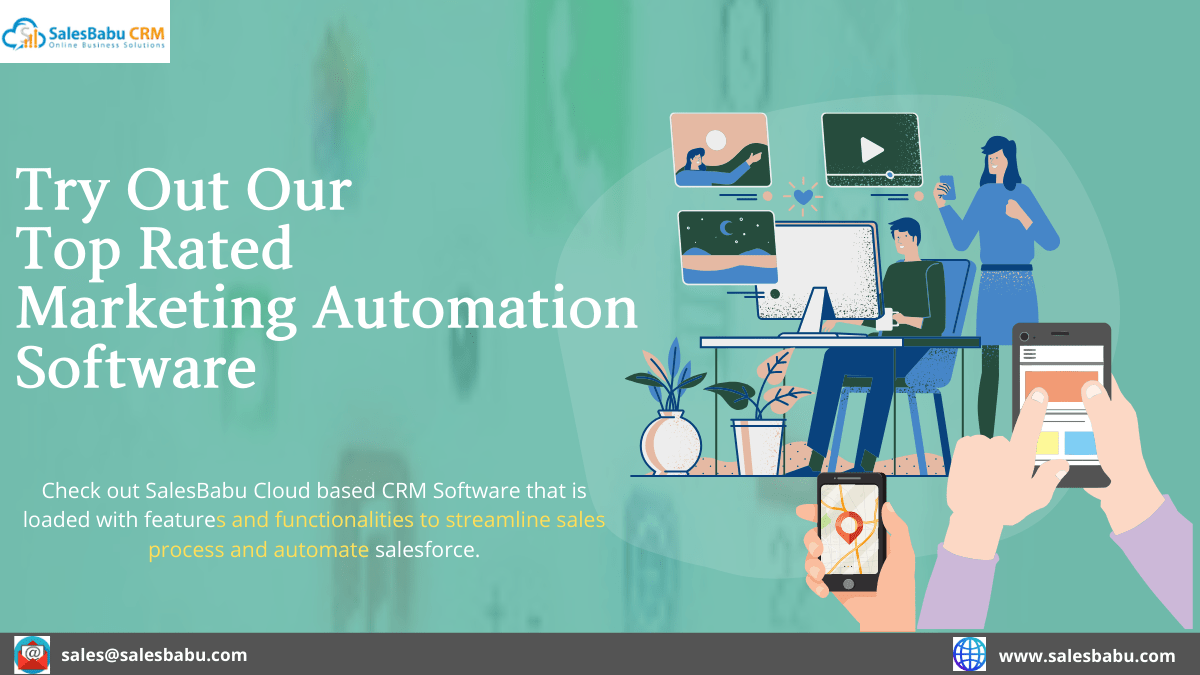 Check out SalesBabu Cloud based CRM Software that is loaded with features and functionalities to streamline sales process and automate salesforce.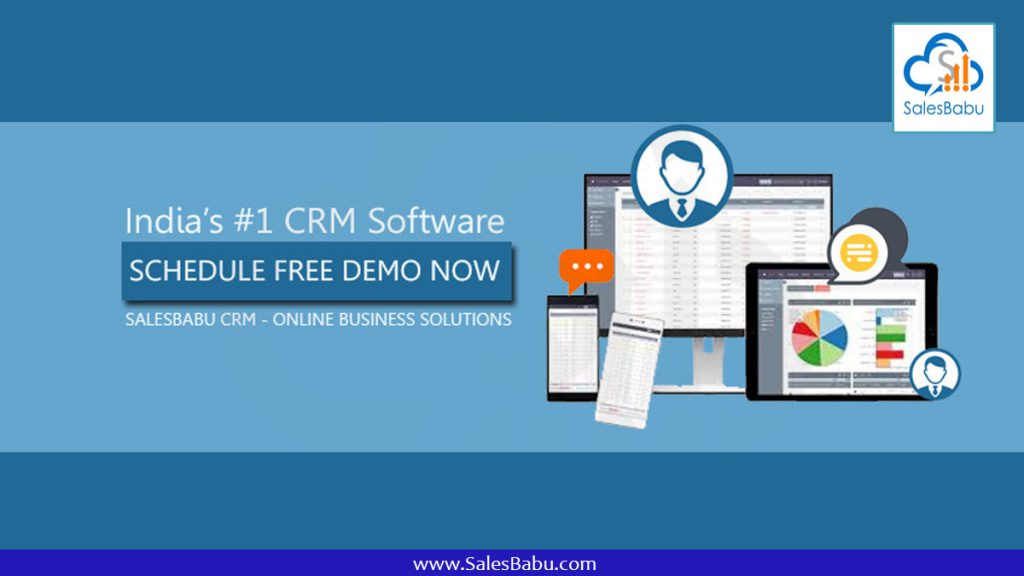 Combining the Marketing Automation and CRM System
Combining the Marketing Automation Software and CRM facilitates consistent inter-departmental communication amongst each other.
After the acquisition of lead, the lead can be nurtured with the help of the Marketing Automation Software by the marketing team and further assessed and segmented by the sales team in order to convert leads into sales.
The customer data collected by the Marketing Automation software is further utilized by the sales team to take better decisions with regard to the conversion of the lead.
Once the sales representative has gathered the feedback regarding the customer's pain points by the customer during sales calls, the marketing team can work on creating new messages in order to refine the product or services provided for future deals.
Want to know more? Check out our blog – Align Sales & Marketing Efforts In Your Organization For Maximizing Output


Advantages of integrating Marketing Automation with CRM software : 
Prioritizes leads by assigning them scores supported by their recorded activities. These scores gauge their level of interest and intent to shop- Not all leads are created equal. Needless to mention, your efforts should be focused on people who are presumed to purchase. Marketers have restricted information to measure the intentions of the customers, but online data can grant some insight. Marketing automation systems can assign scores to leads and rank them based on their online habits, like time spent on your webpage or the other activities that signal a better level of interest than others. Operating two-way synchronization between CRM software and marketing automation systems will be able to keep both marketing and sales teams updated on the recent activity of the customer, allowing each team to regulate their strategies to any changes as they occur.
Shortens the sales process by automatically sending leads the foremost relevant information at the most effective possible time – A company with a protracted cycle will spend months nurturing interested potential clients or take their business elsewhere. Automation software will minimize lost days or months by sending the most relevant content at the most effective time—and while you continue to have their attention.
Conclusion
Alignment of Marketing Automation and CRM System allows both sales and marketing department to work together as a team. The sales and marketing departments can work for each other with the help of the Market Automation Software and CRM as the marketing team becomes responsible for increasing the sales of the company and the sales team becomes responsible for improving the ROI (Return on Investment) of marketing campaigns.
The business firm that focuses on alignment of sales and marketing in order to work more productively are the companies which are able to outshine in the market and push their competition into the background.