"Cloud Computing" is the latest buzz word in the IT industry, it is rapidly changing and shaping up the economic & technological value of the businesses.
What is cloud computing?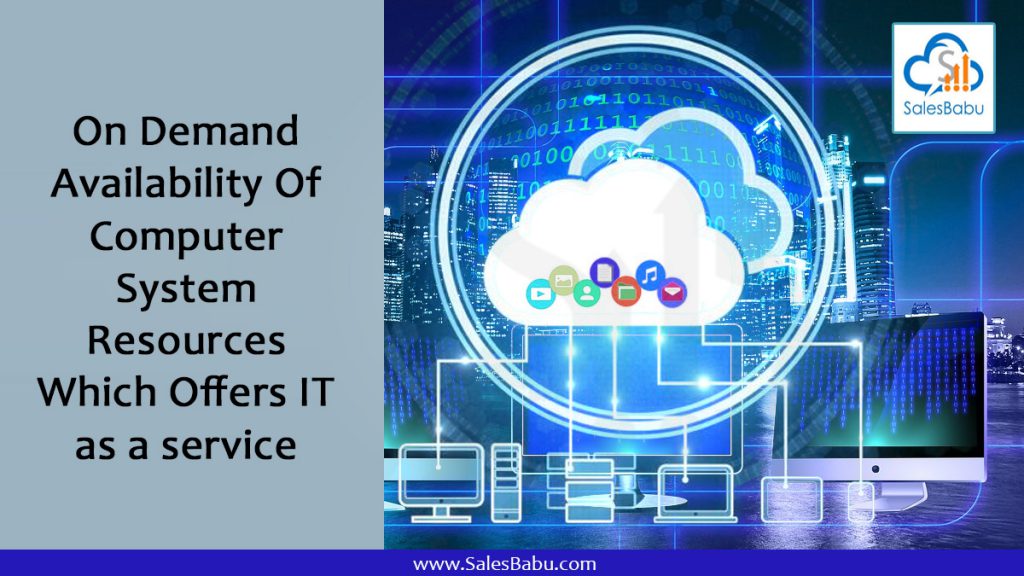 Cloud computing is the on demand availability of the computer system resources which offers IT as a service. You get the complete hosting facility from a dedicated cloud solutions provider without any bugs in working to store all your database. The cloud provider save all your data and protect them from any of the virus attacks, malfunctioning etc.
Organizations of all types, sizes, and industries are using the cloud for the uses such as backup of data, disaster recovery, email, virtual desktops, software development, and testing, big data analytics, customer web application. The companies use cloud CRM for all financial services.
In a cloud computing system, the workload is handled by network of computers or the cloud system handles the load, and the end user computer load is reduced to minimal. The cloud interface is required for the client machines to connect to cloud system and all the applications are run on the cloud system. This reduces significant shift in the work load from client/end-user computers to cloud computers. Even the hardware and software requirement is reduced for the end user. Cloud computing can also be called as an internet based technology, provided as a service and on demand to the customers. The user can access the resources through the cloud provider over the internet as and when required.
Benefits of Cloud computing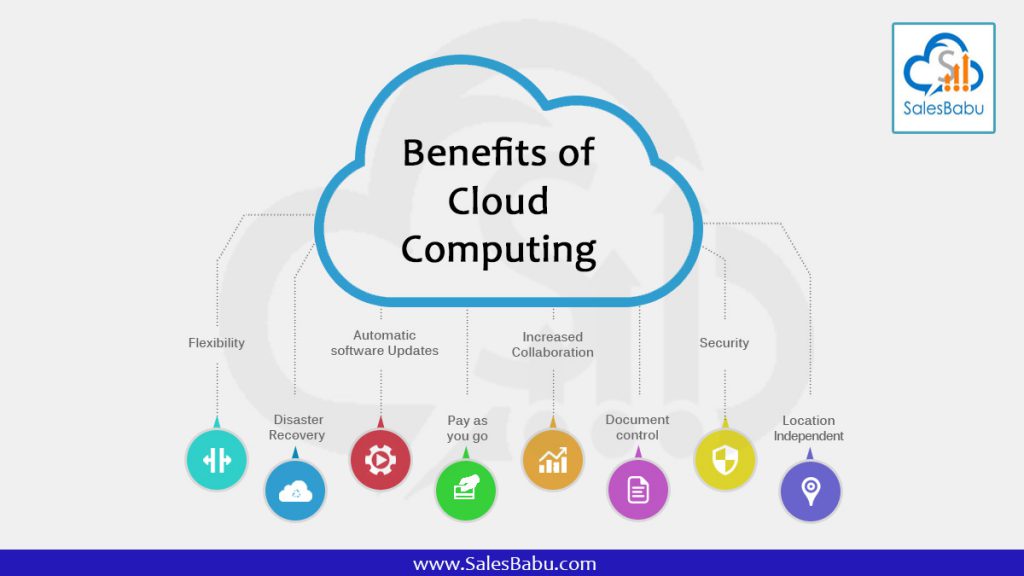 1. Unlimited space
The cloud system lets you to store all your business data on a single platform and does not restrict on space. You can store a large amount of data and information for further references.
2. Can be easily installed
It is true that implementation of a cloud CRM software is no less than a challenge, but making the right decisions for the implementation of CRM software can help your company to grow in the market. Installation or implementation of a cloud based CRM Software can be easily done.
3. Data backup is an easy task
You need not have to worry about losing the data or lost data because data backup is too easy with the cloud.
4. Stores data on a single platform
Every business has plenty of information and data depending upon the size of the company. Thus, cloud based CRM software helps to store all the required data on a single platform.
5. Modernized and upto date
The Cloud computing incorporates the latest developments which make it an even better platform for data storage, data centralization as well as data communication.
Read our blog – 5 Reasons you need to keep your CRM upto date
6. Maintains privacy and security
The cloud provider, provide privacy to the users who store the data in the cloud. Cloud computing offers security when any important data is lost and the data can also be protected by inappropriate access.
Read our blog – Data privacy: How do you protect and delete data in the cloud
7. Cost effective solution
You need not have to invest lakhs and lakhs of rupees on hardware in cloud computing. You just have to pay as and when you operate, based on your subscription plans.
8. All time accessibility
The applications required can be accessed at anytime. The cloud provider are reliable when it comes to providing service. The only thing that is necessary is the internet connection. And most of the applications are also available offline.

9. Reliable solution
Cloud computing is a reliable solution provided by your cloud provider. Just see to that you are working with a well-known CRM cloud provider, as they have access to your business data and information. We at SalesBabu cloud based CRM Solutions are a reliable cloud provider who provide the best Cloud CRM for your business.


10. Ease to use
Use of cloud computing system is not rocket science. Data updation or storage is not a difficult task.
11. Business continuity
The important part of business continuity planning is protecting your data and systems. Whether yours is a natural disaster, power failure, or some other crisis, having all the data stored in the cloud will ensure that it will be backed up and protected in a safe and secured location. Being able to access your data very quickly will allow you to conduct all the business, as usual, minimizing any downtime and loss of productivity.
12. Collaboration efficiency
Collaboration in the cloud environment will provide your business the ability to communicate and share it easily outside of the traditional methods. If you are working on the project from various locations, it would be very easy to use cloud computing for giving the employees, contractors and third parties access to the same files. You could choose the cloud computing model in such a way that it will make it easy for you to share your records with your advisors.
13. Reduced IT costs
Switching to cloud computing would reduce all the costs of managing and maintaining your IT systems. Rather than buying expensive systems and equipment for your business, you will be able to reduce all these costs by implementing and using cloud computing resources. You might be able to reduce most of your operating costs because:
You will no longer have to pay the wages to the expert staff
There are fewer time delays
The cost of the upgrades of your systems, new software, and hardware might be included in the contract itself
Your energy consumption costs will be reduced.
Be ahead of the game with Cloud computing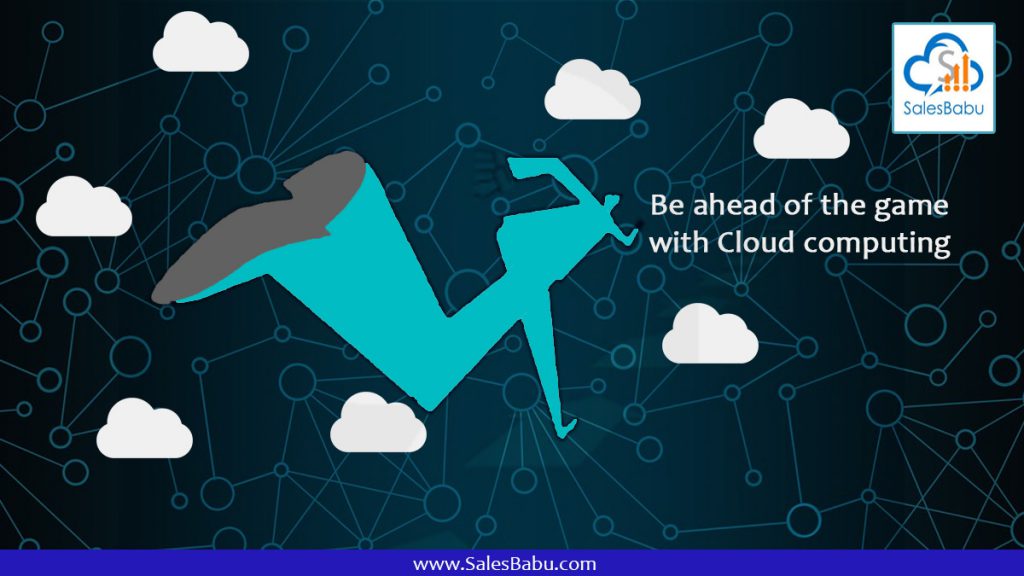 Technology is rapidly growing in the present world. These technologies run our lives these days. Our day starts with smartphones, computers and laptops with internet connections. And when there are so many upgradations in the society, you need to update yourself in your business. These technologies are one of the factors that are making us smart workers. Using cloud based CRM software in your business can make you lead ahead of the game in your industry. No matter if its an FMCG, pharmaceutical or a travel industry, you can still keep yourself ahead of all. It not only comes with a cost effective plan but also makes your work easier and quicker.
Read our blog – 3 Reasons why CRM and Cloud computing is critical for your business growth?



Can Cloud Computing save your money and time?
Yes, cloud based CRM software saves your money as well as time. Let's have a look at it.
You need not have to spend money on software anymore, which can surely reduce cost.
All your data is stored in a centralized platform and thus you need not have to spend time searching for them. And as mentioned above you can access them anywhere and at any time.
You need not worry about hardware to store all your business data. Thus, it saves your money for investing on systems.
Neither do you have to assign people nor pay them for installation of softwares or updation; managing of email servers or backups etc.
You can get customised application at a cost effective price which makes your work easier and quicker.
The cloud based CRM application is updated and you need not spend your time or money doing it.
Read our blog – 8 Ways CRM Software Can Help Reduce Costs for Your Business
SalesBabu Cloud Based CRM Software uses cloud computing technology. It provides the secured data storage on the cloud system. The clients only require a computer with an internet connection to access the application. This greatly reduces user's hardware, software burden and significant reduction in terms of financial and manpower to handle the application in case of premise hosted. It takes care of the required hardware, software requirements through our cloud computing technology. This makes our clients concentrate only on streamlining their business through SalesBabu Online CRM Software.
If you are looking for a cost effective CRM in cloud computing then contact the best CRM software and you can also request for a free CRM demo at https://www.salesbabu.com/.