Definition and Meaning of Invoice
An invoice is a commercial document that itemizes and records the transaction of products or services between the seller and the buyer. An invoice is known as a professional way of asking for money. If the goods or services were purchased on credit, the invoice specifies the terms of the deal and provides the information on the available payment.
What is an Invoice ID or an Invoice number?
An invoice ID or an invoice number is generated after a successful checkout by the buyer or client. When the customer pays, the invoice number is noted on the sales receipt and matched for clarity in payment made.
What is invoice used for?
The invoice is used to –
Request timely payments for clients
Keep track of the sales
Keep track of inventory
Record business revenue
What does an Invoice contain?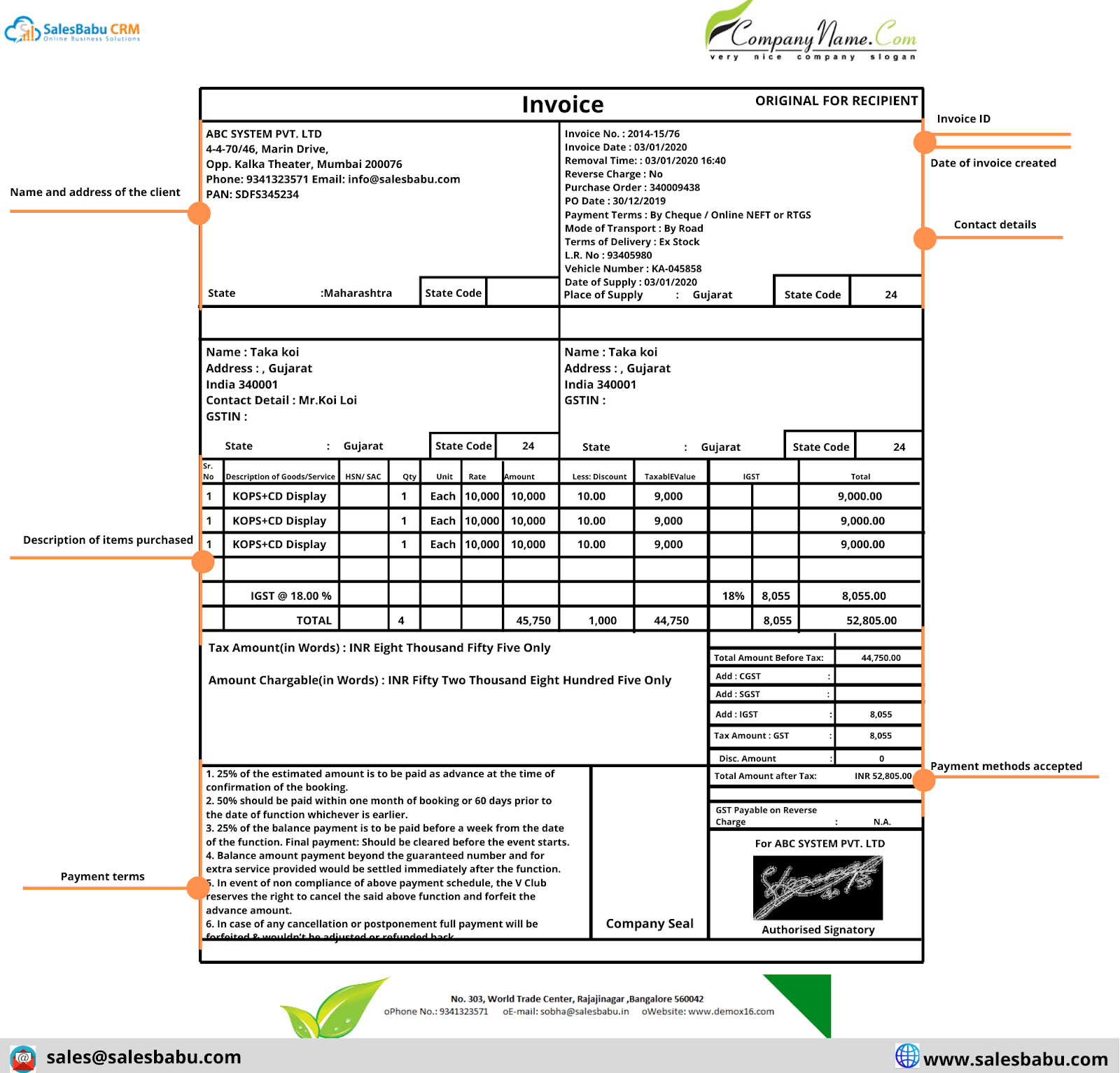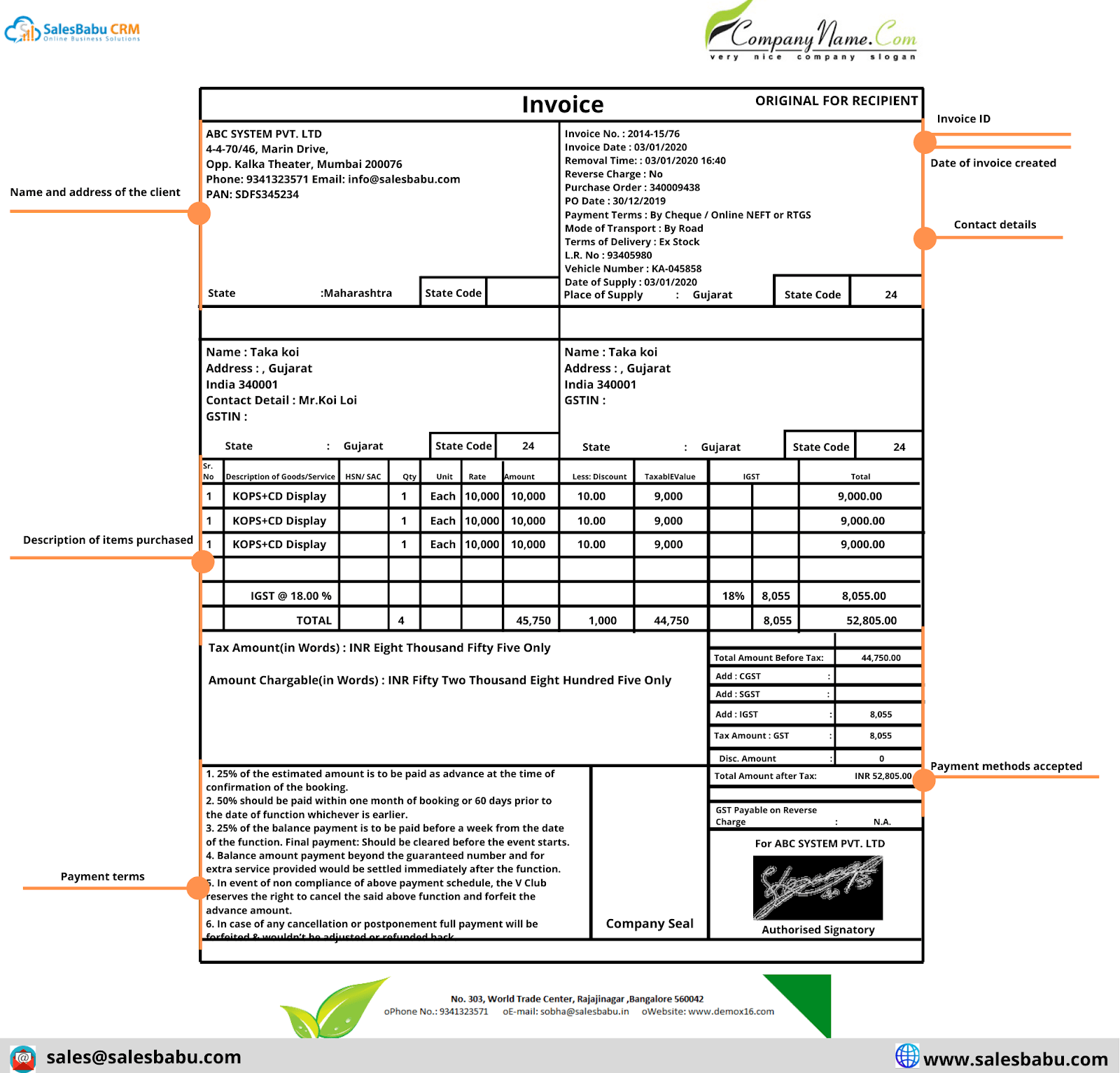 The invoice includes details like –
Name and address of the client
Date of invoice created
Invoice ID
Contact details
Description of items purchased
Payment methods accepted
Payment terms
Purpose of Invoice :
1.Legal Safeguard
Invoice provides details of all services delivered and the timeline of work completed, it provides a detailed record of work done for clients. Its helpful in securing small businesses against potential legal disputes. Also, signed invoice can function as legally binding agreements, making sure of the clarity and protection for all parties involved within.
2. Inventory Management
For businesses that manage inventory, sales invoices deliver as an important tool for monitoring stock levels and forecasting future inventory requirements depending on historical sales data. You can streamline such a process with inventory monitoring software that syncs with your invoices, or you can demonstrate as a manual inventory management system customized according to your specific requirements.
3.Tax Documentation
Sales invoices are necessary for ensuring the accuracy in the tax records. They grant documentation that assists with the information reported on your annual tax filings. To catch up with the IRS's recommendations, it is suggested for every small business owner to sustains daily records that consolidate all business transactions, involving invoices. Further suggestions on recordkeeping practices can be determined on the IRS website.
4.Business Promotion
Making use of your invoice records can be an imperative tool for producing effective marketing strategies for your business. By being cautious while analyzing your invoices, you can figure out peak demand periods related to your services, spot out the most and least popular offerings, and unravel precious business trends. Equipped with this information-driven insight, you can upgrade intelligent marketing initiatives to elevate and improve your business.
Types of Invoice in business
The different types of invoices that businesses can create for their clients are –
Standard invoice
The standard invoice is the basic form of invoice that is issued by the business and submitted to the client. The standard invoice contains – business name, contact number, client's name and their contact details, invoice number and the amount the client owes.
Credit invoice
The credit invoice is a credit memo issued by the business that needs to provide a client with refund or correct a past invoicing error.
Debit invoice
The debit invoice is a debit memo issued by the business that needs to increase the amount a client owes to the business.
Mixed invoice
Mixed invoice is a combination of credit and debit memo issued by the business to provide a client.
Commercial invoice
A commercial invoice is issued by a business for goods that it sells to customers internationally. The commercial invoice includes details like – shipment quantity, description of goods, total value, packaging format and weight etc.
Timesheet invoice
A timesheet invoice is an invoice used when the business is billing based on the hours they work with a standard rate of pay.
Expense report
An expense report is submitted by employees for reimbursement of business related expenses. For instance, the cost of lunch, petrol, transport and parking etc during business related trip or meeting.
Final invoice
A final invoice is sent to the client once the project has been completed to request payments. The final invoice contains – an itemized list of service provided, invoice number, invoice due date and payment methods.
Past due invoice
A past due invoice is sent by a business if their client does not provide payment by the due date mentioned in the final invoice. Past due invoice includes all the services and payment details which also includes the due date fine or interest charges.
Recurring invoice
A recurring invoice is a periodic charges the business charges its clients for their services.
E-invoice
E- invoice is the invoice sent electronically, regardless the type of invoice being sent.
Pros of Invoice in business
Prompts your customer to pay you
Sending an invoice prompts your customer or client to make the payment in a formal manner.
Helps you to maintain legal records
Invoices are a form of legal records which helps you to record the invoice information for future references.
Promotes positive and professional impression
As mentioned above that invoice is a formal process, it promotes a positive and professional impression about your brand to the clients and also helps you to promote your company logo, website address etc.
Track entire payment process
The invoice helps you to track the entire payment process like – method of payment and payment terms etc.
Cons of an invoice in business
Incomplete information may lead to delay
If your invoices are incomplete or lack the necessary information they may be wrongly disputed and it may lead to delay in payment
Late invoice means late payment
If you make delay in sending invoice, your client may neglect or forget the payment and it may result in further delay in payment.
How to invoice a customer or a client?
You will create an invoice only when you have already delivered the product or service to the client.
Identify the customer or client for whom you have to issue an invoice.
Include past document details related to the particular sale which includes purchase order number, invoice ID or sales agreement etc.
Include items which are sold and delivered with details such as – name of the product or service, quantity, cost etc. Finally, the total of lines is added.
Advance payments, discount etc
Include information related to advance payments or discounts applied to the invoice. You can also add offers to customers if any.
Include the shipping terms for the client's reference.
Include the terms of sale for the client's reference.
Include the terms of payment i.e, as cash, debit or credit card, company check, bank transfer etc.
How to automate and streamline Invoice for your business?
Automation in invoice is an advanced process which enhances the accuracy and brand image of the business. It also reduces the time and effort utilized for the preparation of manual invoice.
Using an Automated Invoice Management Software can help your employees to carry out the invoice activities with ease. Thus, it increases the accuracy and efficiency of the invoice.
How can Automated Invoice software help your business?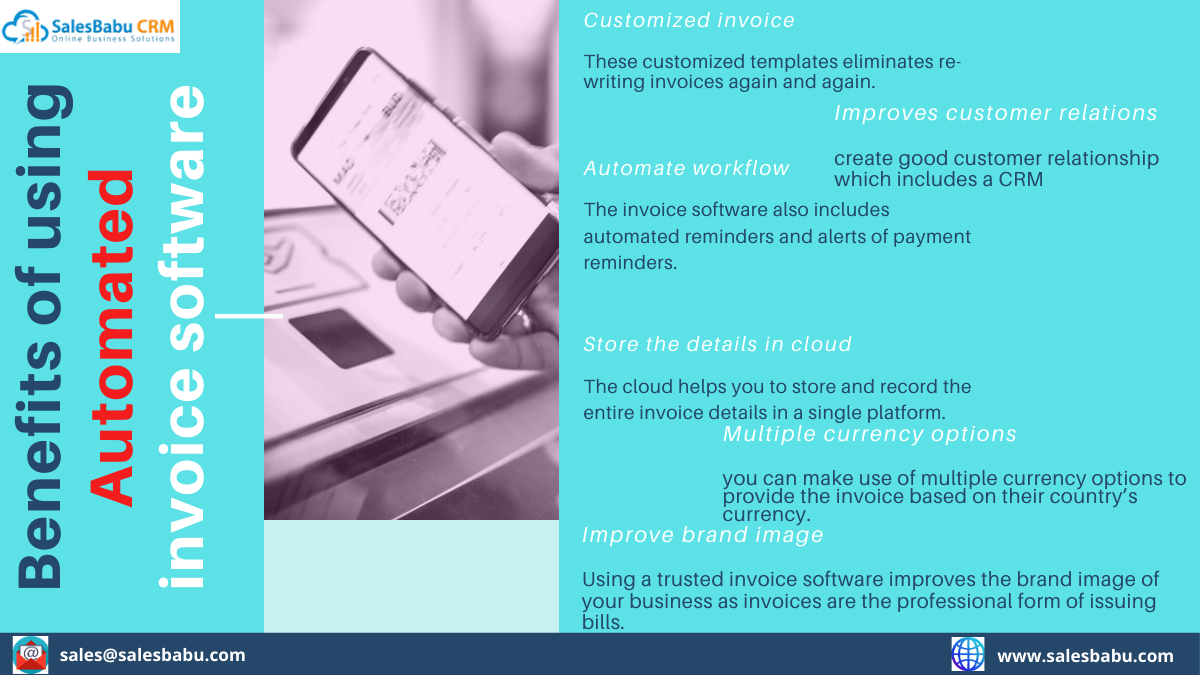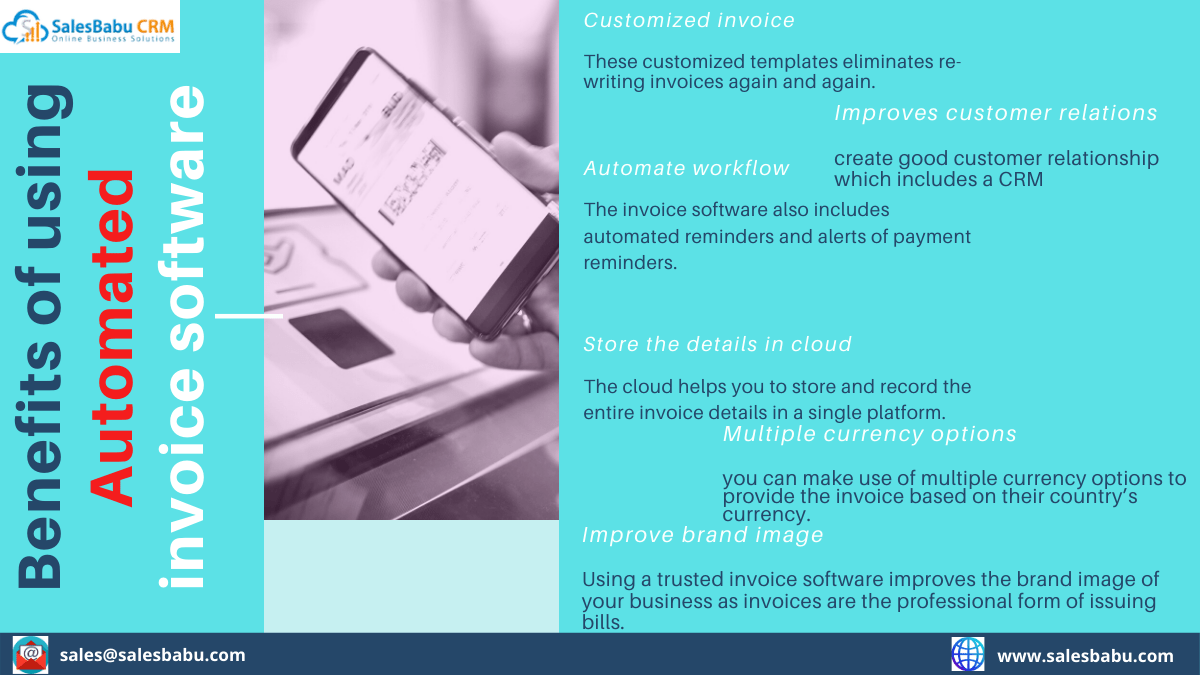 Customized invoice
The customized invoice lets you to promote your company by placing your company logo, creating templates etc. These customized templates eliminates re-writing invoices again and again.
Automate workflow
The invoice software allows you to automate the entire invoicing process and eliminates manual errors or re-entry of data. The invoice software also includes automated reminders and alerts of payment reminders. Thus, it saves time as well as effort of your employee.
Store the details in cloud
The cloud helps you to store and record the entire invoice details in a single platform. Thus, it eliminates loss of data.
Improves customer relations
An invoicing software helps you to create good customer relationship which includes a CRM support to track the transactions or make online payments. With the help of CRM, you can access customer details on a single platform without looking up and adding customer details into the invoice.
Improve brand image
Using a trusted invoice software improves the brand image of your business as invoices are the professional form of issuing bills.
Multiple currency options
If you are dealing with international market, you can make use of multiple currency options to provide the invoice based on their country's currency.
Create quotes
Send personalized and professional sales quotations using quotation templates, creating and sending sales quotes. Additionally, you can send quotes anywhere, anytime with the Android app.
Read our blog – Sales Quotation Management Software
Automate Reports
Automated reports are generated based on the invoice details. These reports provides details of open/pending invoice, payments and estimates etc. Thus, these automated reports provides the entire outlook on how your business is doing financially.
Include tax, discount, offer, other expenses
The invoice software also helps you to include tax, discount or any other expenses in the invoice because the software traces the entire payments.
Read our blog – GST Billing Software
Online invoicing for your business
The cloud based accounting software is used widely to manage the invoicing process of your business. The cloud based accounting software allows you to create, send, track online invoices. It also allows you to know when an invoice has been paid. The online invoice tools helps you to automate the billing and payment collection process and also identify transactions involving earned revenue.
With the help of the accounting software, sellers can even set automated email reminders, alerts or notifications to send it to their customers whenever the invoices are delayed or cross the due date. It also allows you to customize invoice by adding company logo, personalized messages and templates etc.
We at SalesBabu CRM Solutions, provide cloud based Sales Management software to effectively manage quotes, purchase order and invoice.


Wrap up
SalesBabu online sales management software helps you prepare invoices and manage all these effectively. All the information right from the lead management till the final order dispatch .Thus not even a minor detail is left unattended. Sales management through the software helps in preparing quotations, checking credit limits, analyzing the pending payments and dispatch order to the customers. You can raise invoice directly from the quotation or the sales order. You can also retrieve results like the historical price list or previous invoice list. Thus the software keeps all the information integrated in a common platform so that they can be readily available anytime and anywhere.


To know more about SalesBabu Cloud Sales Invoice, you can visit our website https://www.salesbabu.com/ or request for a free demo at SalesBabu. We also provide GST Billing invoice Software which helps you to create legal GST invoices with just a few clicks and you do not need any accounting knowledge as well.