The primary objective of the Customer Relationship Management (CRM) system is to enhance the relationship with existing customers, find new prospective customers, and win back former customers. CRM systems can be brought into effect with software that facilitates collecting, organizing, and managing customer information.
CRM system software provides a business with a means to manage its relationships with existing customers efficiently and also helps it in identifying new leads and prospects. From storing all interactions ever made with a customer, to helping in sales automation, campaign management and customer segmentation, customer relationship management software does it all.
CRM systems are no longer just for large-scale companies with huge databases of customers but are beneficial to even small and medium-sized companies. CRM is designed to streamline your business processes, and it can be one of the most powerful management tools in your arsenal.
CRM is known to improve customer retention and relationship. Your customers are important to your organization. In fact, no matter what kinds of products or services you offer, no matter what your industry, and no matter what your focus, your customers are the most valuable assets of your company.
Customers provide your business with a sense of purpose and direction. They provide valuable feedback, new concepts and ideas to improve your business process. And let's not forget about the revenue they bring in, and customer satisfaction should be the number-one focus of any business. This means more than simply appreciating your customers — know and understand them.


Investing in cloud-based CRM software can have many benefits for businesses of all sizes. Here's how online CRM features and benefits can renew and expand your business!
#1 Improve Customer Satisfaction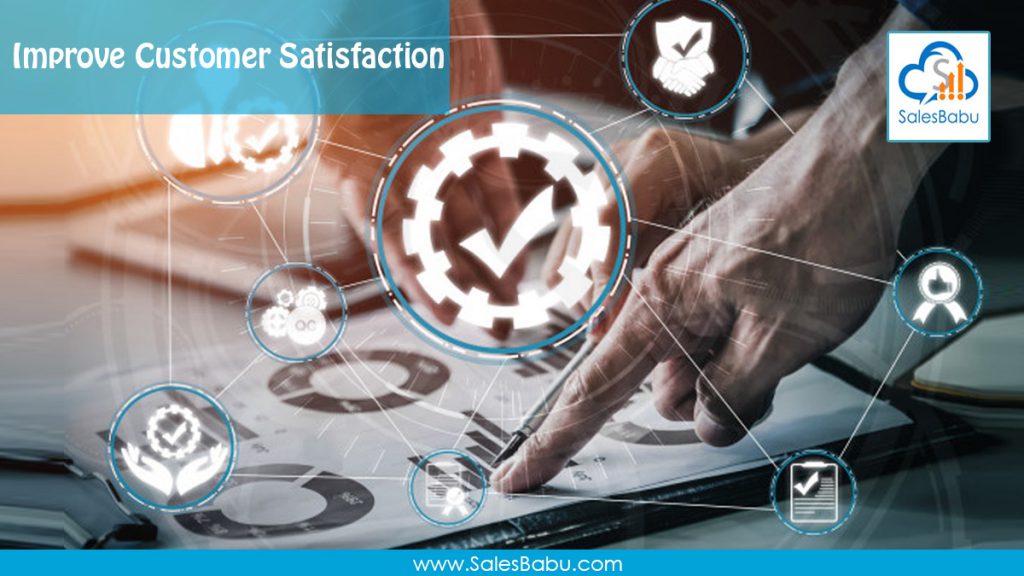 One of the key benefits of using CRM system software is improving customer satisfaction. By using the CRM approach, all dealings involving marketing and selling your products and services to your customers can be conducted in an organized and systematic way.
You can also serve better service to customers through a better understanding of their pain areas. Use case – if you need to resolve an issue for a customer, your rep will be able to retrieve all activities concerning that particular customer, including past purchases, preferences, and anything else that might help in finding a solution promptly. This may help you to receive continuous feedback from your customers regarding your services and products.
With CRM, you can collect data from multiple sources including social media and keep it organised in a single location so that you can use it when needed. By providing the best customer service, responding to requests timely and catering to the customer needs at all times, a business is able to improve levels of customer satisfaction.
Read More – Three ways How Cloud CRM Software can take your Sales to next level
#2 Automate everyday tasks
Converting a lead into a successful sale is never as easy as just getting a customer to agree to commit. Along with the winning sale, there are many smaller tasks that must be completed in order for everything to function smoothly.
Forms are required to be filled out, reports need to be sent, and legal issues need to be taken care of — these activities are a time-consuming yet crucial aspect of the sales process.
The best cloud CRM systems are designed to take the burden of many of these tasks off the shoulders of your employees, by automation. It means that your reps will be able to focus more of their efforts on closing leads and resolving customer pain points, while the automated CRM system takes care of the details.
#3 Greater efficiency for multiple teams
Automatically stored communication with the customer allows you to view emails, calendars, and phone call details in a single and easily accessible location. Add that to the ability for multiple teams to access the same information, and the amount of achievable progress simply skyrockets.
Sales, marketing, and customer service teams can share this valuable information about customers to continue to funnel them down the sales pipeline to get the expected result of closing a sale, knowledge of new products, or best customer service.
Each department can now tag the team to get the correct information to the right individual. With this, teams can seamlessly work together to boost the bottom line.
#4 Improved analytics data and reporting
An online CRM system acts as a central data repository eliminating the possibility of a miscalculation leading to a poor business decision. Cloud-based CRM systems store information in a centralized location which leads to improved analysis of the data as a whole.
Today's CRMs also help you in creating aesthetic and insightful reports that help teams visualise the business performance. A configurable, central dashboard provides all the important statistics and information (sales goals etc.) that managers would like to have eyes on at all times.
Easily integrated with different tools/plugins, you have the ability to generate automatic reports to maximize your time with better output.
CRM user can personalize their dashboard views to swiftly collect information needed such as customer information, sales goals and performance reports and many other reports to reach untapped opportunities. With this important reporting data, you can make effective and resourceful decisions to reap the rewards of customer loyalty and profitability.
Read More – How to Leverage Relationship through Online CRM software?
#5 Boost sales productivity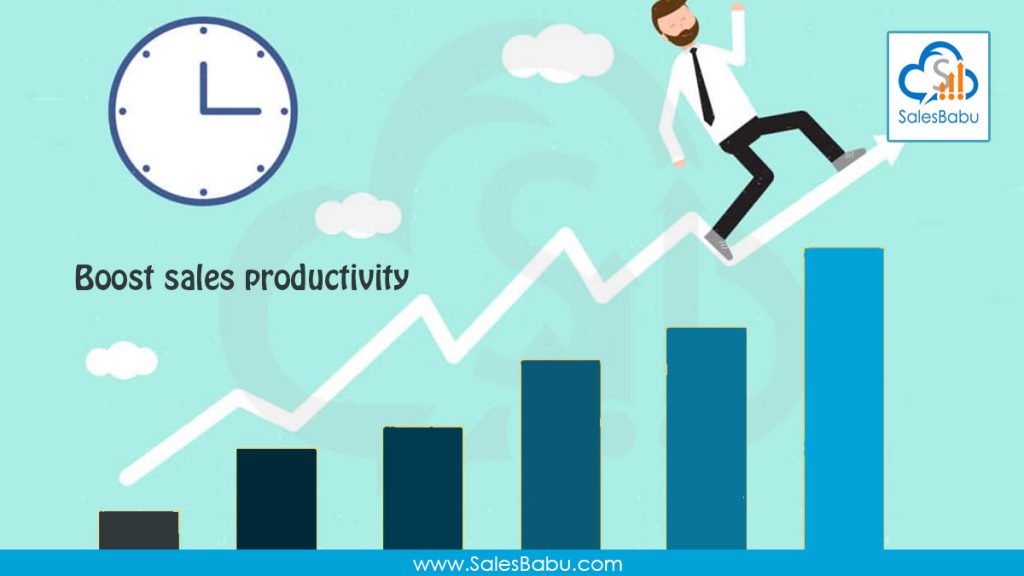 A CRM system software houses all of the crucial customer information in a centralized place. If you want to know the last time a particular customer made a purchase? Need to know the group of people who are still waiting for a follow-up email?
Need to see the current level of social media engagement? Need to view the sales pipeline to identify the deals that need to be expedited? If you wish to know how well your business is doing on the sales front?
You can have all these answers without having to leave the application. An online CRM system helps you close more deals and improve your sales productivity.
The aforementioned is backed by a survey conducted by Act. The survey revealed that around 48% of the 700 people who answered believed that the CRM system helped them achieve to improve their sales function.
#6 Improve Customer Retention (and Revenue)
By using a CRM system strategy in your business, you will be able to improve your customer retention rates – which often translates into increased revenue for your organization.
As per Harvard Business Review, a 5% reduction in your customer defection rate can increase your profits anywhere from 25% – 85%. As far as CRM benefits go, this is a precious one.
By using the data collected, your team can proactively address at-risk accounts as well as reach out to satisfied customers at the right moment, to encourage repeat purchases.
#7 Enhance Your Marketing
Another essential CRM benefit? Cloud-based CRM software allows you to have a more targeted and cost-efficient marketing program. By understanding your customer behaviour and their needs, you will be able to identify the right time to promote your product.
A CRM system software will also help you segment your customers and give you insight into which are the more revenue-generating customer groups.
With this valuable information, you can set up relevant promotions for your groups and execute them at the correct time. By improving your marketing resources, you provide yourself with the best possible chance of boosting your revenue.
#8 Better Internal Communication
CRM software helps to build up good internal communication within the company. Sharing the data of the customer between the different departments will enable you to work as a team and can help to optimize the customer experience which is one of the major benefits of CRM software.
Each and every employee will be also able to answer the questions of customers on what is going on with their product and their services. Functioning as a well-informed team will help to increase the efficiency of the company overall and offer a better service to the customers.
#9 Gain Valuable Insights
CRM software will store all the information in one centralized place, this will make it much easier to analyze your performance as a whole.
By pinpointing the information like revenue generated, leads, as well as the results of your marketing campaigns, you will be able to easily generate all the reports. Better reporting of data means that you will be able to make effective business decisions and increase revenue in the long run.
#10 Create Sales Reports
CRM will allow your team to collect and organize the data about all the prospects and deals using the reporting features like sales dashboards and reports.
This will allow the sales reps to better automate and manage their pipelines, contacts, and deals. They can also evaluate their personal performance and keep track of their goals and all the necessary work to reach their quotas.
Read More – Why You Should Invest In CRM Software


A CRM system also Boost Your Business Performance
An online CRM system can help increase your business performance by boosting your up-sell and cross-sell opportunities. Up-selling – where you offer customers upgrade/premium products that are related to their purchase.
Cross-selling – where you offer complementary products that fall into the same category of their purchase. Both these sales strategies can be smoothly conducted with a CRM system, as you will have an understanding of their wants, needs and patterns of purchase.
Having this information in a cloud database means that when an opportunity arises, your sales team can promote it as required.
The Bottom Line – CRM means Happier Customers
The key objective to giving customers what they want lies in knowing and understanding them, and a CRM system does just that smoothly.
It facilitates and simplifies things by giving you and the customer ease of communication, organized data, and advanced customer service. All these features will streamline the process of making sure needs are met and actions get resolved within a time period.
Your customers are the most valuable part of your business, and keeping them happy should be your top priority. Don't put your business at risk; invest in a quality online CRM tool, and prove to your customers that you care about their satisfaction and growth.
The CRM process should not be about working hard but about working smarter; so that your customers get what they want — and you do, too.
As you can see, there are multiple CRM benefits that will improve whatever size of business you have. Is your organization looking for the best cloud CRM software? SalesBabu provides the most trusted CRM system for small, medium, and enterprise-class organizations.