"The best marketing doesn't feel like marketing at all."
Marketing helps in transfer, movement and exchange of goods. Marketing not only gains brand image but also increases the sales, customer engagement and growth of the business. Marketing ensures – informing, engaging, selling, growing and sustaining of the products and services.
Every business has to market its products and services using various other strategies depending upon on the industry and size of the business. And the use of marketing automation system is one of the latest buzz and trend in the present market.
What are the best trends in marketing?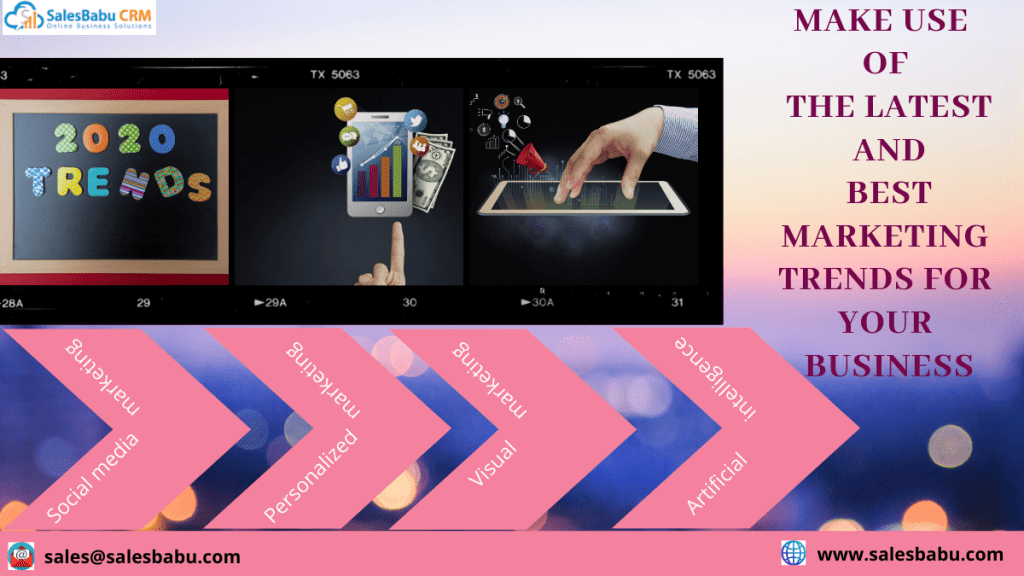 1. Social media marketing
The most preferred Social media platforms used for marketing at present are facebook, twitter, whatsapp, telegram, youtube, instagram, linkedin.
2. Personalized marketing
One of the right automated tools which ensures better personalized marketing is the CRM system. You can recognize your VIP customers and respond to their queries, send great deals, personalised offers etc.
3. Visual marketing
Visual marketing refers to the videos, images etc which are one of the best forms of marketing. Youtube at present is the leading platform to market your products and services through videos.
4. Artificial intelligence
Artificial intelligence helps to target and track potential leads, analyze data and increase work productivity. It also gives an overall overview about understanding the competitors as well as the target customers.
5. Influencers marketing
Influencers are the people who can connect easily with the public and market your products or services easily.
6. Blogging
Blogging is a two way communication through which the company and the customers can be responsive to each other. Another main purpose of blogging is to provide information and knowledge to the public.
7. Programmatic advertising
Programmatic advertising means using AI to automate ad buying so that you can target more specific audiences. Real-time bidding, for example, is a type of programmatic ad buying. This automation is very much easy, sufficient, and fast, which means higher conversions and customer acquisition rates are less.
To know more in detail, read our blog – Latest Marketing Trends 2019



What is a Marketing Automation System?
A marketing automation system is a software platform and technology designed for marketing reps to efficiently carry out marketing activities through various sources like email, websites, social media etc.
The use of marketing automation system streamlines the sales and marketing by replacing high-touch, manual, repetitive manual processes with automated solutions. It helps marketers to plan, coordinate and manage their marketing campaigns. The marketing automation software focuses on creation of more customers eligible for sales.
And when it comes to marketing automation, the Customer Relationship Management software also goes hand in hand when it comes to database. The marketing automation software is a subset of a CRM software which helps in segmenting, scheduling, tracking and defining of marketing campaigns.
The Marketing Automation Software focuses upon concentrating over the target groups by providing information about their personal interests and purchase patterns etc. And not just the existing customers it also helps in the creation of more and more leads ultimate for sales. The sales leads may fall through the cracks of the sales funnel if the sales team judges leads to be a lower quality. Thus, the sales and marketing team improves their data gathering and assessment efforts in order to get better insight on leads.
How to make the best use of Marketing Automation?
1. Customer behaviour marketing
Right offer to the right person at the right time leads to be more effective. It is a form of marketing which is based on the customer's behaviour. Emails or SMSs are sent to the right customers at the right time based on the customer's actions.
2. Multi-channel marketing
Multi-channel marketing is a process where the marketers interact with the customers on various channels, direct or indirect for ultimate sales. The multi-channel marketing automation tool enables to combine multiple marketing channels in the same workflow. Thus, by combining multiple marketing channels in your automation, you can positively increase the engagement of leads.
3. Create upsell and cross-sell
Up-sell and cross-sell are one of the best and easy forms of increasing revenue of your business. By using the automation software you can increase the chances of up-sell and cross-sell of your products and services.
4. Segment email campaigns
Email campaigns are never getting outdated. Email campaigns or email marketing is one of the basic forms of reaching your target customers. There are various benefits of using email campaigns like – cost effective, customizable, measurable, action oriented, accessible anytime etc.
The marketing automation software helps you to capture information and send various messages to various segments of the customers i.e, non-buyer, recent buyer, loyal customer. It also lets you to send wishes, offers and discounts on special days like festivals, birthdays, anniversaries etc.
5. Track the efficiency of marketing
The marketing automation software helps you to analyze and measure the automation workflow. It gives overall information about – where the lead came from, how efficient was the lead, how much time did it take for the lead to convert into sales and what is the conversion rate etc. The marketing automation software helps you to evaluate the marketing campaign and also take customer reaction in concern.
Features of CRM Marketing Automation Software
1. Lead generation and lead nurturing
The primary task of the marketing automation software is to generate leads via lead producing sources like emails, tele-calling and SMS etc. Further it is the work of the sales reps to nurture the leads and successfully convert leads to sales.
2. One-to-one communication
The automation system helps to maintain one-to-one communication with the target groups so that information is passed to the targeted groups ASAP.
3. Email and SMS campaigns
The Email and SMS campaigns are one of the most widely used marketing campaigns all over the world. The email and SMS campaigns are set of individual email and SMS messages deployed across a particular time period for a particular purpose.
Email and SMS campaigns are a preferred forms of campaigns by both business firms and customers. Here are some tips for you to manage the email and SMS campaigns efficiently:
Build a targeted email/SMS list
Understand your customers
Understand email/ SMS types
Plan follow-ups
Test and track
4.Lead management and Lead Scoring
This is another elemental feature of marketing automation software. Lead scoring will enable the marketers to concentrate more on the most promising leads. Each and every customer will receive a score, based on their activities. When a lead matures, that is when the lead reaches a threshold value, it is assigned to a sales rep so that the appropriate action can be taken.
Being able to move almost all the leads through the entire marketing funnel is a challenging task and it must be effectively handled by your Marketing Automation platform. Moreover, CRM and Marketing software together will help in strategizing better so that you can have the marketing automation optimization in your business.
5.Campaign Management
Campaigns are the workflow that you use to nurture the leads along your sales cycle. Campaigns have both timed and triggered events. To run a successful campaign you just need to send direct and personalized emails to a large number of people. Make sure that the campaign management within your platform will support both inbound marketing and outbound campaigns.
Benefits of Marketing Automation Software
1. Eliminates repetitive tasks
Every piece of information collected on the lead source are automatically added to the centralized repository. Once the collection of information like leads, background details, demographic information, purchase history and more are done, it is screened to filter out the interested leads and dump bogus clients to target them for better marketing results.
2. Enhances productivity
The automated features of the marketing automation software helps the users to work smarter and better as it can be accessible from anywhere at anytime. Even if the user is unable to be present at the workplace, he/she can complete the assigned tasks or be responsive to clients when necessary.
3. Increases flexibility
The Marketing Automation Software provides status of the team in the dashboard, reminders and alerts helps in tracking leads, follow-ups and upcoming meetings, create Email and SMS campaigns, live location tracking, inbuilt reports etc increases the flexibility of assigned tasks.
4. Shortens sales cycle
With the offset of sales force automation tool, the marketing automation features helps the team to get instant access to sales and customer data information. Thus, it shortens the sales cycle process and saves time of the users.
5. Maximises customer relation
The analysis of customer database helps the sales and marketing department to work together and also provide maximum sales deals and user-friendly quotes to the clients. Thus, improvement in customer satisfaction maximises customer retention in the long run.
6. Better solution for organisation
The marketing automation software focuses on generating more number of leads and ultimately converting them into sales. It is dedicated to drive its efforts to make new customers through email, cold calls, PR initiatives etc.
To know more in detail, read our blog – Marketing Automation Software| The Best Emerging Sales Tool | SalesBabu CRM



Do's and Don'ts of Marketing Automation
DO's
Do understand your customers
Do make the best use of marketing automation
Do automate email and SMS campaigns
Do collect right data and follow-up at the right time
Do make your work easier, faster and smarter
DON'TS
Don't overlook because you are using an automated software
Don't be under the misconception that the more you pay, the better the automation. Besides the cost, you need to pay attention on your requirements and needs.
Don't set and forget follow-ups.
Don't stop putting in efforts.
SalesBabu Online CRM Solution provides Marketing automation system which comes with amazing features and functionalities which enhances your marketing strategies and also remains trendy in the present era. Personalized messages, email and SMS campaigns can not go out of fashion or trend even in the future time period. These basic forms of marketing with the help of automated marketing can help you to generate more leads for sales and also maintain good relationship with customers. SalesBabu provides cloud based CRM software which comes with the latest trends of features that will suit your business process. It also helps you to align marketing and sales in your business through which you can enhance your business in the market. To know more about our features you can visit our website https://www.salesbabu.com/. You can also request for a free demo.

Make use of marketing automation system in your business to make your work simpler and smarter. Investing in an automated software can also help you to gain enough profit and maintain good customer relations.